In februari toonde LG een prototype van haar high-end VR headset op de Game Developers Conference in San Francisco, Californië. In oktober wisten we via een trademark aanvraag de mogelijke naam van de headset te onthullen; de LG UltraGear. Niet veel later ontdekte we een patent aanvraag van LG met een serie schetsen. In tegenstelling tot het getoonde prototype toonde het patent een splijtbaar design aan de voorzijde. Vandaag kwamen we opnieuw een octrooi aanvraag tegen met een serie schetsen van een LG VR-headset.

VR-headset patent aanvraag door LG Electronics
Het patent is op 12 januari 2016 aangevraagd bij het USPTO (United States Patent and Trademark Office). Eerder deze week is het octrooi goedgekeurd en gepubliceerd door het Amerikaanse patentenbureau.
Hoewel het patent weinig schriftelijke details geeft, zijn er wel een serie duidelijke schetsen bijgevoegd. We zien een aantal opmerkelijke overeenkomsten, maar ook een aantal verschillen met het design dat we vorige maand toonden.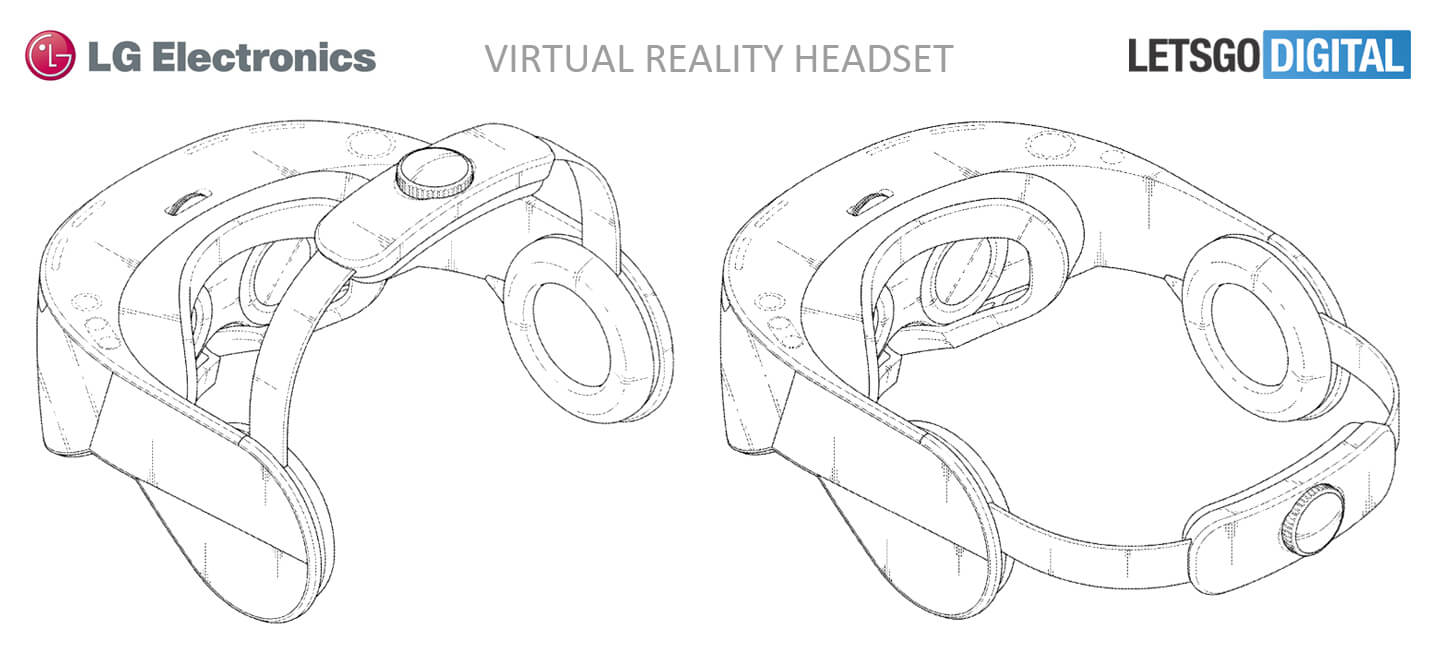 LG VR-headset ontwerp
Zo beschikt deze LG VR-headset niet over een splijtbaar design. Net als het getoonde prototype zien we een gesloten bril. De ronde draaiknop op de achterzijde is wel bij beide ontwerpen terug te vinden. Hiermee kan de gebruiker de headset instellen aan de hand van de grootte van het hoofd. Deze knop werd overigens ook al bij het prototype getoond.
Toen moest men echter nog een externe koptelefoon over de headset opzetten om een optimale virtual reality ervaring te kunnen creëren. Daar heeft de gepatenteerde VR-bril van LG nu een oplossing voor. Deze headset heeft een ingebouwde koptelefoon.

Zo zal de gebruiker nog dieper in de virtual reality omgeving getrokken worden en minder storende elementen van de reële wereld meekrijgen. Het ziet er comfortabel uit. Bovendien kun je de in lengte verstelbare achterzijde ook 90˚ in hoogte verstellen. Daarvoor komt ruimte vrij nu de gebruiker geen externe koptelefoon hoeft op te zetten.
Verder zien we bovenop de bril, aan beide zijkanten een aantal bedieningsknoppen. In het midden zit een draaiwieltje voor het scherpstellen van het beeld.


Introductie LG UltraGear headset
Het getoonde ontwerp zou een logische vervolgstap zijn van het prototype dat LG begin dit jaar aan het publiek toonde. Desalniettemin valt er ook zeker wat te zeggen voor het design met de splijtbare voorzijde.
De kans is groot dat LG haar UltraGear VR-headset in het eerste kwartaal van 2018 zal onthullen, nog even geduld dus.
Het patent van LG Electronics is hier te bekijken.

FOR OUR INTERNATIONAL READERS
LG Electronics filed a patent with the USPTO (United States Patent and Trademark Office) on January 12, 2016. The patent was approved and published on December 12, 2017. Although the patent does not include many written details, there are a number of clear sketches attached. We see some similarities, but also a number of remarkable differences with the design we showed last month.
This VR headset has no split design. It does have a headphone built-in. Users of the prototype model, shown by LG beginning of 2017, had to make use of an external headphone. This built-in solution looks much more comfortable.
Users can adjust the headset with the tightening dial mounted at the back of the headstrap. The VR headset can be adjusted to the users's head in length, but also in height. The drawings show it can tilt 90˚. In addition, we see some control buttons on top of the VR-glasses. In the middle a dial is integrated for focusing the image.