Eerder dit jaar toonde LG Electronics een prototype van haar eerste high-end VR headset bij de Game Developer Conference. De VR headset is in samenwerking met Valve ontwikkelt. Drie weken geleden wisten we te achterhalen dat deze headset waarschijnlijk de naam LG UltraGear zou krijgen. Nu stuiten we opnieuw op een patent, welke het vernieuwde design van de LG VR headset onthult.

LG VR headset prototype
Het prototype van eerder dit jaar was een high-end tethered VR headset. Opvallend was het innovatieve design, zo kun je de VR headset op je hoofd laten rusten wanneer je even aan een pauze toe bent. Behalve dat de headset wordt aangedreven door Valve's SteamVR Tracking (vergelijkbaar met de HTC Vive), wilde LG destijds nog weinig kwijt over de specificaties. De virtual reality headset had in ieder geval een hogere resolutie dan de Vive, 1440×1280 per oog en een refresh rate van 90 Hz. Het Koreaanse bedrijf gaf aan de feedback en suggesties van ontwikkelaars mee te nemen in het final product. Oftewel, het design en de specs konden nog veranderen.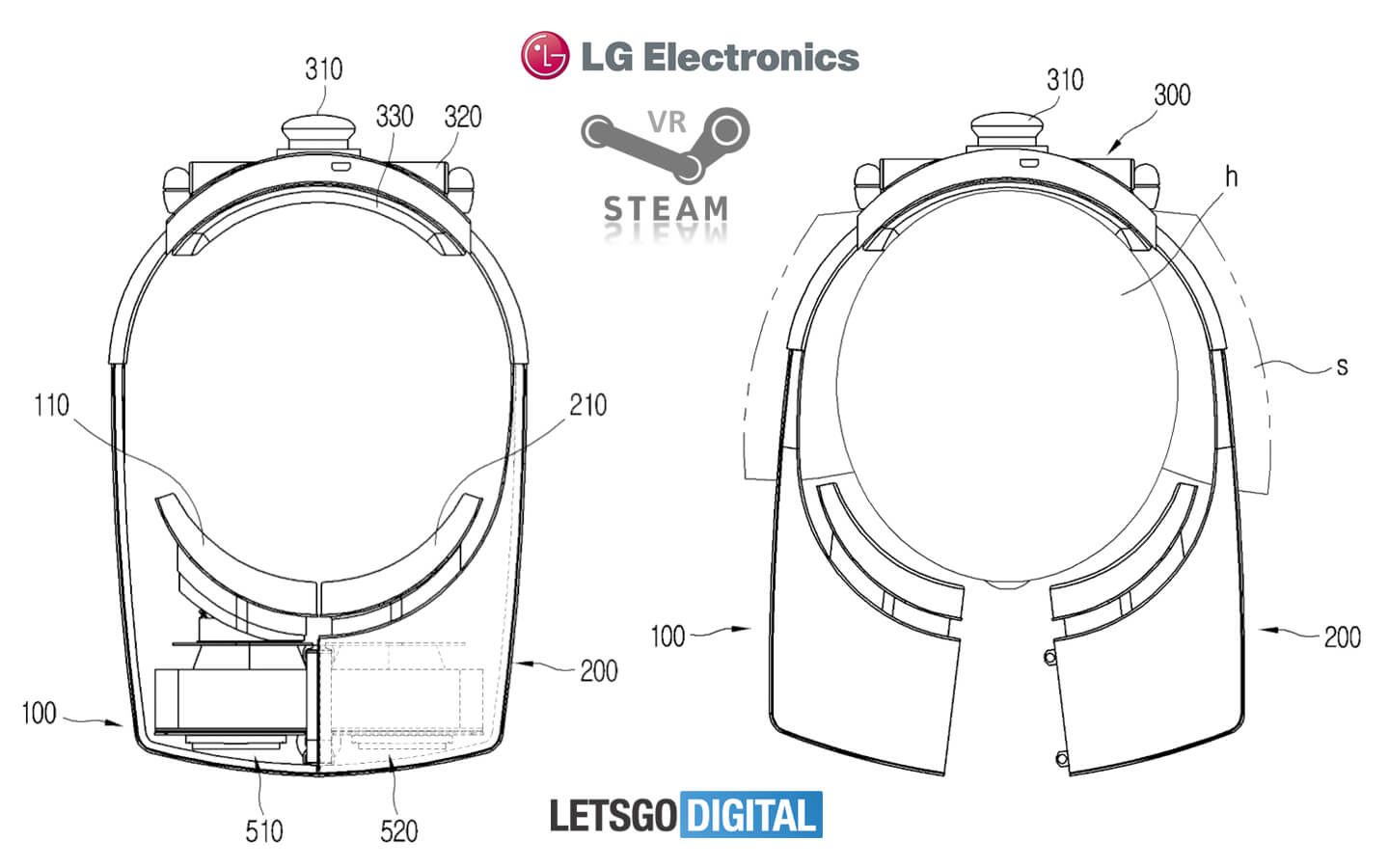 LG UltraGear design patent
Het patent dat LG Electronics gisteren heeft ingediend bij het WIPO (World Intellectual Property Organization) bevat onder andere ruim 15 schetsen ter illustratie. Het meest opmerkelijke; de VR bril kan aan de voorkant geopend worden. Precies in het midden kun je de display van elkaar afbuigen. Hierdoor kun je de bril gemakkelijk even op je schouders laten rusten, klinkt een stuk comfortabeler dan het apparaat boven op je hoofd te laten rusten nietwaar?
De LG headset bestaat uit een voor en achterkant, met een soort verstelbare strap ertussen, die de twee modules aan elkaar verbindt. Aan de achterzijde is een ronde knop geplaatst, waarmee je de VR headset kunt verstellen. Ook is aan de achterkant, aan beide zijkanten een oordopje ingebouwd, die op ingenieuze wijze in het apparaat opgeborgen kan worden, wanneer deze niet gebruikt worden.
Het patent is hier te bekijken.
Introductie op CES 2018
Nu LG een patent aanvraag ingediend heeft voor het (final) design en de naam, is het waarschijnlijk dat een introductie niet lang meer op zich laat wachten. De CES 2018 zal begin januari in Las Vegas plaatsvinden, hier zullen we ongetwijfeld meer te horen krijgen over de verrassende LG UltraGear VR headset.

FOR OUR INTERNATIONAL READERS
Earlier this year LG Electronics showed a prototype of its first VR headset at the Game Developer Conference. LG than mentioned to use the feedback and suggestions of developers to finalize its high-end device. Three weeks ago we unveiled the name of this new headset; LG UltraGear. Now we discovered a new patent, showing the renewed design of LG's high-end VR headset.
Yesterday LG filed a design patent with WIPO (World Intellectual Property Organization), showing more than 15 drawings of the headset. The most remarkable; the VR headset can be opened at the front. Looks very comfortable and even better than the prototype with its flip-up design. At the rear a round button is placed to adjust LG's VR headset. Two earplugs are also included in the back.