In augustus wisten we de naam te achterhalen van de Lenovo Mirage virtual reality headset. Diezelfde maand werd de AR headset ook daadwerkelijk officieel geïntroduceerd. Nagenoeg gelijktijdig werd ook de nieuwe Lenovo Explorer Windows 10 Mixed Reality headset aangekondigd. Maar Lenovo heeft nog een VR headset in ontwikkeling. Het betreft een standalone headset (geen smartphone of desktop PC nodig) die zal draaien op het Google Daydream OS. Vandaag onthullen we de naam van deze nieuwe VR bril.

Lenovo Mirage Solo virtual reality headset
De Lenovo standalone VR headset heeft gisteren de FCC keuring doorstaan. In het FCC SAR test rapport staat het modelnummer genoemd, de Lenovo VR-1541F. Alsmede de naam van deze nieuwe virtual reality bril: Lenovo Mirage Solo with Daydream.
Uit de documentatie valt verder op te maken dat de Lenovo Mirage Solo wordt voorzien van een 4.000 mAh Li-Ion batterij. Daarnaast zal de virtual reality headset Bluetooth 5.0 ondersteunen.
Ook wordt er melding gemaakt van een Lenovo Daydream controller, met modelnummer DG1CA. Evenals een koptelefoon met modelnummer CE-1601T. Deze krijgt een 0,5m kabel zonder ferrietkern. Verder lijkt er een USB kabel meegeleverd te worden. Helaas onthullen de FCC documenten niet welke processor er wordt toegepast.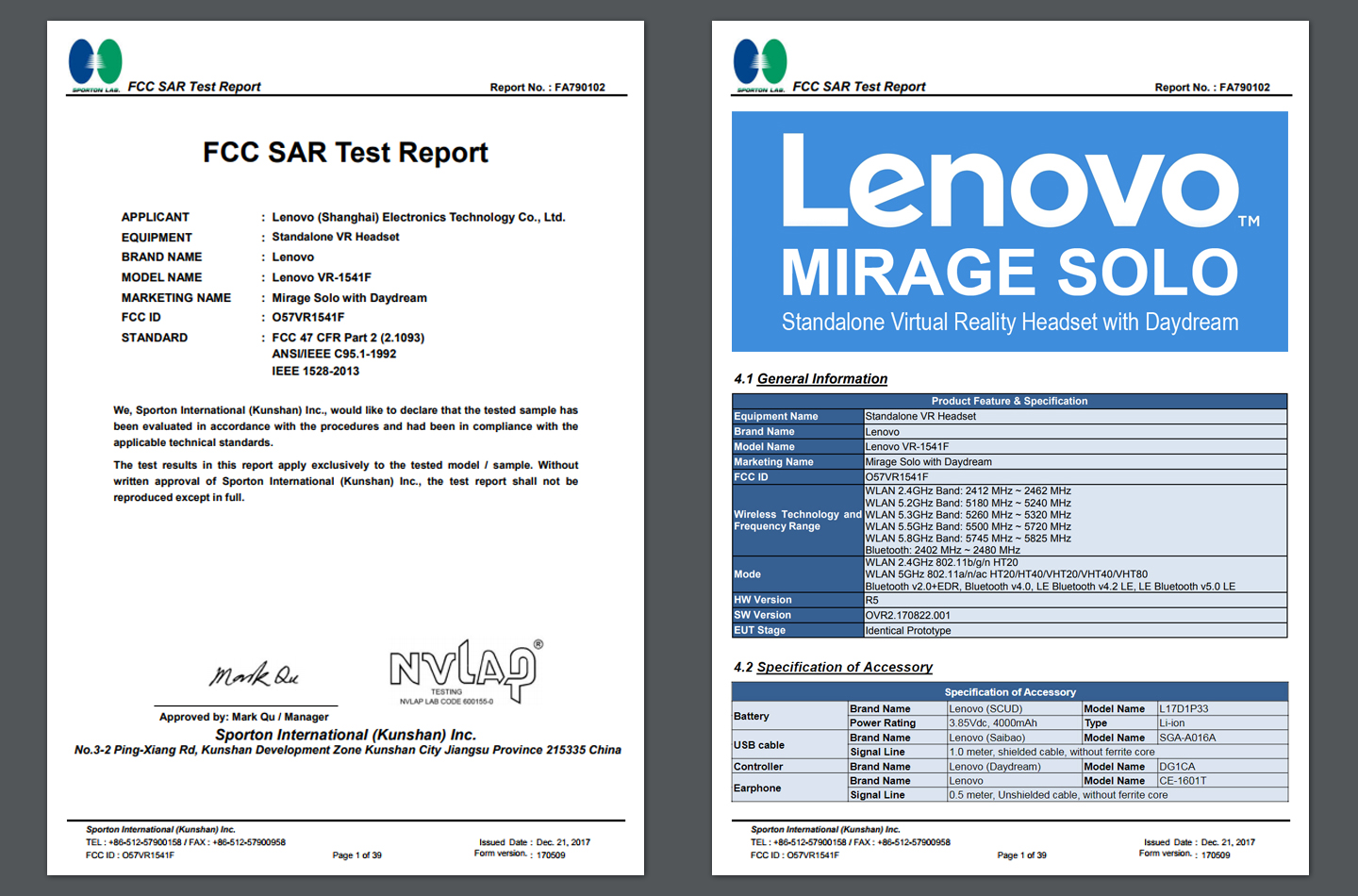 Google Daydream standalone VR headsets
Het is niet de eerste Google Daydream headset waar we over horen. Ook HTC heeft lange tijd een Google Daydream standalone headset in ontwikkeling gehad. Dit jaar zou de introductie plaatsvinden, zo was lange tijd op de HTC website te lezen.
Vorige maand werd ten slotte de HTC Vive Focus standalone headset geïntroduceerd in China. Deze draait echter niet op het Google Daydream OS, maar op het mobiele VR platform Wave. Niet lang daarna maakten HTC en Google officieel bekend de ontwikkeling van de gezamenlijke VR headset te annuleren.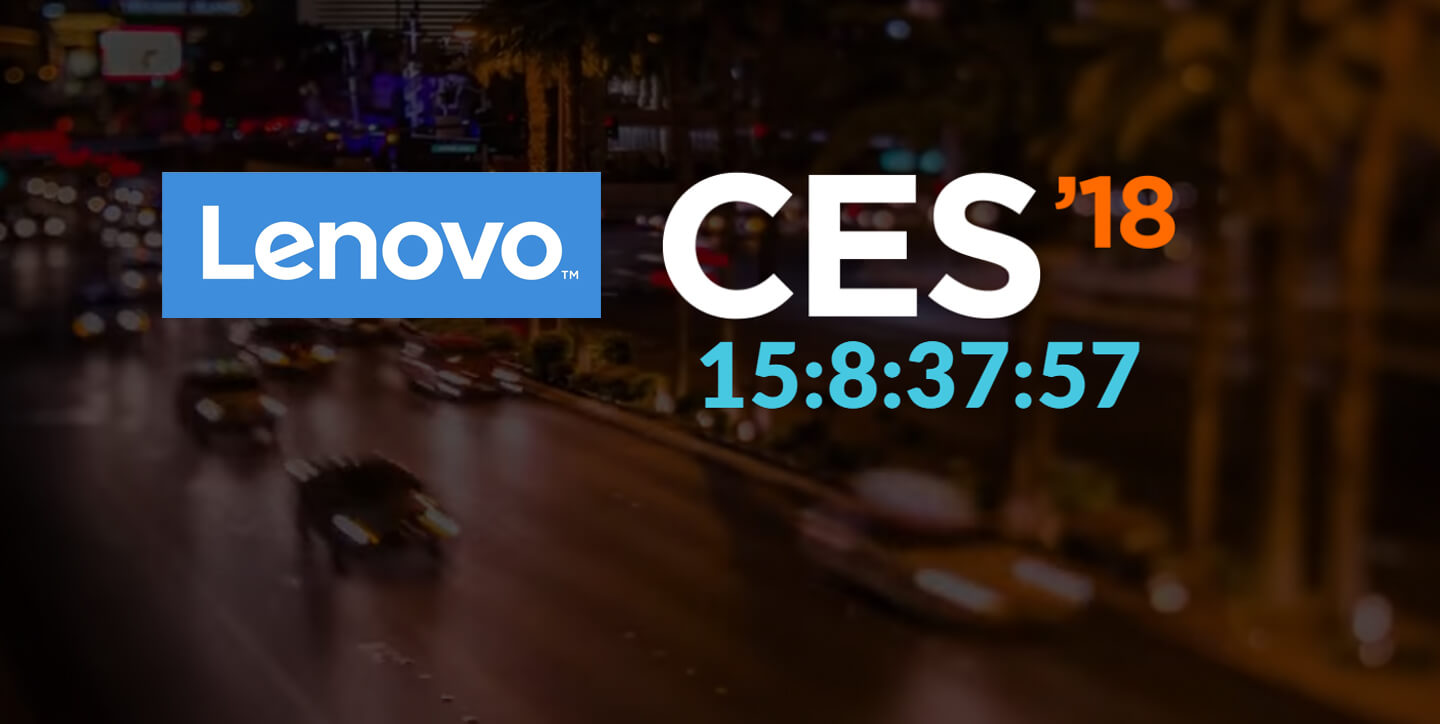 Lenovo Mirage Solo introductie op CES 2018
Nu de standalone VR headset van Lenovo gekeurd is door de FCC mag je ervan uitgaan dat een introductie niet lang meer op zich laat wachten.
De CES 2018 vindt plaats van 9 tot 12 januari in Las Vegas. Op deze consumenten elektronica beurs komt VR ruimschoots aan bod. Dit lijkt dan ook een ideale gelegenheid om de Lenovo Mirage Solo officieel te introduceren.
Over de verkoopprijs heeft Google ook al wat losgelaten. De Google Daydream VR headset zou een vergelijkbare prijs krijgen als desktop VR headsets, zoals de HTC Vive en de Oculus Rift. De prijs van deze headsets ligt echter fors hoger dan de eerder dit jaar gelanceerde Oculus Go standalone headset. Dit zou tevens één van de redenen zijn waarom de HTC Daydream headset geannuleerd is. Het blijft dan ook even afwachten welke prijs Lenovo aan haar standalone headset zal geven.
Overigens is dit niet het enige Mirage product dat we verwachten van Lenovo. Afgelopen maand kwamen we de Lenovo VR180 Mirage Camera tegen in de database van de Russische Inspectie Agency EA Union. Een 180-graden camera, geoptimaliseerd voor Google's videodienst YouTube.

FOR OUR INTERNATIONAL READERS
Yesterday Lenovo's upcoming standalone VR headset received FCC approval. The test report reveals some specs and the name of the headset: Lenovo Mirage Solo with Daydream.
The VR headset, with model number VR-1541F, comes with a 4.000 mAh Li-Ion battery and will support Bluetooth v5.0.
There is also mention of a Lenovo Daydream controller, with model number DG1CA. And an earphone with model number CE-1601T. The earphone has a 0.5m cable without a ferrite core. Furthermore, a USB cable seems to be included. Unfortunately, the FCC documents do not reveal any details about the processor.
The FCC test report can be seen here.