In augustus wisten we al een patent op te sporen voor de Lenovo Mirage headset, waardoor de naam van deze virtual reality bril bekend werd. Later diezelfde maand werd de Windows 10 Mixed Reality headset ook werkelijk onthuld. Vandaag hebben we opnieuw een Mirage product ontdekt, ditmaal betreft het de Lenovo VR180 Mirage camera.
Lenovo VR180 Mirage Camera
De nieuwe 180-graden camera van Lenovo wordt de Mirage Camera en krijgt modelnummer VR-4501F. Deze informatie hebben we weten op te speuren via de database van de Russische Inspectie Agency EA Union. Wat weten we nog meer over deze nieuwe camera?
In juni dit jaar liet Lenovo weten een compacte VR camera te ontwikkelen voor het nieuwe VR180 van Google. VR180 is een nieuw videoformaat dat is ontstaan uit een samenwerking tussen de Google Daydream VR divisie en YouTube. Dankzij VR180 is het straks mogelijk om 180-graden video's te maken en deze te uploaden naar YouTube. Je kunt zelfs live uitzenden via Google's videodienst.
VR360 versus VR180
VR180 laat feitelijk de helft zien van VR, waarbij 360-graden beelden worden opgenomen. Het nadeel van VR is echter dat wij mensen niet in staat zijn om 360-graden om ons heen te kijken. Als kijker zie je ten slotte nooit wat er achter je gebeurt. Bij het VR180 videoformaat heb je dit probleem niet. Doordat maar de helft getoond wordt kan bovendien een betere kwaliteit gerealiseerd worden.
De Lenovo Mirage Camera is een echte VR-camera, maar registreert simpelweg de helft van het beeld. Net als bij VR worden de beelden wel met diepte opgenomen (stereoscopisch). Behalve via YouTube kun je de 3D virtual reality beelden ook ervaren via Google Daydream, Cardboard en via de PlayStation VR headset.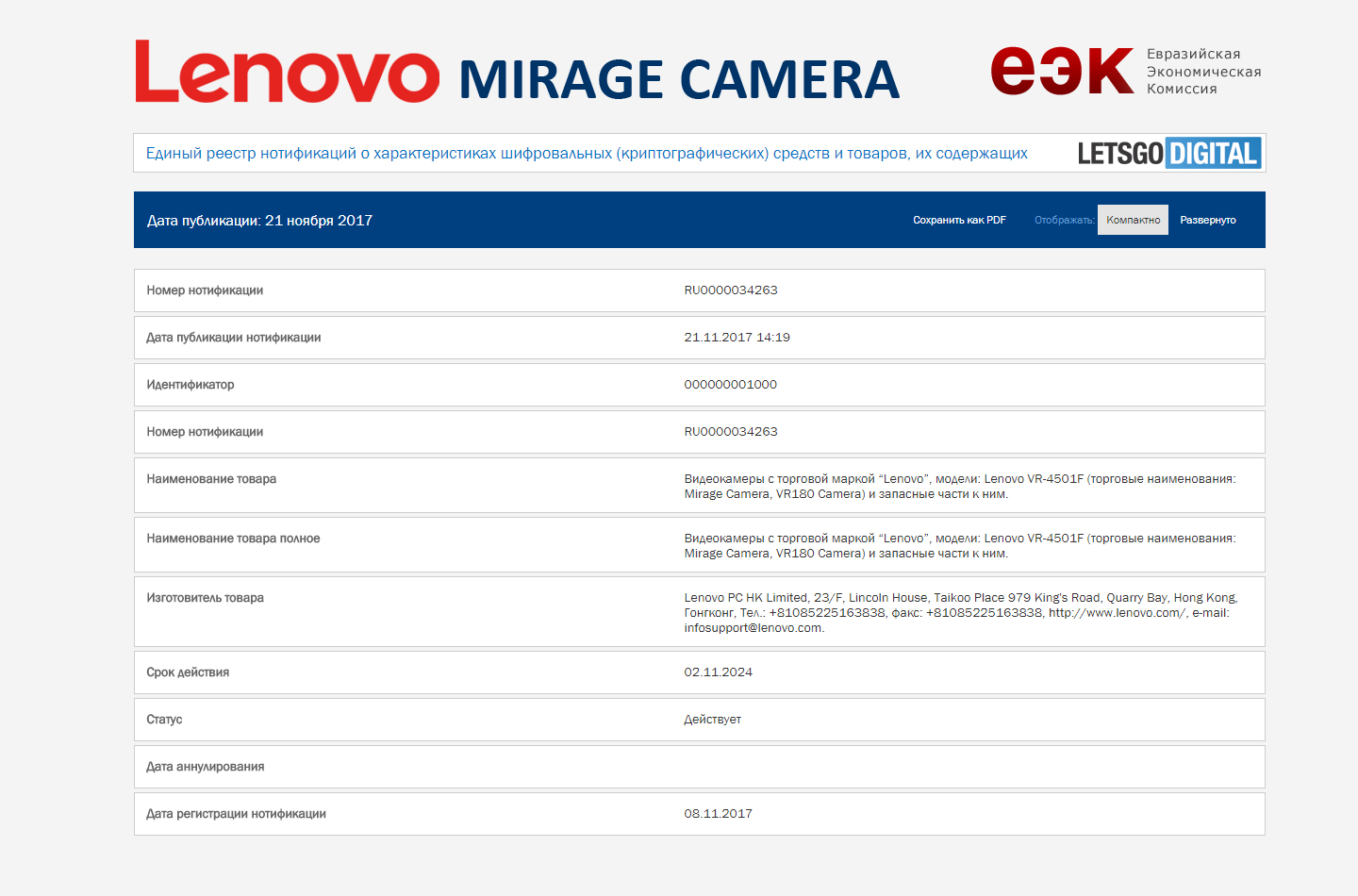 Design van de Lenovo Mirage Camera
Lenovo heeft in juni een schets getoond van haar toekomstige 180-graden camera. Deze krijgt vergelijkbare afmetingen als een point-and-shoot camera. Verder beschikt de Lenovo VR180 Mirage Camera aan de voorzijde over twee lenzen, die samen 180-graden beelden kunnen opnemen.
Via de website van Google valt te lezen dat de eerste VR180 camera's deze winter worden verwacht. Naast Lenovo zal ook LG en YI Technology een soortgelijke camera ontwikkelen.
Het certificaat van de Russische Inspectie Agency EA Union is hier in te zien.
FOR OUR INTERNATIONAL READERS



Back in June Lenovo announced the development of a VR180 camera. This will be the companies first VR camera to support YouTube's new VR180 video format.
We just discovered Lenovo received a certification for this camera from the Russian Inspection Agency EA Union. The certification also reveals the name of this 180-degree camera. In line with Lenovo's latest Mirage headset the new camera will be called the Lenovo Mirage Camera, with model number VR-4501F.
Google already unveiled the first VR180 cameras will arrive this winter, we definitely expect the Lenovo VR180 camera to be one of the first. In addition, LG and YI Technology currently develop a similar camera.