Sinds 2015 fabriceert Huawei smartwatches onder de merknaam Huawei Watch. Direct vanaf de eerste introductie vielen de slimme horloges van de Chinese fabrikant in de smaak. De Huawei Watch 2 werd tijdens MWC 2017 geïntroduceerd, momenteel ontwikkelt de fabrikant haar derde serie smartwatches.
Smartwatch fabrikanten kampen echter allemaal met één en hetzelfde probleem, een smartwatch is dusdanig klein dat het een hele opgave is om de vele slimme functies op een gebruiksvriendelijke manier toegankelijk te maken. Er wordt dan ook continue naar nieuwe bedieningsmethodes gezocht.
Zo publiceerden we vorige maand nog over een patent van Huawei omtrent een nieuwe Watch bedieningsmethode, in de vorm van een bezel met touch bediening. Vandaag stuitten we opnieuw op een patent van Huawei dat betrekking heeft op de bediening van een smartwatch.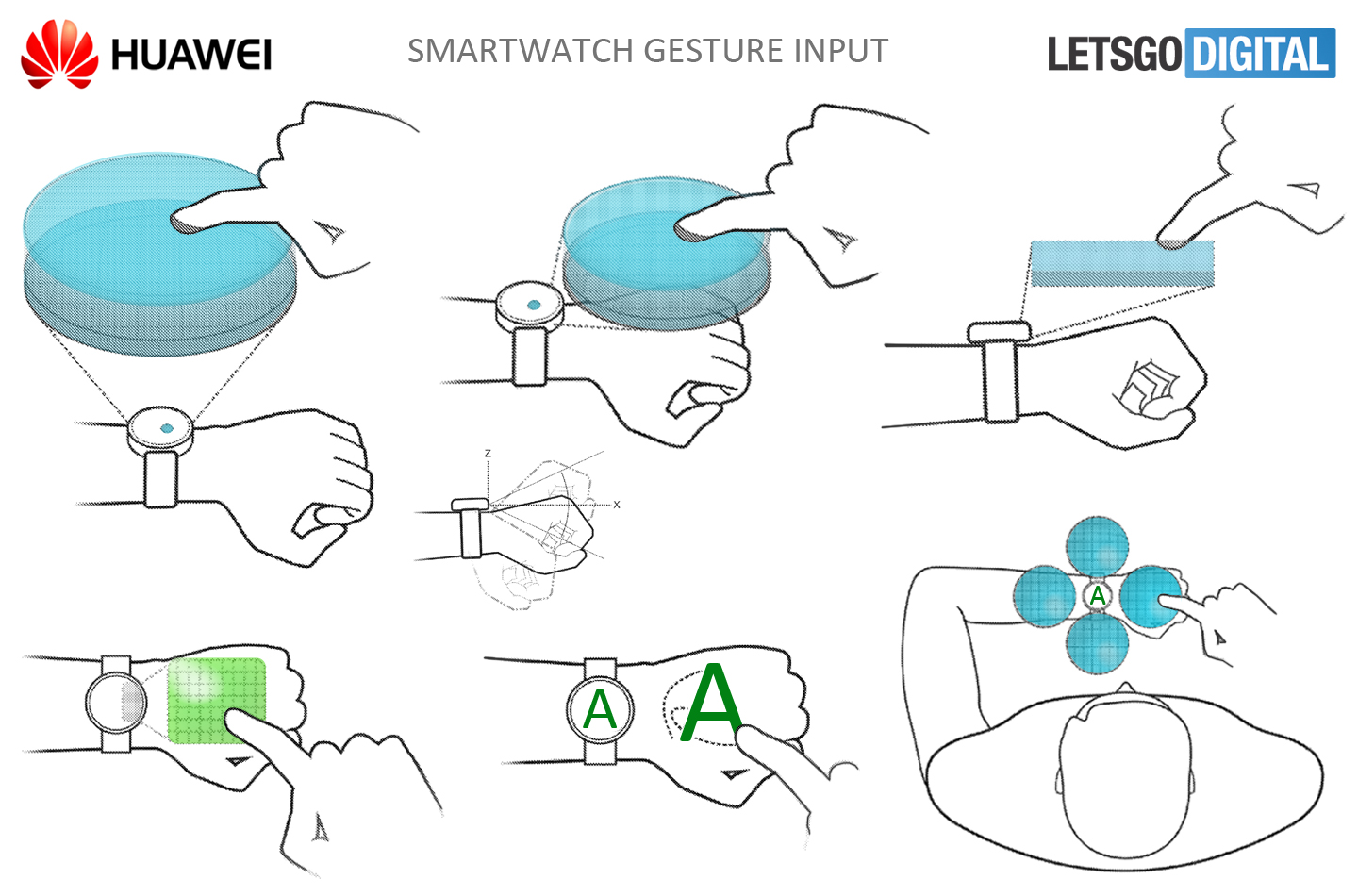 Huawei smartwatch detecteert schrijfbewegingen op je handrug
WIPO (World Intellectual Property Organization) heeft vandaag een patent gepubliceerd van Huawei Technologies Co. Ltd. Het patent werd al op 29 juli 2016 aangevraagd en is getiteld; 'Gesture input methode voor een wearable apparaat en een wearable apparaat'. Met andere woorden, een gesture methode om je smartwatch te bedienen.
Het beschrijft een gebareninvoermethode in de vorm van het schrijven van letters met je vingertop. Het bijzondere is echter dat deze gestures niet alleen boven de display kunnen worden ingegeven. Sensoren scannen het gebied rondom de smartwatch. Hiervoor kunnen ultrasone sensoren of een infraroodsensor worden gebruikt.
Dit maakt het mogelijk om op je handrug (bovenkant van je hand) te schrijven. Datgene wat de gebruiker met z´n vinger schrijft wordt vervolgens op de display van de Huawei smartwatch getoond. Hiervoor kan het slimme horloge worden voorzien van een schrijfmodus.
Binnen het gevoeligheidsgebied zijn sensoren in staat te voelen of de vinger begint te schrijven of juist stopt met schrijven. In de tussenliggende periode worden de bewegingen gevolgd. Bij deze technologie is het wel van belang dat de hand op dezelfde hoogte als de arm wordt gehouden. Anders is de smartwatch niet in staat om de handrug te scannen.
Net als bij de bediening van een muis bij een PC, kunnen er extra functionaliteiten aan het gevoeligheidsgebied worden toegevoegd. Denk bijvoorbeeld aan dubbel klikken, lang drukken of met meerdere vingers tegelijkertijd de handrug aanraken.
Het feit dat Huawei dit patent heeft aangevraagd wil niet per definitie zeggen dat we deze technologie al in de volgende Huawei smartwatch zullen tegenkomen. Maar het zegt wel wat over welke technologische mogelijkheden er allemaal onderzocht worden en waar we in de toekomst naartoe zullen gaan op het gebied van slimme horloges.
Het patent van Huawei is hier in te zien.

FOR OUR INTERNATIONAL READERS



On July 29, 2016 Huawei has filed a patent with WIPO (World Intellectual Property Organization). The patent was published today and is entitled: 'Gesture input method for wearable device and wearable device'.
It describes an innovative gesture input method in the form of writing letters with your fingertip. The special thing, however, is that the gesture input area is not limited to the display only. Sensors can scan the area around the smartwatch. This is possible through the use of multiple ultrasonic sensors or an infrared sensor.
This enables users to write on their hand back (top of their hand). When a user writes with his fingertip on his hand back, this will be shown on the display of the Huawei smartwatch. The smartwatch may come with a writing mode.
Within the gesture sensing area, sensors are able to detect whether the finger starts or stops writing. In the intervening period the movements are followed and displayed on the screen of the smartwatch. It is important that the hand is kept at the same height as the arm. Otherwise the smartwatch will not be able to scan the back of the hand.
In addition, more gestures may be detected. Just like when operating a mouse with a PC, users may be able to double click, long press or use multiple fingers at the same time.
It may take a while before we will actually see this technology to be implemented in a final product. Last month we also discovered a Huawei patent for a smartwatch bezel with touch operation. This technology is more likely to be integrated into the next smartwatch series from Huawei.