Enkele weken geleden wisten we de modelnaam te onthullen van Lenovo´s langverwachte standalone VR headset. De Lenovo Mirage Solo with Daydream, zo bleek uit officiële FCC documenten. Dit keer brengen we nieuws over de bijgeleverde controller van de op Google Daydream gebaseerde virtual reality bril.

Google Daydream VR platform
In oktober 2016 introduceerde Google haar Daydream VR platform. In hetzelfde jaar verscheen ook de Daydream View, Google's eigen mobile VR-headset. Afgelopen jaar werd er nog een update uitgebracht, sindsdien is deze headset verkrijgbaar in een drietal kleurvarianten.
De bedoeling is dat ook andere fabrikanten virtual reality headsets zullen ontwikkelen voor het Daydream platform. HTC is in de tussentijd afgehaakt, maar Lenovo is nog trouw partner van het Google Daydream platform. De Lenovo Mirage Solo zal de eerste standalone VR headset worden die op Daydream draait.
De Lenovo Mirage Solo met modelnummer VR-1541F krijgt een 4000 mAh batterij en beschikt over Bluetooth 5.0, zo bleek uit de voorgaande FCC keuring.

Google Daydream controller voor de Lenovo Mirage Solo
Bij Google's VR platform hoort ook een speciale Daydream controller. Verschillende VR websites gingen er dan ook al vanuit dat de Mirage Solo met deze controller geleverd zou worden.
Nieuwe FCC documenten onthullen dat dit inderdaad het geval is. Lenovo zal deze controller uitbrengen onder modelnummer VAC-141B. Naast het modelnummer is ook de handleiding bijgevoegd, maar helaas erg spannend of onthullend is deze niet.
De Lenovo Controller beschikt over een touchpad, een app knop en een Daydream knop. Aan de rechter zijkant zijn de volume knoppen geplaatst en aan de onderzijde de oplaadpoort. Er zijn eigenlijk geen verschillen te bespeuren met de huidige Google Daydream controller.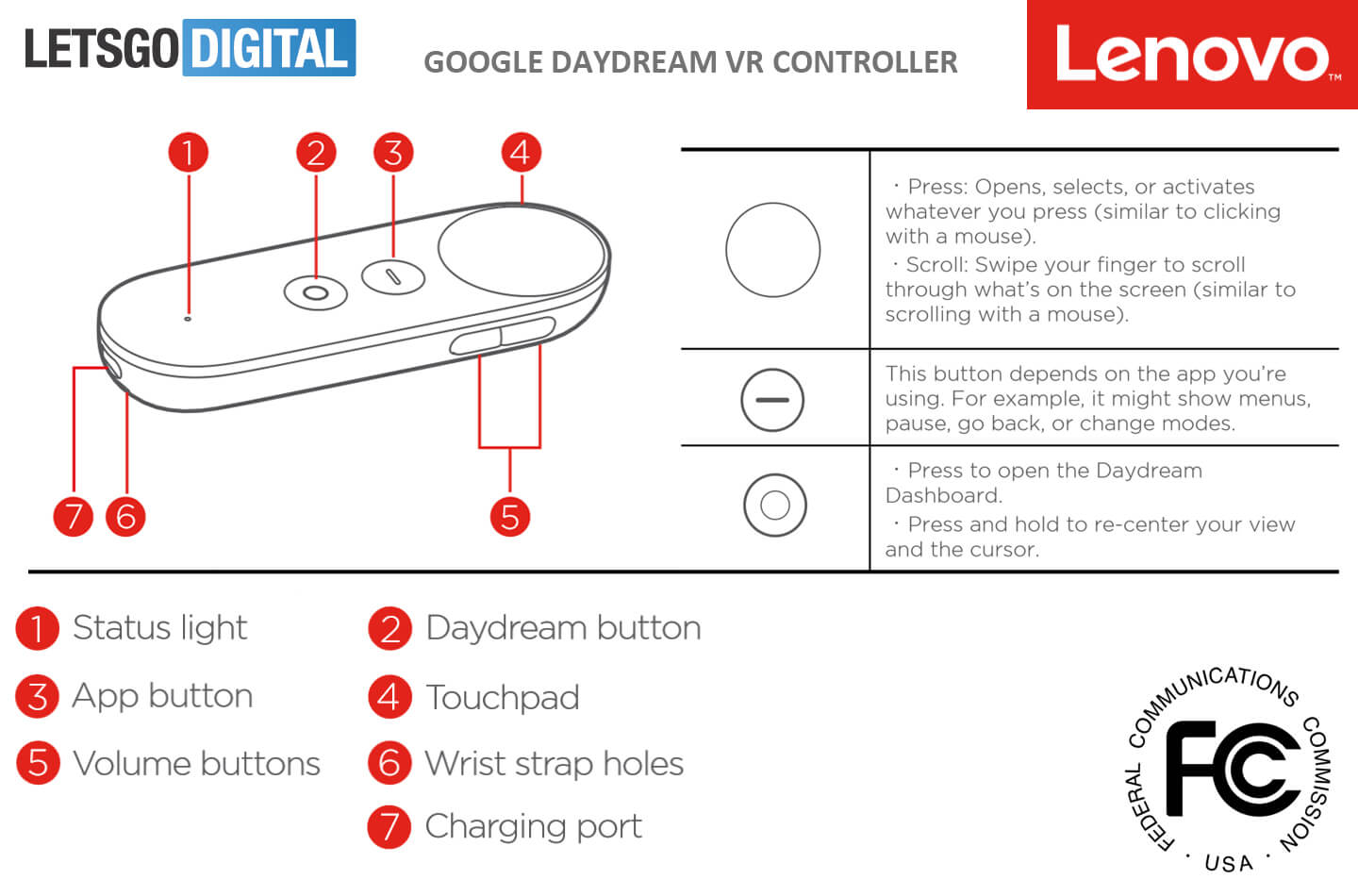 Nu zowel de VR headset als de controller langs de FCC zijn geweest, lijkt een introductie aanstaande. De CES begint al over enkele dagen, is dit te vroeg?
In de wandelgangen wordt er gezegd dat de Google O/I 2018 op 16 mei 2018 zal plaatsvinden. Vorig jaar werd tijdens dit evenement de samenwerking met HTC en Lenovo aangekondigd. Het is daarom zeker niet ondenkbaar dat Lenovo ervoor kiest de introductie van de Mirage Solo gelijktijdig met dit evenement te organiseren.
De handleiding van de Lenovo controller is hier te vinden.

FOR OUR INTERNATIONAL READERS

 
Some weeks ago we discovered the FCC documents of Lenovo's upcoming stand-alone VR headset. The documents revealed the name and some specs. The Lenovo Mirage Solo with Daydream (VR-1541F) comes with a 4.000 mAh battery and supports Bluetooth 5.0.
This time the supplied controller passed the FCC. Various pictures and the manual reveal the Lenovo Mirage Solo comes with the Google Daydream Controller, also known under the name Lenovo Controller VAC-141B. There are no noticeable changes with the current controller from Google.
Now that both the headset and the controller have passed the FCC, an official introduction should follow soon. Will Lenovo surprise us at CES? Or will the Mirage Solo be unveiled during Google O/I 2018, which is said to take place on May 16, 2018.