Het Chinese Oppo is de afgelopen tijd regelmatig in het nieuws geweest. De innovatieve smartphone fabrikant weet met de nieuwe Reno line-up dan ook een serie interessante smartphones in de markt te zetten, waarmee het bedrijf zich weet te onderscheiden van de massa. Op de achtergrond lijkt Oppo zich alweer met wat nieuws bezig te houden.

Oppo Find U, Find Me en Find More
Op 6 mei 2019 werden er verschillende trademark aanvragen ingediend door Guangdong Oppo Mobile Telecommunications. De aanvragen zijn ingediend vanuit Spanje bij de EUIPO (European Union Intellectual Property Office), door tussenpersoon Domingo Galletero Company.
Dit bedrijf uit Alicante heeft vaker in naam van Oppo gehandeld, zo legde Domingo Galletero Company afgelopen maand een serie merknamen vast voor de nieuwe Reno smartphone line-up. Ook was deze onderneming verantwoordelijk voor de aanvraag van Oppo Find Z, eerder dit jaar.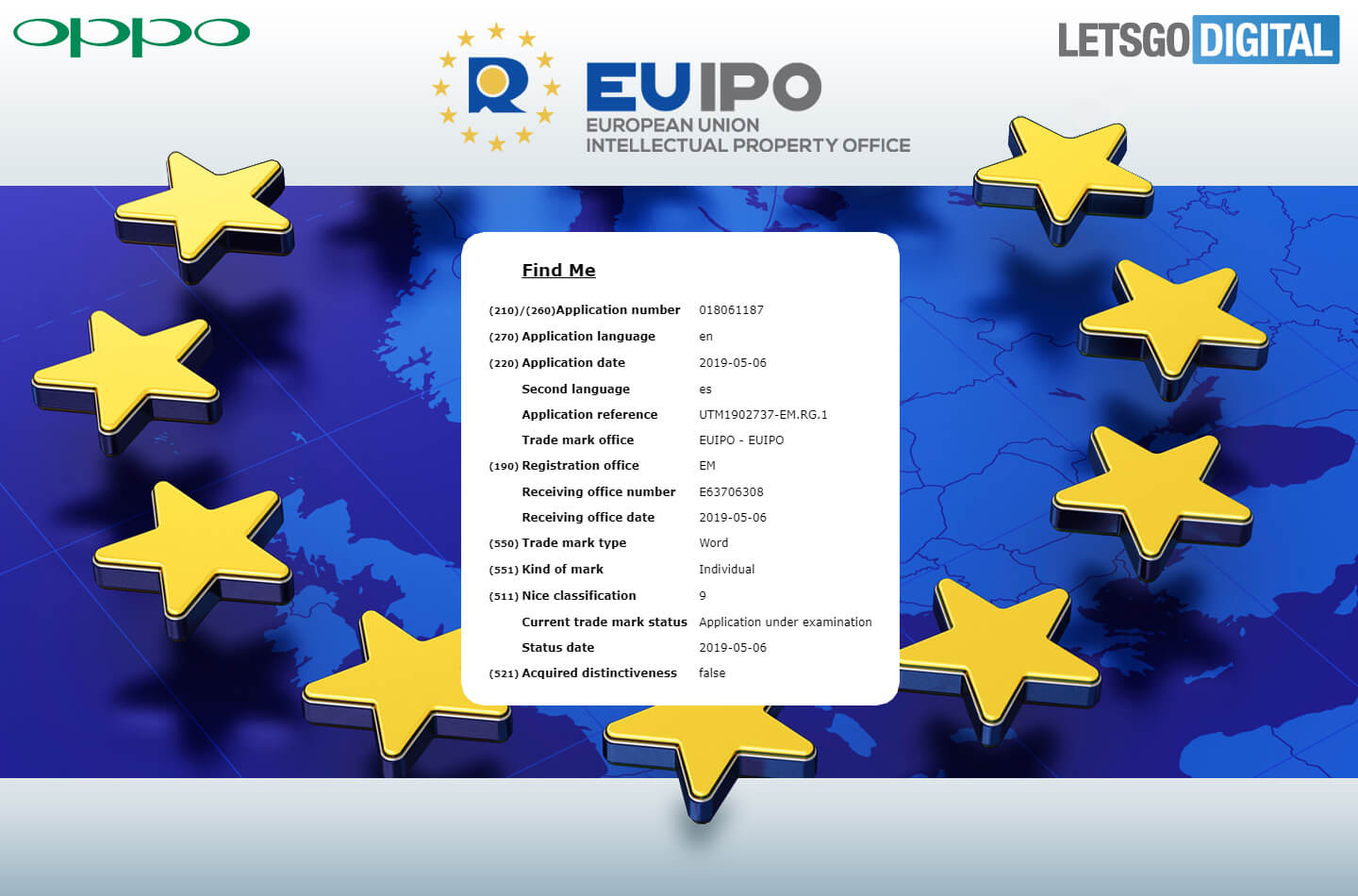 Ditmaal heeft het bedrijf merknaambescherming aangevraagd voor de namen Find U, Find Me en Find More. Alle drie de aanvragen zijn gecategoriseerd als Class 9. Er is een uitgebreide algemene beschrijving bij geplaatst, die helaas nog wel wat vragen open laat.
Oppo trademark description: Tablet computers; Computer programs, Smartphone software; Smartwatches; Smartglasses; Interactive touch screen terminals; Humanoid robots with artificial intelligence; Wearable computers; Gesture recognition software; Virtual reality game software; Biometric scanners; Facsimile machines; Navigational instruments; Wearable activity trackers; Smartphones; Cases for smartphones; Protective films adapted for smartphones; Cell phone covers; Cell phone straps; Keyboards for smartphones; Speakers.
Van oudsher zijn we van Oppo gewend dat de high-end smartphones binnen de Find-serie worden geplaatst. Het laatste model werd vorig jaar juni geïntroduceerd, de Oppo Find X. Of we dit jaar in juni opnieuw een Find smartphone mogen verwachten is nog onbekend. Ten slotte heeft de Chinese fabrikant net haar nieuwe Reno smartphone serie gelanceerd.
Hoewel er binnen de omschrijving wel staat 'smartphones; cell phones', is het goed mogelijk dat het hier niet om een nieuw toestel gaat, maar om een nieuwe app. Zo staat er bij de omschrijving ook 'software applications'.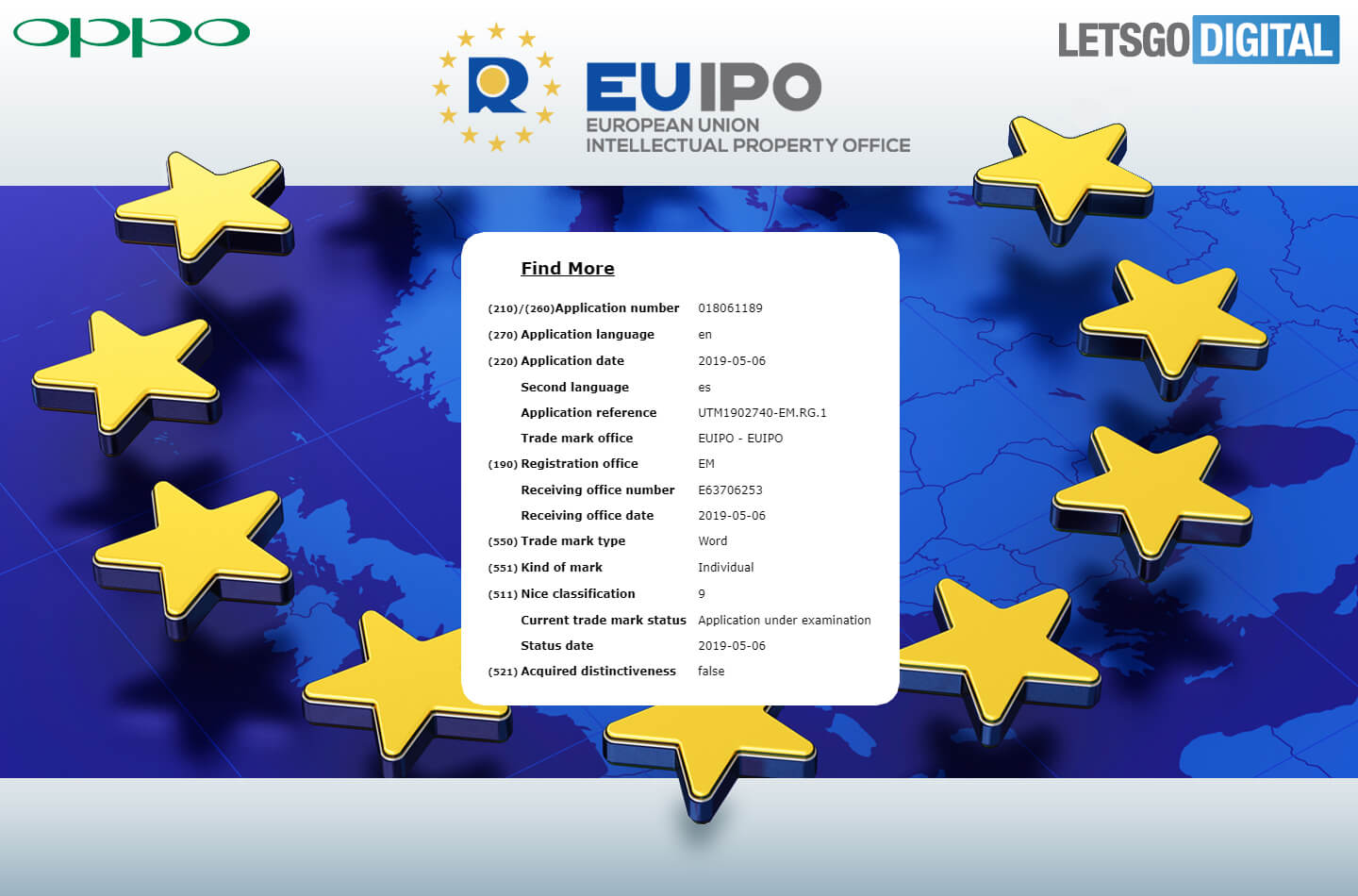 Mogelijk is Oppo voornemens een nieuwe app te lanceren die het mogelijk moet maken om je smartphone eenvoudig te traceren. Zo heeft Samsung bijvoorbeeld de 'Find My Mobile' applicatie. Ook Oppo biedt een soortgelijke service, dit verloopt echter via Google Find My Device. Het is daarom goed mogelijk dat het bedrijf voornemens is om haar eigen applicatie te lanceren.
Bekijk hier de trademark voor Oppo Find U, Find Me en Find More.