Lenovo produceert niet alleen smartphones en VR headsets ook laptops, tablets en desktop PCs zijn belangrijke consumenten elektronica voor de Chinese fabrikant. Lenovo staat bekend om haar innovatieve 2-in-1 laptop designs, ook wel convertible PC genoemd. Deze laptops zijn eenvoudig om te vormen tot tablet. Vandaag ontdekte we een patent van een volledig nieuw laptop design, dankzij de toepassing van een flexibel display.
Het flexibele display, we hebben inmiddels al heel wat toepassingsgebieden gezien. Van een oprolbare tablet en oprolbare tv tot opvouwbare smartphones. Zo rapporteerde we gisteren nog over een patent aangaande een Motorola opvouwbare smartphone dat ontvouwt kan worden tot een tablet. Ditmaal gaat het echter om een Lenovo laptop met een enorm groot flexibel scherm.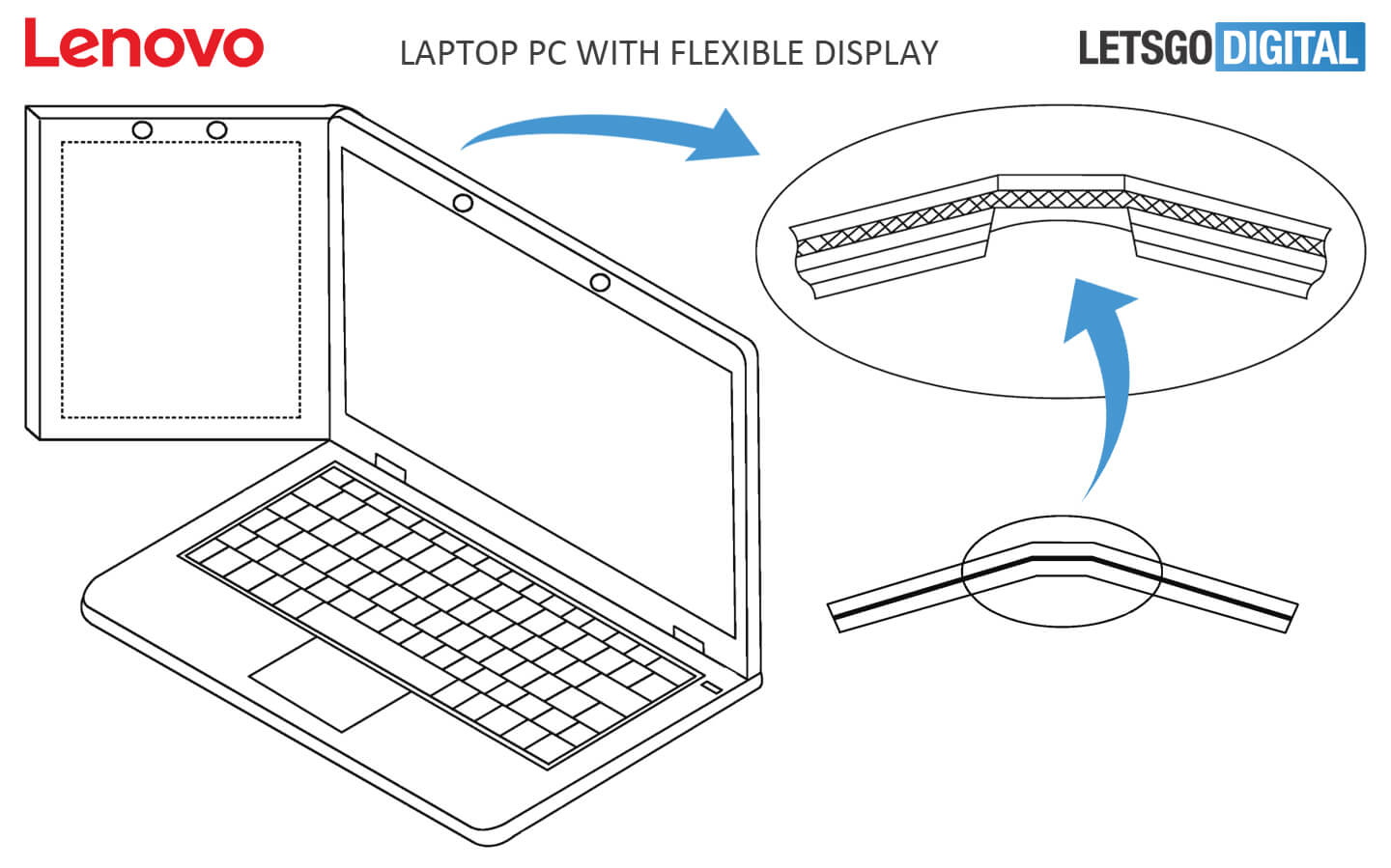 Lenovo opvouwbare laptop met flexibel OLED scherm
Op 18 oktober 2016 heeft Lenovo Pte. Ltd. een patent ingediend bij de WIPO voor een 'Electronic Device with Flexible display having multiple viewing regions'. Op 19 april 2018 werd het patent gepubliceerd.
We zien een laptop PC met toetsenbord en een flexibel OLED display. Het scherm is uitklapbaar. De display kan naar de zijkant of zelfs naar beide zijkanten ontvouwt worden. Ook zien we een derde variant, waarbij de display naar boven toe kan buigen. Hierdoor krijgt de gebruiker een schermgrootte tot zijn beschikking die één tot twee keer groter is als een hedendaagse laptop.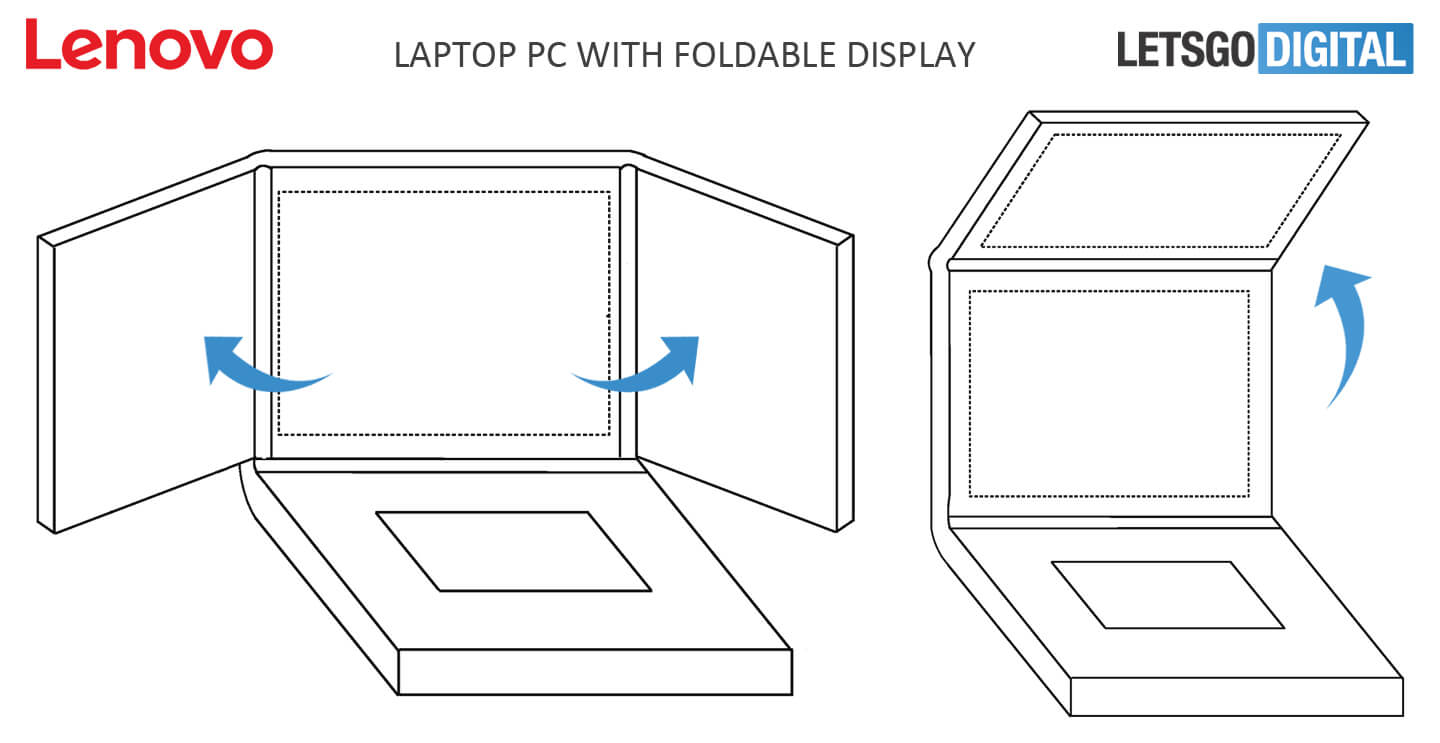 Bij het ontwerp waarbij de display naar links en naar rechts uitklapbaar is, kan het scherm ook naar achteren toe gevouwen worden. Hierdoor kan een 360˚ beeld gecreëerd worden, wat bijvoorbeeld ideaal kan zijn bij het presenteren van marketing materiaal of voor educatie doeleinden.
Het gaat in alle gevallen om één groot flexibel display, dat al dan niet touch gevoelig is. Met behulp van een tussenstuk kan de display onder een stompe hoek en op een vast punt buigen. In beide delen zit een camera en microfoon verwerkt.
Verder wordt in het patent aantekening gemaakt dat dezelfde technologie ook toepasbaar is op een smartphone of elektronische organizer.
Lenovo heeft een handig schema bijgevoegd met de drie uitvoeringsvormen, waarin de vouwbewegingen nauwkeurig uiteengezet zijn.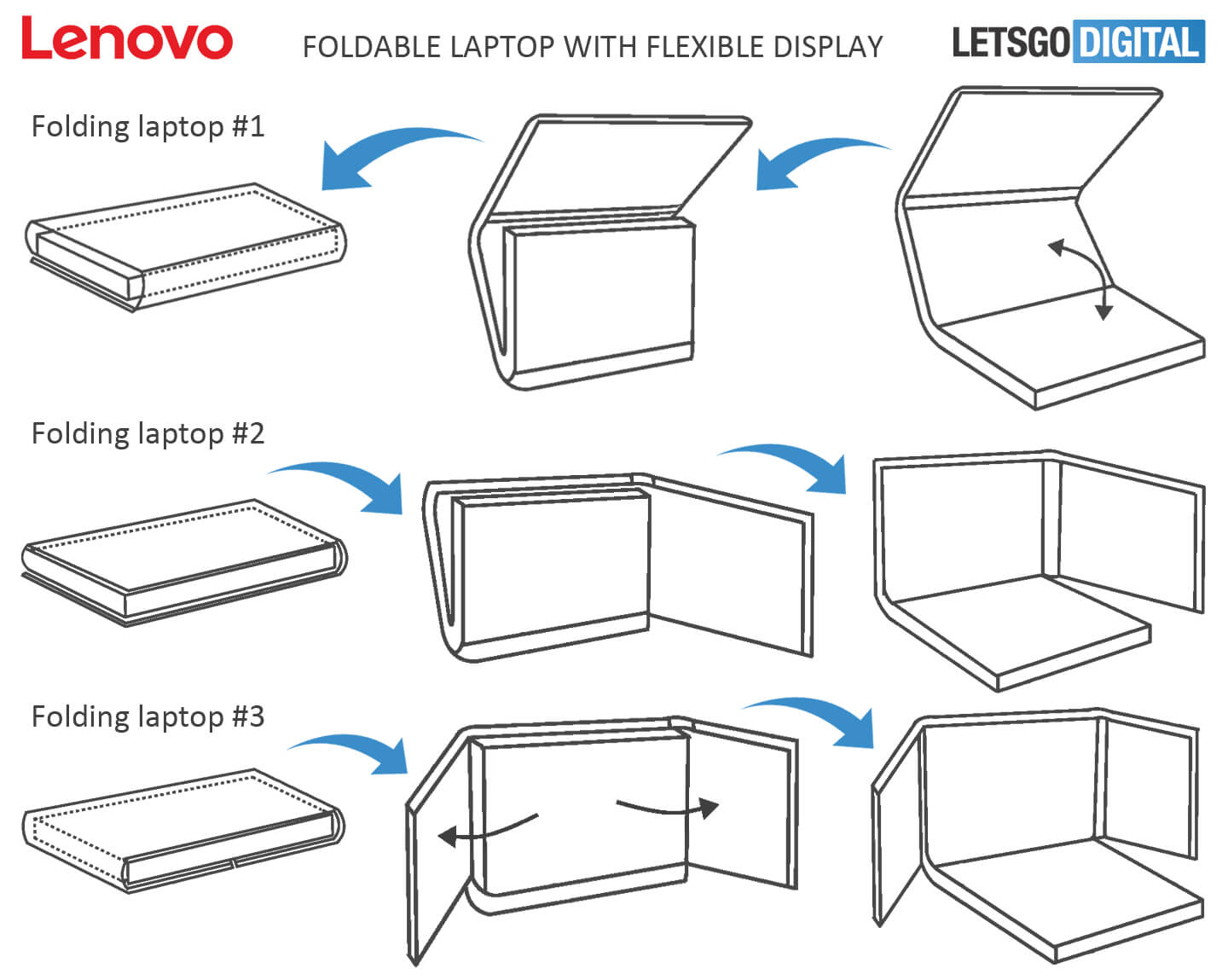 Lenovo convertible tablet PC met opvouwbaar, flexibel display
Vervolgens komt als extra optie ook het convertible tablet design van Lenovo aan bod. Hierbij kan de flexibele display van het toetsenbord gescheiden worden. Middels connectoren staan de twee componenten met elkaar in verbinding. Zo kan de gebruiker de display gespreid voor zich zetten en op afstand typen op het toetsenbord.
De processor of processoren zullen, afhankelijk van de displaystand ten opzichte van het toetsenbord, een bijbehorende gebruikersmode tonen. Zoals een standaard mode, presentatie mode, een tablet mode, een dual monitor mode of een notificatie mode.
Hoewel de gepatenteerde laptop ontwerpen er nu nog erg futuristisch uitzien, zal de komst van de flexibele display in de (nabije) toekomst volledig nieuwe designs mogelijk maken. Hierdoor ontstaat niet alleen een groter scherm, maar ook extra gebruikersgemak en bovendien kan de draagbaarheid op deze wijze gegarandeerd blijven.

FOR OUR INTERNATIONAL READERS
Lenovo has filed a patent with WIPO for an 'Electronic Device with Flexible display having multiple viewing regions'. The patent was published on April 19, 2018.
We see a laptop with keyboard and a flexible OLED display. The screen is foldable and can be unfolded to one side or even to both sides. We also see a third version where the display can bend upwards. This gives the user a screen size that is one or two times larger than a modern day laptop.
In the design where the display can be folded to the left and to the right, the screen can also be folded backwards. This allows for a 360˚ image to be created, which can be ideal when presenting marketing material or for educational purposes.
In all cases the device contains one large flexible display, which may or may not be touch sensitive. With the aid of an intermediate segment, the display can bend under an obtuse angle and at a fixed point. A camera and microphone will be incorporated in both parts.
Lenovo has included a handy diagram with the three embodiments in which the folding movements are explained in detail (see illustration above). Furthermore, the patent notes that the same technology can also be applied to a smartphone or electronic organizer.
Optionally, Lenovo's convertible tablet design is also discussed. Here the flexible display can be separated from the keyboard. The two components are connected by means of a connector. This allows the user to put the large-sized display in front of him and type remotely on the keyboard.
Depending on the display position relative to the keyboard, the processor(s) will show an associated user mode. Such as a standard mode, presentation mode, a tablet mode, a dual monitor mode or a notification mode.
Here you can find the patent details and drawings.