Steeds meer bedrijven zetten in op AR (Augmented Reality). In tegenstelling tot VR worden er bij AR beelden toegevoegd aan de realiteit. AR kun je op verschillende wijze ervaren, zo kun je gebruik maken van een AR headset. Deze zijn doorgaans echter vrij groot en log, een AR-bril is een stuk lichter, waardoor je meer bewegingsvrijheid behoudt.
Afgelopen november maakte Richard Yu, CEO van Huawei Technologies, in een interview met CNBC bekend dat het bedrijf een AR-bril in ontwikkeling heeft, die werkt met een smartphone. De Huawei AR bril zal eind dit jaar of volgend jaar onthuld worden. Tegen die tijd zal geduchte concurrent Apple vermoedelijk ook een AR bril introduceren, die gepaird kan worden met een iPhone.
Een nieuw gepubliceerd patent toont aan dat Huawei ook de mogelijkheden onderzoekt om de AR-bril niet met een smartphone te pairen, maar met een smartwatch, die je in de bril kunt bevestigen.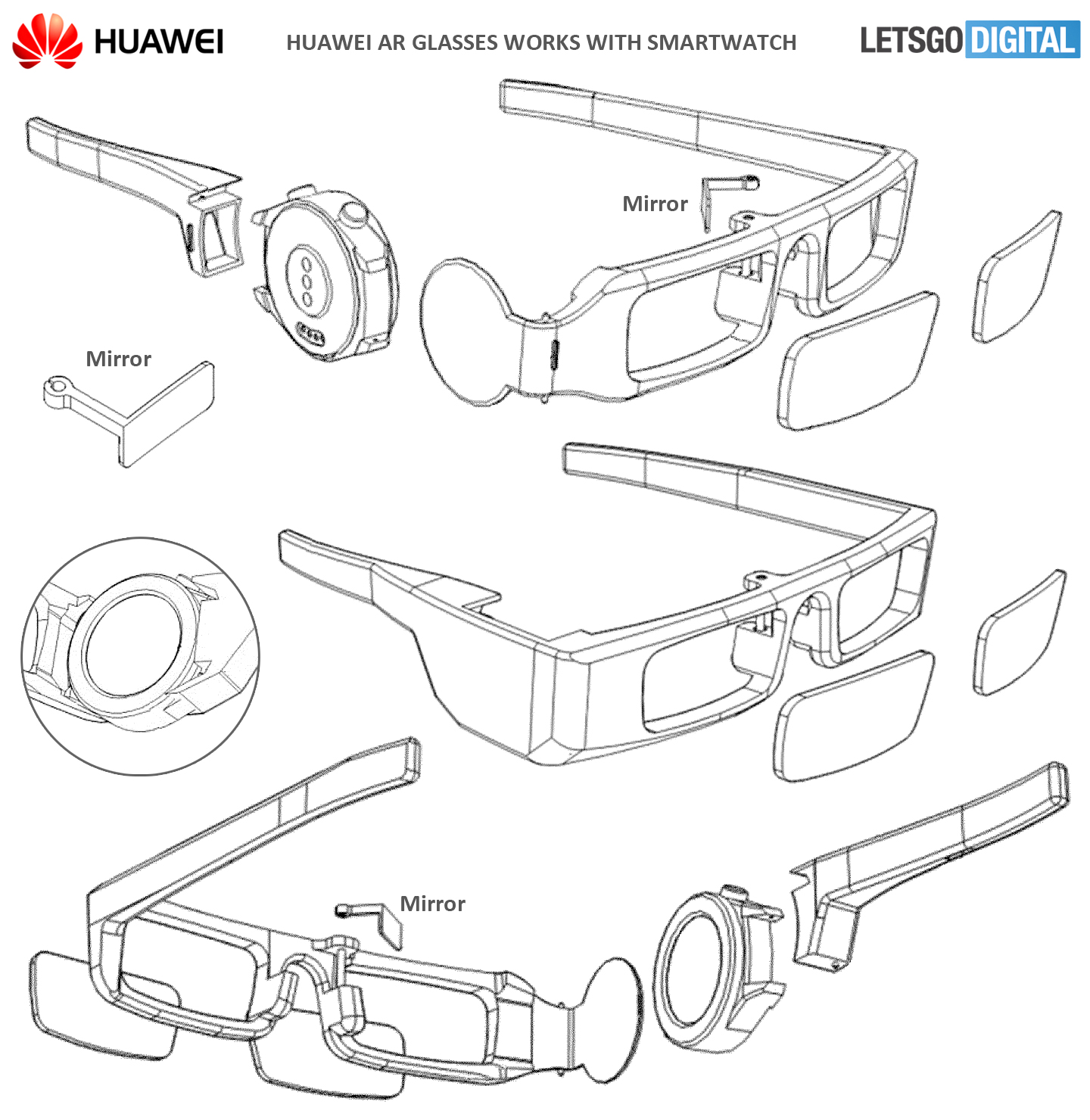 Huawei AR-bril werkt met smartwatch
Op 7 februari 2019 werd er in de database van de WIPO (World Intellectual Property Organization) een patent gepubliceerd van Huawei Technologies voor een 'Eyeglass frame'. Het patent beschrijft een lichtgewicht, discreet en relatief goedkope AR headset.
De slanke bril kan ingezet worden als Augmented Reality headset. De bril beschikt echter niet zelf over een camera, display of microfoon. Hiervoor dien je over een smartwatch te beschikken, deze kan in de rechter brilpoot bevestigt worden.
De Huawei AR-bril wordt verder voorzien van een adapter en een spiegel. De adapter wordt dicht bij de smartwatch geplaatst. Via de spiegel wordt de content die op het display van de smartwatch getoond wordt direct weerkaatst richting de ogen van de gebruiker. Ook audio wordt ondersteunt.
De smartwatch kan slechts op één wijze bevestigd worden, namelijk zodanig dat de display naar binnen gericht is en de camera naar voren gericht staat. In het brilmontuur is een opening gemaakt voor de camera, deze kan gebruikt worden om de bewegingen van een gebruiker op te nemen.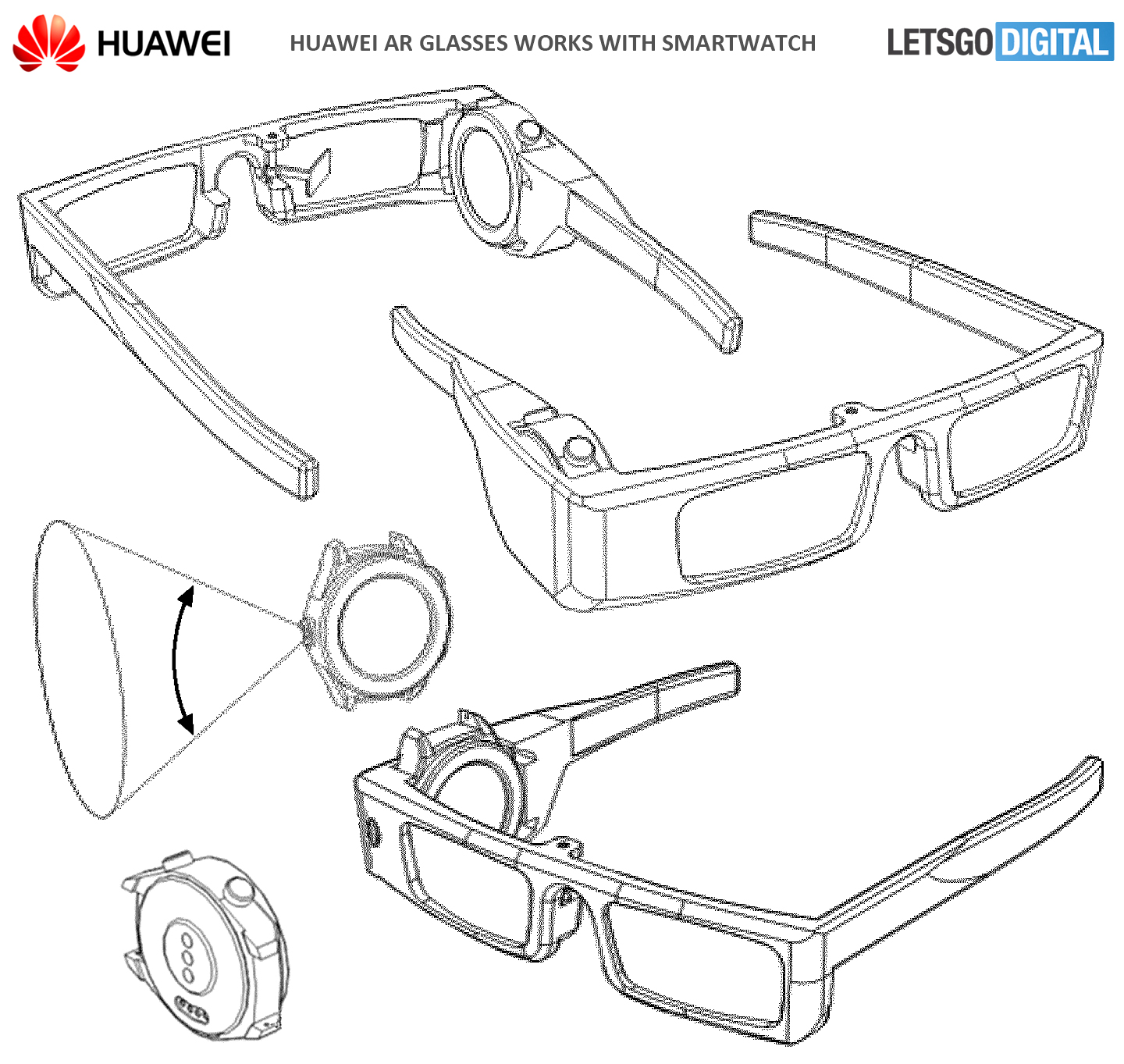 Er worden overigens twee verschillende monturen getoond in de illustraties, de plaatsing van de smartwatch is hetzelfde, wel zit er lichtelijk verschil in de brilpootjes. Voor de brilglazen kan er zowel een transparant als semi-transparant optisch element worden gebruikt.
Er is wel een kleine maar… want hoewel er enkele smartwatches te koop zijn met een ingebouwde camera, heeft Huawei vooralsnog geen smartwatch uitgebracht met een camera. Mocht het bedrijf deze AR-bril op de markt willen brengen, dan is de kans groot dat het bedrijf eerst een smartwatch met camera zal introduceren.

FOR OUR INTERNATIONALREADERS



On February 7, 2019, a patent from Huawei Technologies for an 'Eyeglass frame' was published in the database of the WIPO (World Intellectual Property Organization). The patent describes a lightweight, discrete and relatively inexpensive AR headset.
The slim glasses can be used as an Augmented Reality headset. However, the glasses do not have a camera, display or microphone. For this you need to have a smartwatch, which can be attached in the right temple. The glasses incorporate an adapter and a mirror. Through the mirror the content shown on the display of the smartwatch will be immediately reflected in the eyes of the user.
The smartwatch can only be attached in one way, the display is facing inwards and the camera is facing forward. In the spectacle frame an opening is made for the camera. The camera can be used to record the movements of a user.
Here you can find the patent of the Huawei AR glasses.