Het was begin 2011 toen LG zijn eerste tablet introduceerde, de Optimus Pad. Naderhand heeft de Koreaanse fabrikant nog verschillende tablet PCs uitgebracht, denk bijvoorbeeld aan de LG G Pad serie. Toch is het al een tijd stil rondom LG tablets. Dit geldt overigens niet alleen voor LG, ook andere Android tablet fabrikanten hebben het afgelopen jaar bijzonder weinig nieuwe tablets uitgebracht.
Een nieuw patent toont aan dat we in de toekomst mogelijk toch weer een nieuwe LG tablet mogen verwachten. Het bedrijf heeft een premium ontwerp laten vastleggen in thuisland Korea. De tablet is gepatenteerd met bijbehorende case. Ook zijn we een draadloos toetsenbord op het spoor gekomen, die hoogstwaarschijnlijk in combinatie met de tablet gebruikt kan worden.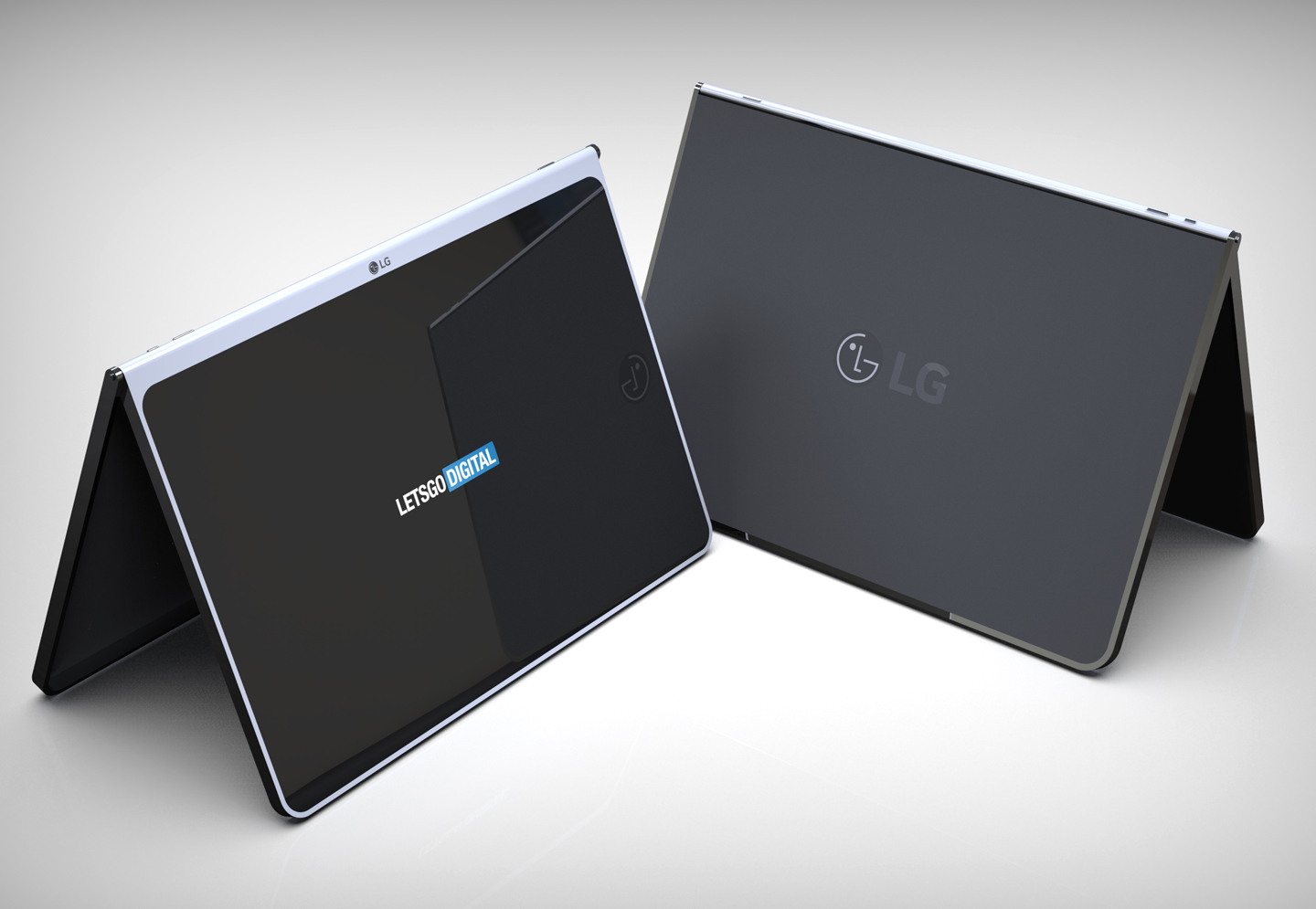 LG tablet met cover
LG Electronics heeft bij KIPO (Korean Intellectual Property Office) een design patent aangevraagd voor een tablet PC. Het patent is goedgekeurd en werd op 14 december 2018 gepubliceerd. Zoals gebruikelijk bij een design patent is de uitleg rondom de schetsen beperkt.
Er zijn negen afbeeldingen bijgevoegd, die de tablet vanuit alle hoeken toont. De gepatenteerde LG tablet heeft een modern en premium design met smalle schermranden. De hoeken zijn mooi afgerond, dit geldt ook voor de display zelf. De tablet van LG zit in een bijbehorende cover, dat gemaakt wordt van textielmateriaal. Wanneer de case wordt uitgevouwen kun je de tablet neerzetten.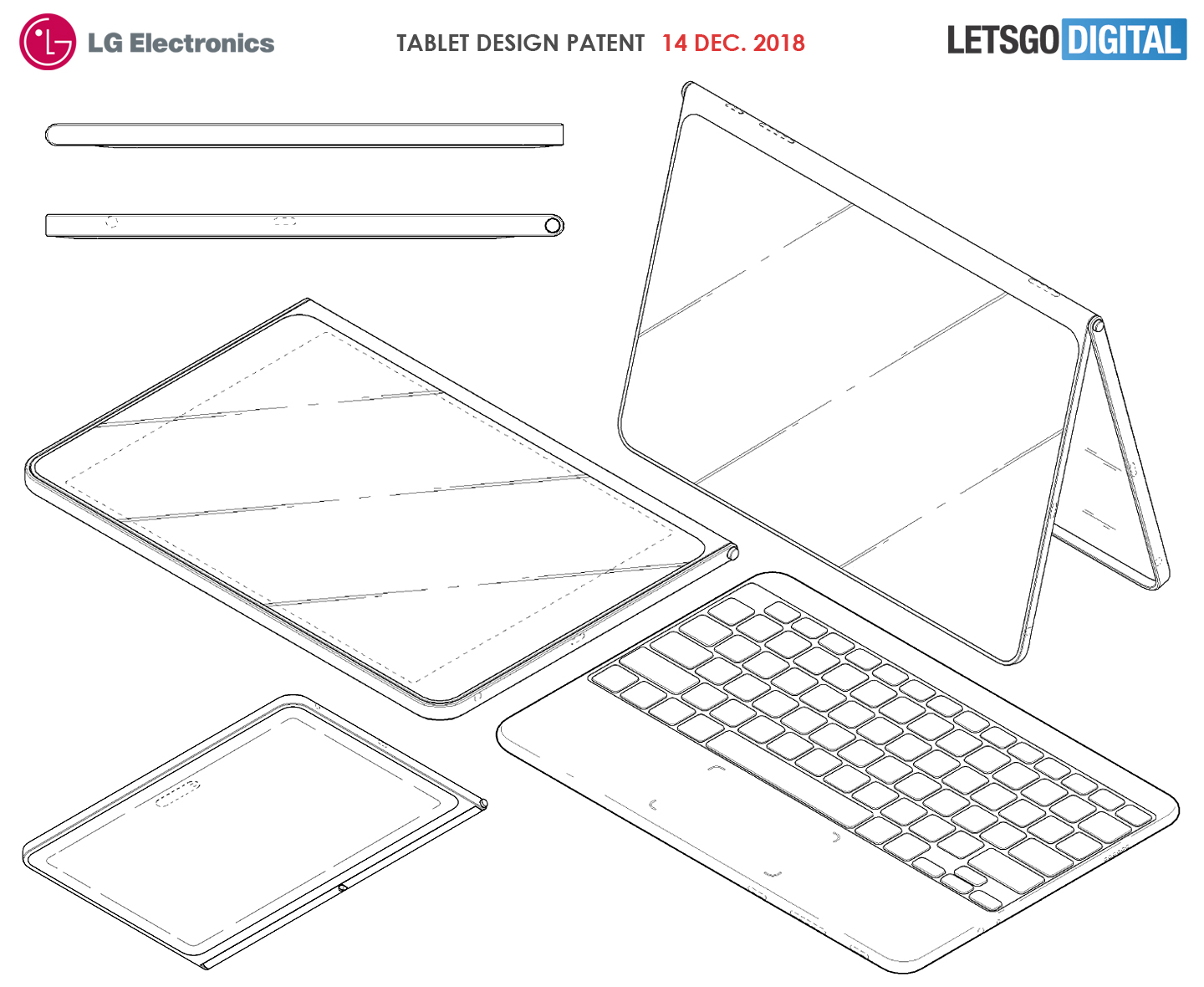 LG wireless toetsenbord
Op dezelfde dag heeft KIPO nog een design patent toegekend aan LG Electronics. Het betreft een draadloos toetsenbord die naar alle waarschijnlijkheid in combinatie met de tablet gebruikt kan worden. Ook hier zien we de ronde hoeken terug. Daarnaast is het wireless toetsenbord voorzien van een touch pad, wat bijdraagt aan een intuïtieve bediening. Ook zijn er aan de zijkant van het toetsenbord verschillende knoppen aangebracht.
Het is vooralsnog onbekend wanneer LG weer een nieuwe tablet zal uitbrengen. Het gepatenteerde ontwerp heeft het meest weg van de LG Tab Book Duo, die in 2015 gelanceerd werd. Deze tablet beschikte ook over een los toetsenbord, dat op een compacte wijze samengevoegd kon worden voor onderweg.
Hoewel er op MWC 2017 nog verschillende Android tablets werden uitgebracht, was het bij MWC 2018 beduidend rustiger op tablet gebied. Hoewel het Android OS wel verbeterd is voor op je mobiel, is er de afgelopen tijd weinig geïnvesteerd in het creëren van een betere tablet ervaring. Concurrent Apple daarentegen heeft dat met haar iOS wel gedaan, waardoor dit besturingssysteem over meer tablet specifieke functies beschikt. Mogelijk dat we op MWC 2019 weer wat tablets zullen tegenkomen.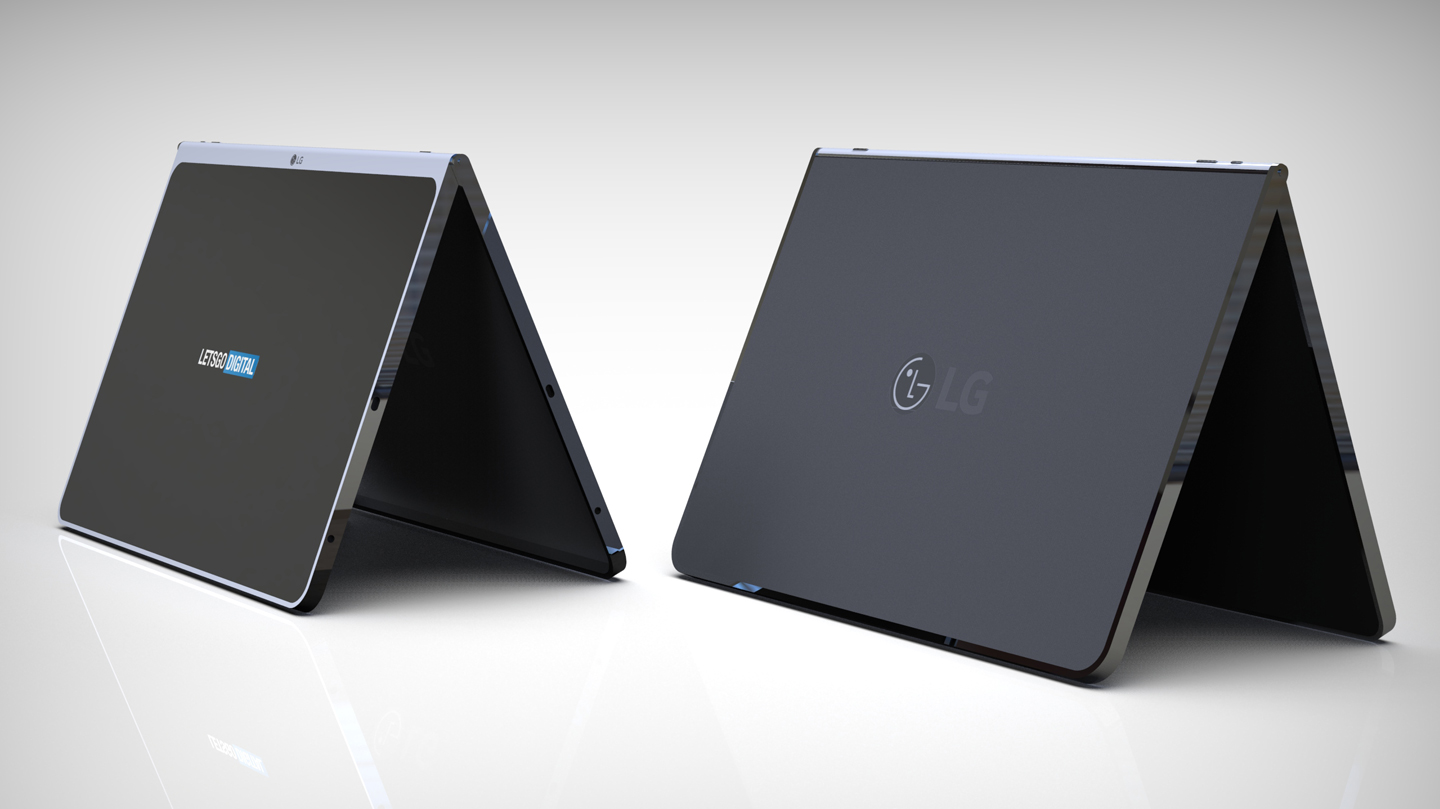 FOR OUR INTERNATIONAL READERS



It has been a while since LG introduced its last tablet. But a newly granted patent shows LG Electronics still sees opportunities in this market.
LG Electronics has filed a design patent with KIPO (Korean Intellectual Property Office) for a tablet PC. The patent has been approved and was published on December 14, 2018. The premium LG tablet includes a cover of fabric material, once unfolded it can be used as a cradle.
In addition, another design patent from LG Electronics has been published on the same date. It contains a wireless keyboard that can probably be used in combination with the tablet. The keyboard also comes with a touch pad. The patented tablet seems to be a kind of successor to the LG Tab Book Duo, which was launched in 2015.
Here you can find the patent from LG Electronics: tablet and keyboard.
Note to editors: The 3D renders presented in this article are copyright protected. The pictures can be used for reproduction in any online publication if you add a credit source link to our website. Thank you very much for understanding.