Afgelopen maand heeft Google nog een nieuwe premium Chromebook aangekondigd, de Google Pixelbook. Deze notebook wordt geleverd met een stylus pen en is een 2-in-1 apparaat, dat ook bruikbaar is als tablet. Het ziet er echter naar uit dat Google nog meer innovaties voor ons in petto heeft aangaande haar Chromebook serie.

Google Chromebook patent
We hebben zojuist een nieuwe patent aanvraag ontdekt dat betrekking heeft op de Google notebook computer. Het patent is eerder deze week ingediend door Google Inc bij het WIPO (World Intelligent Property Organization). Het betreft een notebook met een automatische display positionering, middels een gemotoriseerde scharnierstructuur.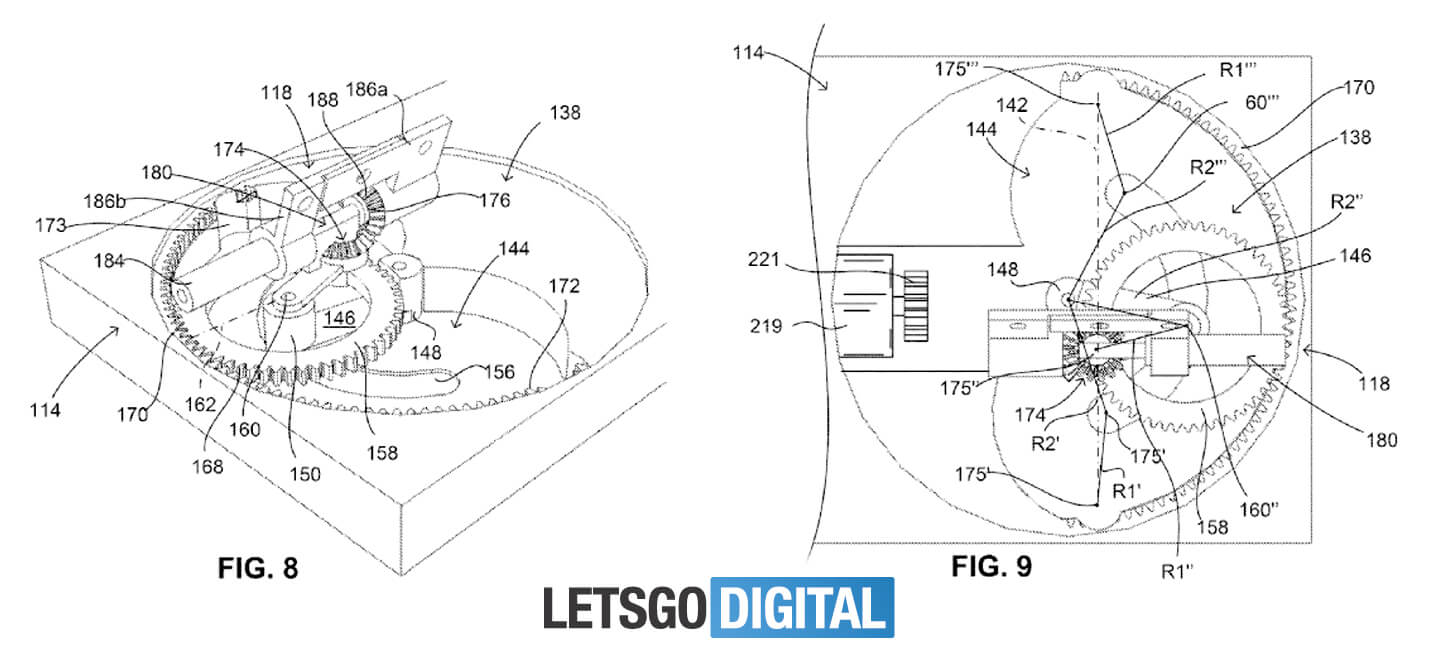 Daar waar traditioneel het scharnier wordt geplaatst om de display en het toetsenbord met elkaar te verbinden, heeft Google kans gezien om dit scharnier te motoriseren. Daarnaast worden er verschillende sensoren ingebouwd. De ene sensor kan inschatten waar de gebruiker zich ten opzichte van het scherm bevindt. Een andere sensor kan zien of de gebruiker direct contact maakt met de laptop.
Deze sensoren staan in verbinding met de processor, waardoor de Chromebook in staat is om de display automatisch zodanig te positioneren dat de gebruiker optimaal zicht op het scherm behoudt.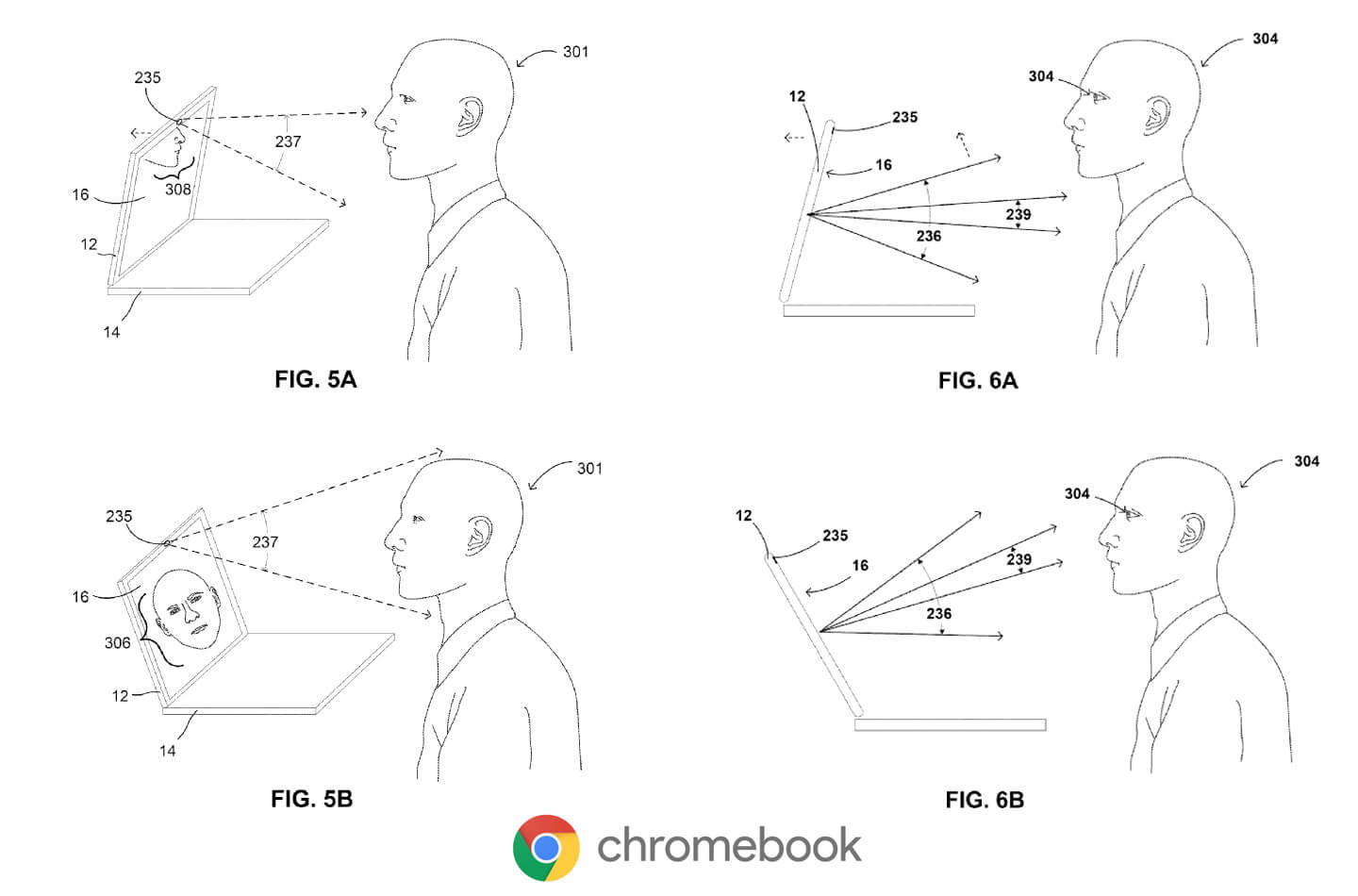 Google notebook met gezichtsdetectie
Dit is overigens niet de enige innovatieve functie die we in de volgende generatie Google Chromebook notebooks verwachten. Want om deze functie te bewerkstelligen is er nog iets nodig, namelijk gezichtsdetectie.
Vier jaar geleden heeft Google al eens een patent ingediend voor gezichtsherkenning. Maar tot op heden heeft Google dit nooit geïmplementeerd, dit heeft alles te maken met het goed beveiligde Chrome OS. Google wil een dergelijke functie niet aanbieden totdat de zoekgigant er 100% zeker van is dat de kwaliteit toereikend is.
De huidige patent aanvraag toont onder andere een schets, waarin duidelijk wordt dat gezichtsdetectie wordt toegepast om de optimale schermpositie te kunnen bepalen.
Het patent is erg gedetailleerd uitgewerkt, wat erop duidt dat Google al langer aan deze ontwikkeling werkt. Desalniettemin kan het nog best even duren voordat we ook daadwerkelijk een Chromebook mogen verwelkomen die deze innovatieve functies biedt.
Als het aan Google ligt hoeven we in de toekomst in ieder geval nooit meer handmatig onze laptop display te positioneren, ik ben erg benieuwd naar de uitwerking ervan.

FOR OUR INTERNATIONAL READERS 
Earlier this week Google Inc filed a patent with WIPO for its Chromebook notebook series. The patent tells us Google is developing a notebook computer with a motorized display positioning. A motorized hinge structure will be capable of moving the lid between an open and closed position. The movement of the lid is based on input from a plurality of sensors.
One sensor may be configured to determine whether the user is within a predetermined threshold distance. Another sensor may be capable of detecting whether the user has made direct contact with the laptop. These sensors are connected to the processor, allowing the Chromebook to automatically position the display in such a way that the user maintains an optimal view of the screen.
In addition, the Google Chromebook may have an image sensor configured to detect the user's face. Through face detection the notebook can continuously adjust the angle and position of the lid to keep the face in the field of view of the camera and/or keep the lid in the optimum viewing position.