Volgend jaar zullen de eerste full screen smartphones geïntroduceerd worden met 'gaten in de display', ter vervanging van de inkeping boven in het scherm (notch). Recentelijk werd bekend dat Samsung voornemens is haar 2019 vlaggenschip, de Galaxy S10, te voorzien van een camera onder de display. Niet veel later kwamen we een tijdens ons onderzoek een patent tegen van een Samsung smartphone met camera en verschillende sensoren onder de display.
Daar bleef het niet echter bij, ook van Oppo, LG en Huawei werd er deze maand een patent gepubliceerd voor een smartphone met in-display camera. Vanzelfsprekend roept dat de vraag op; wat zijn de plannen van Apple?
Apple kiest graag haar eigen weg. De Amerikaanse fabrikant behoorde tot één van de eerste die een smartphone met notch introduceerde, de iPhone X. Mogelijk dat het bedrijf uit Cupertino straks ook tot de eerste zal behoren die een full screen smartphone introduceert met een selfie-camera onder het scherm.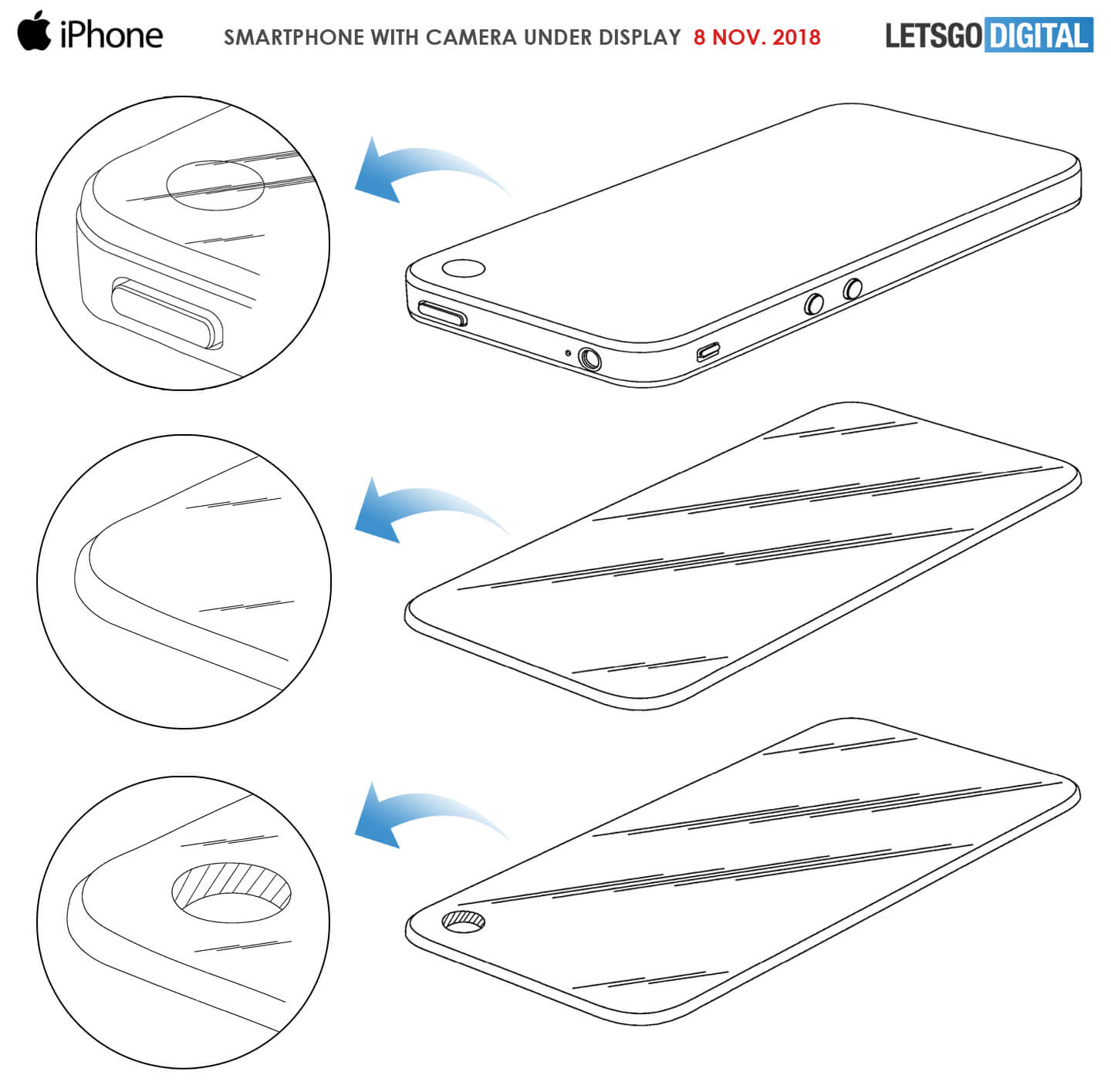 Apple patenteert iPhone met gat in display voor de camera
Op 8 november 2018 heeft het USPTO (United States Patent and Trademark Office) een patent gepubliceerd van Apple Inc. voor een 'camera integrated window'. Het patent werd in juni dit jaar aangevraagd en is erg technisch en gedetailleerd opgesteld.
Er wordt een smartphone omschreven met een gat in de display voor de cameralens. Het camera-gat is in de rechterbovenzijde van het toestel geplaatst. Over sensoren onder de display wordt niet gesproken. Het patent gaat uitsluitend in op het gehele assemblageproces.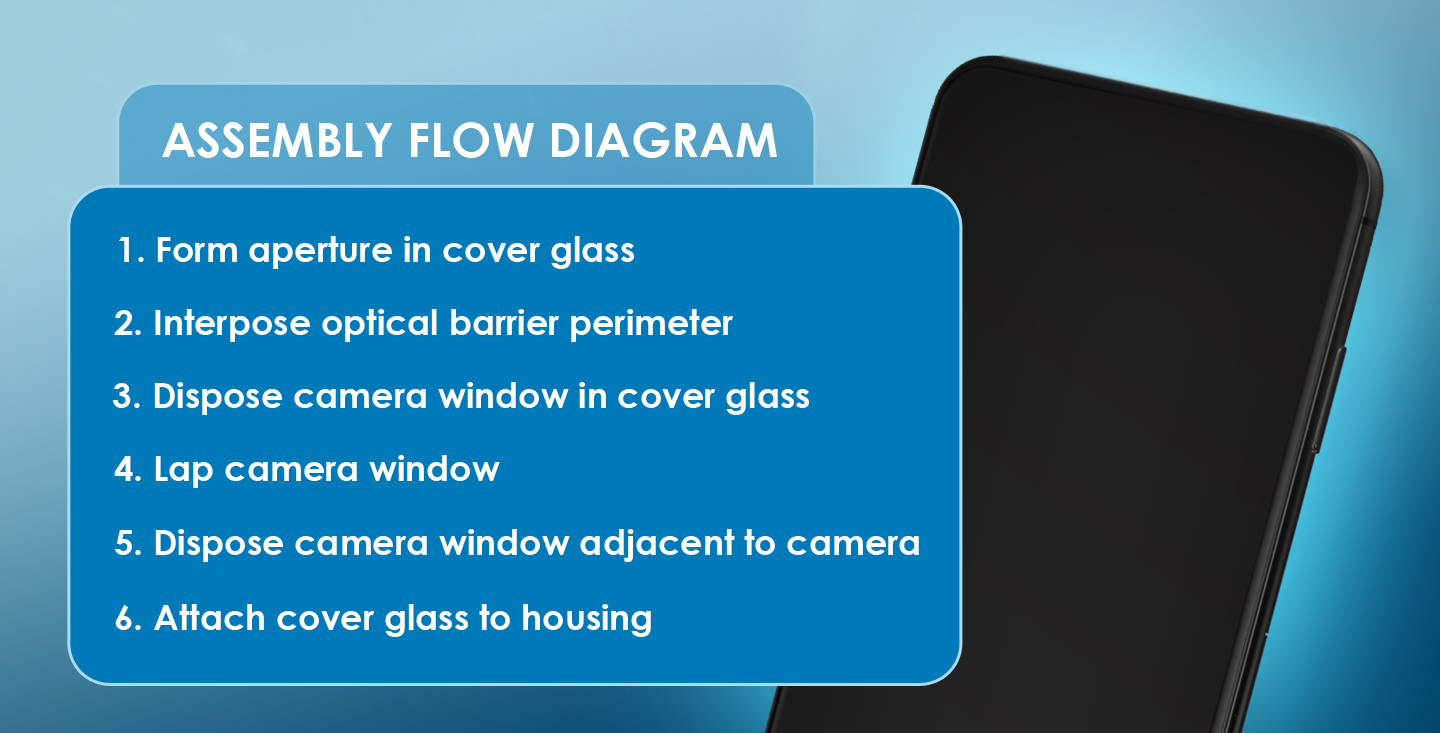 Het afdekglas zal gemaakt worden van een ander materiaal, dat sterker en transparant is. Bijvoorbeeld van aluminiumsilicaatglas, zoals DVTS van Corning. Dit zou dus een vervanging zijn voor het Gorilla Glass dat al sinds de originele iPhone uit 2007 door Apple wordt toegepast.
Apple en Corning hebben een relatie die velen jaren terug gaat, ook op het gebied van AR hebben ze in elkaar een partner gevonden. Dit jaar heeft Apple nog $200.000 miljoen dollar in Corning geïnvesteerd, voor Research & Development en het aankopen van apparatuur. De kans is dan ook groot dat nieuwe innovatie vanuit Corning als eerste in een Apple iPhone te bewonderen zal zijn, waarna ook andere smartphonefabrikanten zullen overstappen.
Er wordt in het patent verwezen naar verschillende oudere exemplaren, het eerste patent dat verband houdt met dit onderwerp dateert van januari 2012. Dergelijke innovaties komen nou eenmaal niet van dag tot dag.
Apple iPhone 2019 modellen
Het patent is op dusdanig technische wijze opgesteld dat het erop lijkt dat Apple klaar is om op korte termijn een iPhone te produceren met een selfiecamera onder de display. Logischerwijs zullen het de iPhone 2019 modellen worden die rond september verwacht worden.  Tegen die tijd verwachten we ook een iPhone met drie camera's op de achterzijde aan te treffen.

FOR OUR INTERNATIONAL READERS
Recently we have seen patents from Samsung, LG, Huawei and Oppo, all showing a smartphone with a full screen-filling display and a camera under the display. Of course this raises the question what is Apple about to do?
On November 8, 2018, the USPTO (United States Patent and Trademark Office) published a patent from Apple Inc. for a 'camera integrated window'. The patent was applied for in June this year and is very technical and detailed.
An Apple smartphone is described with a hole in the display for the camera lens. The camera hole is placed in the top right of the device. No word is mentioned about which sensors may be placed under the display. The focus of the patent is mainly on the assembly process.
The cover glass will be made of a stronger and transparent material. For example, aluminum silicate glass (DVTS from Corning). This would replace the current Gorilla Glass that has been used by Apple since the original iPhone from 2007.
The patent refers to several older versions, the first patent related to this subject dates from January 2012. All in all, it seems Apple may be ready to produce an iPhone with a selfie camera under the display in the near future. Logically, it will be the iPhone 2019 models that are expected around September.
Here you can find the patent from Apple.