Corning is met name bekend van haar Gorilla Glass. Zo werd de allereerste iPhone uit 2007 al van Gorilla Glass voorzien. Inmiddels zijn we ruim tien jaar verder en wordt het stevige en krasbestendige glas door veel meer smartphonefabrikanten toegepast. Dit is echter niet de enige activiteit waar Corning zich mee bezig houdt. Zo werkt het Amerikaanse bedrijf ook aan gespecialiseerde AR (Augmented Reality) brillen en headsets.
In december vorig jaar toonde Corning nog een demonstratievideo van haar Corning Precission Glass Solution. Het dunne en speciale Corning glas maakt het mogelijk om een augmented reality bril te fabriceren die er uitziet als een normale bril. Over een eventuele headset is echter nog beduidend minder bekend.
Samenwerking Corning en Apple
Corning's belangrijkste partner in AR is Apple. In mei dit jaar investeerde Apple nog $200 miljoen dollar in Corning, voor Research & Development en voor het aankopen van apparatuur. Het lijkt aannemelijk dat een deel van dit geld ook gebruikt zal worden om onderzoek naar AR te verrichten. De investering is overigens onderdeel van een groter plan. Apple trekt namelijk één miljard dollar ($1.000.000.000 USD) uit, met als doel meer productie banen in Amerika te creëren.
Het is algemeen bekend dat Apple ook toekomst ziet in augmented reality, zelfs meer dan in virtual reality. Volgens verschillende geruchten wordt volgend jaar de eerste Apple AR headset uitgebracht, de kans is groot dat deze voorzien wordt van Corning glas. Mogelijk wordt zelfs gebruik gemaakt van een splitter die een extra breed FOV mogelijk maakt, hiervoor heeft Corning een patent aangevraagd.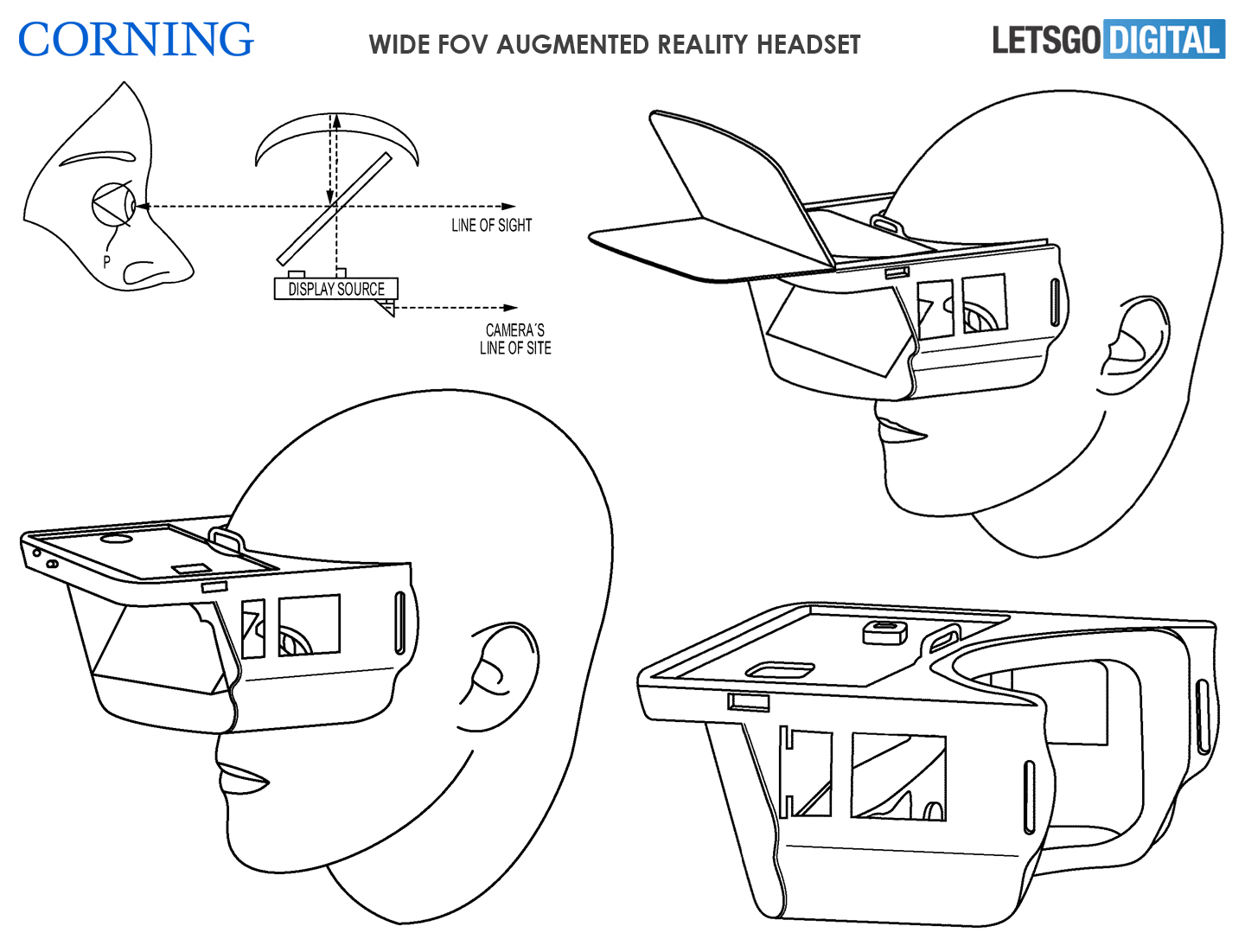 Corning augmented reality headset met extra breed FOV
Corning Incorporated heeft begin dit jaar bij de USPTO (United States Patent and Trademark Office) een patent ingediend voor een 'Wild Field personal display'. Het patent werd op 6 november 2018 gepubliceerd en omschrijft een augmented reality headset met een extra groot gezichtsveld.
De headset van Corning werkt in combinatie met een smartphone om beelden te projecteren. Tussen de smartphone en de lens wordt een 'bundelsplitsingsplaat' geplaatst. Door het beeld te splitten kan een extra groot FOV (Field of View) bereikt worden.
De polarisatie bundelsplitser wordt gemaakt door Corning zelf en vormt tezamen met de asferische lens het vizier. Het vizier beschikt ook over een scharnier, waardoor de headset door de gebruiker naar wens kan worden ingesteld.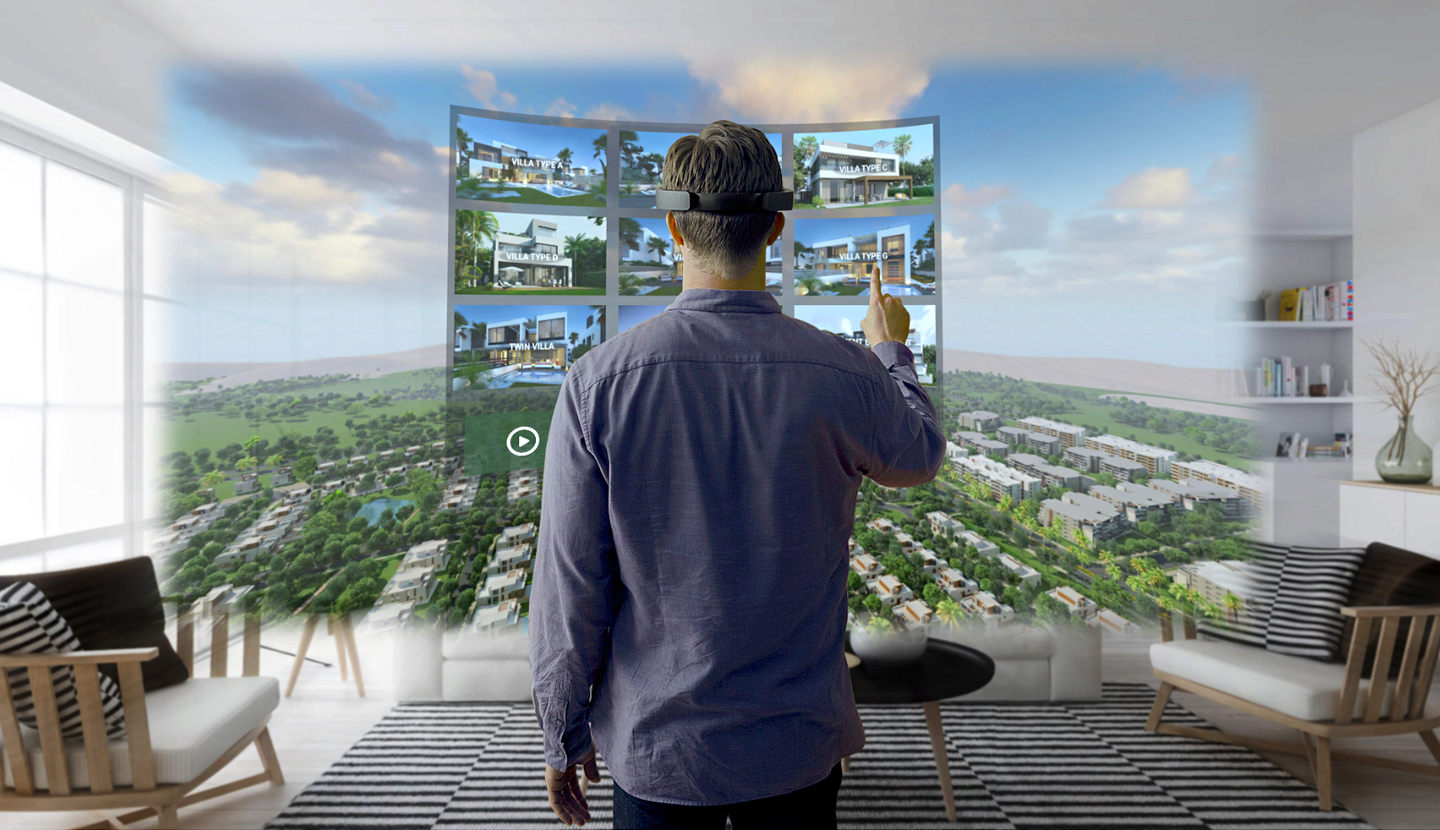 De augmented reality headset heeft volgens het patent van Coning een brandpuntafstand tussen de 38mm en 64,7mm en een horizontale FOV van 30 graden. Door de splitter zal de gebruiker echter een FOV ervaren tussen de 40 en 70 graden.
Ter vergelijking, de Microsoft Hololens heeft een horizontale FOV van 35 graden. Vorig jaar heeft Micosoft overigens ook een patent laten vastleggen voor een AR headset waarbij gebruik gemaakt werd van een splitter om de FOV te verdubbelen.
De gepatenteerde technologie ziet er detailleert en vergevorderd uit. Mogelijk dat deze technologie ook door Apple toegepast kan worden. In ieder geval blijft Corning zich inzetten om een betere augmented reality ervaring te leveren en dat kan in de toekomst wel eens voor mooie, duurzame producten zorgen.

FOR OUR INTERNATIONAL READERS



Corning is mainly known for her Gorilla Glass, but the US based company also works on Augmented Reality (AR) glasses and headsets. Corning's main partner in AR is Apple. In May this year, Apple invested $200 million in Corning, for Research & Development and to purchase equipment. It seems plausible that part of this money will also be used to conduct research into AR.
Beginning of this year Corning has filed a patent with USPTO (United States Patent and Trademark Office) for a 'Wide field personal display'. The patent was published on 6 November 2018 and describes an augmented reality headset with an extra wide field of view.
The patented headset from Corning works in combination with a smartphone to project images. A 'beam splitting plate' is placed between the smartphone and the lens. By splitting the image an extra wide FOV (Field of View) can be achieved.
The polarization beam splitter is made by Corning and forms the visor together with the aspheric lens. The visor is hinged and its position (angle) can be adjusted by the viewer.
According to the patent description, the augmented reality headset has a focal length between 38 mm and 64.7 mm and a horizontal FOV of 30 degrees. However, due to the splitter, the user will experience an FOV between 40 and 70 degrees.
For comparison, the Microsoft Hololens has a horizontal FOV of 35 degrees. It should be mentioned that late last year Micosoft also filed a patent for an AR headset that uses a splitter to double the FOV.
Apple is believed to launch its first Augmented Reality headset next year. Could this headset come with similar technology as patented by Corning?
Here you can find the patent from Corning.