Hoewel LG's mobiele divisie al verscheidene jaren verlies draait, lijkt de Koreaanse fabrikant zich nog altijd te richten op de toekomst. Zo vraagt het bedrijf nog regelmatig patenten aan voor toekomstige smartphone ontwerpen. Afgelopen week publiceerden we nog over een patent waarin drie LG smartphone modellen met een vierkante camera opstelling werden beschreven, vergelijkbaar met de Mate 20 serie. Ditmaal legt LG in Korea een serie design patenten vast voor een full screen smartphone met camera onder de display.

LG smartphone met camera onder display
De design patenten zijn aangevraagd in thuisland Zuid-Korea bij de KIPO (Korean Intellectual Property Office) door LG Display en werden op 24 oktober en 2 november 2018 gepubliceerd. Het gaat om twee verschillende smartphone ontwerpen, beide hebben een randloos scherm.
Bij één model loopt de display aan de rechterzijkant schuin af, waardoor het toestel rechts dunner is dan links. Het tweede ontwerp is een recht model met afgeronde hoeken. In beide gevallen wordt er gebruik gemaakt van een flexibel display.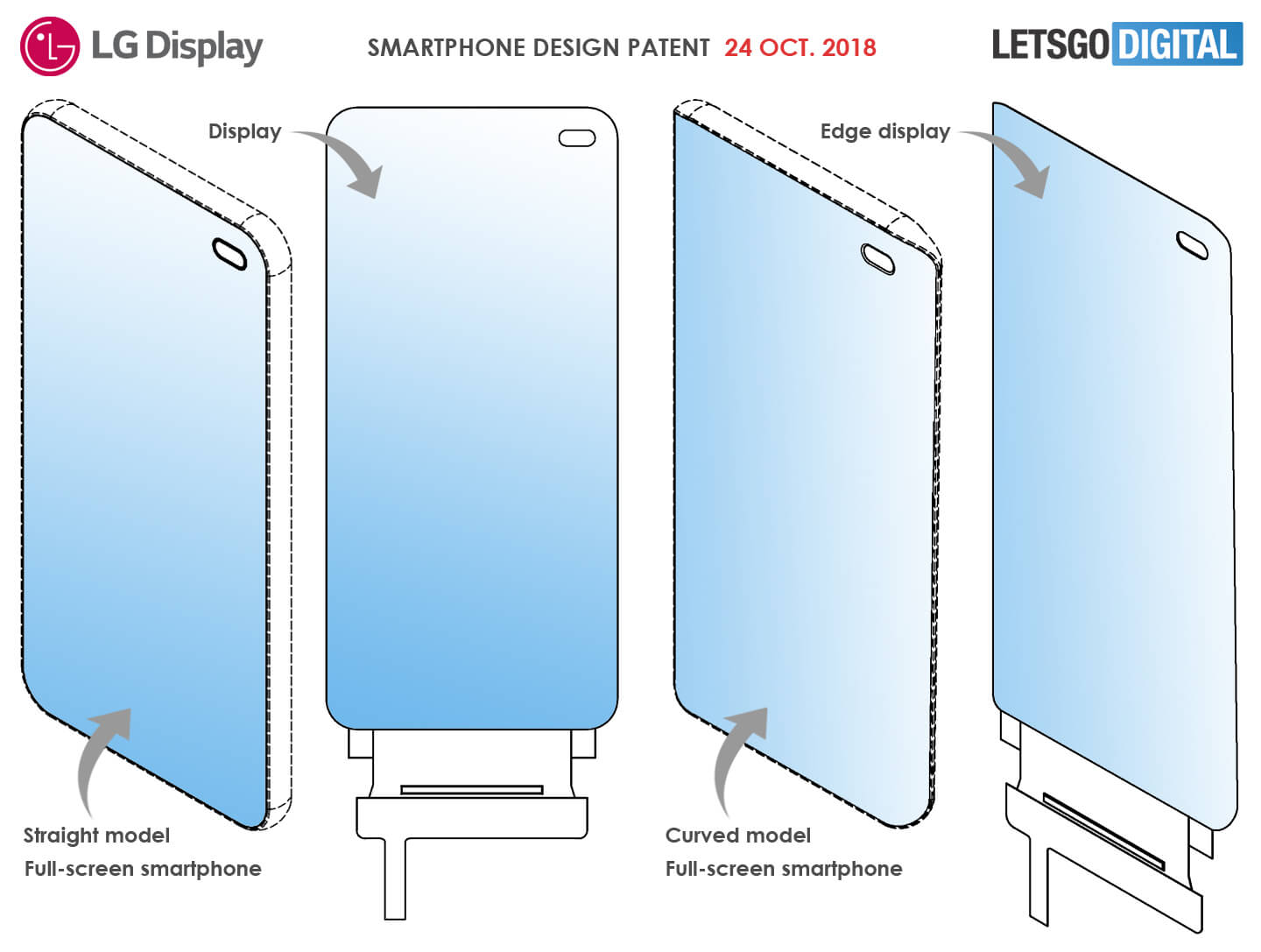 In de display zit bovenin een ovaal gat voor de selfie-camera, deze wordt gemaakt van een transparant materiaal. Dit ovale gat wordt kan op verschillende locaties geplaatst worden; in het midden, maar ook in de linker- of de rechter bovenzijde.
Het patent geeft geen duidelijkheid over de reden waarom er voor een ovaalvormig gat is gekozen, mogelijk kunnen er zo twee camera's onder het scherm geplaatst worden. Het doel van deze innovatie moge duidelijk zijn, door de camera onder de display te plaatsen kan een nagenoeg 100% schermoppervlak gerealiseerd worden.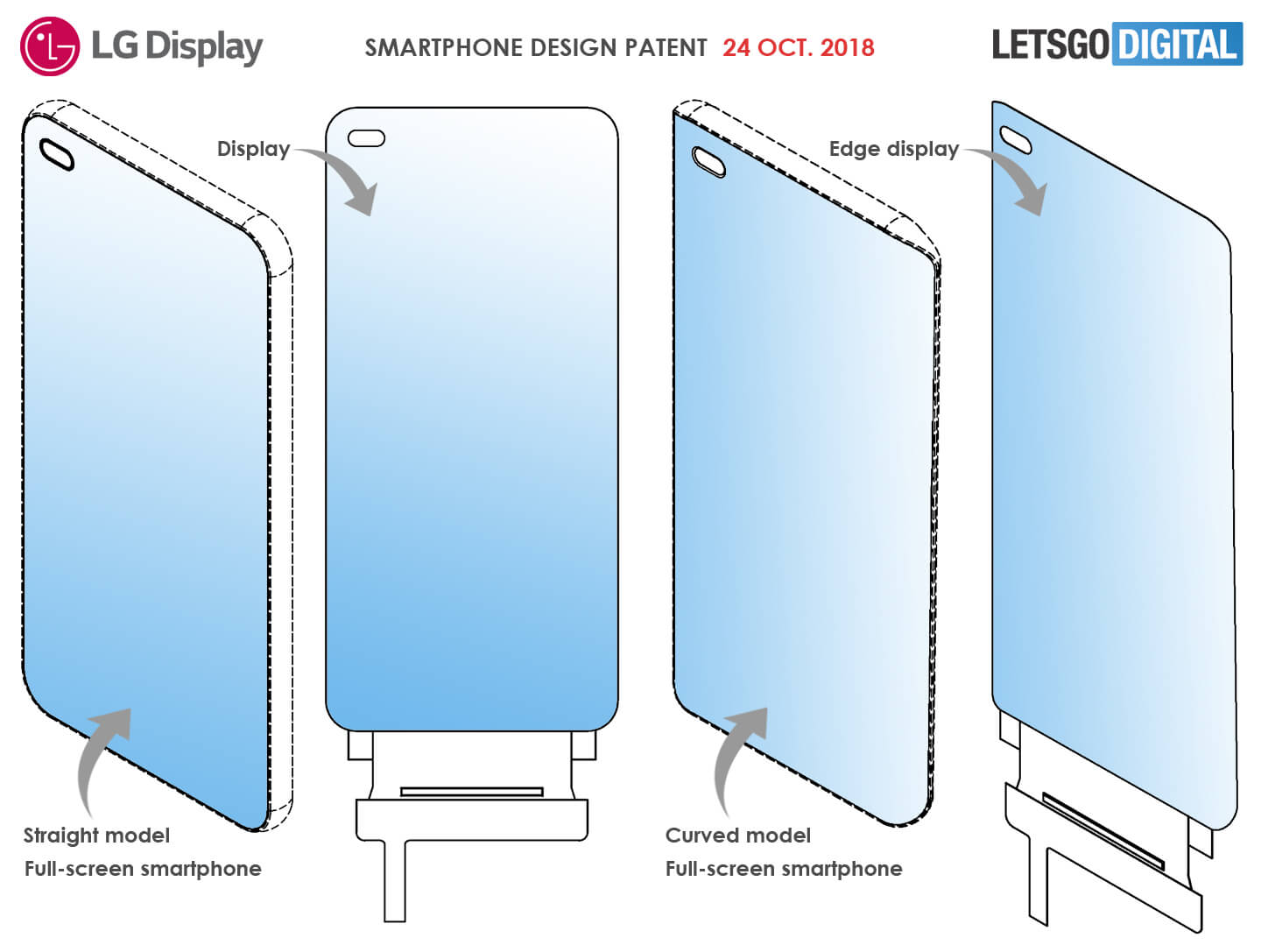 Full screen smartphones zonder notch
Vorige maand werd bekend dat concurrent Samsung haar volgende vlaggenschip, de Galaxy S10, wil voorzien van een camera en sensoren onder de display. Niet veel later kwamen we een patent tegen van een Oppo smartphone met camera onder de display. De nieuwe design patenten duiden aan dat ook LG niet achter wil blijven.
Door deze ontwikkelingen lijkt de uitschuifbare camera overigens wel een kort leven beschoren te zijn. Deze zogenaamde slider camera wordt inmiddels door verschillende Chinese fabrikanten toegepast, zoals Vivo, Oppo, Lenovo en Xiaomi.
Waarschijnlijk zal LG binnenkort ook een opvouwbare smartphone presenteren. De kans is groot dat dit zelfs nog eerder gebeurt dan dat het bedrijf een fullscreen smartphone introduceert, want de LG opvouwbare smartphone wordt mogelijk al begin volgend jaar onthuld, tijdens CES 2019.

FOR OUR INTERNATIONAL READERS



Although LG's mobile division is experiencing tough times, the company still seeks to move forward. Recent patents have shown the company tries to keep up with the competition. Last week, we published about a design patent for a LG smartphone with a square camera setup, similar to the Mate 20 series.
This time, LG Display has filed multiple design patents in homeland South-Korea with KIPO (Korean Intellectual Property Office) for a full-screen smartphone with a camera under the display. The design patents show two smartphone models with a bezel-less design. One straight model with rounded corners. The other design is edged-curved on the right side, making the device thinner on the right side than on the left. In both cases a flexible display is used.
The display contains an oval hole for the selfie camera, which is made of a transparent material. This oval hole can be placed at different locations; in the middle, but also in the left or right top of the device. The patent does not clarify why an oval hole has been chosen, perhaps it will even be possible to place two cameras under the screen. In any case, the aim of this innovation is clear, by placing the camera under the display a virtually 100% screen surface can be realized.
Here you can find the design patents from LG Display: camera hole in the middle, camera left, camera right and smartphone display.