Begin dit jaar demonstreerde Samsung een 146-inch MicroLED TV scherm op CES 2018, ook wel Samsung The Wall genoemd. Het gigantische TV scherm is opgebouwd uit modules, waardoor het scherm is uit te breiden tot tientallen meters. Eerder deze maand introduceerde Samsung op de ISE 2018 een extra variant van haar nieuwe MicroLED TV, de The Wall Professional.

Samsung The Wall Luxury
Een recente trademark aanvraag duidt erop dat Samsung haar MicroLED TV line-up binnenkort opnieuw zal uitbreiden, ditmaal met Samsung The Wall Luxury.
Op 7 februari 2018 heeft Samsung Electronics een tweetal internationale trademark aanvragen ingediend bij het KIPRIS (Korean Intellectual Property Rights Information Service). Het gaat om een aanvraag voor de naam The Wall Professional -deze is inmiddels geïntroduceerd- en The Wall Luxury. De aanvraag is gecategoriseerd als; 'grootformaat electronische digitale displays, televisies en televisie ontvangers'.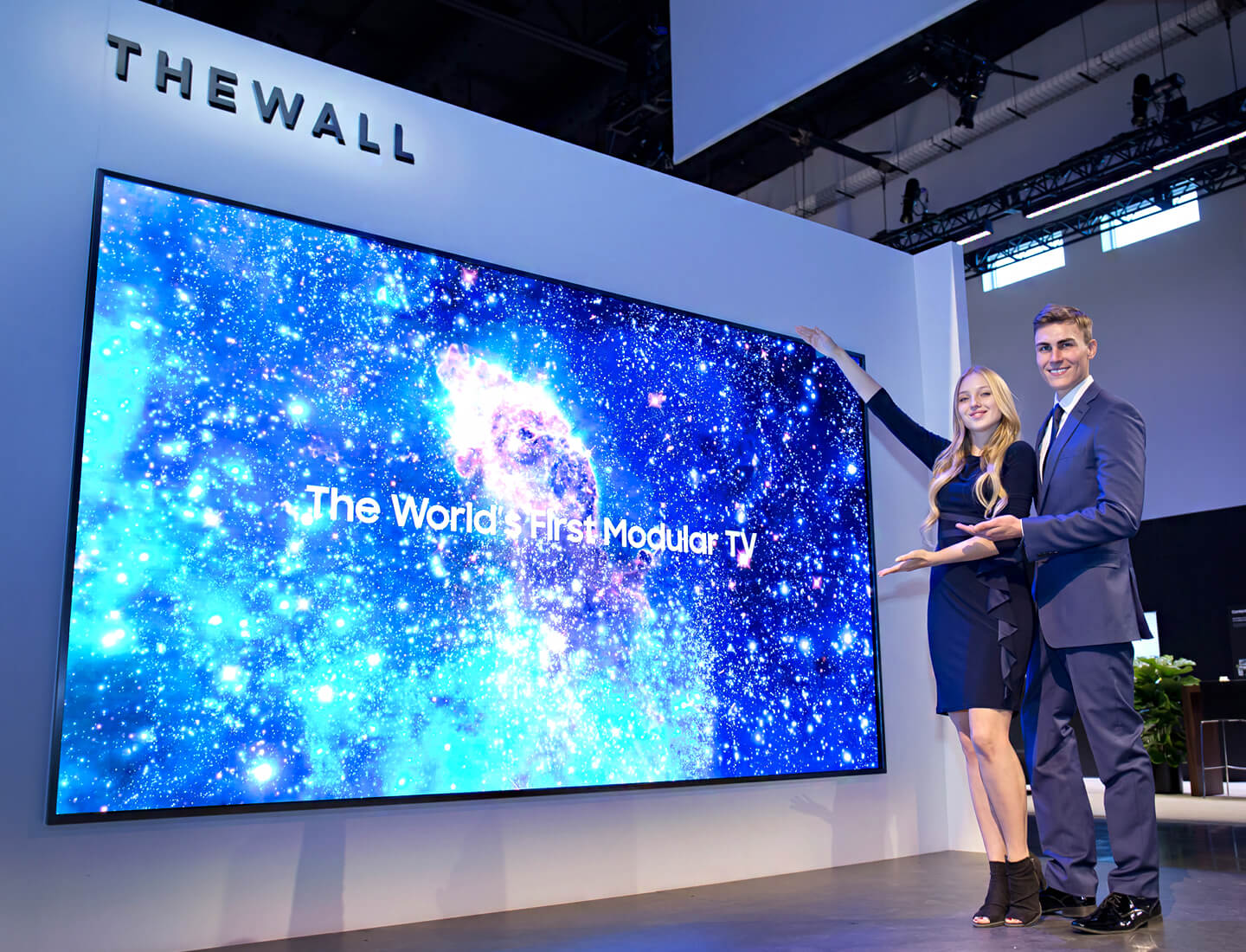 Samsung The Wall Professional
Samsung The Wall Professional is ontwikkeld voor de zakelijke markt. Net als de eerste MicroLED TV is het standaardformaat 146-inch. In de praktijk is het mogelijk modules weg te laten of aan te bouwen, waardoor elk gewenst formaat scherm bereikt kan worden.
Het is op dit moment nog onbekend wat de verschillen worden tussen The Wall Luxury en The Wall Professional. Het zou goed kunnen dat de Luxury variant de consumenten serie gaat worden.

Overige Samsung TV innovaties
Overigens is dit niet de enige TV innovatie waar de Koreanen aan werken. Het bedrijf heeft de afgelopen twee maanden meerdere trademark aanvragen gedaan voor TV-gerelateerde producten, denk aan Super Size en Giant TV. Daarnaast lijkt Samsung ook voornemens te zijn een Cinema TV voor consumenten uit te brengen, hiervoor zijn de trademark aanvragen Cinéma TV, Cinemascope TV, Ciné TV en Panoramic Sound ingediend.
Self-emitting MicroLED TVs
Ten slotte lijkt Samsung te werken aan de ontwikkeling van een self-emitting QLED TV. Hiervoor is een aanvraag gedaan in de vorm van Micro QLED TV. In tegenstelling tot de MicroLED TV zijn de QLED TVs nog niet self-emitting. Dit wil zeggen dat de quantum dots zelf geen licht uitstralen, in plaats daarvan wordt gebruik gemaakt van achtergrond verlichting.
De MicroLED TV's, waartoe The Wall serie behoort, zijn geavanceerde LED TVs. De LED lampjes stralen wel zelf licht uit, wat achtergrondverlichting overbodig maakt. Ook heeft de MicroLED TV geen kleurenfilters nodig. De piekhelderheid is 1.600 nit en het contrastratio is ongekend hoog.

FOR OUR INTERNATIONAL READERS 
Earlier this month Samsung has filed two international trademark applications with KIPRIS. One for the name The Wall Professional and the other for The Wall Luxury.
The Wall Professional has already been introduced earlier this month, it´s a professional 146-inch MicroLED TV for businesses. The Wall Luxury will be a completely new model. Although the trademark does not reveal what the difference between The Wall Professional and The Wall Luxury will be, it seems likely that the Luxury variant will be developed for consumers.
The Wall TVs are advanced LED TVs. They are self-emitting and they can be adjusted in size, thanks to their modular design.
The KIPRIS trademark for Samsung The Wall Luxury can be seen here.