Afgelopen jaar introduceerde Samsung in maart 's werelds eerste Cinema LED display. Het eerste commerciële Cinema LED Screen werd geïnstalleerd bij het Lotte Cinema World Tower in Korea, waarna de bioscoopscherm ook debuteerde in Amerika en Europa. Het enorme 4K HDR LED display biedt een extra rijke kijkervaring, met heldere, contrastrijke kleuren, aldus de fabrikant. Een serie nieuwe trademark aanvragen doet ons vermoeden dat Samsung deze bioscoopervaring wil overbrengen naar de woonkamer.
 
Samsung trademark voor Cinéma TV, Cinemascope TV en Ciné TV
Samsung heeft bij het EUIPO (European Union Intellectual Property Office) een drietal nieuw merknamen gedeponeerd. De aanvragen werden gedaan op dinsdag 23 januari 2018. Het gaat om een trademark voor Samsung Cinéma TV, Cinemascope TV en Ciné TV.

Alle drie de trademarks zijn gecategoriseerd onder Classificatie 9, waartoe onder andere Televisie ontvangers, Computerschermen, Digital signage en Televisie-apparaten behoren. De aanvragen zijn gedaan door het Europese advocatenkantoor FieldFisher LLP uit Londen, welke uit naam van Samsung Electronics handelde.
In oktober 2017 vroeg het bedrijf ook al een trademark aan voor Samsung Premier Cinema LED.

Samsung TVs met Panoramic Sound
De recente trademark aanvragen lijkt er op te duiden dat Samsung voornemens is een televisie te presenteren, die een levensechte bioscoopervaring biedt vanuit je huiskamer. Vanzelfsprekend is het hierbij niet alleen belangrijk dat de TV de beste beeldkwaliteit biedt, ook het geluid is van groot belang.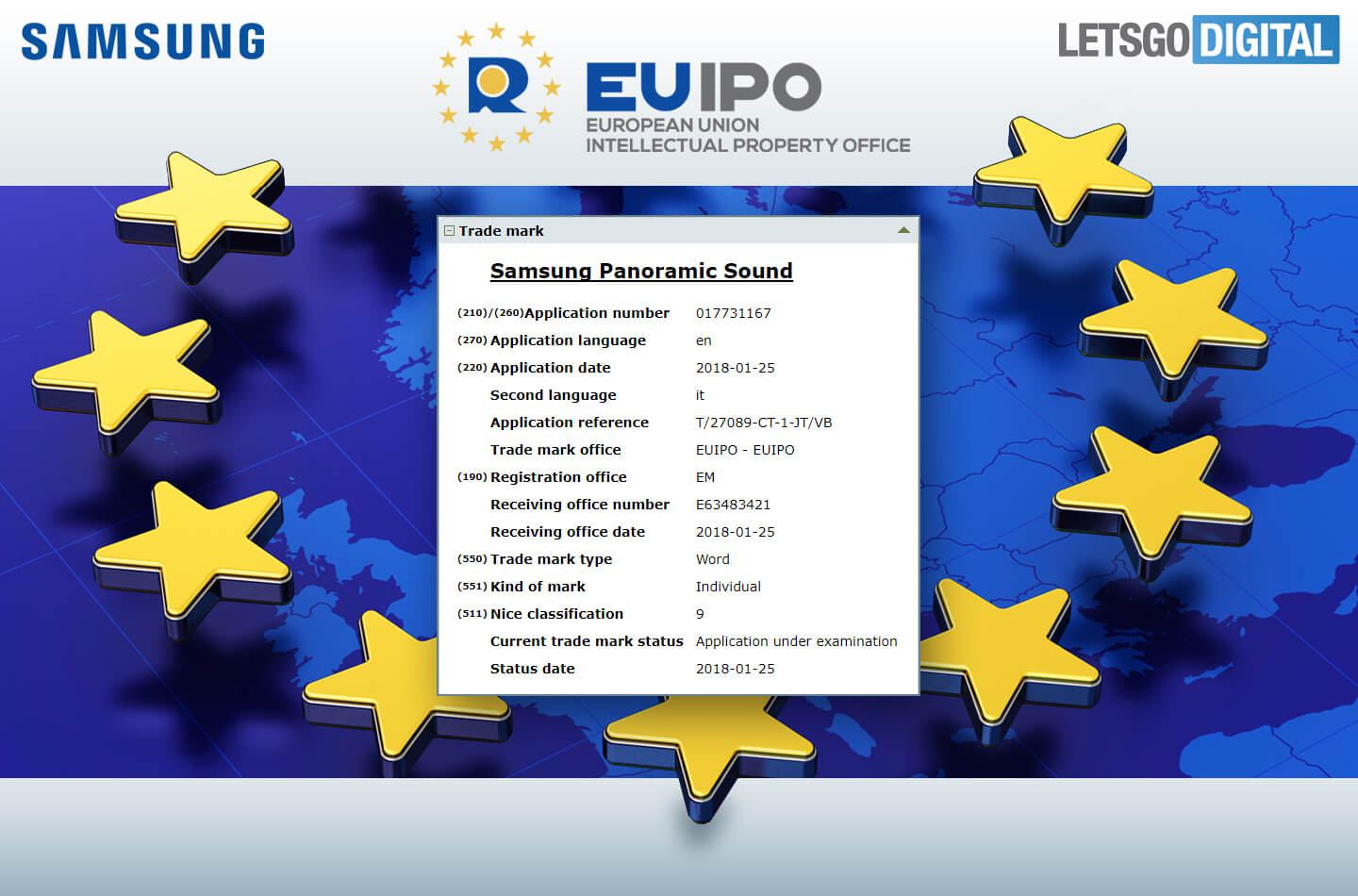 Twee dagen na bovengenoemde aanvragen voegde de Koreaanse fabrikant er nóg een trademark aan toe, voor Samsung Panoramic Sound. Net als voorgaande merknaam aanvragen is deze gecategoriseerd als Classificatie 9, waartoe oa. TVs en speakers behoren.
Bekijk hier de trademark aanvragen voor Cinéma TV, Cinemascope TV, Ciné TV en Panoramic Sound.

FOR OUR INTERNATIONAL READERS 
On Tuesday January 23, 2018 Samsung has filed three new trademarks with EUIPO (European Union Intellectual Property Office). It is a trademark for Samsung Cinéma TV, Cinemascope TV and Ciné TV.
All three applications are categorized as Classification 9, which includes Television receivers, Computer screens, Digital signage and Television devices. The trademarks were filed by the European law firm FieldFisher LLP from London, acting  on behalf of Samsung Electronics.
The new trademarks could indicate Samsung wants to create a true home cinema experience. Of course a great image quality is one of the requirements (like the 10x5m Cinema LED screen Samsung introduced in March 2017), but also sound is very important.
Two days after the aforementioned trademark fillings the Korean company applied for another trademark: Samsung Panoramic Sound. This one has also been categorized as Class. 9, which includes TVs and speakers.