Begin dit jaar heeft LG een prototype van een 65-inch oprolbare TV getoond op CES 2018. Deze baanbrekende televisie gaat naar verluidt in 2019 in de verkoop. Vanzelfsprekend kan concurrent Samsung niet achterblijven. Een recent gepubliceerd patent onthuld dat we binnenkort mogelijk ook een Samsung TV met rolbaar display mogen verwachten.

Samsung oprolbare TV
Samsung Electronics heeft een patent aangevraagd bij USPTO (United States Patent and Trademark Office) voor een 'rollable display device'. Het patent werd op 25 december 2018 gepubliceerd en toont een stijlvolle oprolbare TV.
De oprolbare Samsung TV heeft een heel ander design dan die van LG. Bij LG rolt het scherm uit naar boven, vanuit een brede cassette. Bij het ontwerp van Samsung wordt de TV naar links en rechts uitgerold. Het is een zeer stijlvol lifestyle design, dat je eenvoudig op elke gewenste plek kunt neerzetten en net zo makkelijk weer oprolt voor transport.
De televisie met flexibele display wordt ondersteunt middels een standaard, die verticaal in het midden is geplaatst. Hierdoor wordt het scherm mooi strak gehouden, om beeldvervorming te voorkomen. Een zeer ingenieus ontwerp.
Aan weerkanten van de display zit een smalle behuizing, waar een roller in is geplaatst. Het systeem heeft wel wat weg van een rolgordijn. Samsung heeft de oprolbare TV zodanig ontworpen dat de standaard perfect opgeborgen wordt tussen de twee behuizingen wanneer het toestel volledig wordt opgerold.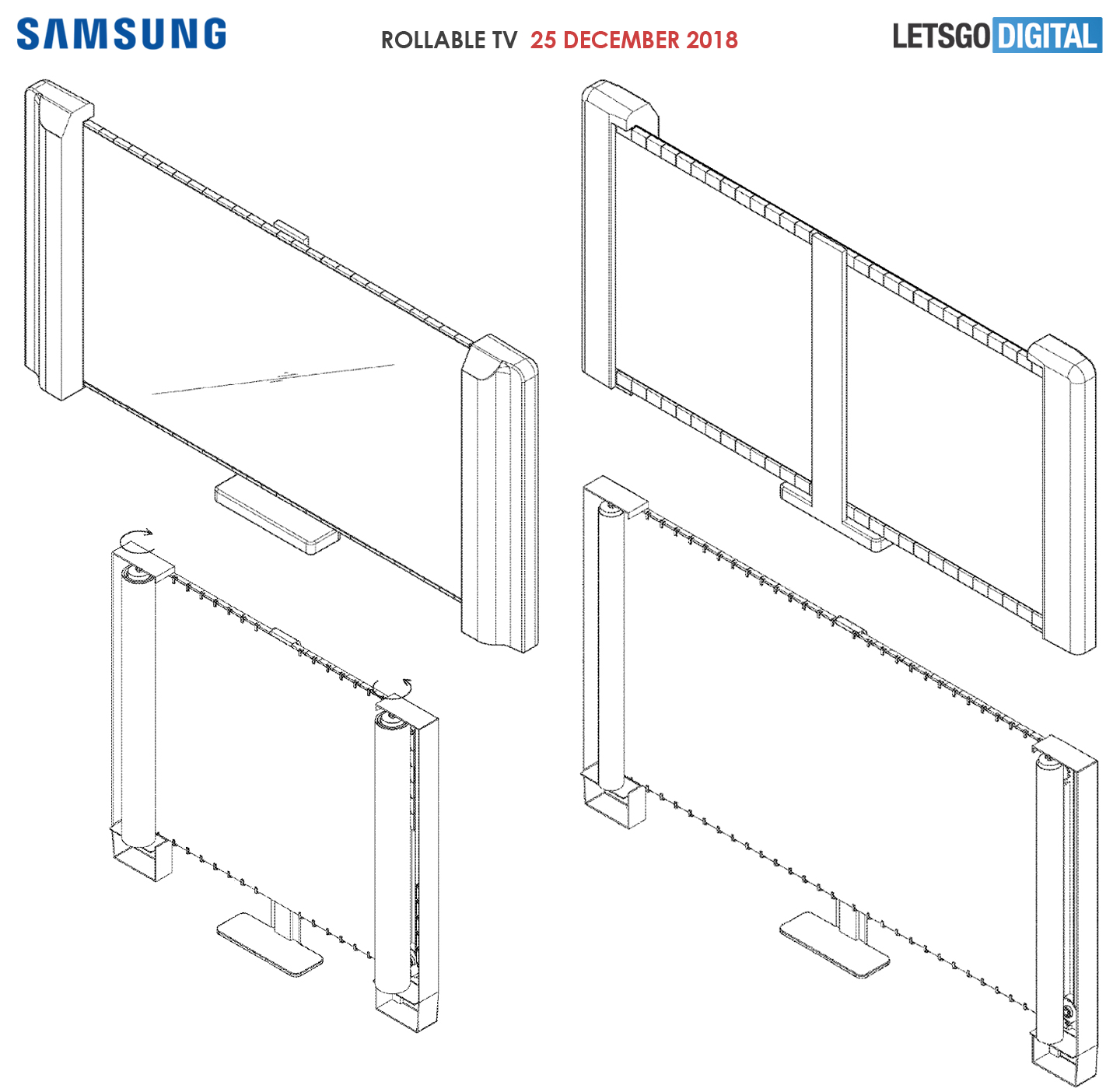 Samsung TV met oprolbaar display
De afgelopen jaren hebben displayfabrikanten als Samsung en LG veel tijd en geld geïnvesteerd in de ontwikkeling van flexibele displays. In oktober dit jaar heeft Samsung haar eerste opvouwbare telefoon getoond aan het publiek. Daar zal het echter niet bij blijven.
De komende jaren zullen we een ware design-revolutie ondergaan wat betreft display apparaten, denk aan opvouwbare, buigbare en oprolbare TV's, laptops, tablets en smartphones. Enige tijd geleden rapporteerden we nog over een Samsung tablet met een buigbaar display. Ook LG heeft zeer recentelijk een patent toegewezen gekregen voor een oprolbare smartphone.
Als LG daadwerkelijk voornemens is om in 2019 haar oprolbare TV in de markt te zetten, dan zal Samsung er ook niet meer lang over doen om ons in ieder geval een preview te geven, in de vorm van een prototype.
Op 8 januari 2019 gaat de CES beurs van start. Hier zal Samsung ongetwijfeld haar nieuwste TV innovaties tonen. Niet veel later vindt SID Display Week 2019 plaats, ook hier zal de Koreaanse fabrikant aanwezig zijn om de laatste display ontwikkelingen te demonstreren.

FOR OUR INTERNATIONAL READERS



Beginning of this year LG demonstrated a 65-inch rollable TV at CES 2018. If we may believe the latest rumors this revolutionary device will go on sale in 2019. Of course, competitor Samsung can't lag behind. A recently published patent unveils that we may soon see a very stylish rollable TV from Samsung.
Samsung Electronics has filed a patent with USPTO for a 'rollable display device'. The patent was published on 25 December 2018. Samsung's rollable TV has a completely different design than that of LG. Samsung's design can roll-out to the left and right instead of upwards.
The Samsung TV has a stylish lifestyle design which you can easily place in any desired location and just as easily roll up again for transport. The television with flexible display is supported by a stand, which is placed vertically in the middle. This keeps the screen nice and flat, to avoid any image distortion. A very ingenious design.
A housing with a roller is placed on both sides of the flexible display. The system works a bit like a roller blind. The rollable TV from Samsung has been designed in such a way that the stand is perfectly stored between the two housings when you roll-in the device.
Here you can find the patent from Samsung Electronics.