Iedereen weet inmiddels dat de opvouwbare smartphone eraan zit te komen. Diverse patenten en prototypes hebben ons inmiddels een idee gegeven hoe deze mobiele apparaten er straks uit kunnen komen te zien. Samsung lijkt volgende maand de eerste smartphonefabrikant te worden die de wereld zal verrassen met een opvouwbare smartphone.
We hebben echter nog aanzienlijk minder buigbare smartphones en tablets gezien, die het niet alleen mogelijk maken om het scherm dubbel te vouwen, maar ook om het de andere kant op te buigen. Dit keer behandelen we een patent van Samsung voor een buigbare tablet.

Samsung tablet met buigbaar display
Het patent genaamd 'Display device' is in april 2018 aangevraagd bij de USPTO door Samsung Display. Op 11 oktober 2018 is het patent gepubliceerd. De originele patent is al een jaar eerder ingediend in thuisland Korea.
De gepatenteerde tablet kan precies in het midden twee kanten op gebogen worden. Neem je het apparaat mee, dan buig je het scherm naar binnen toe, zo blijft het goed beschermt. Wil je een klein display gebruiken, dan buig je de tablet in tegengestelde richting. De gebruikersinterface wordt dan aangepast, ten opzichte van wanneer je het apparaat in volledig open geklapte stand zou gebruiken.
De Samsung buigbare tablet beschikt over een flexibel display met aan zowel de linker als rechterkant een cover. Deze wordt gemaakt van metaalachtig materiaal, zoals een aluminum-magnesium alloy. In de cover zitten tevens de benodigde componenten verwerkt, zoals bijvoorbeeld een flexibele printplaat. De display zelf is touch gevoelig. De content die op het scherm getoond wordt, zal niet helemaal tot aan de rand van het scherm doorlopen, aan alle kanten is een smalle rand zichtbaar.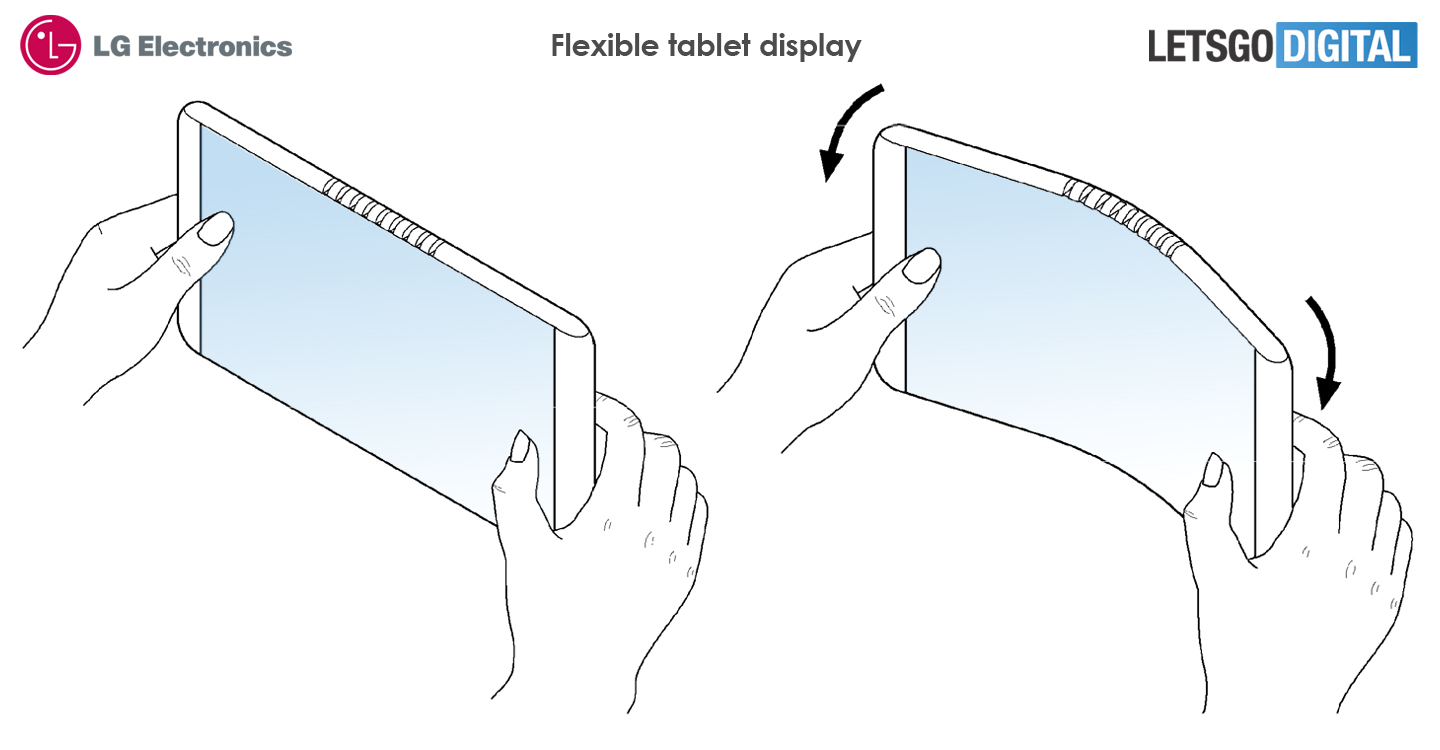 Tablet met buigbaar scherm van LG Electronics
De Koreaanse concurrent LG heeft inmiddels verschillende rollable display prototypes getoond, denk bijvoorbeeld aan de 65-inch oprolbare OLED TV die begin dit jaar op CES 2018 gedemonstreerd werd. Ook zijn we recentelijk nog een patent tegengekomen van LG voor een opvouwbare smartphone met een enigszins vergelijkbaar ontwerp als we vandaag bij Samsung zien (zie afbeelding hierboven).
In mei dit jaar heeft Samsung op SID Display 2018 ook verschillende flexibele en buigbare OLED displays getoond. Hiertoe behoorde onder andere een 14-inch oprolbaar OLED paneel, met een buigradius van 10R. Een soortgelijk display paneel (vermoedelijk iets kleiner) zou Samsung ook voor de gepatenteerde buigzame tablet kunnen gebruiken.
Of en wanneer we een dergelijke Samsung tablet ook daadwerkelijk te zien gaan krijgen is moeilijk te voorspellen. Bijna een jaar geleden kwamen we een patent tegen van een Samsung oprolbaar tablet display met een vingerafduksensor. Dat het bedrijf op de achtergrond al jaren bezig is met flexibele displays is geen geheim. Wel blijft het nog even de vraag wanneer we de eerste consumenten elektronica met flexibel en buigbaar display ook daadwerkelijk kunnen gaan kopen.

FOR OUR INTERNATIONAL READERS



Samsung Display has filed a patent with WIPO in April 2018 for a 'Display Device'. The patent was published on October 11, 2018 and describes a Samsung tablet with a flexible and bendable screen.
The patented tablet can be bent in the middle, in two directions. If you take the device with you, you bend the screen inwards, to keep it protected. If you want to use a small display, you may bend the tablet in the opposite direction. The user interface will then be adjusted, compared to when you use the device in a fully open state.
The Samsung tablet comes with a flexible and bendable screen with a cover on both the left and right side of the display. The cover is made of a metallic material, such as an aluminum-magnesium alloy. The necessary components will also be included in the cover. The display itself is touch sensitive.
At SID Display 2018 Samsung has demonstrated its latest OLED displays, including a 14-inch rollable OLED panel. It seems such a display panel would perfectly fit the patented technology. Could we truly end up seeing such an unique device? I sure do hope so.
Here you can find the patent from Samsung.