Sony heeft een prachtige Limited Edition uitgebracht van haar meest krachtige spelcomputer ooit. De speciale uitgave van de Sony PlayStation 4 Pro staat volledig in teken van de bekende superheld Spiderman. Het is een knalrode console, met het iconische Spiderman logo; een grote witte spin. Ook de bijbehorende DualShock 4 wireless controller is uitgevoerd in het rood, met witte knoppen.

Sony PS4 Pro Spiderman bundel
Vanzelfsprekend hoort er bij deze Sony PS4 Limited Edition ook een Spiderman game. Deze wordt gelijktijdig met de spelconsole uitgebracht, op 7 september 2018. De nieuwe game (standaard editie) wordt op Blu-ray disk meegeleverd. Ook krijgen klanten die een Sony PS4 Pro Spiderman Edition kopen een gratis voucher voor het spel The City That Never Sleeps DLC, deze kan via de PlayStation Store gedownload worden.
Het is te prijzen dat Sony ervoor heeft gekozen deze Marvel figuur te combineren met haar meest krachtige console. Tenslotte kun je een game als Spiderman het best ervaren op een prachtige HDR TV. De PlayStation 4 Pro werd in september 2016 uitgebracht en beschikt over 1TB geheugen. Het is de enige spelconsole van Sony die 4K HDR beelden ondersteunt.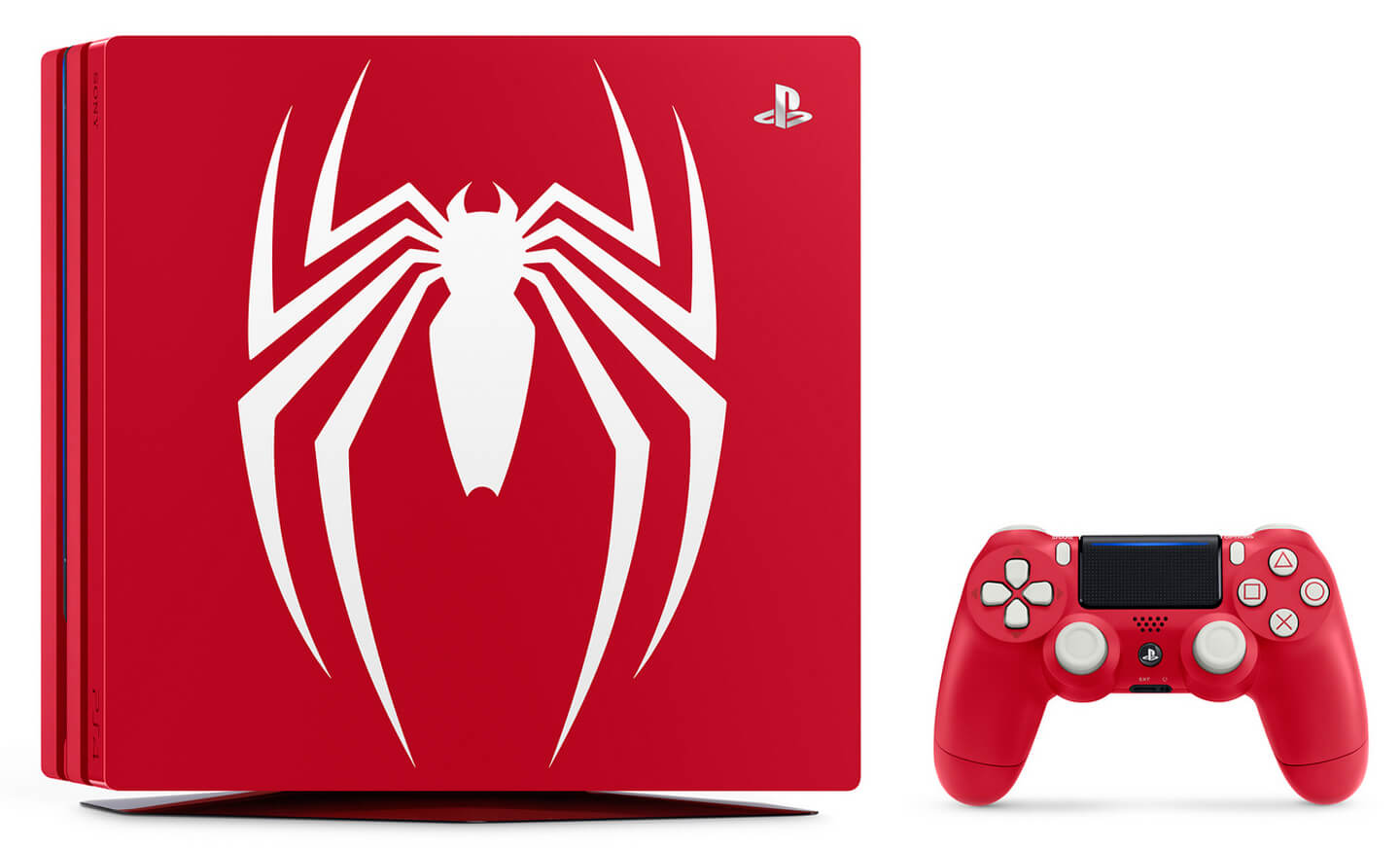 Sony PS4 Pro Limited Edition kopen
De Sony PS4 Pro Spiderman spelcomputer is vanaf 7 september 2018 verkrijgbaar. Je kunt de Limited Edition spelconsole nu al kopen in de voorverkoop bij enkele Nederlandse webshops. De prijs van de bundel is vastgesteld op €469, hiervoor krijg je de rode console, een rode DualShock 4 controller en de game Spiderman. Verder is er een voucher voor het spel The City That Never Sleeps DLC inbegrepen, evenals een PlayStation Chat headset, een power adapter, een HDMI-kabel, USB-kabel en een handleiding.
Heb je geen behoefte aan zo'n Amazing Red console, maar wil je wel de PS4 kopen met het spel Spiderman? Ook daar heeft Sony over nagedacht, er zullen dan ook gewone bundels worden aangeboden, met de nieuwe game.