Motorola heeft een drietal nieuwe trademark aanvragen gedaan voor haar 2018 smartphone line-up. De aanvragen zijn gedaan door Motorola Trademark Holdings LLC op 14 februari 2018. Alle drie de trademark aanvragen werden afgelopen vrijdag, 23 februari 2018 door het USPTO (United States Patent and Trademark Office) goedgekeurd.

Motorola Moto 2018 smartphones
Het gaat om een tweetal trademarks voor de budget E-serie en één voor de middenklasse G-serie. De aanvragen zijn gedaan voor de namen: Moto G Forge, de Moto E Cruise en de Moto E Supra.
Vooralsnog gaat men er vanuit dat de Motorola 2018 modellen dezelfde namen krijgen als de 2017 modellen, oftewel de Moto G6, G6 Plus en G6 Play. Zo is zowel de G4 als de G5 serie genoemd. Hetzelfde principe zal ook voor de E-serie gelden. Voor die tijd werden er overigens wel andere benamingen gebruikt, zoals Motorola Moto E3 Power.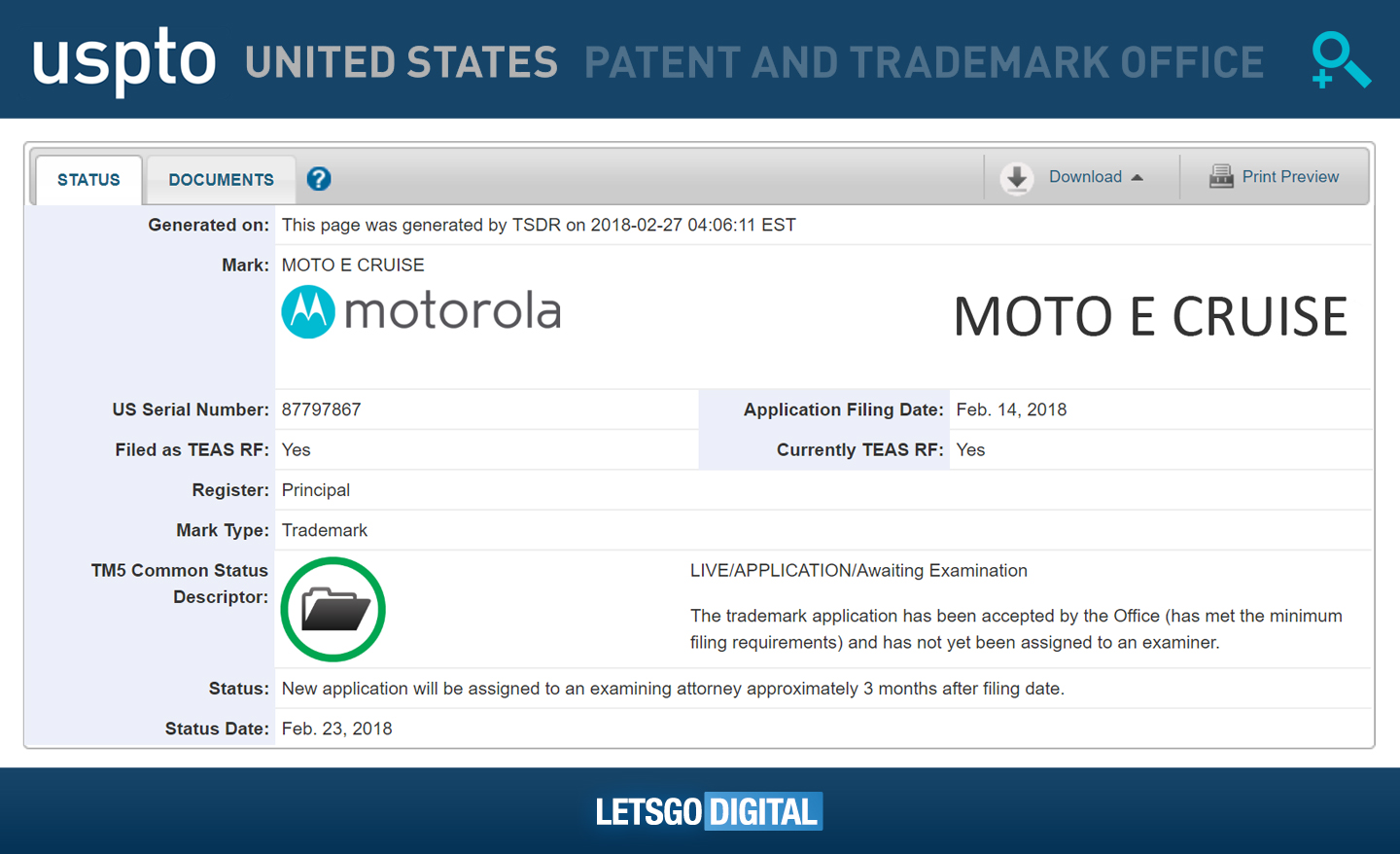 Het blijft natuurlijk nog even afwachten of de namen van de Motorola smartphones gewijzigd zullen worden, of dat het hier gaat om een aanvulling. Het lijkt aannemelijk dat bepaalde providers in Amerika voor een andere benaming zullen kiezen.
Aangezien er zowel drie modellen binnen de Moto G als E-serie worden verwacht, lijkt het in ieder geval niet te gaan om extra smartphones. Een vijftal nieuwe Moto E toestellen is simpelweg wat teveel van het goede als je het mij vraagt.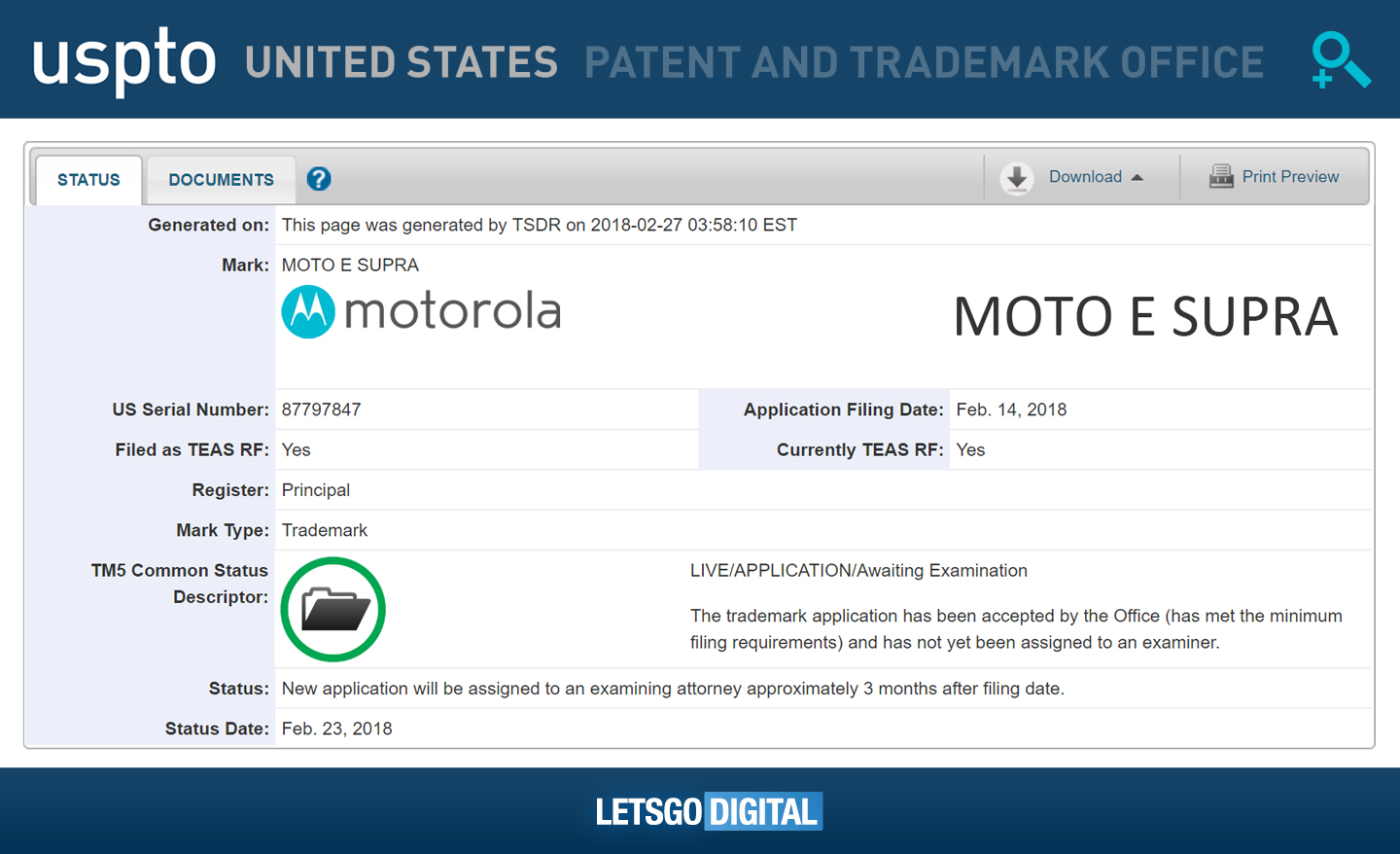 Motorola Moto G en Moto E serie
Er werd lange tijd vanuit gegaan dat de nieuwe Moto G6 serie op de MWC 2018 tentoongesteld zou worden. Nu dat de beurs in Barcelona is aangevangen blijken de nieuwe Motorola smartphones hier echter nog niet te verschijnen. Desalniettemin worden zowel de nieuwe G als de E toestellen binnenkort verwacht.
Het lijkt dan ook aannemelijk dat de Motorola Moto G Forge, de Moto E Cruise en de Moto E Supra binnenkort geïntroduceerd zullen worden. Eventueel zullen de namen worden aangevuld met een nummer, zoals Moto G6 Forge, Moto E5 Cruise en Moto E5 Supra.
Daarnaast lijkt Motorola op de achtergrond te werken aan een smartphone met een borderless design en een flexibel OLED display.

FOR OUR INTERNATIONAL READERS



Motorola Trademark Holdings LLC filed three trademark applications with USPTO. The trademarks were submitted on February 14, 2018 and have been approved last Friday, February 23, 2018.
These are the names: Moto G Forge, the Moto E Cruise and the Moto E Supra.
It is expected that the Motorola 2018 smartphone line-up will include the Moto G6, G6 Plus and the G6 Play, as well as the Moto E5, E5 Plus and E5 Play. It seems likely that some US cell phone carriers will choose another name for some of the devices.
For a long time the online media assumed the new Moto G6 series would be on display at the MWC 2018. However, the devices did not yet appear. Nevertheless, both the new Moto G and the Moto E series are expected soon.
Here you can see the trademark for the Moto G Forge, Moto E Cruise and the Moto E Supra.