We zijn de afgelopen tijd meerdere patenten tegengekomen van opvouwbare smartphones, met name van Samsung Electronics. Desalniettemin werkt ook concurrent LG aan innovatieve smartphone concepten die ons toekomstige smartphonegebruik zal doen laten veranderen.
LG Electronics heeft eind 2014 een patent aangevraagd bij het WIPO dat betrekking hebben op een vouwbaar smartphone design. De goedkeuring heeft geruime tijd op zich laten wachten, het duurde tot november 2017 alvorens het patent werd goedgekeurd. Het gehele patent is in het Engels opgesteld.
Er worden verschillende concepten getoond, allemaal hebben ze één ding gemeen; het betreft een opvouwbare smartphone met meerdere displays.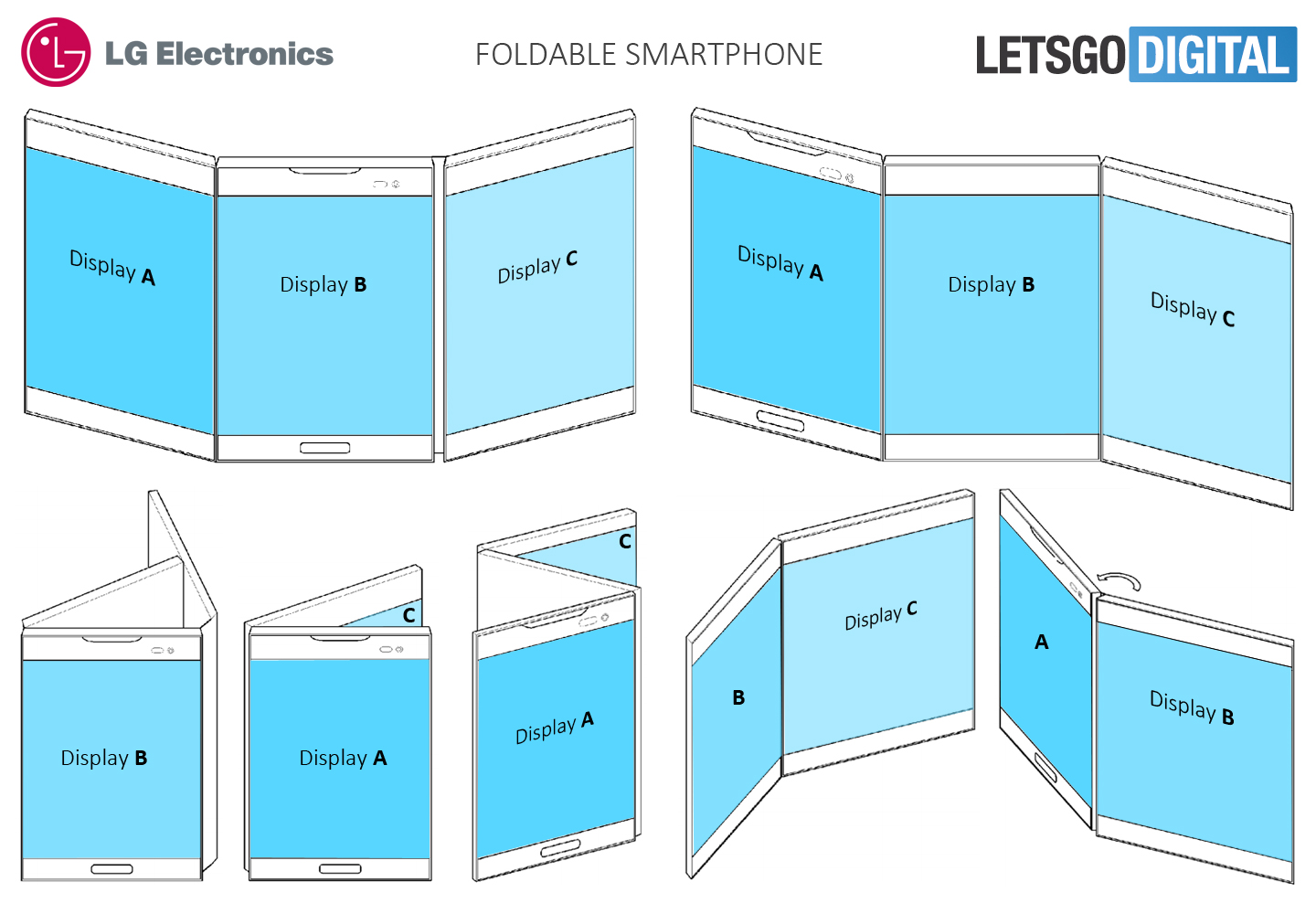 LG opvouwbaar smartphone design
Allereerst beschrijft het patent een relatief eenvoudig concept met twee displays. De telefoon is zodanig inklapbaar dat de achterzijden naar elkaar gevouwen kunnen worden.
Vervolgens zien we een serie varianten met drie displays. Het ene concept toont het hoofdscherm (met de camera en de homebutton) in het midden, bij de andere tekeningen zien we dat het hoofddisplay helemaal links- of rechts is geplaatst. Hierdoor worden er ook verschillende manieren beschreven om het mobiele apparaat in elkaar te vouwen. De illustraties geven een goede indruk van de mogelijkheden hieromtrent.
Een smartphone met drie schermen kan uit drie losse displays bestaan, maar ook uit een twee displays. Waarvan één flexibel display dat de grootte heeft van twee telefoonschermen. De tweede display is qua afmetingen gelijk aan een regulier telefoonscherm.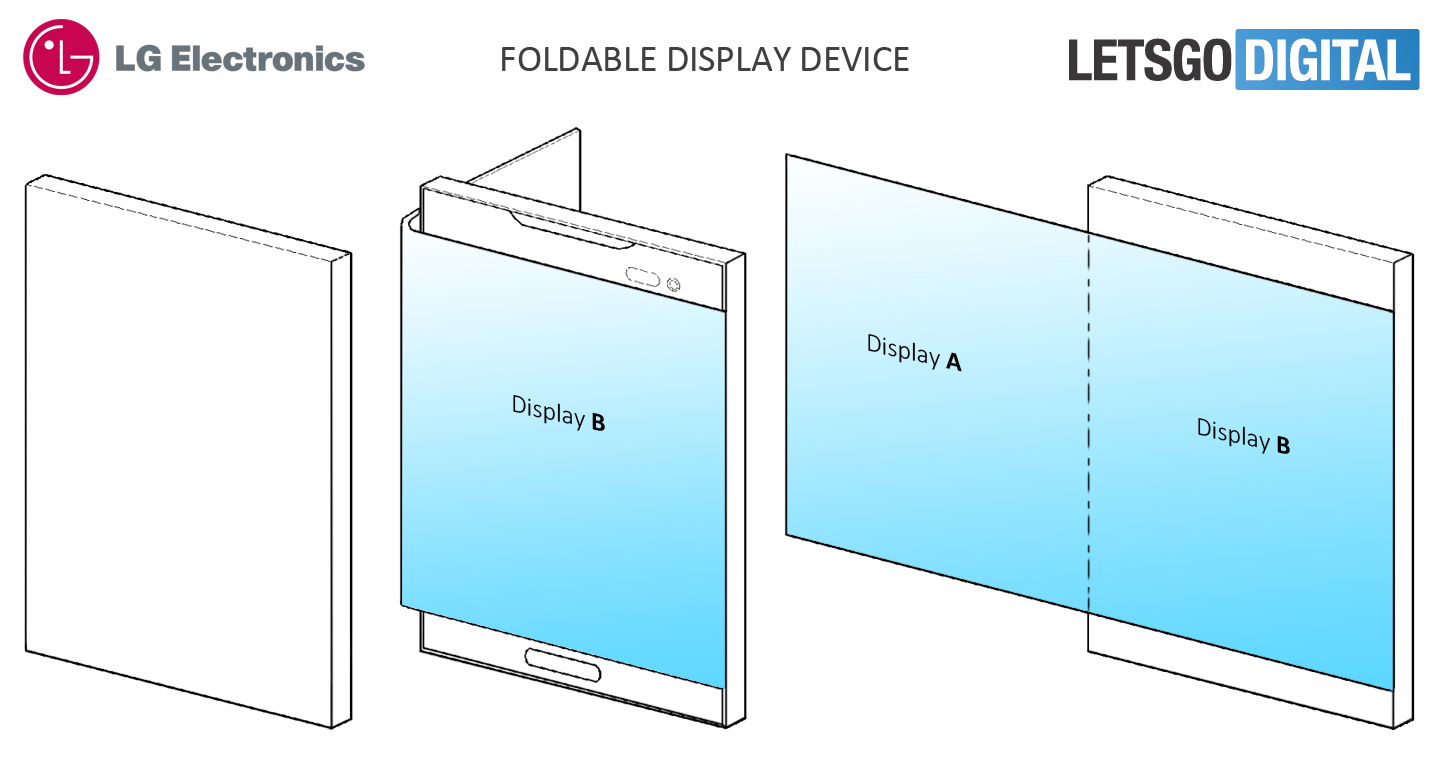 Bediening van LG´s opvouwbare smartphone
Vervolgens gaat het patent in op de bedieningsmogelijkheden. Je kunt het grote scherm gebruiken om een enorme lap content te tonen waar je eenvoudig doorheen kunt scrollen. Dit is bijvoorbeeld goed toepasbaar bij het lezen van een grote online publicatie.
Door het enorme schermoppervlak zal het de gebruiksvriendelijkheid en het leesgemak echter ten goede komen wanneer je het apparaat iets kunt buigen. Daar ontstaat echter een probleem, zo schetst het patent. Normaliter schakelt het apparaat automatisch uit wanneer het ingevouwen wordt. Door de toepassing van een extra sensor kan gemeten worden in hoeverre de telefoon ingeklapt of uitgeklapt is. Wanneer de smartphone half open staat wordt er een andere mode geactiveerd.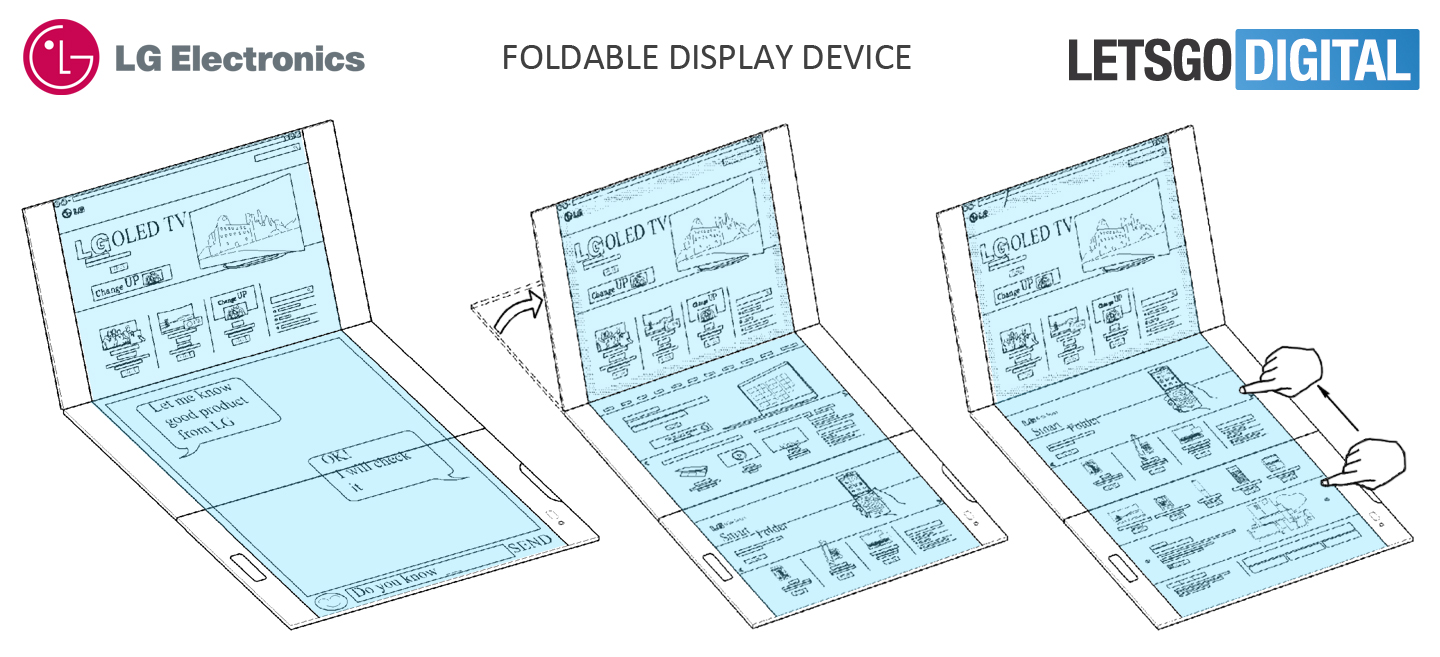 Hierbij wordt het mogelijk om het scherm te gebruiken als split-screen. Het flexibele display -bestaande uit twee telefoonschermen- toont in zo'n geval de ene app en op het tweede display kan dan een andere app gebruikt worden. Zo kun je bijvoorbeeld een bericht typen op het ene scherm en internet raadplegen op het andere.
Afbeeldingen bekijken op meerdere displays
Een zelfde soort situatie wordt geschetst voor het bekijken van afbeeldingen. In volledig opengeklapte stand kan de gebruiker eenvoudig door de afbeeldingen scrollen, waarbij de getoonde foto elke keer één display opschuift. Zodra het derde display echter iets wordt omgevouwen, dan blijft de foto die op dat moment op dat scherm wordt getoond vaststaan, terwijl de gebruiker door de foto´s kan blijven scrollen met de andere twee displays. Handig als je een bepaalde foto uit je collectie wilt vergelijken met een andere foto, die wat verderop in je galerij staat.

Ten slotte staat in het patent vastgelegd dat dergelijke display technologie niet alleen kan worden toegepast bij opvouwbare smartphones, maar ook bij notebook computers, personal computers, tablets, draagbare videospelers en aanverwante elektronische apparaten.
Bekijk hier de specs, claims en foto's van het patent van LG Electronics.

FOR OUR INTERNATIONAL READERS
LG Electronics has filed a patent with WIPO at the end of 2014. It took until November 2017 before the patent was approved. The patent is written in English and shows various concepts of a foldable device with multiple displays.
Besides a two-display concept, a series of variants with three screens are described. One concept shows the main screen (with camera and home button) in the middle, other illustrations show the main screen on the left or right side of the device. This also means there are different ways of folding the device. The above illustrations give a good impression of the possibilities in this respect.
In addition, the patent contains details regarding the kind of screens that may be used. It can be three regular displays, but is can also be two displays of which one large flexible display. The flexible display has the size of two screens.
Furthermore, the patent describes an operating method for the foldable display device. When the phone is completely unfolded, the three screens can be used as one very big screen. This may come in handy when reading a large online document where you have to scroll a lot.
Once the smartphone is partly folded a different mode will be activated. In this mode, the third screen will become a split-screen. Meaning users can display one app on the first and second screen (the flexible display) and another app on the third display.
The same also works when browsing through your picture gallery. In an completely unfolded state users can scroll through their gallery while using all three displays. In an intermediate foldable state the picture shown on the third display is fixed. Users can still scroll through their gallery, but only on the first two displays. This feature may come in handy when you want to compare certain photos.
Finally, LG may also see chances to apply this kind of features to other devices. This has been described as follows: Although the foldable display device is preferably a mobile communication device, the foldable display device may be one of a notebook computer, a personal computer, a tablet computing device, a portable navigation device, a portable video player, a personal digital assistant and other similar devices.