Vandaag de dag hebben veruit de meeste smartphones één scherm. In 2018 zal de trend worden gezet voor de opvouwbare telefoon, de concepten die we tot op heden zijn tegen gekomen beschikken allemaal over een dubbel display. Vandaag treffen we echter een patent aan van een Samsung smartphone met niet twee, maar drie displays.

Samsung smartphone met drie displays
Samsung heeft bij de WIPO een patent aangevraagd voor een 'elektronisch apparaat met meerdere displays'. Het patent werd vandaag gepubliceerd en is begin van de zomer aangevraagd.
Het design komt in grote lijnen overeen met de gaming smartphone waar we twee weken geleden over publiceerde. Wanneer je de Samsung Galaxy openklapt heb je twee volledige telefoon schermen tot je beschikking. Er worden twee displays toegepast die aan één kant volledig afgerond zijn, voor een naadloze sluiting in opengeklapte stand.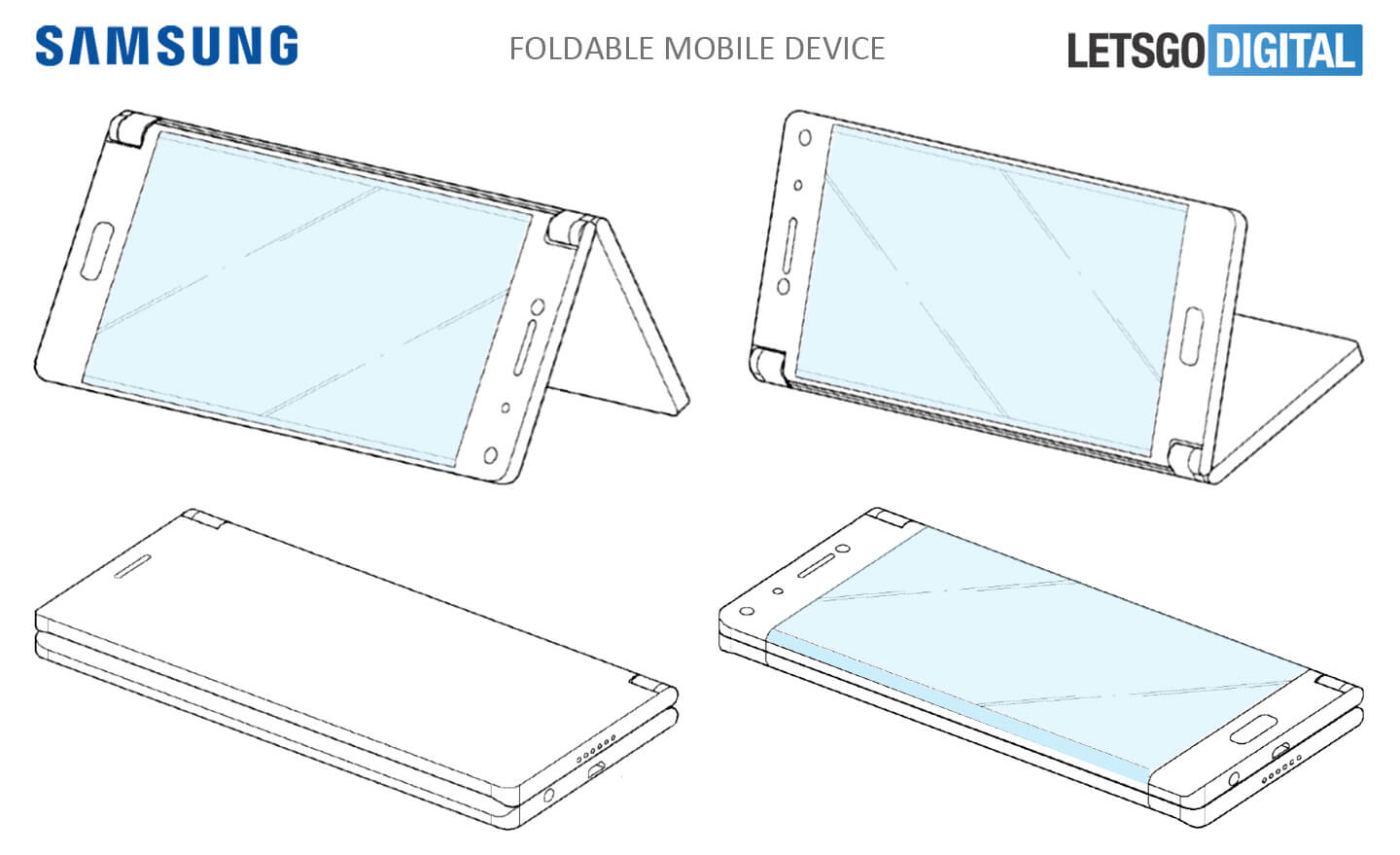 De gepatenteerde Samsung smartphone kan ook nog verder opengeklapt worden, waardoor je het toestel kunt neerzetten. Klap je het toestel maximaal open, dan komt de tweede behuizing onder de eerste te liggen. Je hebt dan weer gewoon één display tot je beschikking.
Daarnaast kun je het toestel dichtklappen, hiervoor wordt een scharnier toegepast. Het moge duidelijk zijn dat dit scharnier een belangrijk onderdeel gaat vormen in de beleving van het open- en dichtklappen van de smartphone. Hoe soepeler dit loopt, hoe mee bedieningscomfort het oplevert.

Wanneer het toestel is dichtgeklapt heb je nóg een display tot je beschikking. Dit is een kleiner display dat onder andere gebruikt kan worden voor het weergeven van algemene informatie, zoals de tijd en datum en inkomende berichten.
De opvouwbare smartphone ontwerpen die Samsung patenteert zien er steeds indrukwekkender uit. Onze interesse naar de eerste foto's van de in 2018 verwachte Galaxy X wordt dan ook met de week groter. We houden je op de hoogte.

FOR OUR INTERNATIONAL READERS
Samsung has applied for a patent with WIPO for an electronic device comprising multiple displays. The patent was published today and has been filed this spring.
The design shows clear similarities with the gaming smartphone we published about two weeks ago. When the foldable device is opened, users will have two full phone screens at their disposal. For this purpose, two displays are used that are completely edged on one side.
A hinge will be applied for closing the smartphone. Once closed, users will have another display at their disposal. This is a smaller screen that can be used for displaying general information, such as the time and date and incoming messages.
The patent from Samsung can be seen here.