Er worden ten minste twee nieuwe BlackBerry toestellen verwacht dit jaar, deze zijn ook wel bekend onder de modelnamen BBF100 en de BBE100. Van de eerst genoemde is het meest bekend, deze BlackBerry smartphone zal over een QWERTY toetsenbord beschikken en aangedreven worden door de octa-core Snapdragon 660 processor. Daarnaast weten we inmiddels dat de BBF100 over een schermresolutie van 1620×1080 pixels zal beschikken.
Het is op dit moment nog onduidelijk of de BlackBerry BBE100 ook met een toetsenbord zal worden uitgerust. De kans is echter groot dat dit toestel alleen over een touchscreen zal beschikken, net zoals de laatste BlackBerry, de Motion, die eind 2017 geïntroduceerd werd.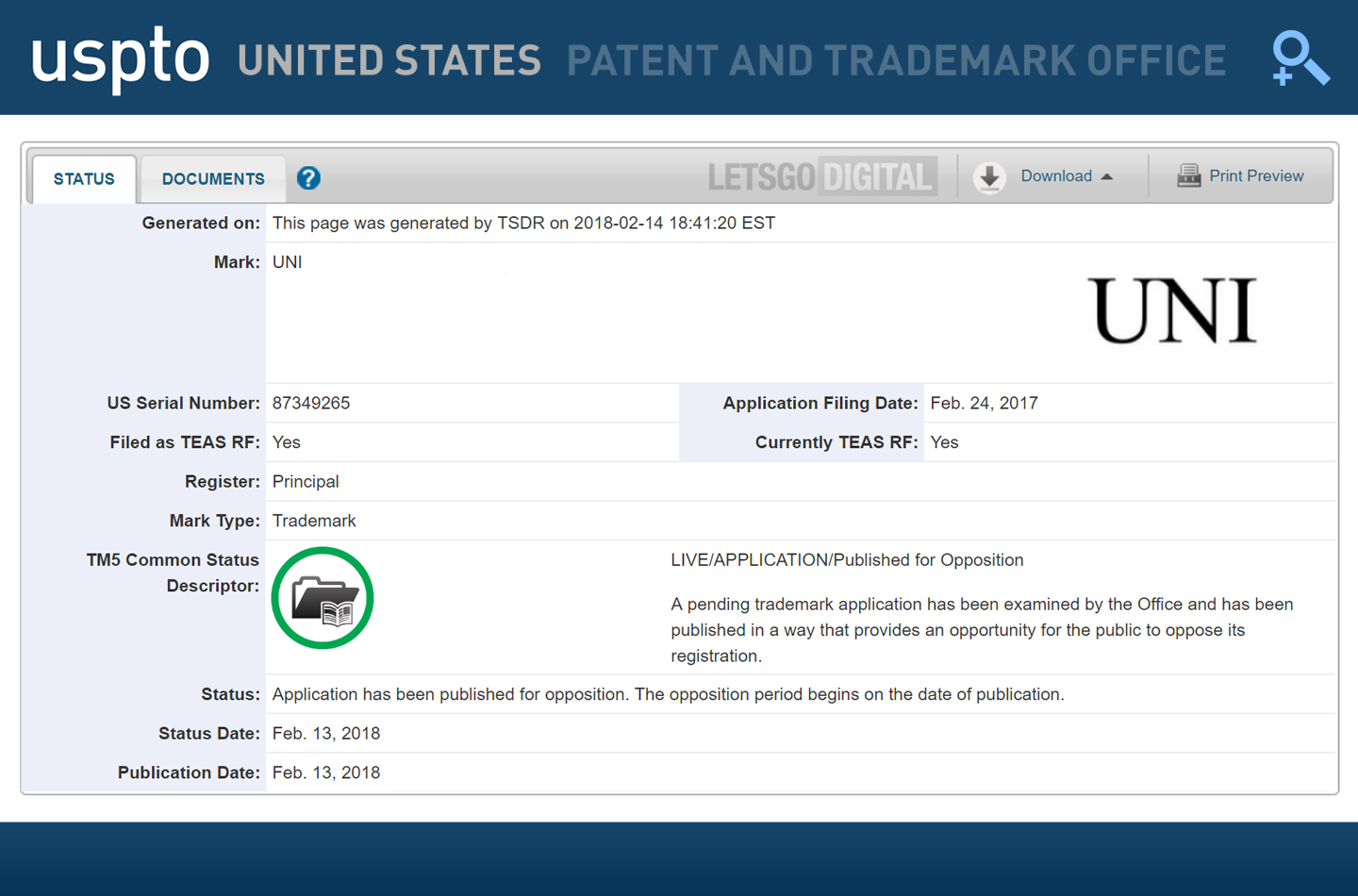 BlackBerry UNI smartphone
Over de naam van de nieuwe modellen is nog niets bekend. Alhoewel wij inmiddels wel een vermoeden hebben. Gisteren is er namelijk een trademark gepubliceerd door het USPTO van TCL voor de naam UNI. De trademark is gecategoriseerd als ´mobiele elektronische producten, waaronder smartphones, mobiele telefoons, tablets, wearables´ etc.
Vorig jaar heeft TCL ook enkele dagen voor de Mobile World Congress de trademark aangevraagd voor de naam KEYone. Het is daardoor aannemelijk dat het bedrijf over minder dan twee weken de BlackBerry BBF100, oftewel de BlackBerry UNI zal introduceren. Tenzij TCL de trademark heeft aangevraagd voor haar andere merk, Alcatel. De MWC 2018 gaat op 26 februari 2018 van start in Barcelona, Spanje.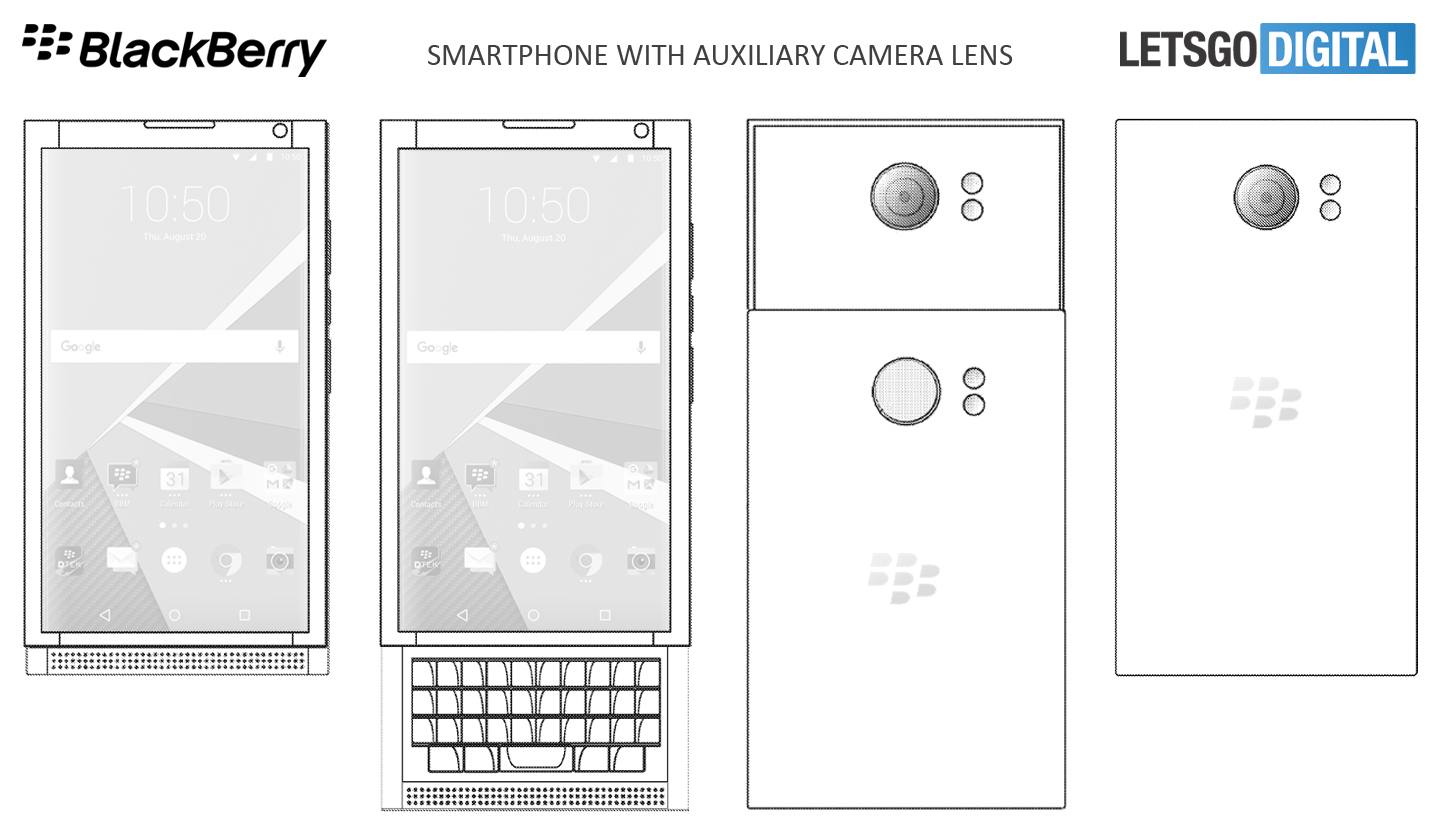 Camera met voorzetlens
Dat is echter niet het enige nieuws dat we vandaag kunnen melden aangaande BlackBerry. Eergisteren is er een patent gepubliceerd door de WIPO, Het patent is aangevraagd op 23 december 2016 door BlackBerrly Limited. Er wordt een smartphone met een uitschuifbaar toetsenbord getoond, in zoverre niets nieuws voor BlackBerry.
De camera aan de achterzijde van de smartphone is bij dit ontwerp echter geplaatst in het voorste deel van de behuizing. Het achterste deel van de behuizing, het deel waar het toetsenbord in verwerkt zit, beschikt over een extra lens. Dit wordt ook wel een voorzetlens genoemd.
Wanneer de BlackBerry smartphone is opengeklapt (toetsenbord zichtbaar) heeft de gebruiker een reguliere camera tot zijn beschikking. Is het toestel dichtgeklapt, dan komt de voorzetlens automatisch voor de camera en zal deze voor extra camera functionaliteit zorgen.
Het patent spreekt over een aantal mogelijkheden aangaande het soort voorzetlens. Het kan gaan om een groothoeklens, een fisheye lens, een macro lens of een zoom lens.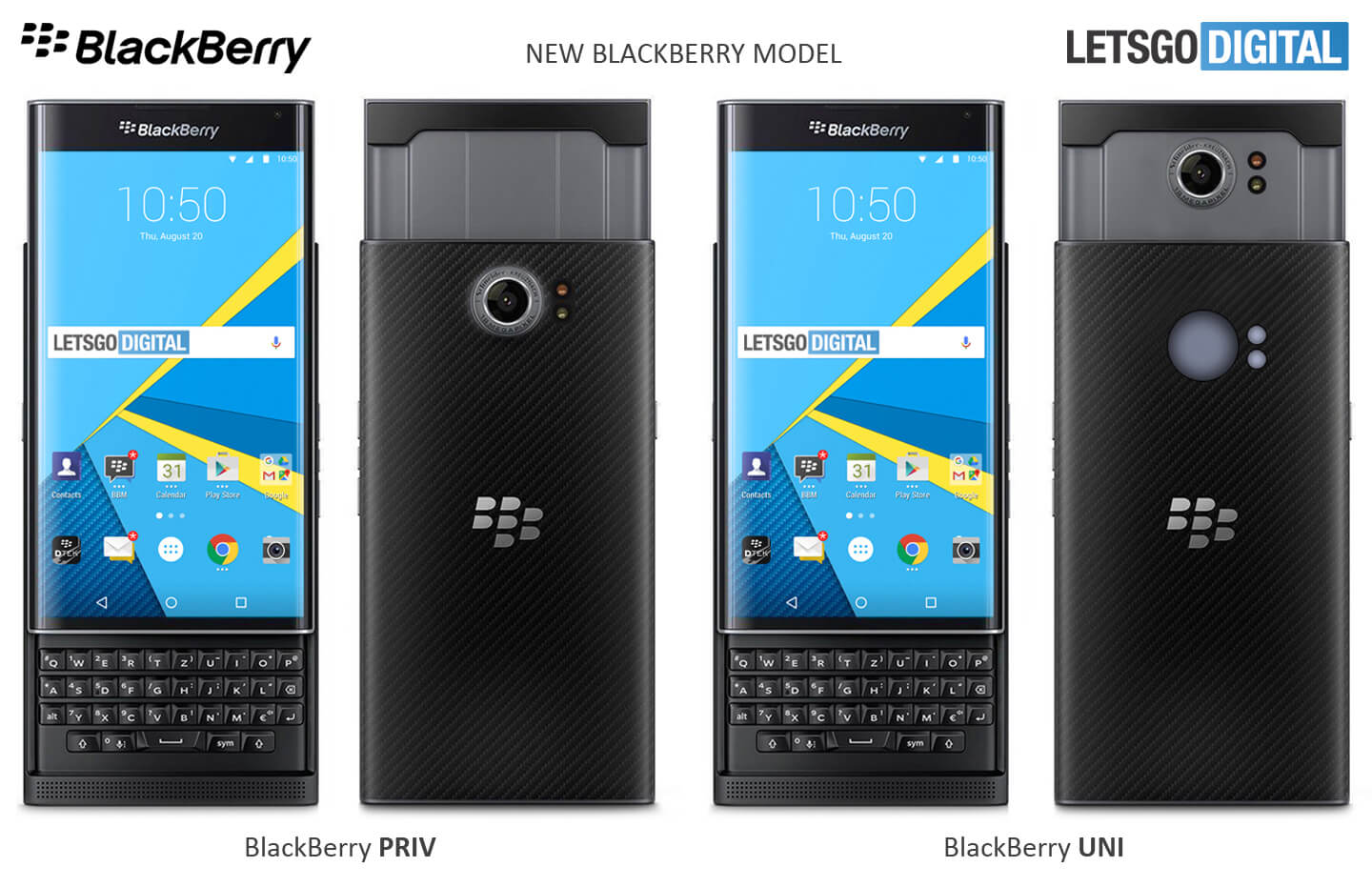 BlackBerry smartphones: Priv en KEYone
Het gepatenteerde design toont veel overeenkomsten met de BlackBerry Priv. Dit toestel werd eind 2015 in de markt gezet. De Priv was het eerste toestel van BlackBerry dat draaide op het Android besturingssysteem. De smartphone werd voorzien van een touchscreen en een uitschuifbaar toetsenbord.
De Priv heeft een 18 megapixel camera met een Schneider-Kreuznach lens. In tegenstelling tot het gepatenteerde design is de camera verwerkt in het achterste deel van de behuizing, oftewel het deel waar ook het toetsenbord in verwerkt zit. Hierdoor was er dus ook geen sprake van een voorzetlens.
Op de MWC 2017 werd de Priv opgevolgd door de KEYone. In tegenstelling tot zijn voorganger beschikt dit toestel over een vast toetsenbord. Hierdoor is de display resolutie van de KEYone ook anders dan die van de Priv. De eerder besproken BBF100 heeft echter een resolutie die overeenkomt met de KEYone. Zal het gepatenteerde design dan terug te zien zijn bij de BBE100? De tijd zal het uitwijzen.
Overigens is BlackBerry in de tussentijd ook verkocht. Behoorde het merk eerst toe tot het Amerikaanse RIM, sinds eind 2016 heeft het Chinese TCL de wereldwijde rechten voor BlackBerry phones in handen. Het zou de eerste telefoon zijn met een uitschuifbaar toetsenbord zijn sinds BlackBerry in handen is van TCL. Het patent werd kort na de bekendmaking van de overname ingediend.

FOR OUR INTERNATIONAL READERS
TCL has filed a trademark with the USPTO for the name UNI. The trademark is categorized as 'mobile electronics products, namely smart phones, mobile phones, tablets, wearable electronics devices' etc. Last year, TCL also filed a trademark with USPTO for the name KEYone, this device was released two weeks later at the Mobile World Congress 2017.
In addition, on February 13, 2018 the WIPO published a patent from BlackBerry Limited. The patent shows a smartphone with a sliding keyboard, similar to the BlackBerry Priv, which was released at the end of 2015.
It's the camera that makes this smartphone different. The front part of the housing comes with a camera at the back. The second part of the housing (with the keyboard) comes with an auxiliary camera lens.
When the BlackBerry smartphone is slide open (keyboard visible) the user has a regular camera at his disposal. When the device is closed, the auxiliary camera lens will be positioned in front of the camera. The patent further describes the auxiliary camera lens may be a wide-angle lens, a fisheye lens, a zoom lens or a macro lens.
Will this be the design of the BlackBerry UNI? Back in October 2017 we reported on a BlackBerry smartphone that is under development. The smartphone with model number BBF100 comes with a QWERTY keyboard and is powered by the Snapdragon 660 processor.
However, it's the screen resolution that gives us more details about the design of this smartphone. The BBF100 will have a display resolution of 1620×1080 pixels. This resolution is similar to the KEYone and not to the Priv (1440×2560). Unlike the Priv, the KEYone does not have a sliding keyboard. This may mean we will have to wait a little longer before TCL truly unveils a smartphone with the patented design.
The BlackBerry BBF100, properly the BlackBerry UNI, will most likely be unveiled at MWC 2018, that takes place from February 26 – March 1 2018 in Barcelona. Another option would be that TCL filed the trademark for its other phone brand, Alcatel. Soon we will know.
Furthermore, there is another BlackBerry smartphone in development, the BBE100. So far, no specifications are known about this device…
The USPTO trademark can be seen here and the WIPO patent here and here.