Canon heeft op 26 maart 2018 een patent ingediend bij de WIPO, het patent getiteld 'Image Capturing apparatus and image capturing control method' is gepubliceerd op 4 oktober 2018. Het gaat om een bolvormig camerasysteem, bestaande uit meerdere camera's die 360 graden beelden en panorama beelden kunnen vastleggen. De acht camera's (één aan de onder en bovenzijde en zes verdeeld over de middenas) staan continue met elkaar in verbinding.

Canon camera systeem met acht zoomlenzen
Normaal gesproken heb je te maken met stitching (naden) wanneer beelden van meerdere camera's worden samengevoegd tot één groot beeld. Hoewel fabrikanten graag anders beweren zie je in de praktijk toch vaak een naad door de foto lopen, op de plek waar de beelden zijn samengevoegd. Hiervoor heeft Canon een oplossing bedacht. De acht geavanceerde camera's kunnen namelijk individueel van elkaar in- en uitzoomen. Deze worden op dusdanige wijze geconfigureerd dat de beelden elkaar perfect overlappen.
Feitelijk komt het erop neer dat er maar twee camera's nodig zijn om een nagenoeg 360 graden beeld op te nemen. De andere zes camera's dienen er met name voor om het stitching proces naadloos te laten verlopen. Vervolgens kunnen de beelden softwarematig worden samengevoegd tot één afbeelding. Vanzelfsprekend is er ook een optisch beeldstabilisatiesysteem ingebouwd.
Zodra het camerasysteem weer wordt uitgeschakeld zullen de acht lenskappen automatisch gesloten worden, zodat deze beschermd blijven tegen invloeden van buitenaf. De aan/uit schakelaar is aan de bovenzijde van het apparaat gepositioneerd. Ook de ontspanknop is hier te vinden, evenals een tweetal zoomknoppen, waarmee één of meerdere camera's tegelijkertijd kunnen worden aangestuurd. Het is overigens ook mogelijk om het systeem op afstand te bedienen middels een computer of smartphone.
De gepatenteerde Canon 360 camera staat op drie ingebouwde tripod pootjes, die individueel van elkaar, zowel in lengte als hoek, naar wens kunnen worden afgesteld.  Daarnaast worden er op het camera systeem drie beweegbare verlichtingseenheden aangebracht. Het batterij compartiment bevindt zich in het onderste deel van de camera.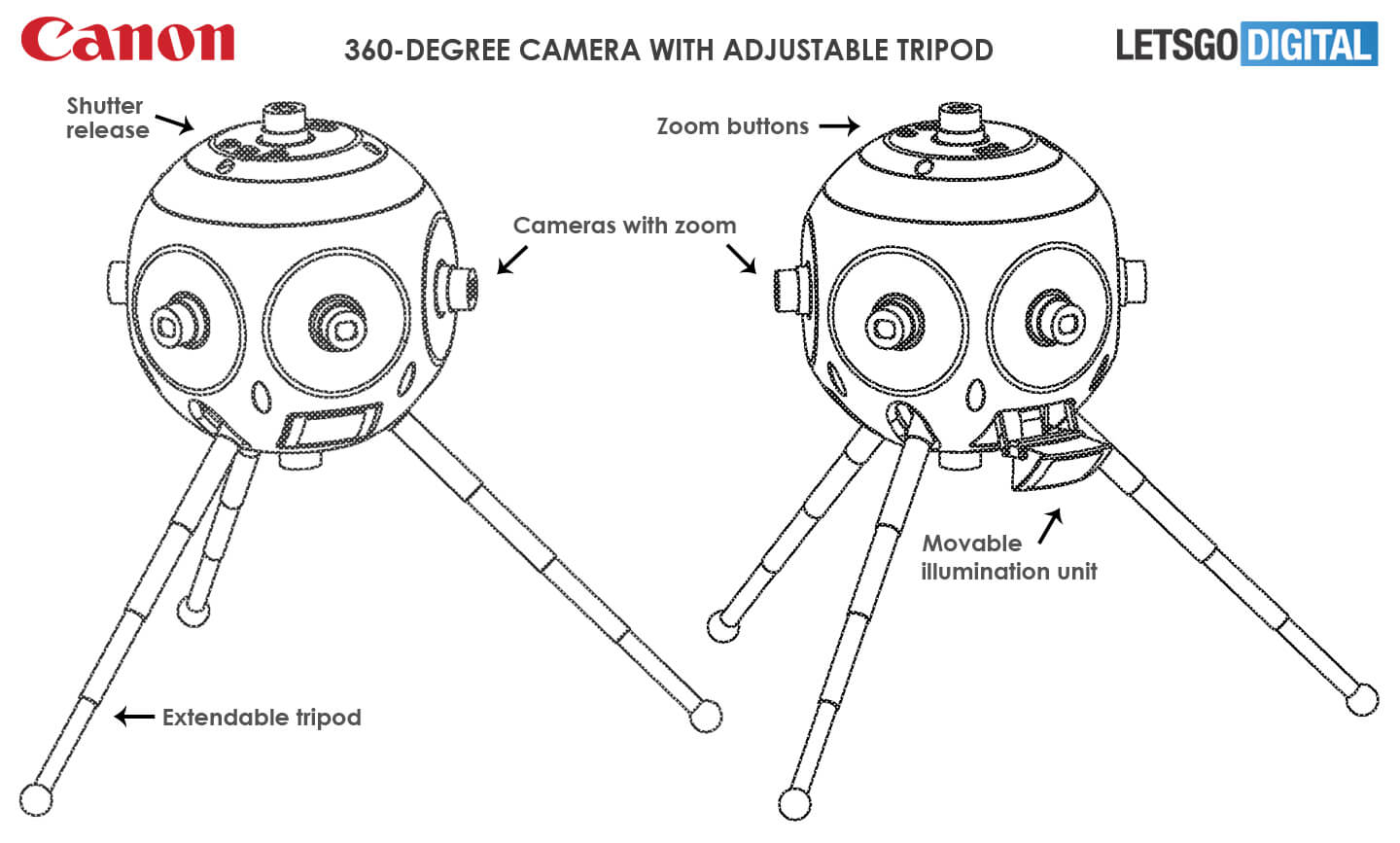 Canon 360 graden camera
360 graden camera's en action camera's zijn door de jaren heen steeds populairder geworden, ook voor de aankomende jaren wordt er groei verwacht binnen de 360 graden camera markt. Deze groei wordt in grote mate bepaald door de filmindustrie, want ook voor professioneel gebruik zijn er tal van toepassingen te bedenken. Denk bijvoorbeeld aan het toenemende aantal virtual reality producties.
Toch is het aanbod geavanceerde 360 graden camera's van gerenommeerde fotofabrikanten nog altijd beperkt, zeker wanneer je dit afzet tegen de hoeveelheid consumenten camera's die 360˚ beelden kunnen opnemen. Nokia heeft in 2015 de Ozo 360 graden camera geïntroduceerd, ontworpen voor filmmakers om VR producties te kunnen maken. Ook de GoPro Oddyssey is een professionele 360 graden camera, speciaal ontworpen voor Google Jump en YouTube 360 diensten.  Zo zijn er nog enkele voorbeelden van omnidirectionele camera's te noemen, denk aan de Facebook Surround 360, de Lytro Immerge of de Jaunt One. Canon staat echter al sinds jaar en dag bekend om haar hoge kwaliteit beelden. Wanneer Canon een professionele 360 graden camera introduceert, zal hier dan ook ongetwijfeld interesse voor zijn.

FOR OUR INTERNATIONAL READERS



Canon has filed a patent with USPTO for an 'Image Capturing apparatus and image capturing control method'. The patent was published on October 4, 2018 and describes a professional spherical camera system, consisting of multiple cameras that can capture 360 degree images and panorama images.
The eight cameras (one at the bottom and at the top and six divided over the middle axis) are continuously connected to each other. Each camera can zoom individually. They are configured in such a way that the field angle overlap each other, which benefits the stitching process.
As soon as the camera system is switched off again, the eight lens barrels will be closed automatically, so that they remain protected against external influences. A power switch is positioned on the top of the device, as well as a shutter release button and two zoom buttons. The zoom buttons can control one or more cameras at the same time. It is also possible to remotely operate the system via a PC or smartphone.
The Canon 360-degree camera comes with three built-in tripod legs, which can be adjusted individually both in length and angle. In addition, three movable illumination units are installed on the camera system. The battery compartment is located in the lower part of the camera.
The patent from Canon can be downloaded here and here.