Samsung ontwikkelt al jaren smartphone hoesjes, in tal van verschillende uitvoeringen. Zo heb je bijvoorbeeld de LED View cover en de Clear View cover, dit zijn beide flip-covers, die zowel de voor- als achterzijde van het toestel beschermen. Volgens een onlangs gepubliceerd patent overweegt Samsung ook om een flip-cover te maken met een display, aan zowel de voor- als achterzijde.

Samsung smartphone cover met display
Op 13 december 2018 heeft WIPO (World Intellectual Property Organization) en USPTO (United States Patent and Trademark Office) een patent gepubliceerd van Samsung Electronics voor een 'Accessory device for portable devices'. Het patent omschrijft een Samsung smartphone cover die voorzien wordt van een elektroforetisch display.
Het betreft een flip-cover, die zowel de achterzijde, de zijkanten als de voorzijde van de smartphone bedekt. Zowel aan de voor- als achterzijde zal het smartphone hoesje voorzien worden van een elektroforetisch display. Dit type schermen vergt een lage batterijcapaciteit, waardoor deze wireless van stroom kan voorzien worden via je smartphone. Daarnaast wordt het telefoon hoesje voorzien van NFC.
De smartphone accessoire beschikt over een eigen printplaat (PCB) met processor, antenne en een display controller. Zodoende kan er ook authenticatie van de accessoire plaatsvinden, los van de smartphone zelf.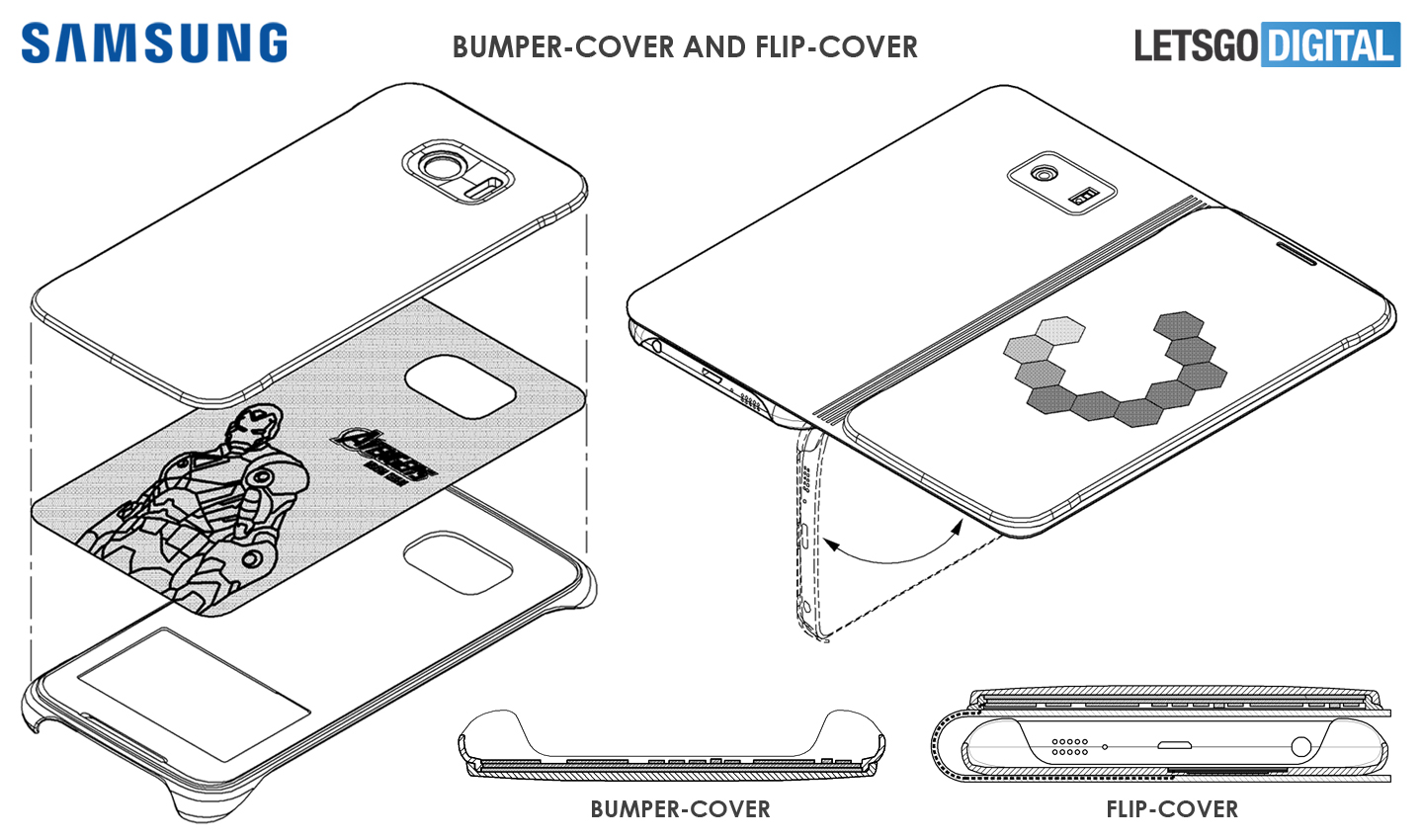 Qua display formaten worden er verschillende mogelijkheden beschreven. Zowel aan de voor- als achterzijde kan er een scherm worden toegepast die maximaal 98% van de cover in beslag neemt. Naast een nagenoeg full-screen display kan er ook gekozen worden voor een kleiner scherm, dat alleen de onderste helft van de cover bedekt. In dit geval beslaat de displaygrootte maximaal 35% van het hoesje.
De display grootte aan de voorzijde kan variëren met die aan de achterzijde. De telefoon zelf kan over één touchscreen beschikken, maar het kan ook een dubbelzijdige smartphone betreffen. Een  goed voorbeeld hiervan hebben we afgelopen week gezien, toen Vivo de NEX Dual Display Edition aankondigde.
De Samsung smartphone cover kan gemaakt worden van verschillende materialen, denk aan metaal, hout of plastic materiaal evenals polycarbonaat. Ook kan de cover transparant zijn, waardoor de film-laag die direct onder de cover wordt aangebracht, voorzien kan worden van een flitsende afbeelding. Als voorbeeld worden er verschillende Marvel figuren getoond, die op de achterzijde van de Samsung smartphone te zien zijn. De display unit wordt onder de afbeelding geplaatst, waardoor deze als het ware door de afbeelding heen schijnt.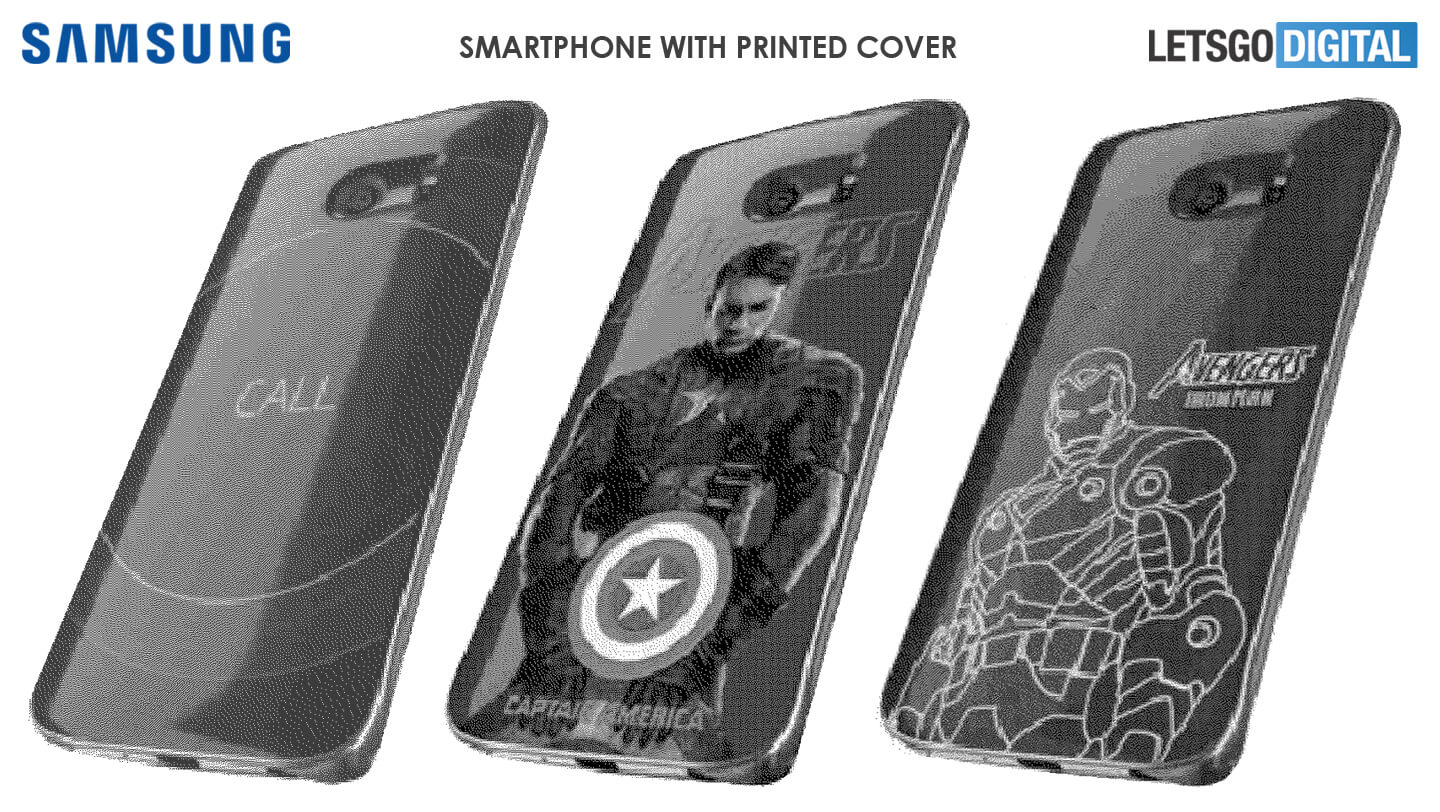 Samsung cover met elektroforetisch display
Doordat de cover in verbinding staat met de smartphone kan deze algemene zaken als binnenkomende oproepen of nieuwe berichten weergeven. Ook zou de display in staat moeten zijn om tekstbestanden, audiobestanden, videobestanden, afbeeldingen en webpagina's te tonen.
Een elektroforetisch display, oftewel E-paper, is goed leesbaar, ook bij veel omgevingslicht. Daarnaast vraagt het weinig van de batterij. Een nadeel is dat er minder kleuren getoond kunnen worden. De gepatenteerde technologie is overigens niet alleen van toepassing op een flip-cover, maar kan ook worden toegepast op een zogenaamde bumper-cover / backcover, waarbij alleen de achterzijde en zijkanten beschermd zijn.
Of en wanneer een dergelijke Samsung smartphone cover wordt uitgebracht is nog onbekend. Het lijkt een soort geavanceerde versie van de LED Cover te zijn. Hoesjes zijn door de jaren heen voorzien van steeds meer technologie, het is dan ook zeker niet ondenkbaar dat er in de toekomst ook covers met display geïntroduceerd zullen worden.

FOR OUR INTERNATIONAL READERS
Samsung has filed a patent with WIPO and USPTO for an 'Accessory device for portable devices'.  The patent was published on December 12, 2018 and describes a smartphone cover (flip-cover or bumper-cover) with an electrophoretic display on the front and back.
An electrophoretic display requires low battery consumption and therefore can be wirelessly supplied with power via the smartphone. In addition, the Samsung cover comes with NFC. It also has its own printed circuit board with processor, antenna and a display controller. This way authentication of the accessory can also take place, separately from the smartphone itself.
Various display formats are described. The display size on the front may vary with the one on the back. The cover may contain a full screen display (max 98% of the cover surface), but the display may also cover only the bottom part of the case (max 35%).
Samsung also mentions in the patent that the smartphone itself may have one touchscreen, but could also have multiple touchscreens. As the cover is connected to the smartphone, it can display general things such as incoming calls or new messages. In addition, it may show text files, audio files, video files, images and web pages.
The smartphone cover can be made of metal, wood or plastic material as well as polycarbonate. Furthermore, the cover may be transparent. A printed film can then be applied directly under the cover. As an example, several Marvel figures are shown. The display unit will be placed directly underneath the image.
Here you can find the patent from Samsung Electronics: claims, specifications and drawings.