Het gebruik van 3D display techniek is niet nieuw, maar wordt nog wel altijd doorontwikkeld. Er is een groeiende behoefte aan 3D beelden, die het mogelijk maken om diepte waar te kunnen nemen. Zo zijn 3D display apparaten interessant voor medische en militaire toepassingen, maar natuurlijk ook gewoon voor thuis- en werk-gebruik.
Op CES 2010 werd er al uitgebreid aandacht besteed aan 3D televisies. Samsung had half maart 2010 de primeur toen de C7700 LCD TV als eerste 3D TV op de Nederlandse markt werd gebracht. Toch duurde deze 3D-hype niet lang, het grootste nadeel was overduidelijk dat je een bril nodig hebt om de content in 3D te ervaren. Hier lijkt in de toekomst een einde aan te komen, mogelijk dat Samsung opnieuw gaat pionieren.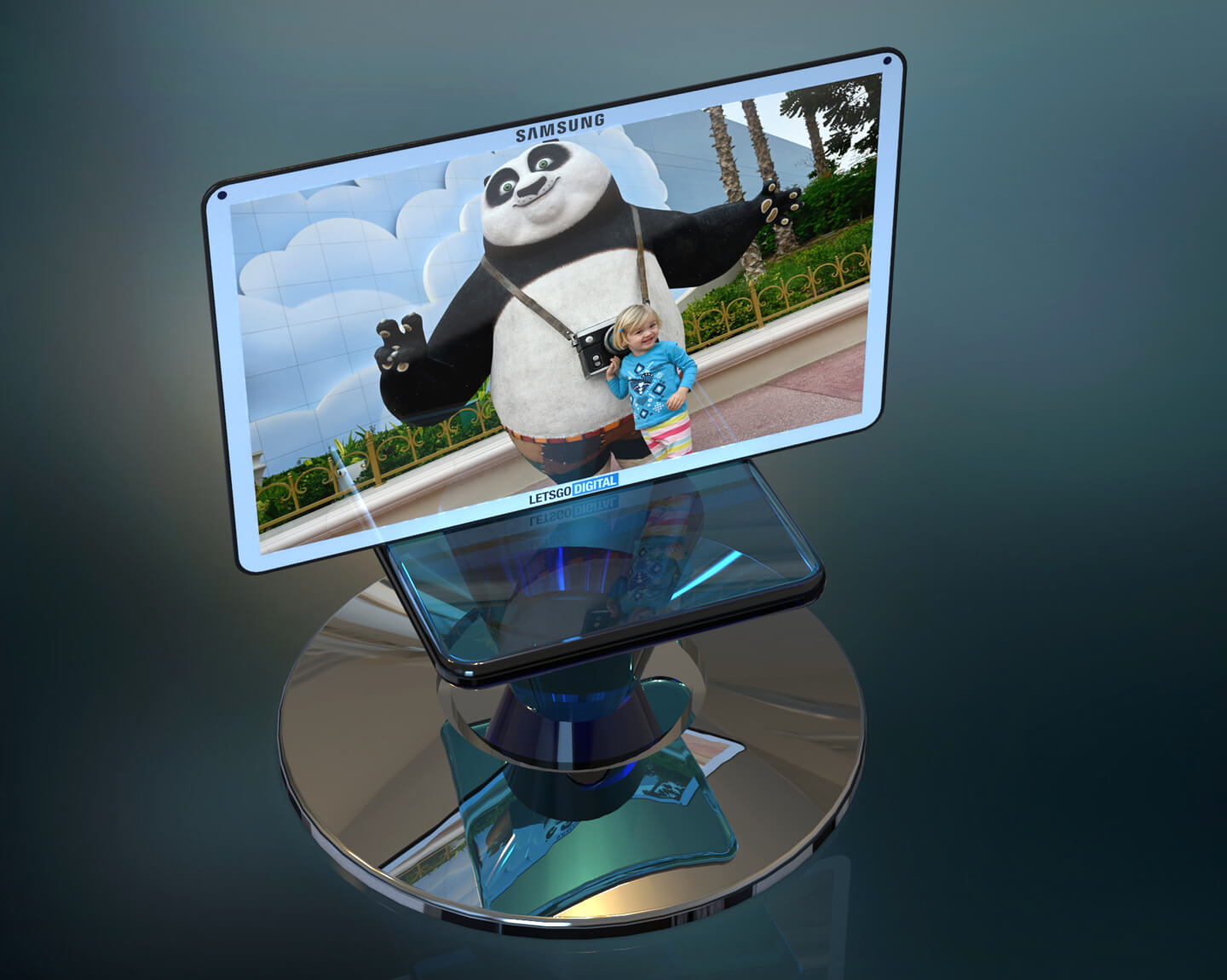 Samsung 3D display apparaat
Samsung heeft op 15 januari 2019 een patent toegewezen gekregen van de USPTO (United States Patent and Trademark Office) voor een interessant 3D display apparaat. Het patent getiteld 'three-dimensional display device and user interfacing method therefor' omschrijft een 3D display apparaat dat in staat is om virtuele 3D objecten weer te geven. Hoewel het patent al veel eerder was ingediend, is de gepatenteerde technologie zeer geavanceerd.
Het betreft een 3D televisie of een 3D monitor dat verbinding kan maken met een smartphone of tablet. Het apparaat heeft ook wel wat weg van een 3D tablet. Het driedimensionale display apparaat kan verschillende soorten content tonen, denk aan 2D/3D video's of foto's. Maar ook het weergeven van 3D games behoort tot de mogelijkheden. Hoewel de bijgeleverde patent illustraties en de door ons geproduceerde 3D renders een platte weergave tonen kan de content mogelijk ook in kubus-vorm gepresenteerd worden.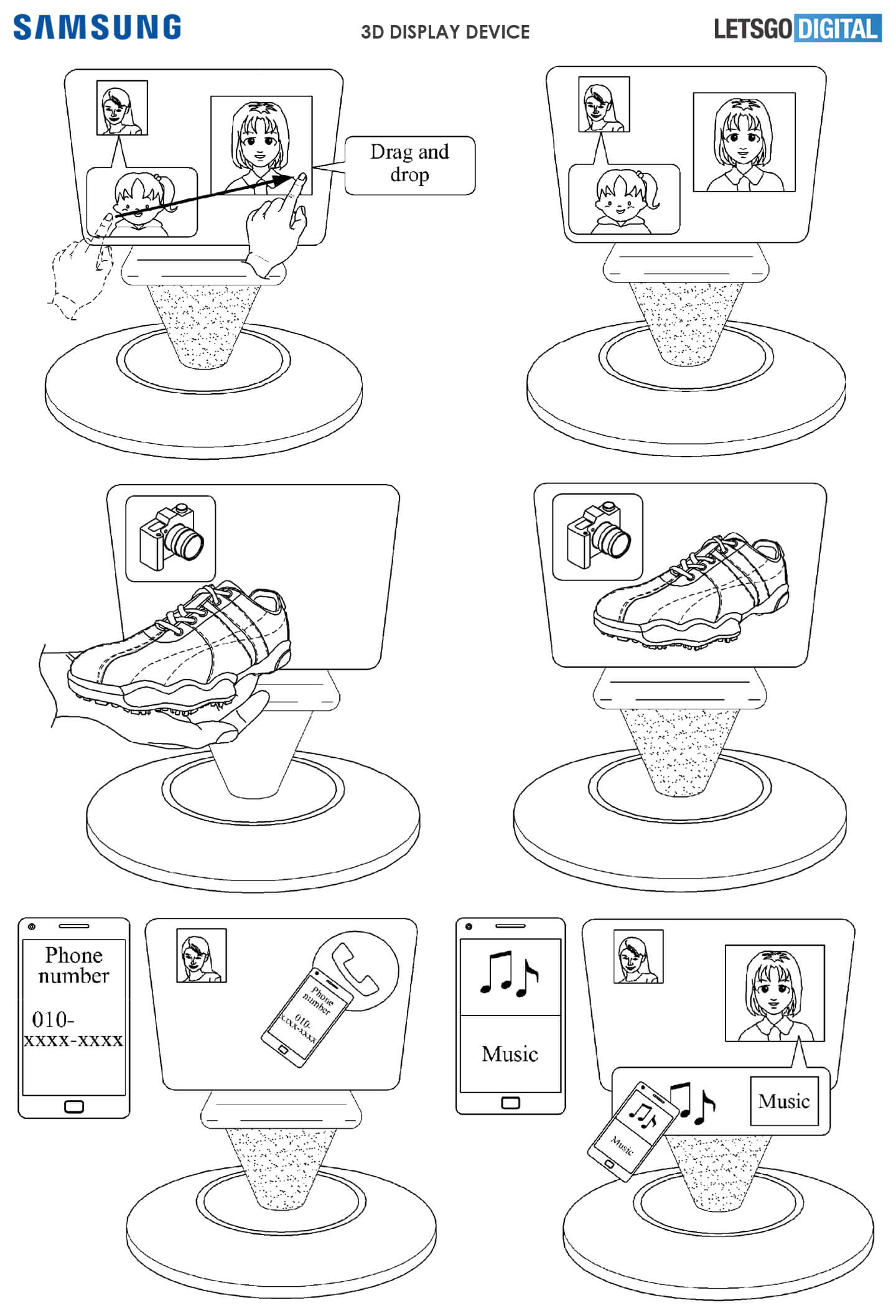 Dankzij de toepassing van een camera kan het apparaat ook zelf 3D content creëren, bijvoorbeeld van objecten. De camera kan verschillende soorten objecten herkennen, waardoor de gebruikersinterface hier automatisch op wordt aangepast en er bijbehorende informatie getoond kan worden, zoals waar het product te koop is.
De camera kan ook vormen en kleuren van objecten herkennen. Deze informatie kan vervolgens worden gebruikt voor ander soortige content. Als voorbeeld wordt er een foto van een banaan gemaakt, waarbij de gele kleur van de banaan wordt toegepast op een foto van een straatbeeld.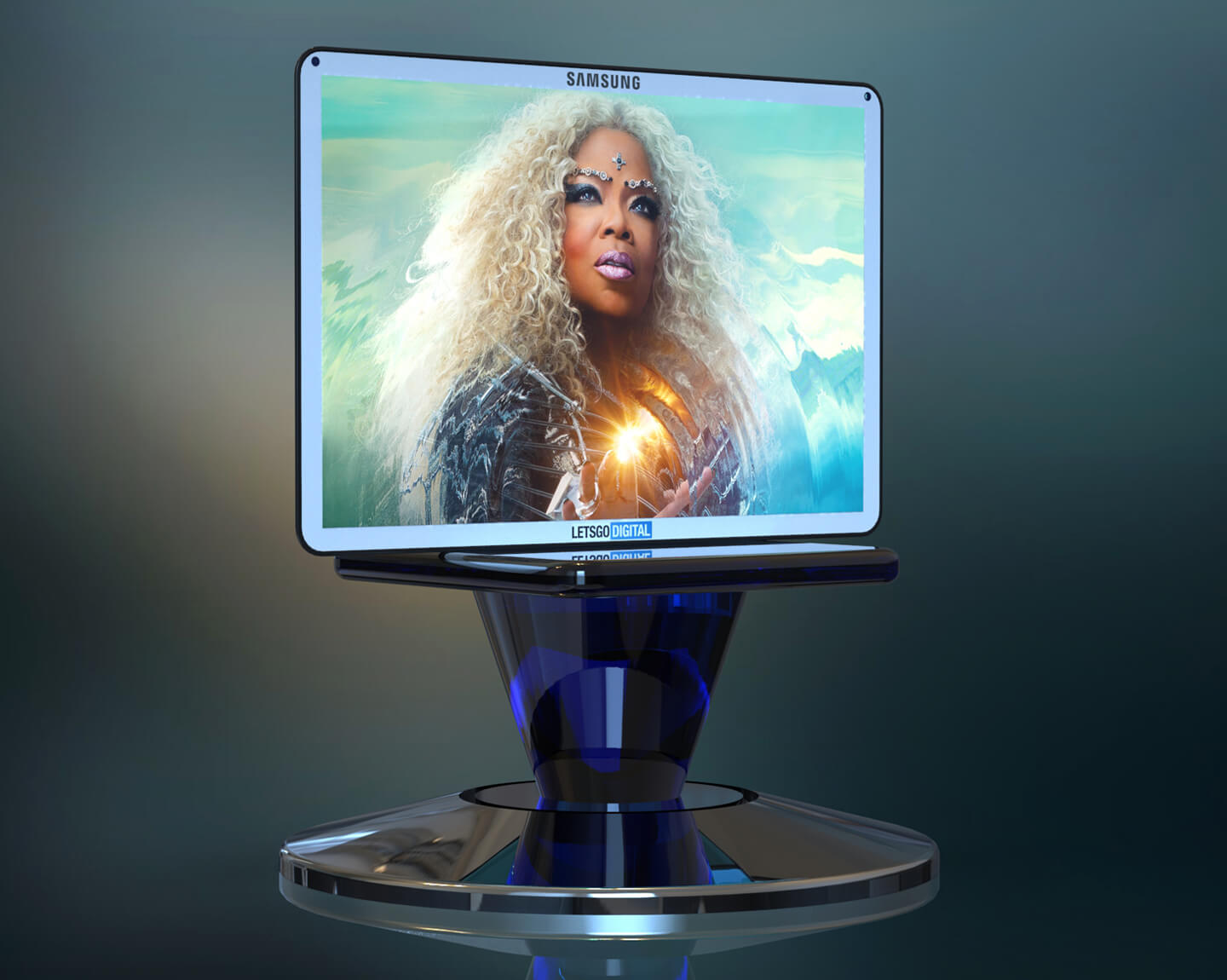 Gebruikersinterface van de Samsung 3D TV
In tegenstelling tot bestaande 3D displays spreekt het patent van Samsung over een 3D gebruikersinterface, in plaats van 2D. Hierdoor wordt een veel betere en nauwkeurige bediening mogelijk. Er wordt gebruik gemaakt van een detectiesensor (zoals een IR sensor of een ultrasound sensor) die kan detecteren wanneer er contact wordt gemaakt met het virtuele object in de 3D omgeving.
Voor het bedienen van het 3D display apparaat worden meerdere mogelijkheden genoemd, denk aan touch bediening, maar bijvoorbeeld ook bediening via een touch pen.
Het apparaat kan informatie direct doorsturen en ontvangen via je smartphone. Houdt je bijvoorbeeld een video call via je smartphone? Dan kun je de persoon met wie je in gesprek bent ook op de Samsung 3D display tonen. Deel je bijvoorbeeld een muziek bestand met iemand, dan kan deze direct op het scherm getoond en afgespeeld worden.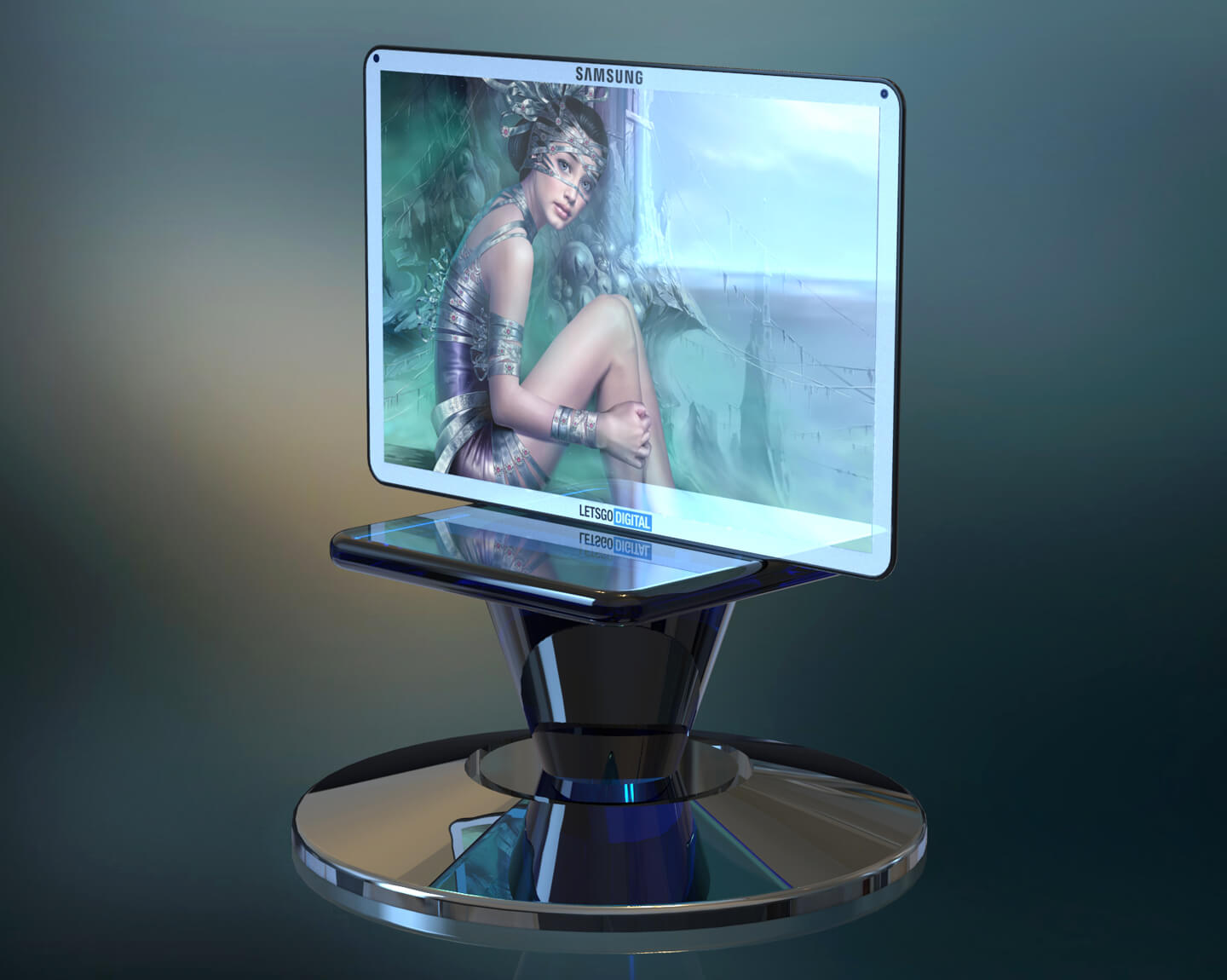 Er kan overigens zowel gebruik worden gemaakt van een stereoscopische methode als van een hologram methode. Bij stereoscopie wordt er gebruik gemaakt van twee foto's die samen een 3D beeld vormen. Bij holografie is er geen sprake van twee aparte opnames. Hier wordt een platte afbeelding vanuit verschillende hoeken gepresenteerd. Het beeld bestaat niet echt, maar door op een bepaalde manier gebruik te maken van licht lijkt het een 3D beeld.
Of Samsung een dergelijk apparaat ook daadwerkelijk op de markt zal brengen blijft natuurlijk afwachten. Wel is zeker dat Samsung nog altijd nieuwe mogelijkheden onderzoekt voor het weergeven van 3D content. Zo rapporteerden we afgelopen maand nog over een Samsung 3D hologram smartphone.


FOR OUR INTERNATIONAL READERS



On January 15, 2019, Samsung was granted a patent from the USPTO (United States Patent and Trademark Office) for a 'three-dimensional display device and user interfacing method therefor'.
The display device may be a 3D television or a 3D monitor that can connect to a smartphone or tablet. The three-dimensional display device can show different types of content, such as 2D / 3D videos or photos, but also 3D games.
Thanks to the use of a camera, the device can also create 3D content itself, for example of objects. The camera can recognize different types of objects, so that the user interface can be automatically adjusted accordingly and relevant information can be displayed, such as sale information.
The Samsung 3D display device comes with a 3D user interface. A detection sensor (such as an IR sensor or an ultrasound sensor) in integrated to detect when contact is made with a virtual object in a 3D space. For the operation of the 3D display device several possibilities are mentioned, like touch operation, but also operation via a touch pen.
The device can transmit and receive information to a smartphone. For example, when you make a video call via your smartphone the person you are talking to can be displayed on the Samsung 3D display. If you share a music file, the file can be shown directly on the screen and played back.
Here you can find the patent from Samsung Electronics.
Note to editors: The copyright protected 3D renders presented in this article are produced by LetsGoDigital and based on the patent from Samsung. The pictures can be used for reproduction in any online publication if you add a credit source link to our website. Thank you very much for understanding.