Samsung heeft inmiddels al enige ervaring opgedaan met slimme kleding. Op IFA 2015 introduceerde Samsung C&T Fashion Division haar eigen slimme kleding merk, The HumanFit, gelijktijdig werd onder andere een slim mannenpak geïntroduceerd. Begin dit jaar introduceerde Samsung ook een slim schaatspak, de Samsung SmartSuit werd door de Nederlandse shorttrackers gebruikt om te trainen voor de Olympische Winterspelen.
Slimme schoenen heeft Samsung tot op heden nog niet gelanceerd. Wel kondigde het bedrijf twee jaar geleden op de MWC 2016 de beschikbaarheid aan van de Iofit smart schoenen. Deze slimme schoenen zijn te verbinden met een smartphone en speciaal ontworpen voor golfers.
De Iofit schoenen zijn ontwikkeld door Salted Venture, een spin-off startup van Samsung's Creative Lab. Het project werd mede via de Kickstarter crowdfundingwebsite gefinancierd. Een nieuw toegewezen patent toont aan dat Samsung in de (nabije) toekomst mogelijk ook haar eigen slimme sportschoenen zal introduceren.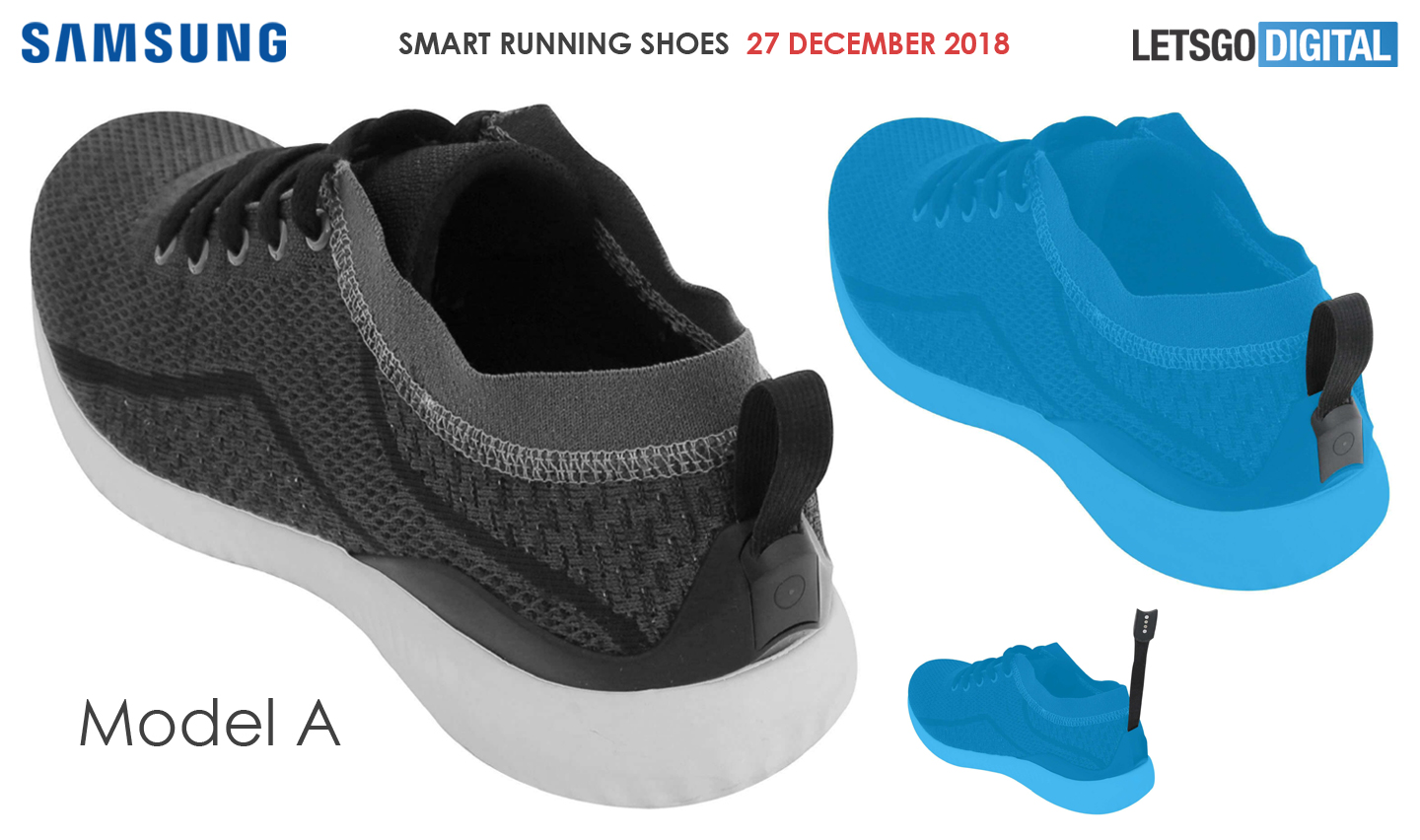 Samsung slimme sportschoenen
In augustus dit jaar heeft Samsung C&T Corporation een tweetal designpatenten aangevraagd bij de Koreaanse KIPO (Korean Intellectual Property Office). Het patent is toegewezen op 27 december 2018 en toont verschillende render beelden van een sneaker met op de achterzijde een sensor.
Helaas is de patentomschrijving erg summier. De gepatenteerde Samsung schoen wordt gemaakt van leder en synthetisch materiaal. Bij model A is de slimme sportschoen aan en uit te zetten door aan het lipje te trekken. Bij model B is de sensor eveneens aan de achterzijde te vinden, hier dien je een plastic klepje open te klikken om de smart functies te activeren.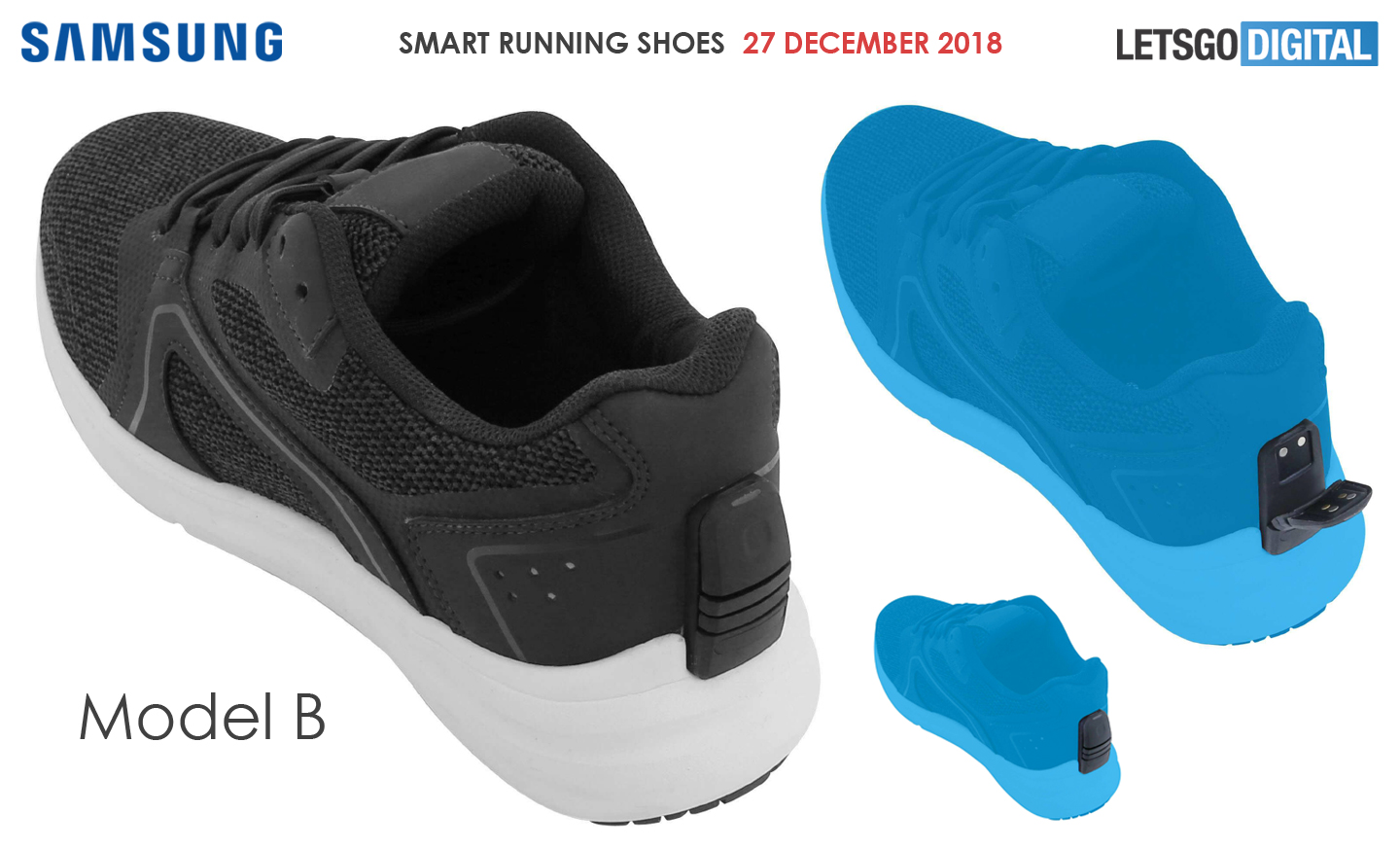 Het lijkt aannemelijk dat de hardloopschoenen werken in combinatie met een app, waarmee een wandelaar, jogger of hardloper zijn fitness doelen eenvoudig kan vaststellen en nauwkeurig kan volgen. Mogelijk dat de Samsung slimme sportschoenen ook voorzien worden van Artificial Intelligence, waardoor de coaching op den duur steeds meer op jouw persoonlijke omstandigheden wordt afgestemd.
Slimme sportschoenen op CES 2019
CES 2019 zou een uitgelezen moment zijn om de Samsung smart schoenen te introduceren. Afgelopen jaar werden op de consumentenelektronicabeurs onder andere de Sensoria slimme hardloopschoenen onthuld, deze hebben qua design veel weg van Samsung's ontwerp. Deze slimme schoenen zijn voorzien van druksensoren die gebruikers real-time feedback geeft. Ook andere smartphonefabrikanten, zoals Xiaomi en Lenovo hebben schoenen met sensoren in ontwikkeling.

FOR OUR INTERNATIONAL READERS



In August of this year, Samsung C&T Corporation filed two design patents with KIPO. The patents were granted on December 27, 2018 and show different render images of a running shoe with a sensor on the back.
The patented Samsung smart shoes are made of leather and synthetic material. Model A can be switched on and off by pulling the tab. Model B also features a sensor on the back, here you have to open a plastic flap to activate the smart functions.
It seems likely that the running shoes work in combination with an app, with which a walker, jogger or runner can easily determine their fitness goals and track activities in real-time. Perhaps Samsung will also provide the smart shoes with Artificial Intelligence, in order for the coaching process to be increasingly tailored to your personal situation.
CES 2019 would be the perfect moment for Samsung to launch their smart running shoes. Last year, the Sensoria smart running shoes were unveiled at the Consumer Electronics Show. These sports shoes actually look quite similar to Samsung's design.
Here you can find the patent from Samsung C&T Corporation: Model A and Model B.