De Amerikaanse fabrikant GoPro staat bekend om haar action camera´s, voor het vastleggen van extreme sporten en water activiteiten. De Hero serie wordt al enige jaren gevoerd. Naast de Hero 6 introduceerde GoPro eind september ook de Fusion 360 camera.

GoPro action camera met touch lens
GoPro heeft een nieuw patent aangevraagd bij de WIPO (World Intellectual Property Organization), bedoelt om het gebruikersgemak van haar actioncamera´s te bevorderen. Het patent is aangevraagd door GoPro Inc op 4 oktober 2016 en werd gisteren gepubliceerd in de WIPO database.
Het betreft een patent voor een camera lens met touch sensor, waardoor het mogelijk wordt om de camera met je vinger te bedienen via het lens venster, in plaats van het display. Hierdoor kunnen gebruikers de actioncamera vanaf de voorzijde van het apparaat bedienen.
Voor de lenselementen wordt een soort lens venster geplaatst, waarop de transparante aanraaksensor geïntegreerd wordt. Deze detecteert de positie van de aanraking en geeft een bijbehorend signaal af. De camera lens staat in verbinding met het display en zal een gebruikersinterface tonen.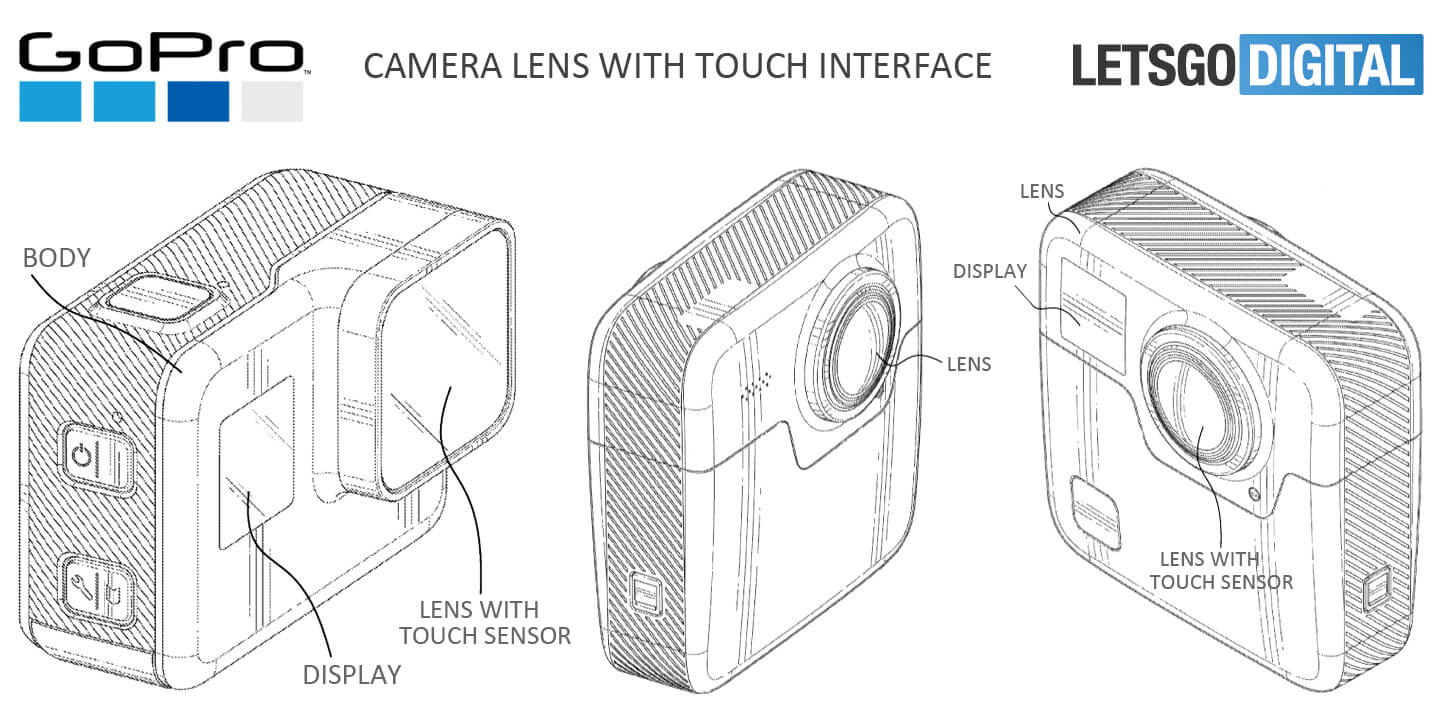 GoPro heeft ook laten vastleggen dat de techniek kan worden toegepast bij camera´s die niet zijn voorzien van een display. In het bijzonder wanneer de camera beschikt over een dubbele lens (één aan beide zijden van de camera), voor het vastleggen van 180˚ of 360˚ video opnames. Zo kan de action camera zijn compacte vormgeving behouden en een optimaal bedieningsgemak bieden, zo beschrijft de patentomschrijving.
Eind september lanceerde Gopro de Fusion 360 and Hero 6 camera´s, dit was exact een jaar nadat de Hero 5 werd geïntroduceerd. De kans is dan ook groot dat de nieuwe modellen ook rond september 2018 onthuld zullen worden. We zijn benieuwd of deze interessante nieuwe technologie dan al toegepast kan worden.

FOR OUR INTERNATIONAL READERS



American based action camera manufacturer GoPro filed a patent with WIPO for a camera with touch sensor integrated with lens window. The patent was filed by GoPro Inc on October 4th 2016 and was published yesterday in the WIPO database.
A lens assembly featuring an integrated touch sensor enables users to operate the camera with their finger via the lens, instead of the display. The camera lens will be connected to the display. Users can therefore access most features from the front side of the device.
GoPro has also claimed this technology can work for cameras without a display. In particularly cameras with a dual lens (one on each side of the camera) for capturing very wide angle or aspherical video recordings. The camera can thus maintain its small form factor while offering optimal user convenience, as described in the patent description.
At the end of September, GoPro launched the Fusion 360 and Hero 6 cameras, exactly one year after the Hero 5 was introduced. Chances are that the new models will also be unveiled sometime in September 2018. Will this interesting new technology be implemented by that time? Time will tell…
Here you can find the patent sketches and the description.