Op CES 2016 sprak GoPro voor het eerst over de in ontwikkeling zijnde 360-camera. Het bedrijf heeft in de tussentijd een video vrijgegeven die de mogelijkheden van de Fusion 360 graden camera toont en is enkele maanden geleden begonnen met een pilot. GoPro onthult echter nog maar weinig details over de nieuwe 5.2K bolvormige camera.
Vorige week verschenen plotseling een serie specs op het internet, nadat de GoPro Fusion handleiding was gelekt en werd verspreid door 360 Rumors. Nu verschijnt ook de GoPro Fusion 360 graden camera in de 'Radio Equipment List of Canada' en de 'National Radio Research Agency' in Korea. Beide tonen ons het model nummer SBDC1. Bovendien tonen de documenten ons dat de 360° camera zowel over WiFi als Bluetooth-technologie zal beschikken.

GoPro Fusion 360-graden camera met WiFi
De lijst met specificaties die is gepubliceerd door 360 Rumors bevatten de volgende details:
• Video resolutie: 5.7K @ 24 fps / 5.2K @ 30fps / 60fps @ 3K (3008 x 1504).
• Video's worden opgenomen met een 16:9 beeldverhouding.
• Foto resolutie: 18 MP (ongeveer 6000 x 3000).
• De actioncam kan RAW foto's en burst opnames maken @ 30fps.
• ISO foto's: 100 – 800, ISO video's: 100 to 6400.
• Sluitertijd: tot 30 seconde.
• Ondersteuning voor USB Type C en GPS.
• De GoPro Fusion 360 camera is waterdicht.
GoPro Fusion 360 introductie datum en prijs
360 Rumors denkt dat de GoPro Fusion 360-camera ergens rond maart 2018 zijn debuut zal maken. Wij geloven echter dat de action camera eerder zal verschijnen en waarschijnlijk gepresenteerd zal worden op CES 2018 (januari). Waarom denken we dit?

Documenten (interne en externe foto's en testinstellingen) van de GoPro 360-camera zijn gepubliceerd op de website van de 'Federal Communications Commission´, maar blijven vertrouwelijk tot 31/1/2018. Het is onwaarschijnlijk dat deze documenten voor de lanceringsdatum beschikbaar zullen komen. Wat inhoudt dat de action camera voor eind januari 2018 geïntroduceerd zal worden.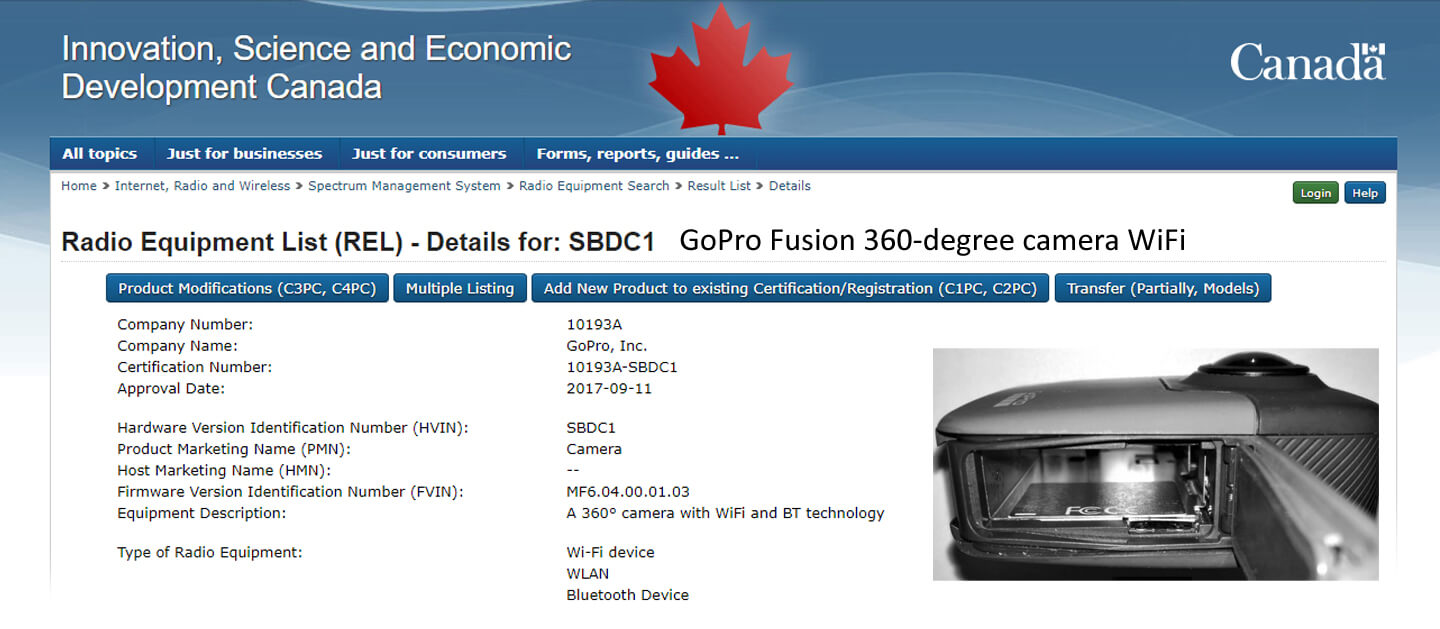 Als we de geruchten moeten geloven krijgt de GoPro Fusion 360 camera een verkoopprijs van $ 1.000. Dit lijkt ons echter wel een erg hoog bedrag, zeker wanneer je de specs vergelijkt met camera's zoals de Nikon KeyMission 360 en de onlangs gelanceerde Sony RX0. We zullen nog enkele maanden geduld moeten hebben voordat GoPro alle antwoorden zal geven.
Documenten van de National Radio Research Agency in Korea vind je hier.
Documenten van de Radio Equipment List van Canada vind je hier – type Certification Nr: 10193A-SBDC1.