We zijn er inmiddels aan gewend geraakt dat we met slimme apparaten, zoals onze smartphone en smartwatch andere elektronische apparaten kunnen bedienen en aansturen. Samsung ziet echter nog een mogelijkheid en heeft een smart ring gepatenteerd, waarmee gebruikers middels gebaren verschillende acties kunnen bewerkstelligen.

Samsung smart ring herkent handgebaren
Op 20 februari 2018 heeft Samsung Electronics een patent ingediend bij de WIPO (World Intellectual Property Office). Het patent getiteld 'Electronic device and methods for determining orientation of the device' is gepubliceerd op 23 augustus 2018 en beschrijft een methode voor gebruikers om middels handgebaren elektronische apparaten aan te sturen. Hiervoor dient de gebruiker alleen een slimme ring te dragen.
Aangezien een ring symmetrisch is en rond een vinger van een gebruiker kan bewegen, is het bepalen van een richting van een ring moeilijk, zo beschrijft het patent. Daarom wordt de smart ring voorzien van een aanraaksensor en een inertiële sensor, deze laatste is een 9-assige sensor die nauwkeurig kan vaststellen welke bewegingen er worden gemaakt. De ring zelf beschikt over 12 aanraakgevoelige gebieden.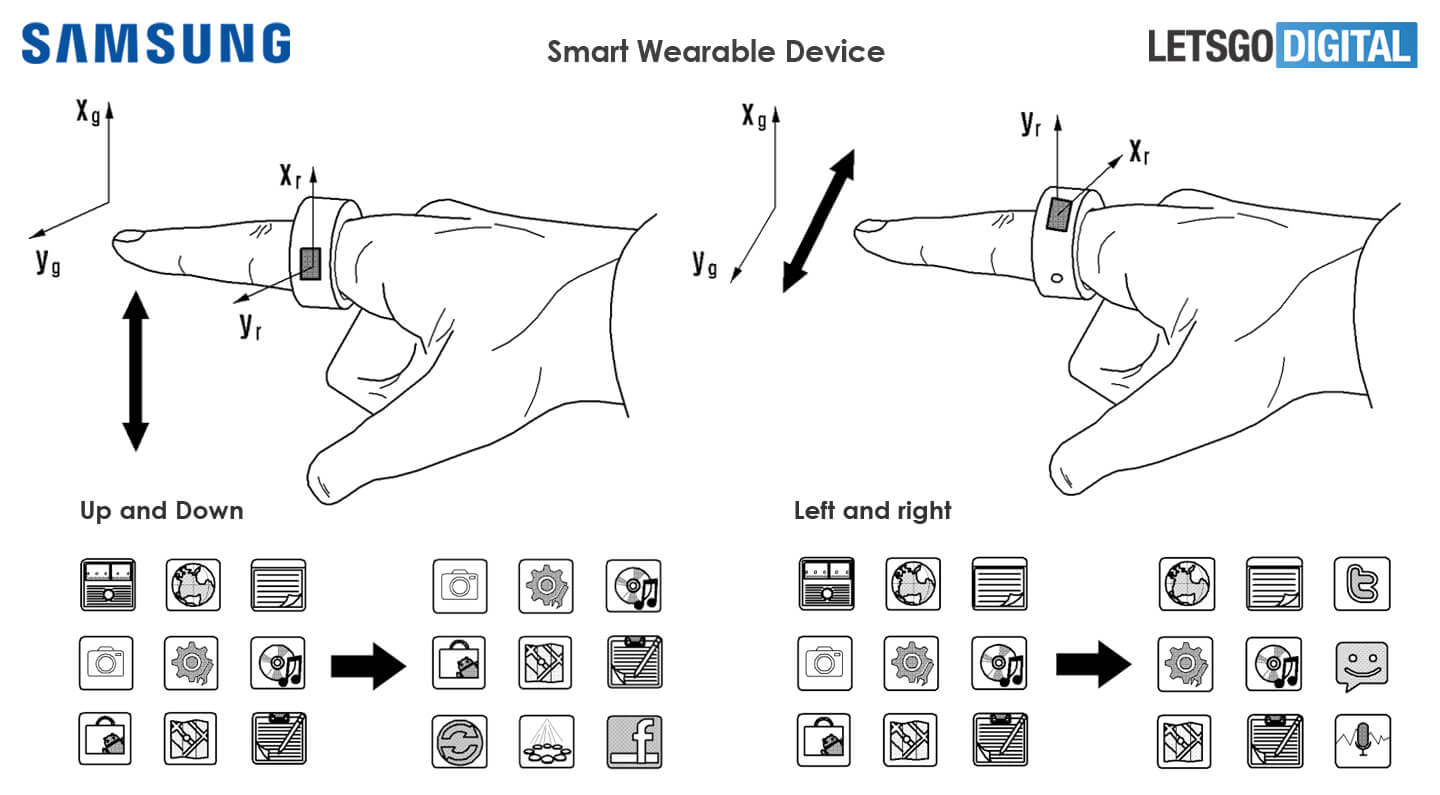 De sensoren kunnen nauwkeurig vaststellen welke bewegingen er gemaakt wordt. Denk aan een wijs of een zwaai-beweging, afhankelijk van de beweging wordt hier een actie aan gekoppeld. Ook een schuif en swipe beweging wordt herkend, evenals een roterende beweging en een pinch beweging (met twee vingers), om in te zoomen.
De slimme ring van Samsung kan zowel aan de linker- als rechterhand gedragen worden. Ook de vinger is willekeurig, hoewel de wijsvinger de meest logische vinger is. Het is zelfs mogelijk om meerdere smart ringen te dragen, bijvoorbeeld aan elke hand één.

Slimme ring van Samsung kan elektronische apparaten aansturen
Met de smart ring is het ook mogelijk om andere apparaten aan te sturen, denk aan je smart TV, of de volumeregeling, beveiligingsbesturing of lichtregeling. Middels verticale en horizontale scrolbewegingen kunnen de elektronische apparaten bediend worden. De gebruikersinterface van de ring wordt aangepast aan de hand van de scrolbeweging.
Ook kan de slimme ring gebruikt worden voor VR toepassingen. De individuele vingers kunnen gevolgd worden, en in een virtuele omgeving getoond worden, wat volledig nieuwe toepassingen mogelijk maakt.
Internet of Things (IoT) apparaten worden steeds veelzijdiger en uitgebreider. Aangezien wij mensen veel met onze handen doen, lijkt een ring een ideale wearable om andere elektronische apparaten mee aan te kunnen sturen. Je houdt je handen vrij en kunt toch middels simpele bewegingen acties verrichten.

FOR OUR INTERNATIONAL READERS



On February 20, 2018, Samsung Electronics filed a patent with WIPO for an 'Electronic device and methods for determining orientation of the device'. The patent was published on August 23, 2018 and describes a method for users to control devices by means of hand gestures. The user only needs to wear a smart ring.
The smart ring consists of a touch sensor and an inertial sensor, the latter is a 9-axis sensor that can accurately determine which movements are being made. The ring itself has 12 touch-sensitive areas and can be worn on any desired finger, on both hands. Also the use of multiple rings is possible.
By pointing, waving, sliding, swiping, rotating or pinching a finger / fingers, users can control devices like a TV. The ring can also be used for volume control, security control or lighting control. The user interface of the ring will be adjusted according to the scroll movement (vertical or horizontal).
In addition, the smart ring can also be used for VR applications. The individual fingers can be tracked and displayed in a virtual environment, offering completely new possibilities.
The patent from Samsung can be seen here and here.