Het afgelopen jaar zijn er verschillende mobiele telefoons geïntroduceerd met een punch-hole camera, oftewel een perforatiegat in het scherm, waar de selfie-camera achter schuil gaat. De eerste modellen, denk aan de Samsung Galaxy A8s en de Huawei Nova 4 beschikten nog over een relatief groot schermgat. Bij de meest recente modellen, denk bijvoorbeeld aan de Galaxy Note 10 is het gat al beduidend kleiner, waardoor deze ook minder opvalt. Het lijkt erop dat ZTE ook een smartphone met punch-hole camera in ontwikkeling heeft, de Chinese fabrikant heeft een ingenieuze en bovendien bijzonder stijlvolle oplossing bedacht.
ZTE smartphone met schermgat en Sound on Display technologie
In april dit jaar heeft ZTE Corporation een patent aangevraagd bij de WIPO (World Intellectual Property Office) voor een 'Display panel, camera device, terminal and screen manufacturing method'. Het patent werd op 17 oktober 2019 geïntroduceerd en beschrijft een ZTE telefoon met een zeer kleine punch-hole camera. Met name de positionering van deze camera is uniek.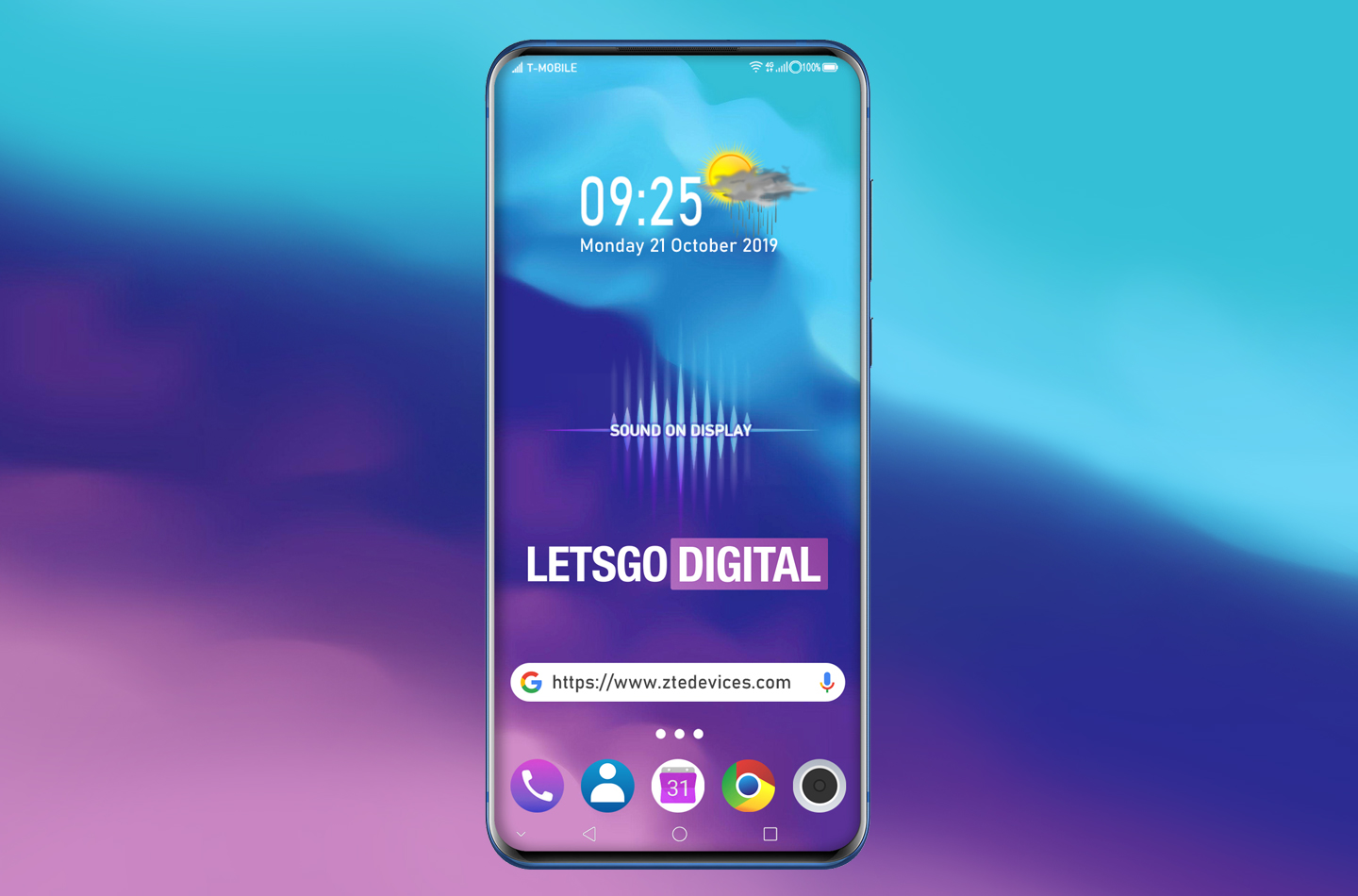 Om de camera zo min mogelijk op te laten vallen wil ZTE de selfie-camera integreren op dezelfde hoogte als de basis-icoontjes, die bovenin de display getoond worden. Denk aan de batterij indicator, netwerk, netwerksterkte etc. Door de front-camera tussen deze iconen te plaatsen heb je er nauwelijks erg in dat de camera hier gepositioneerd is.
De selfie-camera wordt niet helemaal in de rechterhoek geplaatst. Helemaal rechts wordt de batterijindicator getoond. Direct daarnaast wordt de selfie-camera geïmplementeerd. Een logische locatie, ten slotte wordt het icoontje van de batterij altijd getoond, waardoor de camera hier stijlvol naast geplaatst kan worden. Extra icoontjes waaronder het netwerk, WiFi etc worden links van de camera geplaatst.
Het scherm zal ook over een 'sound wave transmission area' beschikken, aldus de patent omschrijving. In de praktijk betekent dit dat de speaker, receiver en/of de microfoon onder de display geplaatst zal worden. Inmiddels zijn er meer telefoons met Sound-on-Display technologie verkrijgbaar, waaronder de begin dit jaar geïntroduceerde LG G8 ThinQ. Voor ZTE is deze technologie echter nieuw.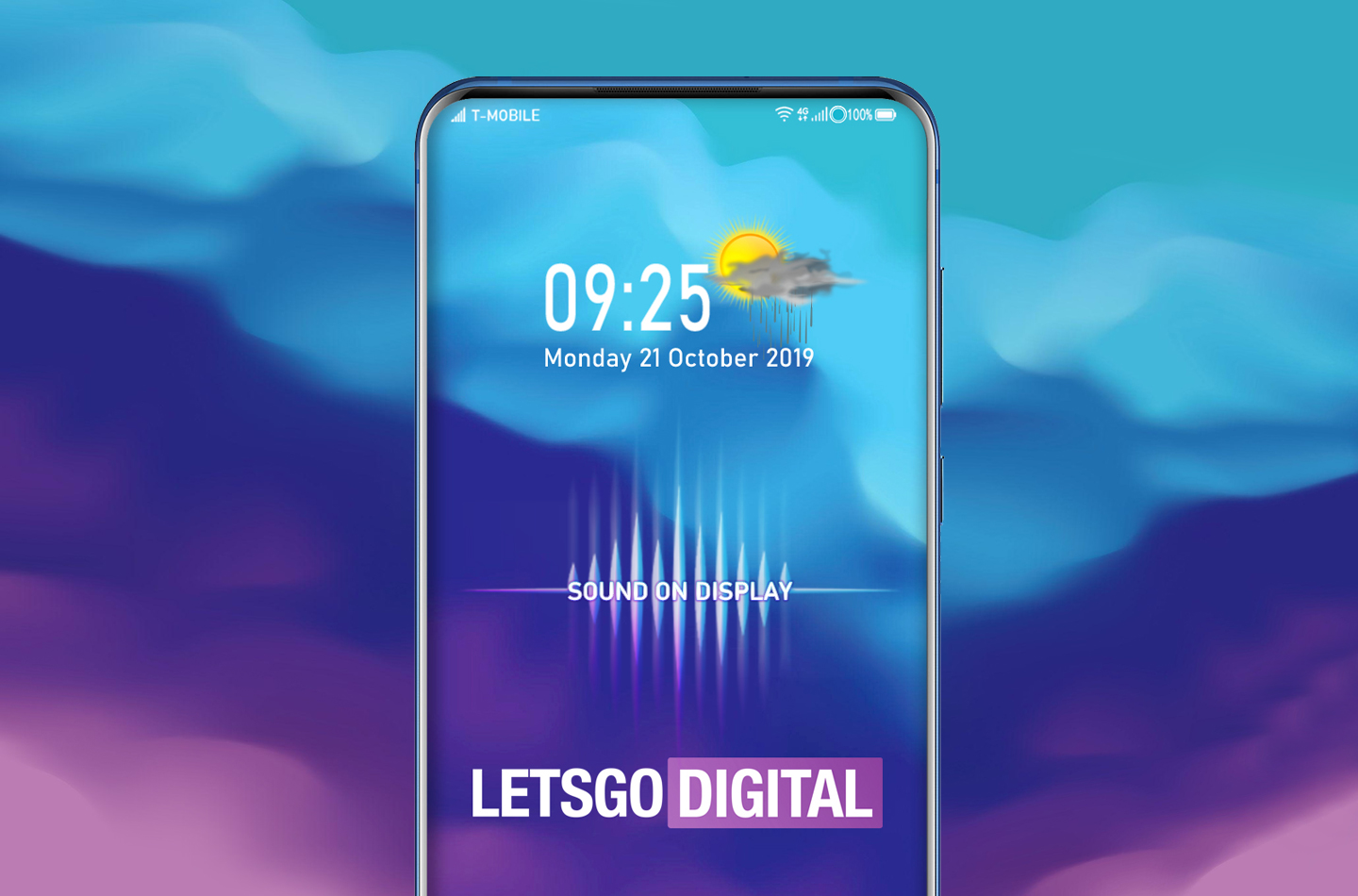 In augustus werd het meest recente vlaggenschip van ZTE geïntroduceerd. De ZTE Axon 10 Pro is een 5G smartphone met een kleine waterdruppel notch. Het lijkt aannemelijk dat het volgende topmodel van de Chinese fabrikant over een punch-hole camera zal beschikken.
Het patent geeft geen uitsluitsel over de achterzijde van de telefoon. Het gaat hier puur om de technologie die nodig is om tot zo'n punch-hole camera te komen. Zodoende kan deze technologie feitelijk in elke ZTE smartphone worden toegepast. In februari
Bekijk hier het patent van de ZTE smartphone met punch-hole camera.
Note to editors: The product render presented in this article is copyright protected and designed by LetsGoDigital. You may use our artwork for free as long as you include a clickable source link into your publication. Thank you very much for understanding.