Samsung Display ontwikkelt en produceert een groot aantal verschillende soorten schermen, van kleine smartphone displays tot aan grote televisie schermen. Onlangs rapporteerde LetsGoDigital nog over een Samsung Diamond OLED display met Round Diamond Pixels – vermoedelijk bedoelt voor toekomstige foldables van het merk. Het OLED scherm lijkt een vernieuwde Diamond Pixel structuur te krijgen – waar Samsung al jaren gebruik van maakt voor haar high-end devices, zoals de Galaxy S en Note serie.
Opvallend genoeg heeft Samsung Display nog een tweetal handelsmerken gedeponeerd, die eveneens gerelateerd zijn aan een OLED scherm. Zowel de benaming als het bijbehorende logo is vastgelegd.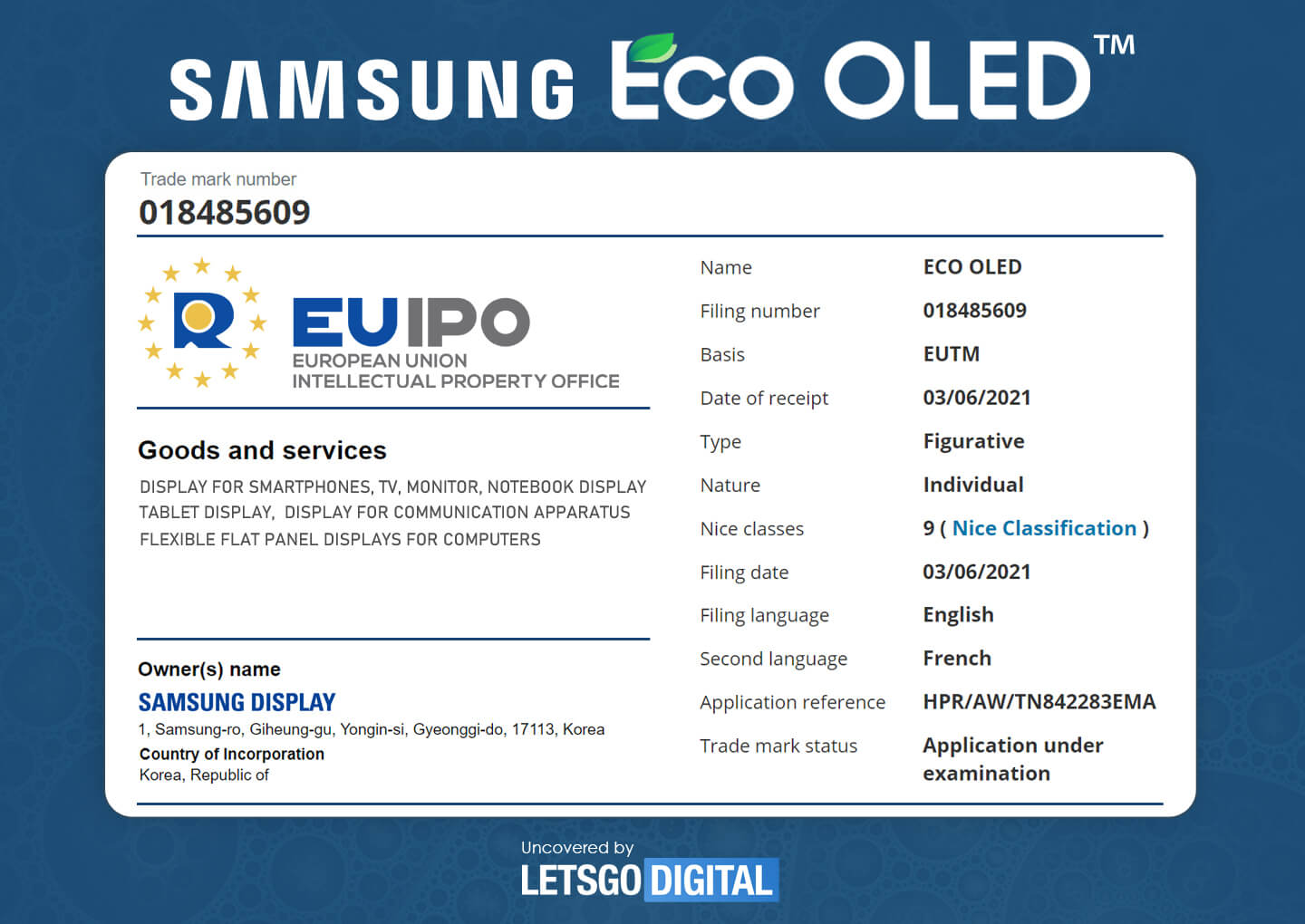 Samsung Eco OLED handelsmerk met logo
Op 3 juni 2021 heeft Samsung Display bij de European Union Intellectual Property Office (EUIPO) en bij de UK Intellectual Property Office (UKIPO) een trademark aanvraag ingediend voor  'Eco OLED' en 'Eco² OLED'.
Het handelsmerk is gecategoriseerd als Class 9, met de volgende omschrijving: 'OLED display panel; display for smart phones; television display panels; flexible flat panel displays for computers; tablet monitors; notebook display; display for communication apparatus'.
Samsung Eco OLED trademark description: 'OLED display panel; display for smart phones; tablet computers; notebook display; TV display panels; display for communication apparatus'.
De omschrijving is identiek aan die van 'Round Diamond Pixels'. Of het hier om één en hetzelfde type OLED scherm gaat blijft vooralsnog onbekend, maar is zeker niet ondenkbaar. Temeer omdat beide aanvragen zijn ingediend door dezelfde tussenpersoon; Mark & Clerk LLP uit Luxemburg. Ook blijft het vooralsnog onbekend waar de 'Eco²' aanduiding voor staat.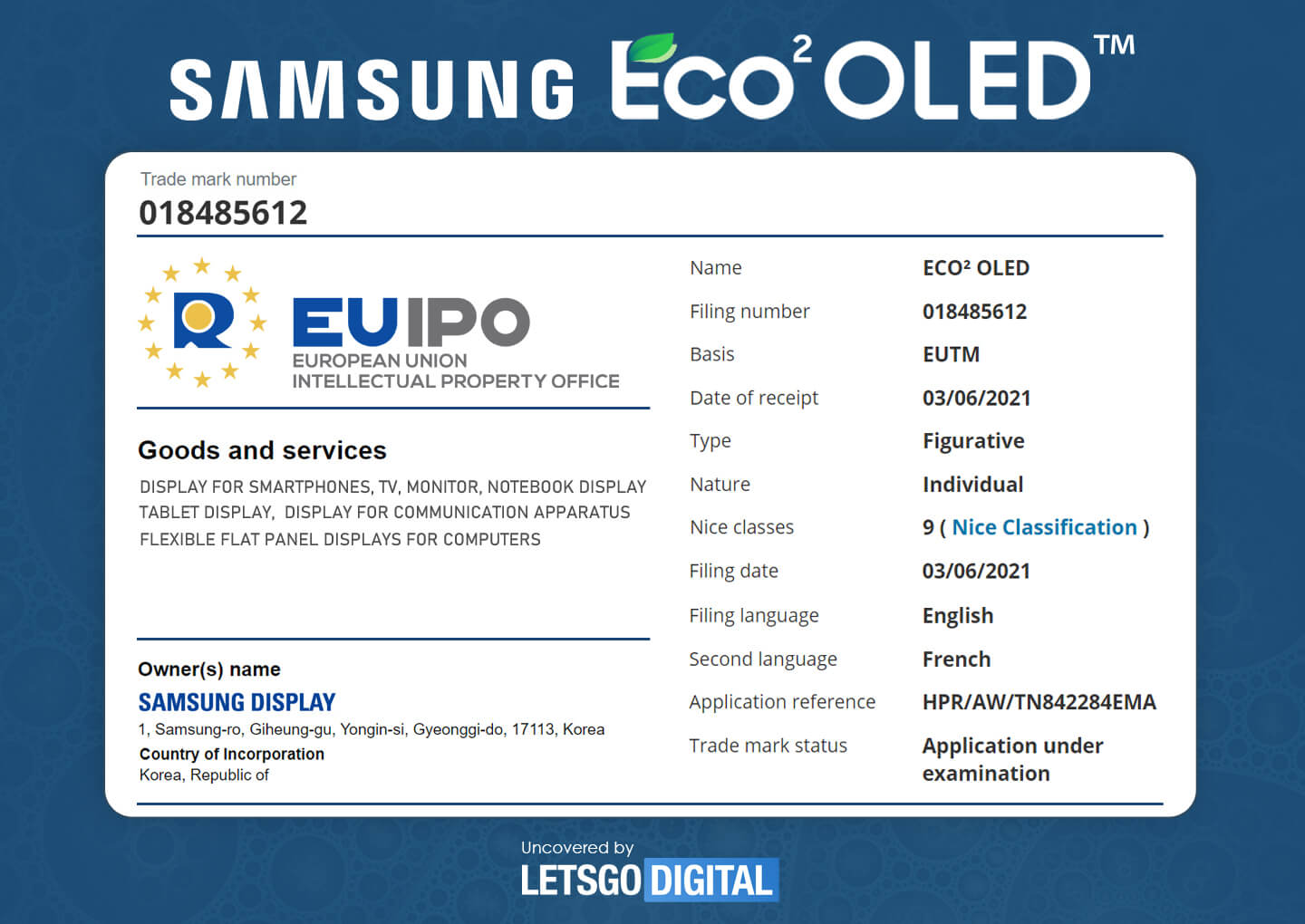 Afgezien van de benaming heeft Samsung ook een bijbehorend logo laten vastleggen, waarbij er in de 'E' van 'Eco' een groen blaadje is verwerkt. Een eco-label doet het natuurlijk goed voor de marketing.
OLED displays worden reeds als eco-friendly beschouwd, omdat ze relatief weinig energie verbruiken, minder onderdelen nodig zijn en minder CO2 uitstoot genereren. Mogelijk heeft Samsung het productieproces verder geoptimaliseerd, om nog milieubewuster te kunnen produceren.
Opmerkelijk genoeg ontving Samsung Display afgelopen maand nog een Greenguard Gold certificaat voor 9 OLED panelen voor laptops, vanwege de lage chemische emissies van de componenten. Het is voor het eerst in de industrie dat dit certicaat is toegekend. Of deze prestige iets met de nieuwe aanvagen te maken heeft blijft vooralsnog onduidelijk.
Vermoedelijk krijgen we de komende periode meer te horen over het milieuvriendelijke OLED scherm van Samsung Display.
Bekijk hier de aanvraag voor Samsung Eco OLED en Eco² OLED.