Dit jaar is de eerste opvouwbare smartphone van Samsung geïntroduceerd. De Galaxy Fold is voorzien van een flexibel scherm dat is gemaakt van polyamide kunststof. In 2020 wordt alweer de tweede generatie opvouwbare telefoons van de Koreaanse fabrikant verwacht. Onlangs werd bekend dat de Samsung Galaxy Fold 2 waarschijnlijk over een nieuw type display zal beschikken, die beduidend dunner is en bovendien een stuk krasbestendiger is. Deze geruchten kunnen we inmiddels bevestigen nu Samsung zelf een trademark heeft ingediend voor de naam 'Ultra Thin Glass'.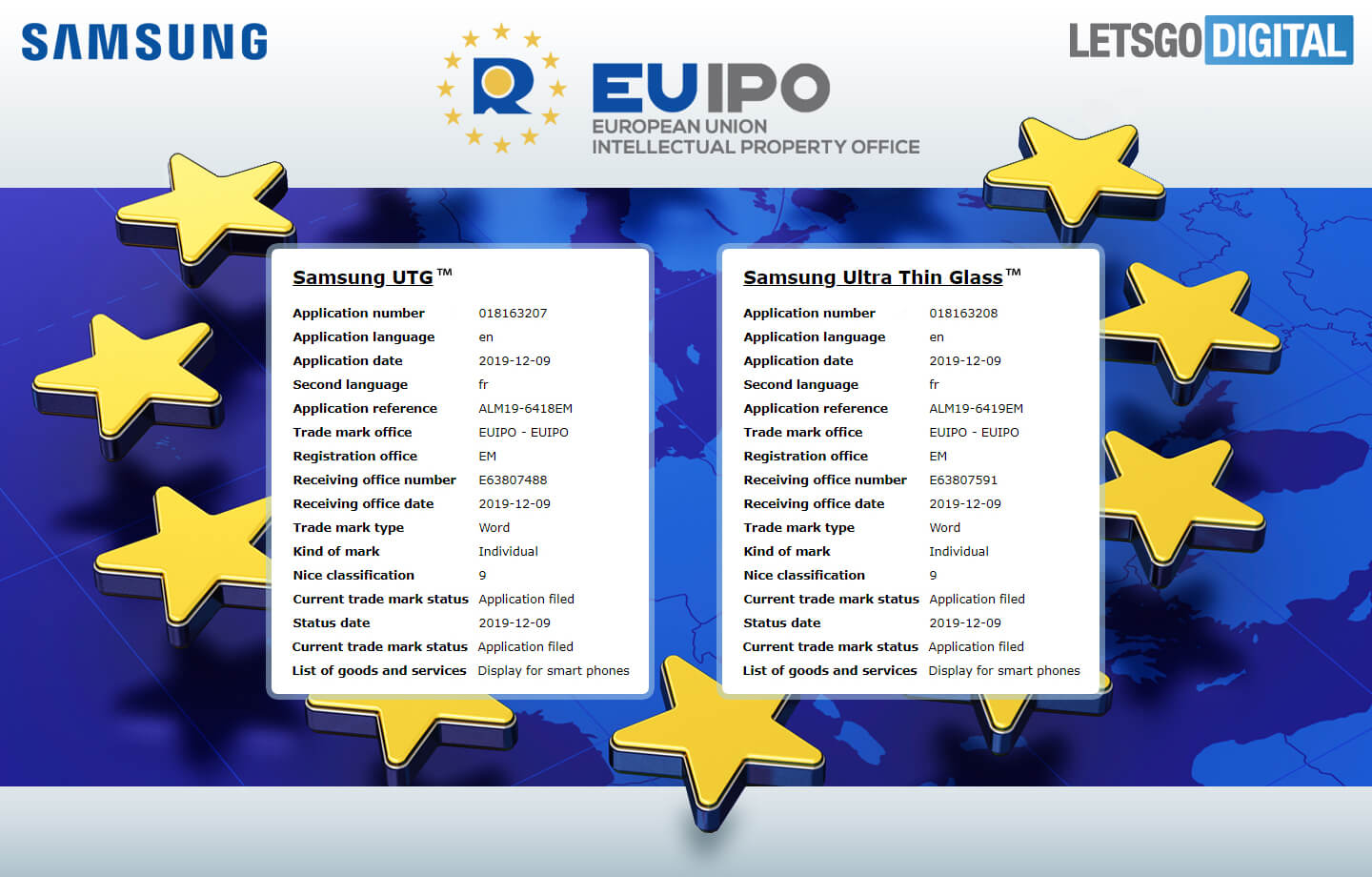 Samsung opvouwbare smartphones met Ultra Thin Glass
Op 9 december 2019 heeft Samsung Electronics via een contactpersoon in Spanje een drietal trademark aanvragen ingediend die allen aan elkaar gerelateerd zijn. Het gaat om de namen 'Samsung Ultra Thin Glass', 'Samsung UTG' en 'UTG'. De aanvragen zijn gecategoriseerd als Class 9, met als omschrijving:
Samsung Ultra Thin Glass description: Display panels in the nature of flat panel display screens;  electric luminescent display panels; computer display monitors; digital signage; light emitting diode displays; OLED (Organic light emitting diode) display panels; panel for large format display; displays for digital cameras; display for smart phones; LCD monitor for display; flat panel display screens; television monitors; video display screens for portable communications apparatus; display panels for television; televisions; smartphones.
Uit de omschrijving valt op te maken dat deze type schermen voor meerdere soorten elektronica apparaten ingezet kunnen worden, waaronder smartphones. In oktober werd er voor het eerst gesproken over het gebruik van UTG voor de volgende generatie Samsung Galaxy vouwtelefoons.
Ultra Thin Glass is minder dan 100 micrometer (µm) dik, mogelijk dat het zelfs om 30 µm schermen gaat – ter vergelijking, dat is net zo dik als een mensenhaar. UTG displays moeten er mooier uitzien en bovendien beduidend krasbestendiger zijn. Er zit echter ook een keerzijde aan, het is namelijk lastiger om te produceren en is bovendien kostbaarder. Maar velen zullen zich nog de YouTube video's kunnen herinneren waarin een krasbestendigheidstest met de Galaxy Fold werd uitgevoerd, die niet al te best uitpakte. Samsung is er dus bij gebaat om voor een nieuwe type scherm te kiezen.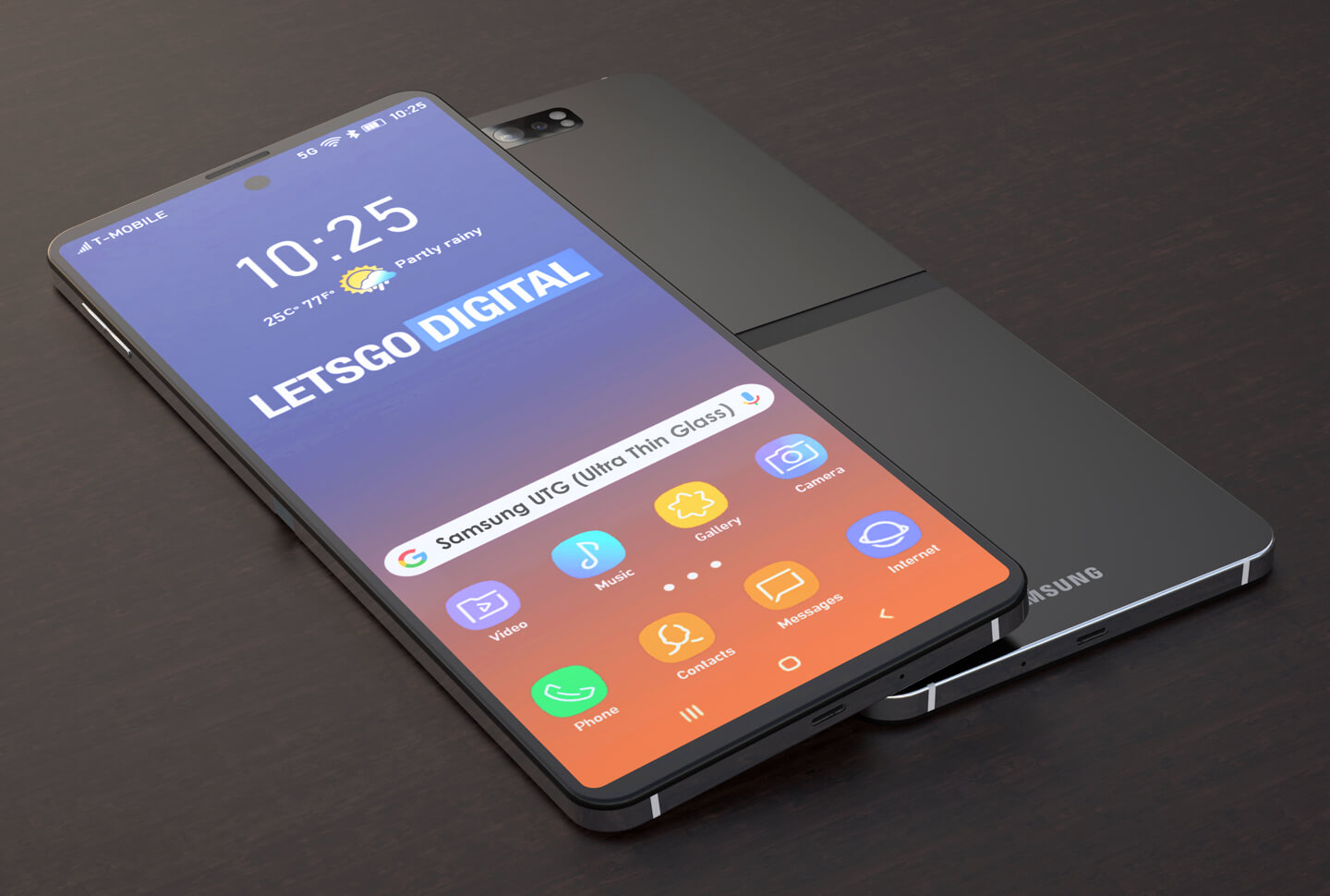 Voor het nieuwe display is Samsung een exclusieve samenwerking aangegaan met Dowoo Insys voor de middellange tot lange termijn, zo wist Okjin Bae van ETNews afgelopen maand te melden (via GSMArena). Dit bedrijf zou enkele jaren voorlopen op de concurrentie. Samsung heeft een bedrag van 12 miljard KRW (omgerekend ruim 9 miljoen Euro) in Dowoo Insys geïnvesteerd hebben om de productiecapaciteit uit te kunnen breiden in Vietnam. Volgend jaar hoopt Samsung tussen de 5 en 6 miljoen opvouwbare smartphones te produceren.
Ondanks dat Ultra Thin Glass displays duurder zijn om te fabriceren lijkt Samsung toch kans te zien om haar nieuwe generatie vouwtelefoons beduidend goedkoper te maken. De Samsung Galaxy Fold werd dit jaar voor €1.980 in de markt gezet, de Galaxy Fold 2 wordt het eerste toestel met een clamshell / klaptelefoon ontwerp – vergelijkbaar met de Motorola RAZR. De nieuwe vouwtelefoon van Samsung zou naar verluidt voor een prijs van €1.500 op de markt worden gebracht. De introductie volgt waarschijnlijk in het eerste kwartaal van 2020.
Bekijk hier de trademark voor Samsung Ultra Thing Glass en Samsung UTG.