Over twee maanden is het alweer zover, dan gaat het tweedaagse tech festival Bright Day van start. Net als vorig jaar vindt Nederlands grootste technologie evenement plaats in Expo Haarlemmermeer. LetsGoDigital was vorig jaar ook aanwezig op hét evenement voor tech en game liefhebbers, in ons beursverslag van Bright Day 2018 lees je alles over de activiteiten destijds. Het is een verrassend evenement, waar technologie op een speelse en leerzame manier aan het publiek getoond wordt. Bovendien valt er van alles te beleven en te ervaren.

Ervaar Samsung's eerste opvouwbare smartphone
Ook dit jaar zal er weer uitgebreid aandacht besteed worden aan robots, drones, virtual reality, gaming en futuristische voertuigen. Nieuw is de opvouwbare telefoon, want bezoekers van Bright Days kunnen dit jaar de veel besproken Samsung Galaxy Fold komen ervaren.
De Galaxy Fold is inmiddels officieel gelanceerd. Nederlandse consumenten zullen het toestel echter niet kunnen kopen, want Samsung heeft bij de herlancering besloten om haar allereerste vouwtelefoon toch niet in Nederland uit te brengen. Dat is natuurlijk uiterst spijtig, maar ook goed nieuws voor bezoekers van Bright Day 2019. Want tech-liefhebbers kunnen in de 'Mobile First' area toch kennis maken met Samsung's vouwbare telefoon. Ook zijn er tal van andere smartphone modellen aanwezig om eens nader te bekijken.
Hieronder volgen de personen die Bright Day 2019 zullen hosten: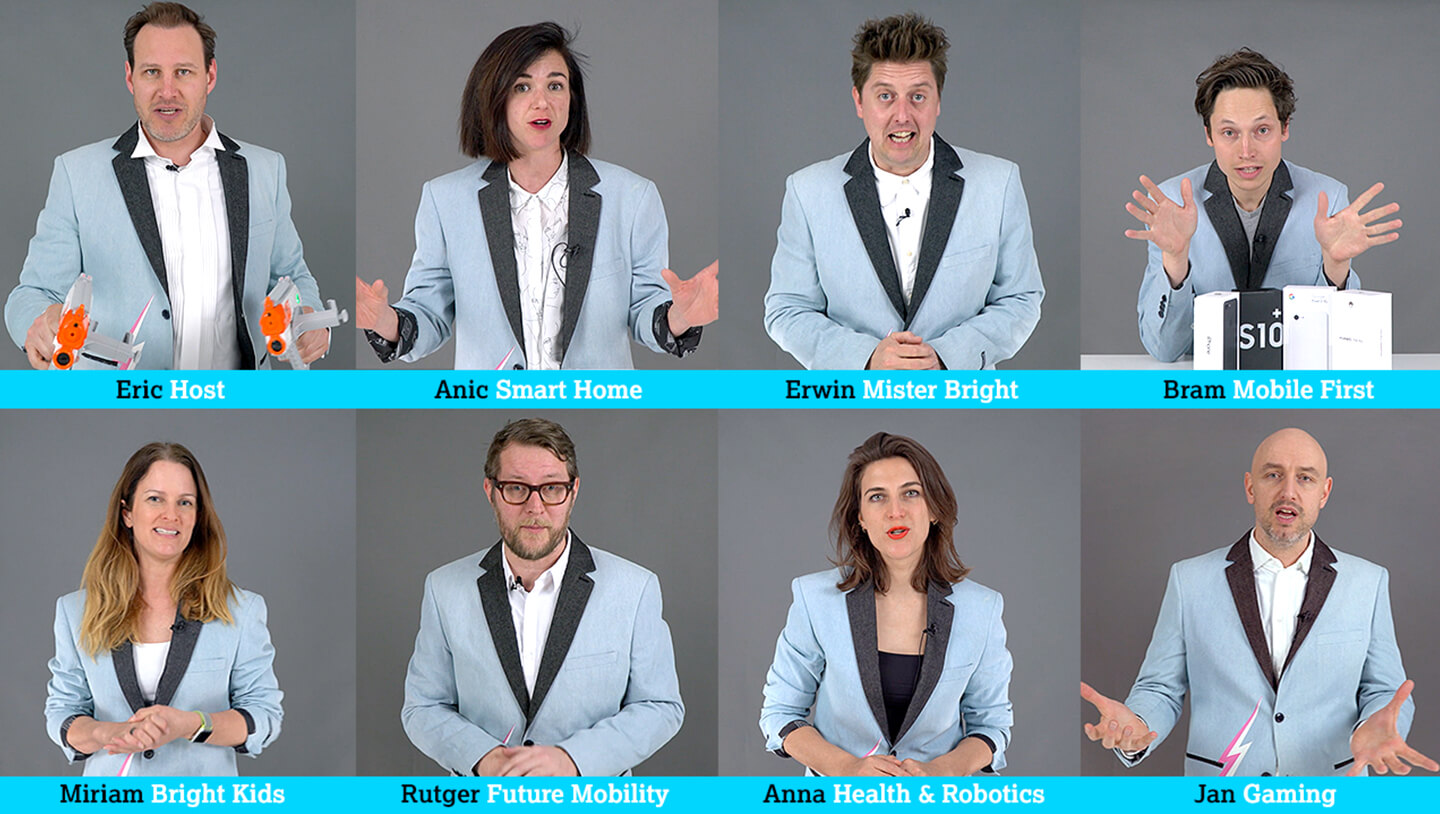 Tickets kopen voor Bright Day 2019
Lijkt het jou leuk om er bij te zijn en 'the bright side of tech' zelf te ervaren? Bright Day vind plaats van 23 t/m 24 november 2019 in Expo Haarlemmermeer in Vijfhuizen. Je kunt nu online tickets kopen. Om de bezoekersaantallen goed te kunnen spreiden is het programma opgedeeld in 5 Flights. Vooraf dien je te besluiten of je 's ochtends, 's middags of 's avonds wenst te komen en op welke dag, vervolgens heb je een tijdsbestek van vier uur om alles te bekijken en te ervaren.
De ticket prijzen zijn voor elke Flight gelijk. Volwassenen betalen €31, voor kinderen t/m 12 jaar is de prijs €21 en voor baby's t/m 2 jaar kun je een kaartje kopen á €1,50. Voor een parkeerticket dien je een additioneel bedrag van € 10 te betalen. Ben je op zoek naar korting? Bestel je kaartjes vóór 1 oktober 2019 en je ontvangt er een gratis proefabonnement op Quest of Quest junior bij cadeau. Let op, voor deze actie geldt op=op, dus hoe sneller je bestelt hoe meer kans je maakt.