Afgelopen week heeft Samsung een nieuwe patent aanvraag ingediend bij het KIPRIS (Korea Intellectual Property Rights Information Service). Het patent bevat design schetsen en product foto´s van de nieuwe Samsung Gear 360 (2018). De foto's tonen een nieuw, speels en ergonomisch design.

Samsung Gear 360 camera
In maart 2017 lanceerde Samsung haar tweede Gear 360 camera. Qua design was de Gear 360 (2017) herkenbaar, maar toch ook weer heel anders. Zo had het eerste model (2016) pootjes, waardoor de camera kon worden neergezet. Bij het 2017 model werden deze pootjes weggelaten, waardoor je de 360-graden camera beter in je hand kon houden.
Ook werden er verschillende nieuwe functionaliteiten toegevoegd, zo is het 2017 model beter in staat om foto's aan elkaar te stitchen, waardoor je mooiere 4K 360-graden beelden kan maken. Andere nieuwe functies zijn landschap HDR, looping video´s en het ´kleine planeet effect´. Ook is het mogelijk om de 360 beelden live te streamen naar Facebook, YouTube en Samsung VR.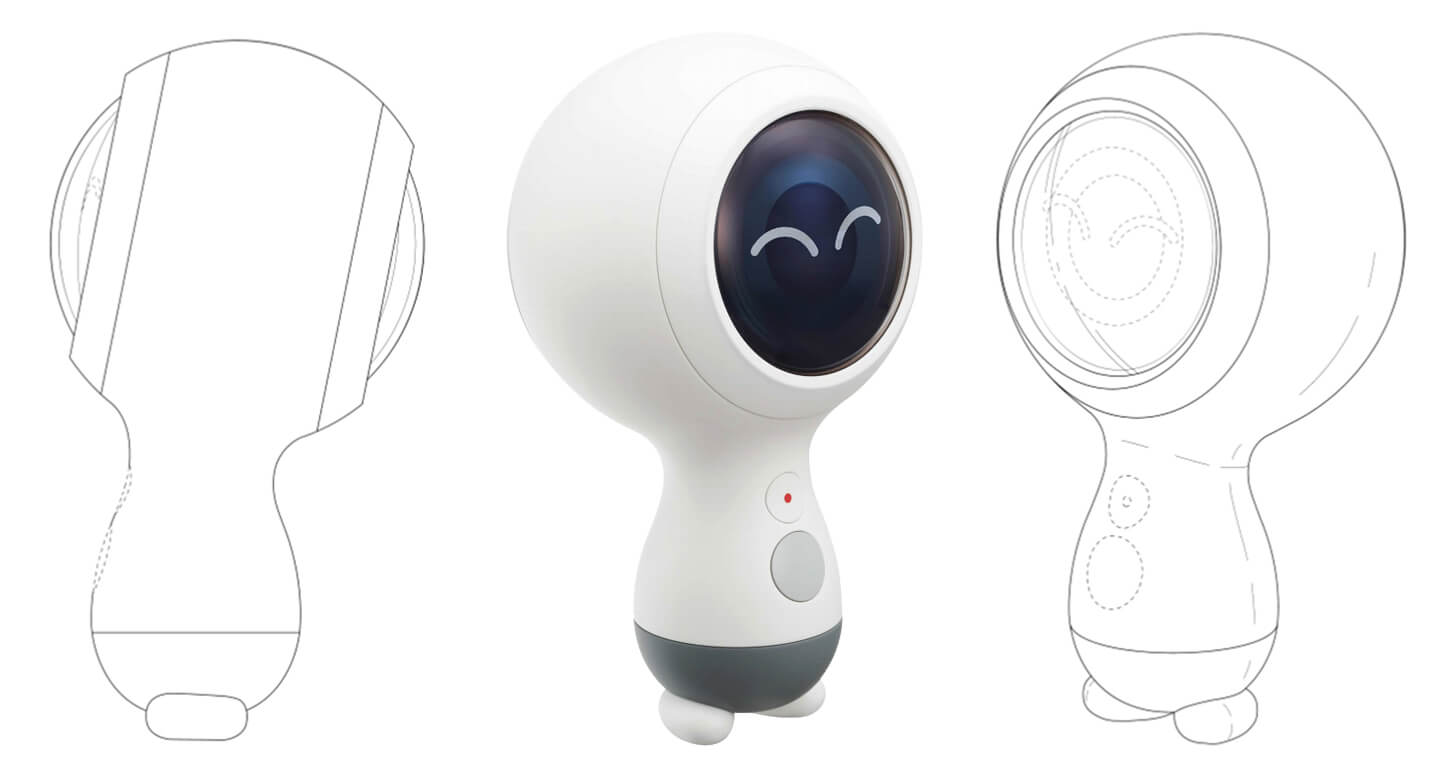 Design van de Gear 360 (2018) 4K camera 
Met de Samsung Gear 360 (2018) gooien de Koreanen het opnieuw over een andere boeg. De nieuwe 360 VR camera wordt een slimme combinatie van de voorgaande modellen. De 360 camera krijgt een speels design met kleine pootjes, die niet in de weg zitten wanneer je de camera vasthoudt, maar wel extra stevigheid bieden voor de momenten dat je de camera graag neerzet. Vreemd genoeg is de tripod socket niet terug te vinden.
Ook staat de camerabol niet meer loodrecht op het handvat. Deze is in het nieuwe 2018 design iets gebogen, wat voor een betere, natuurlijkere handligging moet zorgen.
De video bediening loopt via de record-knop aan de voorzijde van de camera, gelijk aan het 2017 model. Aanvankelijk werd deze knop aan de bovenzijde van het apparaat geplaatst. De display waarin 'Connected' wordt aangegeven wordt in het 2018 model vervangen voor een grote ronde grijze knop. Maar wat die oogjes op de camerabol nou te betekenen hebben…?

Release datum en prijs
Het 2016 model werd eind februari geïntroduceerd, het 2017 model werd in maart gelanceerd. De Mobile World Congress zal in 2018 plaatsvinden van 26 februari tot 1 maart. In de tijdslijn zou het goed kunnen dat de Samsung Gear 360 (2018) op de MWC in Barcelona zal verschijnen. Maar aangezien dit meer een 'mobile' evenement is, is het ook goed mogelijk dat de VR-camera net na die tijd geïntroduceerd wordt. De Gear 360 kreeg dit jaar een adviesprijs van €250.

FOR OUR INTERNATIONAL READERS
Last week, Samsung filed a patent with the KIPRIS (Korea Intellectual Property Rights Information Service). The patent shows sketches and product photos of all sides of the Gear 360 (2018). The device comes with a renewed playful and ergonomic design.
The new 360-degree camera will be easy to hold and it can stand by itself. The 2016 model came with a little tripod to mount the camera, while the 2017 model was easier to hold. The Gear 360 2018 seems to offer the best of both worlds. The recording button stays at the front, while the little ´connected´ display gets replaced by a round, grey button. But can somebody tell me what those little eyes are?