Hoewel veruit de meeste telefoons in 2018 werden voorzien van een notch, zullen we in 2019 steeds meer smartphones zien met een punch-hole camera. Oftewel een gat in de display voor de selfie-camera. Samsung, Huawei en Honor hebben recentelijk al een smartphone uitgebracht met zo'n design. De verwachting is dat er binnenkort meer fabrikanten zullen volgen. Ook de Chinese smartphonefabrikant Xiaomi lijkt hier toekomst in te zien, zo toont een recentelijk gepubliceerd patent.
Nieuwe Xiaomi smartphone met twee punch-hole camera's
Op 29 januari 2019 werd er in de Global Design Database van de WIPO (World Intellectual Property Office) een design patent gepubliceerd van Bejing Xiaomi Mobile Software. Het design patent bestaat uit 24 illustraties van verschillende Xiaomi smartphone modellen.
Alle ontwerpen tonen een beeldvullend display met niet één, maar twee camera's onder de display. Ook zijn er verschillende sensoren onder het scherm geplaatst, denk aan een nabijheidssensor en een verlichtingssensor. De front-camera is in de linker en rechterhoek geplaatst. Verschillen tussen de modellen zijn te vinden in de plaatsing en de soort uitsparing die wordt toegepast. Ook is er één model bij waar de receiver achter het scherm is geplaatst.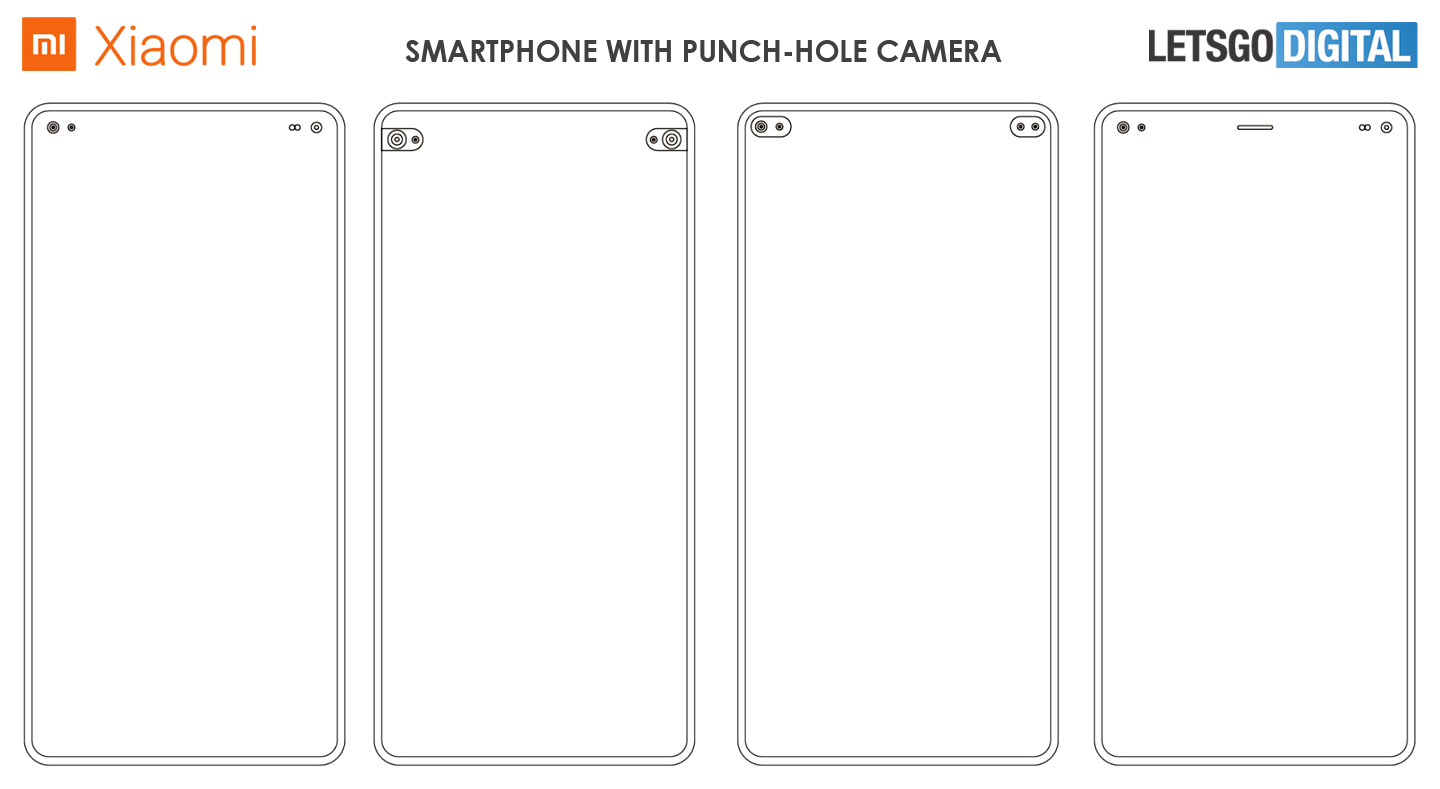 Toekomstige Xiaomi smartphones
In oktober afgelopen jaar werd de Mi Mix 3 onthuld, dit was de eerste full screen smartphone van Xiaomi. Deze telefoon beschikt overigens niet over een notch en ook niet over een punch-hole camera, dit toestel heeft een uitschuifbare camera.
Eind vorig jaar ontstonden er voor het eerst geruchten dat er ook een Xiaomi smartphone in ontwikkeling is met een punch-hole selfie-camera. Het is nog onbekend of dit toestel binnen de Mi of Redmi serie geïntroduceerd zal worden. De premium smartphones worden bij Xiaomi ondergebracht binnen de Mi-serie en voor de middenklasse smartphones kun je terecht bij de Redmi serie.
Vooralsnog zijn er overigens geen smartphones uitgebracht waarbij de receiver en de sensoren onder de display zijn geplaatst (afgezien van de vingerafdruksensor). Een dubbele selfie-camera onder het scherm wordt waarschijnlijk voor het eerst toegepast bij de Galaxy S10 Plus, die 20 februari 2019 ten tonele zal verschijnen. Ook Xiaomi zal eind februari op MWC 2019 aanwezig zijn, mogelijk dat het bedrijf dan ook meer nieuws onthuld aangaande haar opvouwbare smartphone.
Bekijk hier het design patent van Xiaomi.