Samsung is al jaren mondiaal marktleider binnen de smartphone industrie, deze prominente positie wil de Koreaanse fabrikant natuurlijk niet graag opgeven. Het speelveld is echter langzaam aan het veranderen, vooral de Chinese fabrikanten zijn sterk in opmars en hebben het afgelopen jaar innovatie op innovatie getoond. Denk bijvoorbeeld aan de full screen smartphones met vingerafdrukscanner onder de display en een uitschuifbare selfie-camera.
Samsung Galaxy S10
Volgend jaar moet hét jaar worden van Samsung. Allereerst natuurlijk met de opvouwbare telefoon, het toestel waar al jaren over gesproken wordt zal volgend jaar eindelijk gelanceerd worden. Daarnaast zal het 10-jarig bestaan van de befaamde Galaxy S-serie gevierd worden, de Galaxy S10 beloofd een zeer innovatieve smartphone te worden.
Enige tijd geleden werd bekend dat Samsung voornemens is om de camera en sensoren onder de display te plaatsen. Zodoende kan een beeldvullend display gecreëerd worden, zonder notch en zonder pop-up camera. Daar komt bij dat de Koreaanse fabrikant op de Developer Conference verschillende nieuwe Infinity schermen heeft getoond, waaronder het Infinity-O display. Bij dit scherm zit links bovenin een gat voor de selfie-camera.

Samsung full screen smartphones met in-display camera
Vandaag heeft LetsGoDigital de eerste echte beelden van Samsung Electronics weten te bemachtigen, waarop een full-screen smartphone te zien is met een camera-gat in de display. Het ontwerp komt precies overeen met het onlangs geïntroduceerde Infinity-O display.
De beelden zijn door Samsung Electronics gebruikt in een design patent, dat is aangevraagd bij het Hague International Design System. Hier kunnen bedrijven een industrieel design patent indienen, na goedkeuring wordt het patent automatisch door 70 verschillende landen geaccepteerd. Hiervoor is in 1926 een Hague Agreement ondertekend. Het akkoord dankt haar naam aan de stad waar de overeenkomst is afgesloten; onze politieke hoofdstad Den Haag. De database wordt beheerd door de WIPO (World Intellectual Property Office).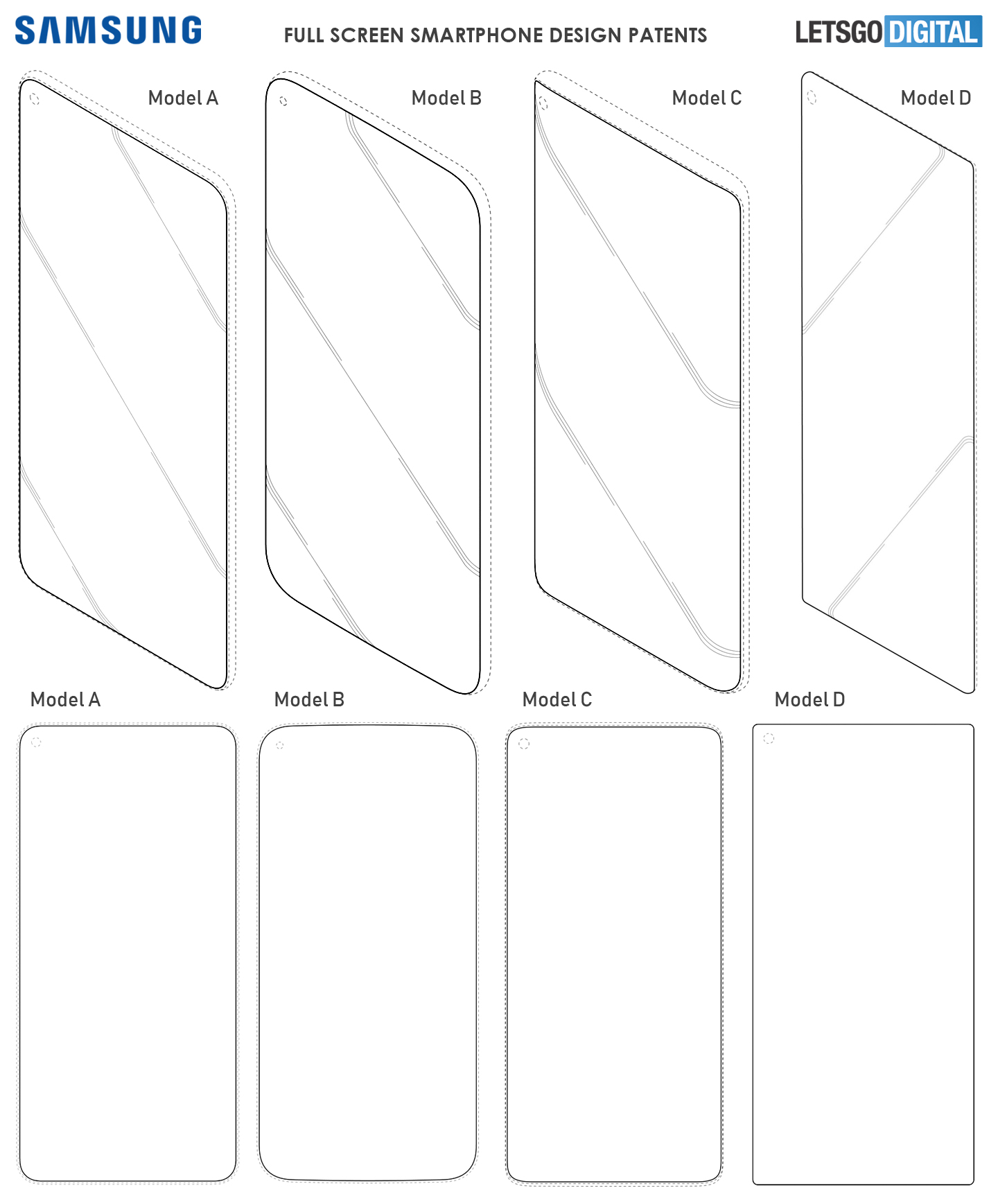 Het patent bestaat uitsluitend uit beeldmateriaal, er is geen schriftelijke omschrijving bijgevoegd. Wel worden er ruim 50 verschillende smartphone modellen geschetst. Allemaal tonen ze een full screen ontwerp met een selfie-camera aan de linker bovenzijde.
Het ene model heeft rondere hoeken dan de ander. Bij sommige modellen loopt de display ook verder door. Dan wel naar de zijkanten, dan wel naar boven en beneden. Ook zien we een model met een notch in de linker bovenhoek, deze inkeping doet me een beetje denken aan de smartphone met quad-notch, waarover we enkele weken geleden gerapporteerd hebben.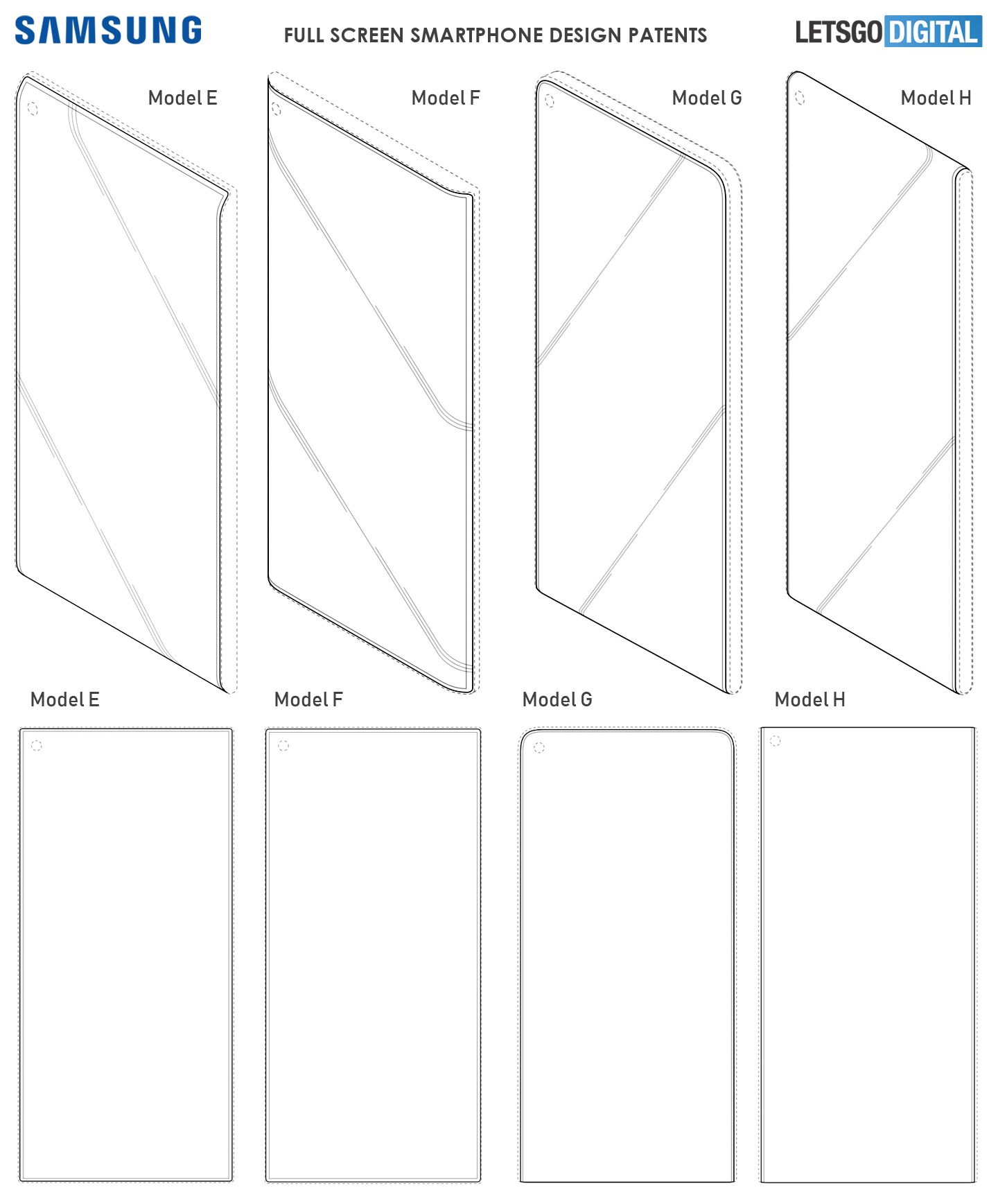 Dit is echter niet het enige interessante patent van Samsung Electronics. Op 9 november 2018 is in de Hague Express Database een patent gepubliceerd met een soortgelijk design, alleen hier is een ovaal gat gebruikt, waar mogelijk twee camera's in verwerkt kunnen worden (Model L). Bij dit ontwerp is het gat in de rechter bovenzijde geplaatst. Dit ontwerp is vergelijkbaar met de LG full screen smartphone met camera onder display.
Ten slotte is op 26 oktober 2018 in dezelfde database een patent gepubliceerd van Samsung Electronics met een nog veel breder gat in het midden (Model K). Hier zijn behalve de camera ook meerdere sensoren en de speaker geplaatst.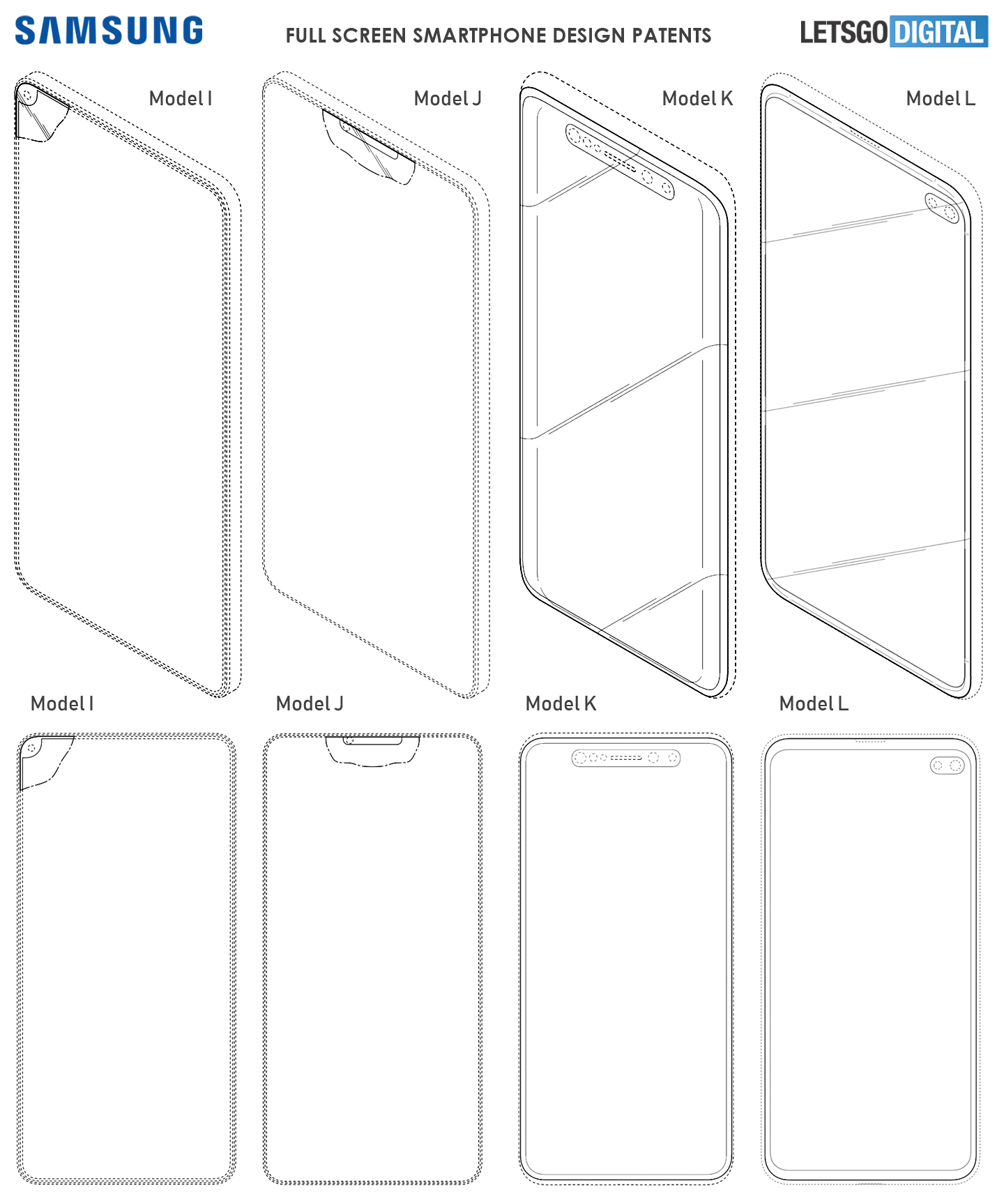 Hoe de trend zich ook moge ontwikkelen in de toekomst, met deze designs kan Samsung nog alle kanten op. Toch is het natuurlijk erg opvallend dat Samsung ook een kleuren afbeelding heeft toegevoegd aan het patent. Dit zou wel eens hét ontwerp van de Samsung Galaxy S10 kunnen worden.
We zullen nog wel even geduld moeten hebben, want de Galaxy S10 wordt pas rond februari 2019 verwacht. Het toestel zal zeer waarschijnlijk eind februari op de Mobile World Congress 2019 tentoongesteld worden.

FOR OUR INTERNATIONAL READERS



Earlier this year Samsung revealed the Galaxy S10 will get a significant design update. This makes many of us wonder; how will the Galaxy S10 actually look like?
Today, LetsGoDigital got their hands on the first images from Samsung Electronics showing a full-screen smartphone with a camera hole in the display. The images were used by Samsung Electronics in a design patent, which was applied for at the Hague International Design System. Here companies can file an industrial design patent, after approval the patent will automatically be accepted by 70 different countries.
The patent consists solely of visual material, no written description has been added. There are more than 50 different smartphone models outlined. They all show a full screen design with a selfie camera on the upper left side, just like the Infinity-O display.
It is of course very striking that Samsung also attached a color image to the patent. This could very well be the design of the Samsung Galaxy S10 and it's Infinity-O display.

Appendix
Model A: Full-screen smartphone with in-display camera on left side
Model B: Full-screen smartphone with rounded screen corners
Model C: Full-screen smartphone with edge display on right side
Model D: Full-screen smartphone with edge display on all four sides
Model E: Full-screen smartphone with edge display on top and bottom
Model F: Full-screen smartphone with edge display on left and right side
Model G: Full-screen smartphone with display that goes through the bottom to the back
Model H: Full-screen smartphone with display that goes through the top and bottom to the back
Model I: Full-screen smartphone with notch in the upper left corner
Model J: Full-screen smartphone with slot for camera and multiple sensors
Model K: Full-screen smartphone with slot for camera and multiple sensors
Model L: Full-screen smartphone with slot for dual selfie-camera
Model K and Model L are extracted from different design patents, which are also filed by Samsung Electronics and recently published in the Hague Express Database.