Met de komst van de flexibele display zal ook de vorm en de mogelijkheden van onze smartphone veranderen. Zo wordt het met een flexibel scherm mogelijk om een opvouwbare smartphone of dual-screen smartphone te ontwikkelen. Ook wordt het mogelijk om de display om te vouwen, waardoor niet alleen de voorzijde, maar ook de zijkanten van het toestel uit schermoppervlak zal bestaan. Samsung heeft onlangs een patent laten vastleggen, waaruit blijkt dat de Koreaanse fabrikant hier serieuze potentie in ziet.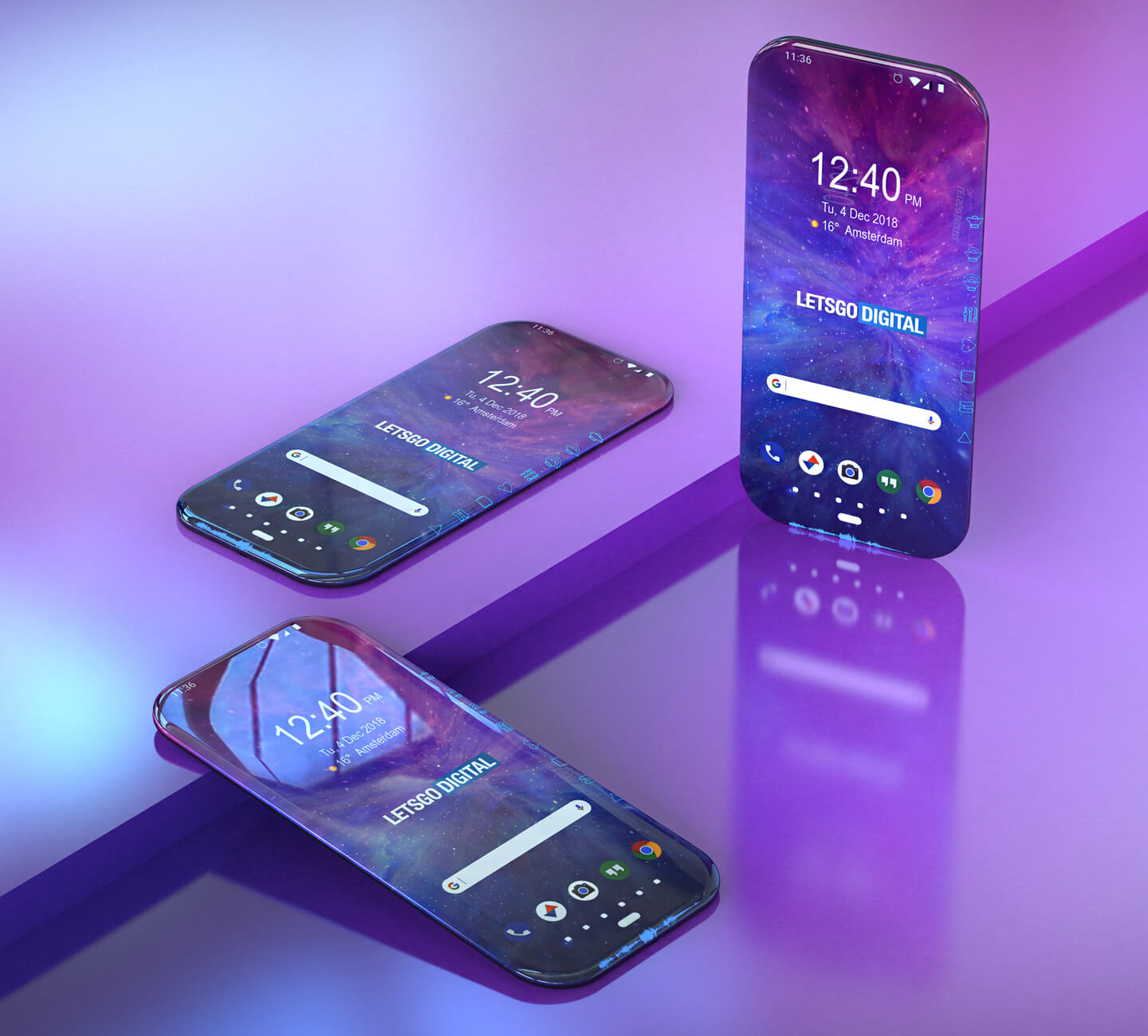 Samsung smartphone met randloos design
Samsung Display Co. Ltd heeft in april dit jaar een patent ingediend bij de WIPO (World Intellectual Property Office) voor een 'Display device and electronic device including the same'. The patent werd op 29 november 2018 gepubliceerd en beschrijft een Samsung smartphone met een randloos display, waarbij ook de vier zijkanten van het apparaat uit schermoppervlak bestaat.
Opvallend aan dit patent is dat Samsung ook twee product afbeeldingen heeft toegevoegd. Dit is zeer ongebruikelijk bij een zogenaamd utility patent. Normaal gesproken zien we dergelijke foto's alleen terug in een design patent. Hoewel de kwaliteit van de foto's te wensen over laat, tonen deze wel exact hoe de randloze Samsung smartphone eruit komt te zien.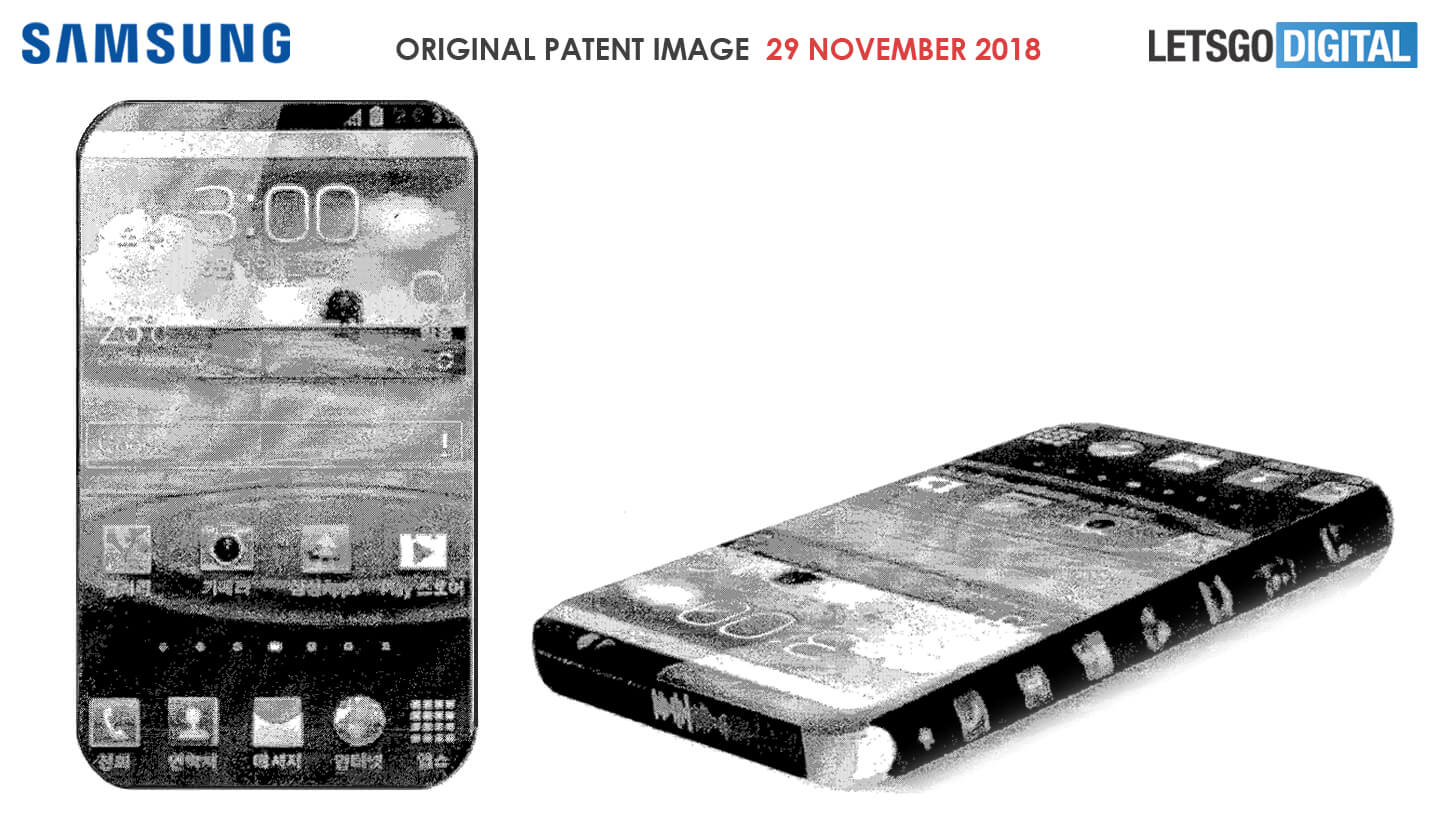 De gepatenteerde Samsung smartphone heeft een flexibel display dat vanuit de voorzijde doorloopt naar de vier zijkanten. Het scherm wordt onder een hoek van minimaal 90 en maximaal 150 graden gebogen, waardoor het apparaat mooi afgeronde hoeken krijgt. Hetzelfde wordt gedaan met het afdekvenster, dat boven de display wordt geplaatst.
Aan de zijkant van de telefoon is dus helemaal geen metalen frame te zien, het is een geheel randloze smartphone. De achterzijde wordt aan de display en het afdekvenster bevestigd. Hiervoor worden twee mogelijkheden getoond.
De vier hoeken kunnen een uitsnede bevatten, waardoor deze eenvoudiger op de display en het afdekvenster 'geklikt' kan worden. Op de bijgeleverde afbeeldingen lijkt Samsung echter voor het andere, stijlvollere model te kiezen. De platte achterzijde wordt aan het afdekvenster bevestigd, mogelijk wordt deze vastgelijmd.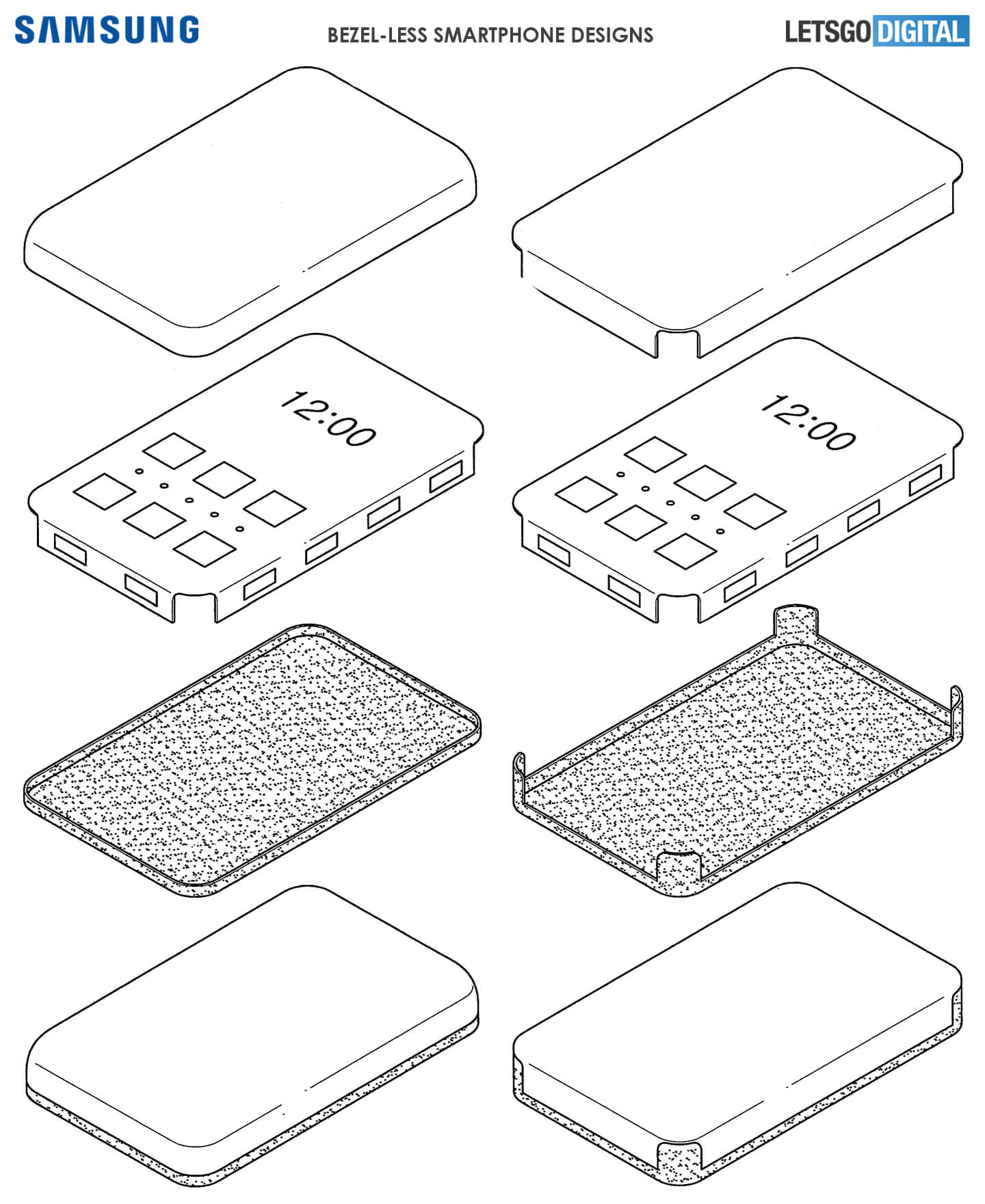 Het patent gaat niet dieper in op de mogelijkheden van de displaygebieden aan de zijkanten van de smartphone. Uit de tweetal bijgeleverde zwart/wit foto's blijkt echter dat ook hier icoontjes op getoond kunnen worden. Denk bijvoorbeeld aan applicatie icoontjes om te bellen, een bericht te versturen of om de camera app of multimediaspeler te openen.
Hoewel dit niet letterlijk in het patent besproken wordt, lijkt het aannemelijk dat de speaker, selfie-camera en verschillende sensoren onder de display verwerkt worden. Verder lijkt er in dit randloze smartphone ontwerp geen plaats te zijn voor een koptelefoon aansluiting, ook zie ik geen USB Type-C aansluiting. Mogelijk dat de gepatenteerde Samsung smartphone alleen draadloos opgeladen kan worden.
De display kan overigens verschillende vormen hebben, zo wordt er naast een rechthoekig ontwerp ook over een polygoon ontwerp met 6 hoeken gesproken. De gepatenteerde display technologie kan ook voor andere elektronische apparaten gebruikt worden.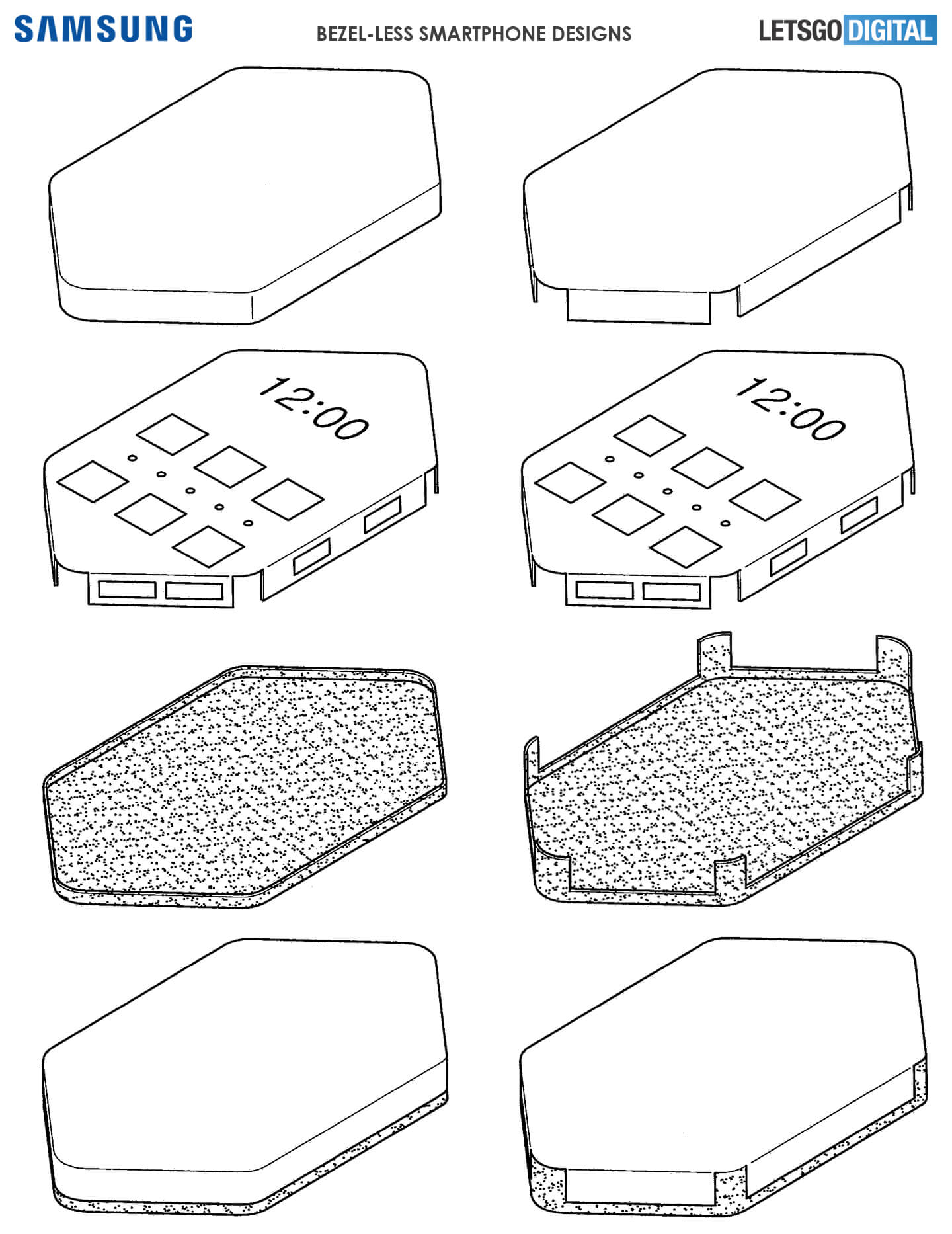 Het is vooralsnog koffiedik kijken wanneer dergelijke Galaxy smartphones voor het eerst op de markt worden gebracht. Later deze maand wordt eerst nog de Galaxy A8s verwacht, dit wordt de eerste Samsung smartphone met een camera gat in de display. Ook Huawei zal nagenoeg gelijktijdig een soortgelijk design introduceren met de Huawei Nova 4.
Concurrent Vivo gooit het over een andere boeg, deze relatief jonge en innoverende smartphone fabrikant kiest voor een tweede display. Gisteren zette de Chinese fabrikant een teaser online voor de Vivo Nex 2, deze revolutionaire telefoon wordt eveneens in december 2018 verwacht. De Nex 2 krijgt zeer waarschijnlijk een tweede display aan de achterzijde van de smartphone, hierdoor wordt het onder andere mogelijk om selfies te maken met de hoofdcamera. Overigens heeft Samsung in het verleden ook al meerdere patenten aangevraagd voor een telefoon met dubbelzijdig scherm.


FOR OUR INTERNATIONAL READERS



Samsung Display Co. Ltd filed a patent with WIPO in April this year. The patent entitled 'Display device and electronic device including the same' was published on 29 November 2018 and describes a Samsung smartphone with a bezel-less display, wherein the four side areas of the device also consist of screen surface.
What is striking about this patent is that Samsung has also attached two official Samsung product images. This is very unusual for a so-called utility patent. Normally we only see such photos in a design patent.
The patented Samsung smartphone has a flexible display that runs from the front to the four side areas. No metal frame will be used on the side of the device, it is a completely bezel-less smartphone.
The patent does not describe the possibilities of the extra display areas. However, the two attached black-and-white photos do show that icons can be displayed here.
Although this is not literally stated in the patent, it seems likely that the speaker, selfie-camera and various sensors will be integrated under the display. Furthermore, there seems to be no place for a headphone jack in this design, also I do not see a USB Type-C connection. Possibly the patented Samsung smartphone can only be charged wirelessly.
The display can also have different form factors. In addition to a rectangular design, a polygon shape design with 6 corners is described. The patented display technology can also be used for other kind of electronic devices.
Here you can find the patent from Samsung Display, the specifications and the claims.
Note to editors: The 3D renders presented in this article are copyright protected. The pictures can be used for reproduction in any online publication if you add a credit source link to our website. Thank you very much for understanding.