Eerder vandaag publiceerde we over een Samsung uitschuifbare en opvouwbare smartphone. De Koreaanse fabrikant heeft echter nóg een patent ingediend voor een totaal ander type opvouwbaar smartphone model. Het toestel beschikt over twee behuizingen, dat onder verschillende hoeken gebogen kan worden en magnetisch bij elkaar wordt gehouden.

Samsung dual-screen vouwbare smartphone
Het betreft een vrij nieuw patent dat in mei 2018 werd ingediend onder de naam 'Electronic device with multi-angle cradling'. Het patent van Samsung Electronics werd op 29 november 2018 gepubliceerd door WIPO (World Intellectual Property Office).
De gepatenteerde Samsung smartphone heeft twee separate behuizingen, die ieder voorzien worden van een (nagenoeg) full screen display. De behuizingen worden middels een magnetische kracht naar elkaar toe getrokken. Het toestel kan zodanig worden gevouwen dat je de telefoon ook kunt neerzetten met de displays naar de buitenzijde gekeerd. Handig om bijvoorbeeld een video te bekijken.

Algemene gegevens, zoals de tijd, statusbalk, batterij en signaalsterkte worden allemaal op het linker display getoond. Dit scherm kan ook gebruikt worden voor het weergeven van een toetsenbord, in zo'n geval wordt de content op het andere display getoond.
De gepatenteerde opvouwbare smartphone beschikt over twee camera's. Aan de voorzijde van de smartphone is een camera, een flitser en een speaker geplaatst. Eenmaal opengevouwen heeft de telefoon aan de linkerzijde nog een camera, een verlichtingssensor en een proximity sensor.
Hoewel deze niet op de foto's getoond wordt, zal het toestel ook voorzien worden van een audiojack. Deze wordt aan de boven- of onderzijde van het apparaat geplaatst. De power-knop en de volume-knop worden aan de zijkant van de eerste behuizing geplaatst.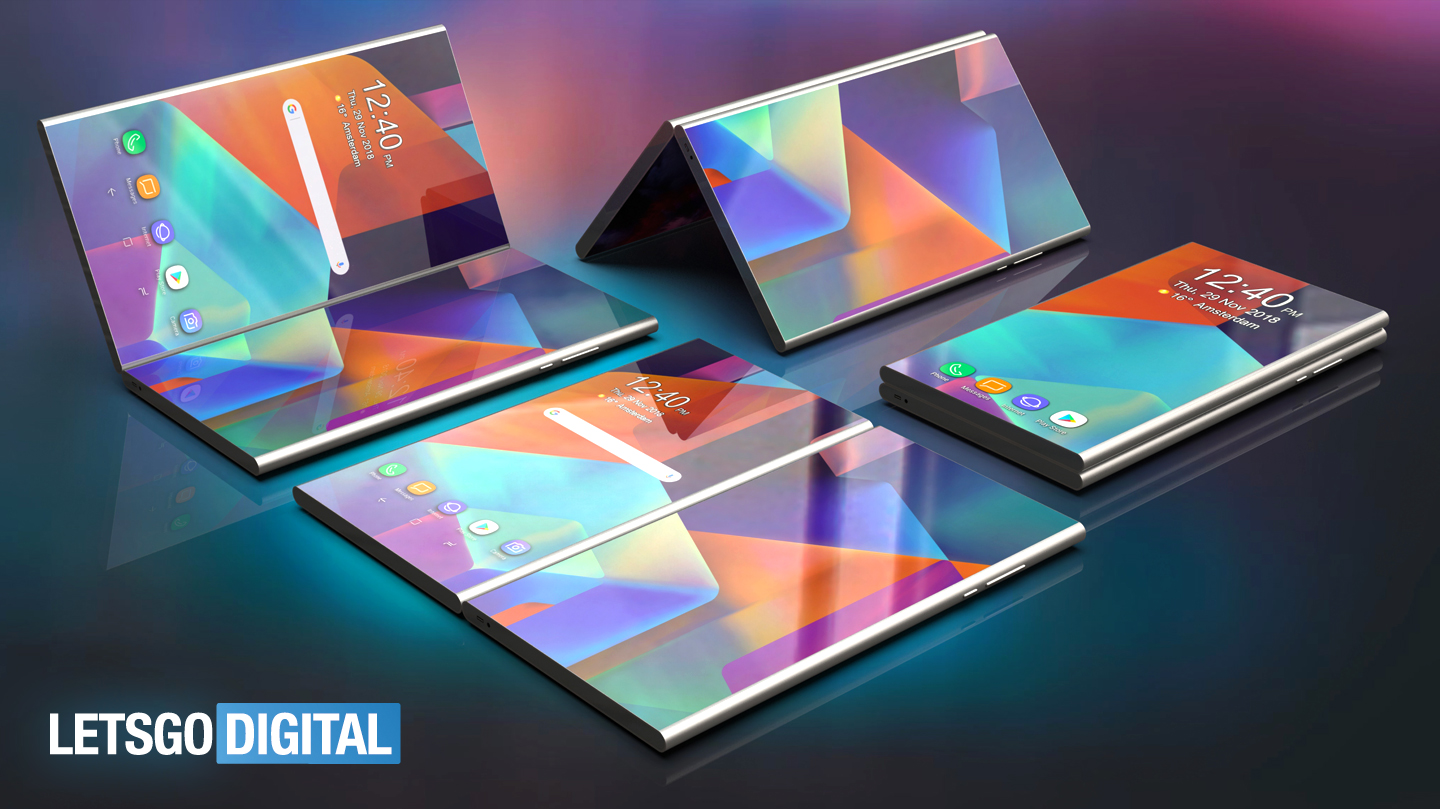 Samsung opvouwbare smartphone modellen
Het kan je bijna niet ontgaan zijn dat Samsung eerder deze maand haar eerste opvouwbare telefoon getoond heeft. Het toestel wordt voorzien van een Infinity Flex display dat zich ontvouwt tot een 7,3-inch tablet. Begin volgend jaar wordt de officiële introductie verwacht.
Samsung heeft reeds aangegeven jaarlijks nieuwe vouwbare smartphone modellen te willen lanceren. Waarschijnlijk gaat het nog wel enkele jaren duren alvorens deze nu nog peperdure toestellen een echte trend gaan worden. Maar je mag er vanuit gaan dat het bedrijf tegen die tijd meerdere opvouwbare smartphones met verschillende ontwerpen in het portfolio heeft zitten. Of het vandaag gepatenteerde toestel daar ook tussen zit valt is op dit moment nog moeilijk te voorspellen.

FOR OUR INTERNATIONAL READERS
Earlier today we published about a Samsung foldable smartphone with sliding mechanism. But the Korean manufacturer also filed a patent for a totally different type of foldable phone. It's a dual-screen smartphone with two housings that can be bent at different angles and will be kept together by a magnetic force.
It's a fairly new patent that was submitted in May 2018. The patent from Samsung Electronics was published on 29 November 2018 by WIPO (World Intellectual Property Office). The patented Samsung smartphone has two separate housings, each with a (nearly) full screen display. Fully unfolded you have a tablet-size phone. In addition, the device can be folded in such a way that the displays will be faced outwards.
General data such as time, status bar, battery and signal strength are all shown on the left display. This screen can also display a keyboard, the content will then be shown on the other display.
The patented foldable smartphone has two cameras. A camera, a flash and a speaker are placed at the front of the smartphone. Once unfolded, the phone has a camera, a lighting sensor and a proximity sensor on the left upper side.
Although this is not shown on the pictures, the device will also include an audio jack, which will be placed on the top or bottom of the device. The power button and the volume button are placed on the side of the first housing.
Here you can find the patent from Samsung Electronics.
Note to editors: The 3D renders presented in this article are copyright protected. However, they can be used for reproduction in any online publication if you add a credit source link to our website. Thank you very much for understanding.