Nu Huawei de Mate 20 Pro heeft aangekondigd met een in-display vingerafdruksensor is het de beurt aan Samsung om terug te slaan. Begin 2019 wordt de Samsung Galaxy S10 verwacht. Hoewel deze telefoon over meer unieke eigenschappen zal beschikken, lijkt het de eerste Samsung smartphone te worden met een vingerafdrukscanner achter het scherm.

Samsung Galaxy S10
Er wordt al lange tijd vanuit gegaan dat Samsung de Ultrasonic vingerafdrukscanner van Qualcomm zal gebruiken voor het volgende vlaggenschip toestel, de Galaxy S10. Daarnaast zouden er in 2019 nog twee Galaxy smartphones volgen met een ultrasone in-display vingerafdrukscanner, zo wist de doorgaans betrouwbare analist Ming-Chi Kuo halverwege dit jaar te melden.
Vreemd genoeg zien we echter dat de Koreaanse fabrikant steeds vaker zelf patenten aanvraagt voor een in-display vingerafdrukscanner. Heeft Samsung besloten om zelf een in-display sensor te ontwikkelen?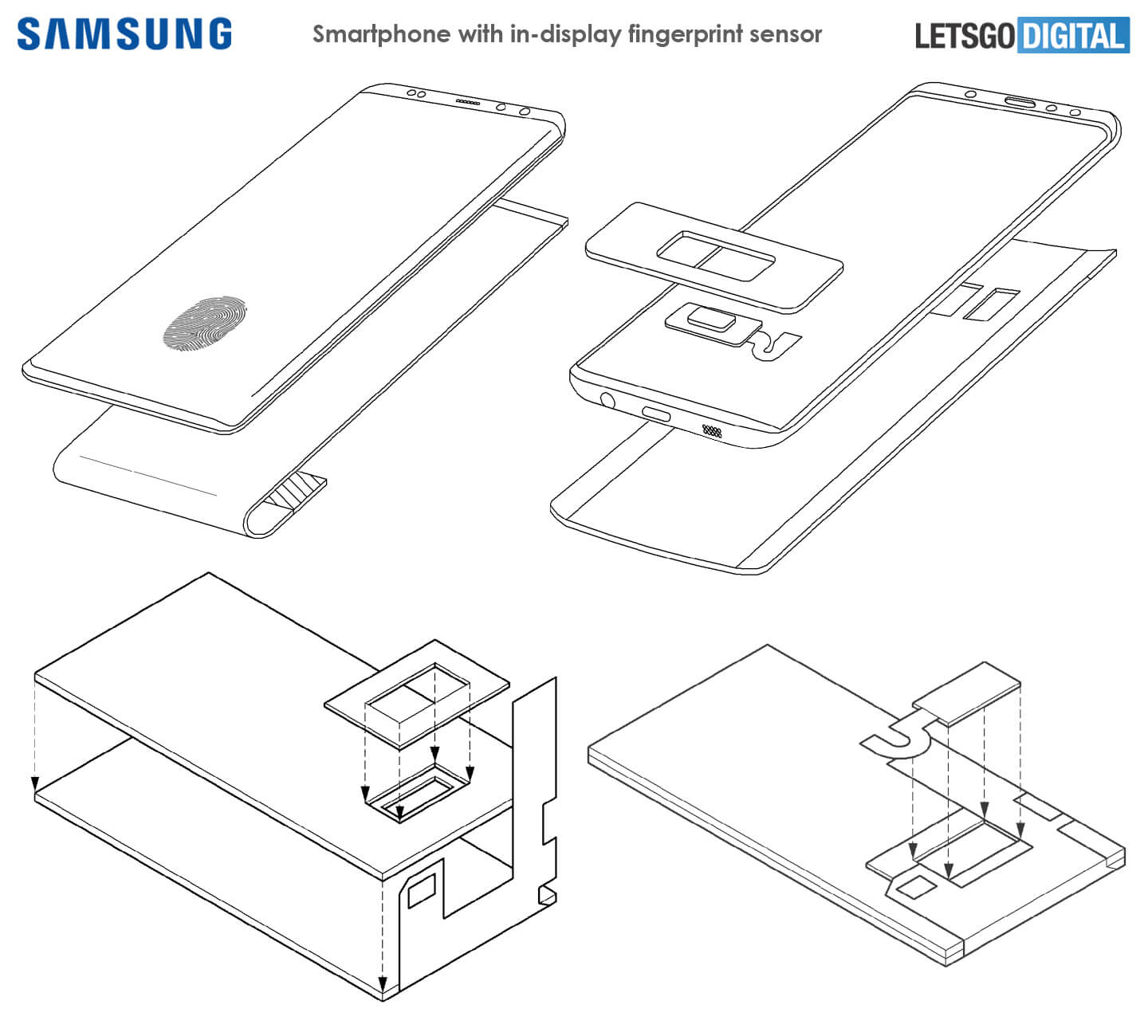 Samsung smartphone met optische vingerafdrukscanner achter display
Ditmaal betreft het een patent voor een 'Biometric sensor and device including the same' Het patent van Samsung Electronics werd aangevraagd in april dit jaar en is door de World Intellectual Property Office (WIPO) gepubliceerd op 18 oktober 2018. Het patent beschrijft een optische sensor en dus geen ultrasone sensor. Dit was overigens ook het geval bij het patent dat vorige maand werd besproken door onze collega's bij Android Headlines. Toen ging het echter om het tegengaan van valse vingerafdrukken.
Ditmaal focust het patent zich op de plaatsing van de sensor. Een nadeel van een optische sensor is dat er een bepaalde afstand tussen de display en de sensor moet worden behouden. Als gevolg van schokken of veroudering kan deze afstand op den duur gaan variëren, waardoor de prestaties van de sensor verslechteren, zo beschrijft het patent. Om dit te voorkomen wordt de vingerafdrukscanner op een printplaat bevestigd, waarin een opening is gevormd voor de sensor. Op deze manier kan de vingerafdruksensor op een veilige afstand van de display worden geplaatst.
Het feit dat er steeds vaker patenten door Samsung worden aangevraagd aangaande een in-display vingerafdrukscanner lijkt erop te duiden dat de Koreaanse fabrikant er steeds meer in ziet om zelf een dergelijke sensor te ontwikkelen, in plaats van deze in te kopen bij een derde partij. Opmerkelijk hierbij is dat Samsung alleen patenten heeft aangevraagd voor een optische sensor. Dit is dezelfde soort sensor als die van Goodix, die door Huawei, Vivo, Oppo en Xiaomi worden gebruikt.
Een ultrasone sensor heeft een aantal voordelen, zo is het in theorie mogelijk de gehele display te gebruiken als vingerafdrukscanner. Ook werkt een ultrasone sensor beter als het scherm vies of nat is. Desalniettemin kan een ultrasone sensor slechter tegen temperatuurschommelingen en wind. Ook is een optische sensor sneller en accurater. Mogelijk dat Samsung hierdoor toch voor een optische sensor zal kiezen.
De Galaxy S10 wordt rond februari 2019 verwacht, we zullen dus nog even geduld moeten hebben alvorens we een Samsung smartphone kunnen kopen met in-display vingerafdrukscanner.

FOR OUR INTERNATIONAL READERS



Samsung Electronics has filed a patent with WIPO for a 'Biometric sensor and device including the same'. The patent was published on October 18, 2018 and describes the use of an optical in-screen fingerprint scanner.
When using an optical sensor it is necessary to maintain a constant distance between the sensor and the display. Due to external shocks and aging of the device, the distance between the display and the sensor may vary, and therefore the performance of the sensor may be degraded. To prevent this, the fingerprint scanner is disposed on the printed circuit board, in which an opening is formed for the sensor. In this way, the fingerprint sensor can be placed at a safe distance from the display.
Lately, Samsung has applied for various in-display fingerprint scanner patents. Could this indicate the Korean company is developing a fingerprint scanner by themselves? Remarkably all of these patents have described an optical sensor, instead of an ultrasonic sensor.
An ultrasonic sensor has a few advantages, theoretically the entire display could be used as a fingerprint scanner and an ultrasonic sensor works better when the display is wet or dirty. However, ultrasonic sensors are more susceptible to temperature fluctuations and wind.  Also, an optical sensor is faster and more accurate. Could this be the reason for Samsung to incorporate an optical sensor after all?
You can read the original patent from Samsung Electronics here.