Het is inmiddels al lang geen geheim meer dat Samsung en andere smartphone fabrikanten werken aan een vingerafdrukscanner in de display. Vivo was begin dit jaar de eerste fabrikant die een smartphone introduceerde met een in-display vingerafdruksensor. Huawei sloot zich hier deze week bij aan, met de introductie van de Mate RS. Zal Samsung deze technologie ook op tijd klaar hebben voor haar Note 9?
Samsung zou inmiddels al meerdere varianten geprobeerd hebben, maar nog altijd niet 100% tevreden zijn over haar nieuwe vingerafdrukscanner in de display. Eerst gingen we ervanuit dat de Galaxy S9 met een dergelijke innovatieve sensor zou worden uitgerust, nu zijn alle ogen gericht op de Galaxy Note 9.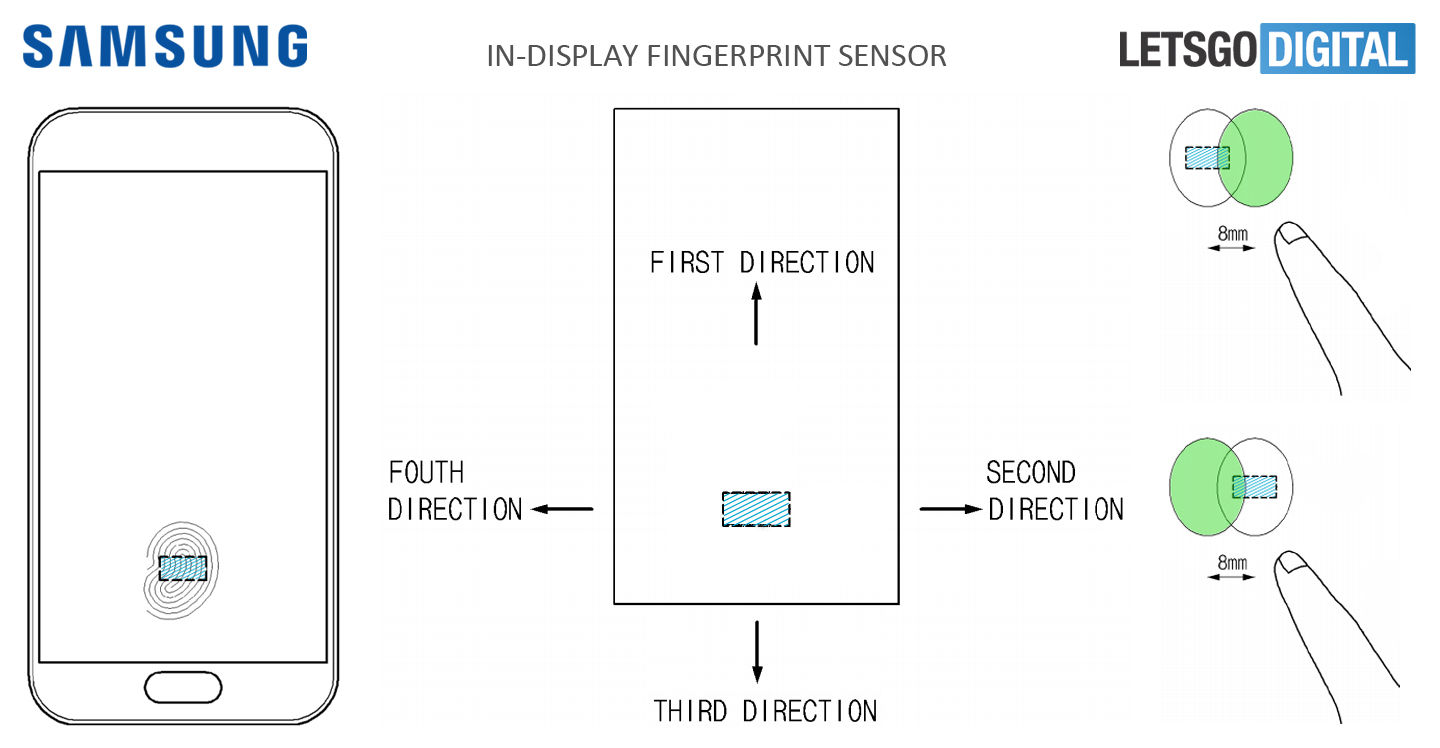 Samsung patenteert in-display vingerafdruksensor
Zojuist heeft de WIPO een patent gepubliceerd getiteld 'apparatus and method for receiving fingerprint information through guide'. Het patent is aangevraagd door Samsung Electronics op 11 augustus 2017 en is vandaag, 29 maart 2018 gepubliceerd.
In het patent wordt ook het probleem beschreven. Er is simpelweg weinig ruimte in een smartphone voor een grote vingerafdruksensor, bovendien zijn deze kostbaar. Daarom moet er een sensor worden ingebouwd die kleiner is dan een vinger en toch een hele vinger kan registreren. Bovendien moet het gebied waarin de vinger gedetecteerd kan worden niet te klein zijn, dit zou de gebruiksvriendelijkheid ten nadele komen.
Aangezien de vingerafdruksensor kleiner is dan de grootte van een vinger moet er een methode worden bedacht voor het herkennen van verschillende delen van de vinger. Daarom wil Samsung gebruik maken van een zogenaamde 'guide', oftewel een grafische indicator.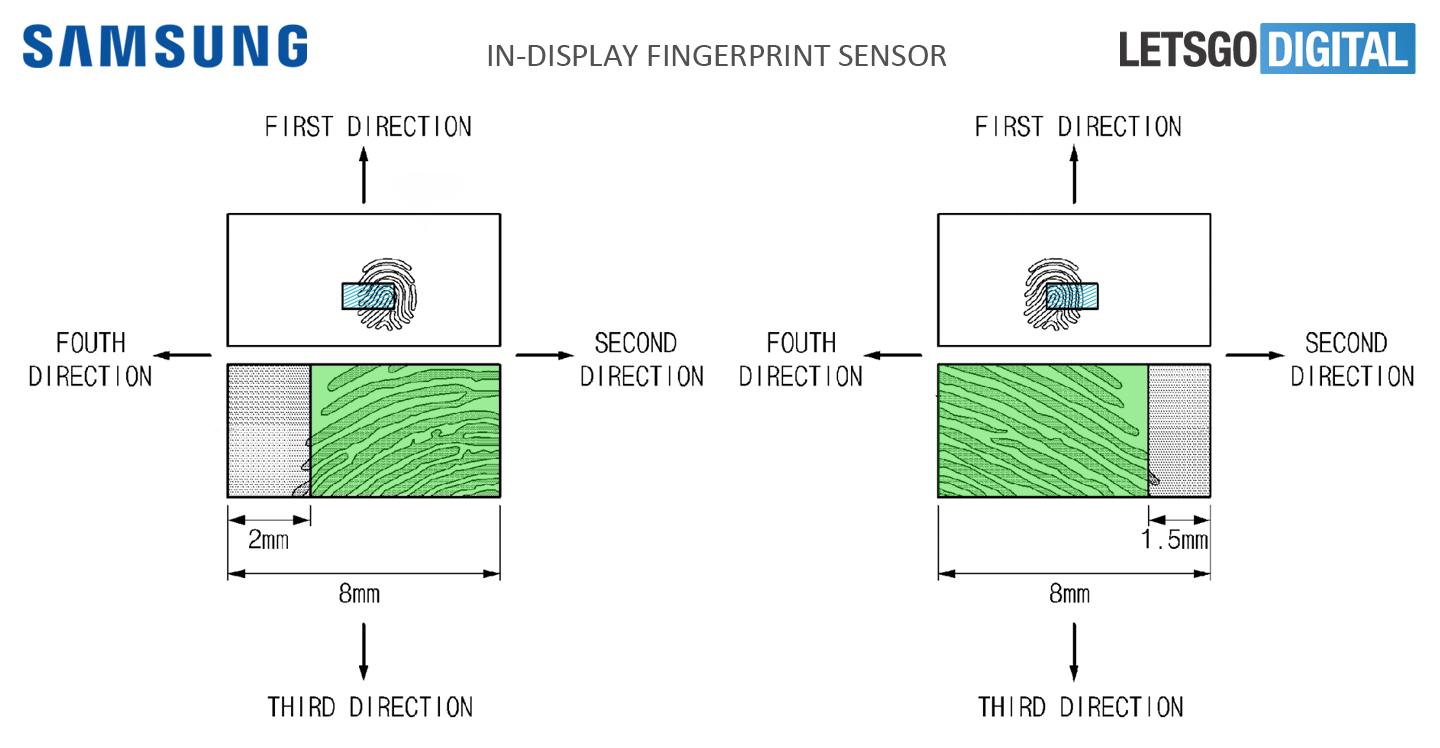 Zodra de vinger op de display wordt gelegd, wordt een deel van de vinger geregistreerd. Op de display wordt vervolgens de guide getoond. Afhankelijk van waar de gebruiker zijn vinger op de display heeft neergelegd, wordt de tweede helft van de vinger geregistreerd, deze moet voor een deel overlappen met de eerste registratie.
Door de toevoeging van deze grafische indicator is de vingerafdrukscanner beter in staat om een vingerafdruk te herkennen. Mocht de verificatie niet helemaal goed zijn verlopen, dan kan een extra guide ervoor zorgen dat de additioneel benodigde informatie wordt verkregen.
Hoewel we op de afbeeldingen ook een home button zien, wordt in het patent duidelijk dat deze niet aanwezig hoeft te zijn. De vastgelegde technologie is overigens niet alleen toepasbaar op smartphones. Ook andere elektronische apparaten, zoals een tablet, eReader, wearable of spelcomputer kan in de toekomst gebruik maken van deze techniek. Daarnaast heeft Samsung laten vastleggen dat de in-display vingerafdrukscanner gebruikt kan worden voor huishoudelijke apparaten, zoals televisies of koelkasten.

FOR OUR INTERNATIONAL READERS
Samsung Electronics filed a patent with WIPO for an 'apparatus and method for receiving fingerprint information through guide'. The patent describes the use of an in-display fingerprint sensor.
An in-display fingerprint sensor takes a lot of space, therefore a small sensor needs to be used. However, as the size of the fingerprint sensor is less than the size of a finger, Samsung developed a method for recognizing different regions of the finger.
As soon as a finger touches the display, a part of the finger will be registered. A guide (a graphic indicator) will then be shown on the display. Depending on where the user has placed his/her finger on the display, the second half of the finger will be registered, which needs to partly overlap the first registration.
By integrating a guide, the fingerprint recognition rate may increase. In addition, in the case where the fingerprint information is insufficient, a fingerprint may be obtained by displaying a new guide and by additionally obtaining fingerprint information.
The patented technology may be used for future Galaxy smartphones, but also for other consumer electronic devices as well as home appliances.
You can find the patent from Samsung here.