Regelmatig vraagt Samsung patenten aan voor nieuwe smartphone ontwerpen. Ook vandaag komen we een verrassend en vernieuwend design tegen.
Op 29 september 2017 heeft Samsung Electronics een patent aangevraagd bij de WIPO (World Intellectual Property Office). Het patent getiteld ´Electronic device having double-sided display and method for controlling same´ is vandaag gepubliceerd in de WIPO database.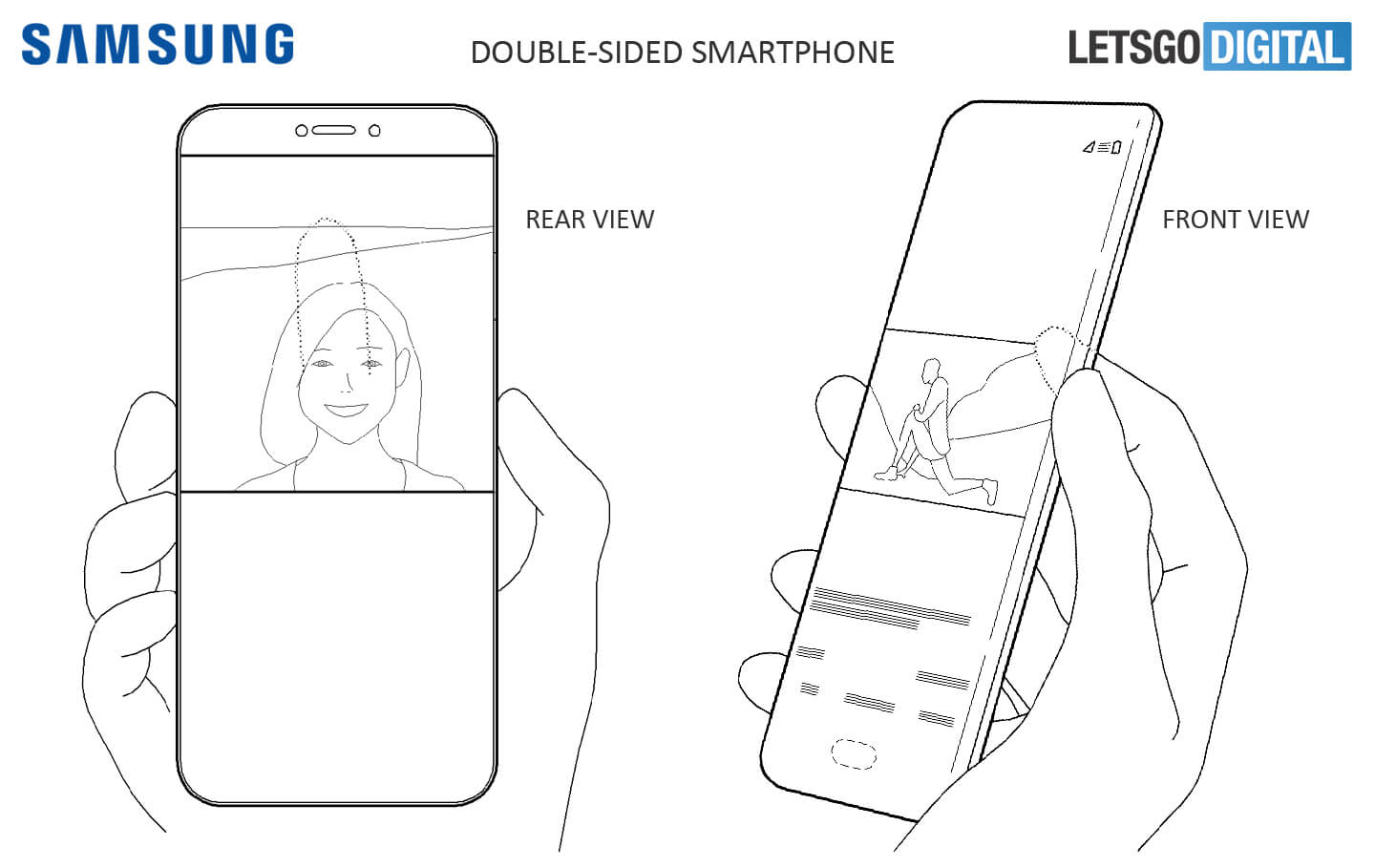 Samsung patenteert smartphone met dubbel display
Er wordt een smartphone getoond met een dubbel display, en dus geen drie displays zoals we enkele maanden geleden tegenkwamen. In tegenstelling tot voorgaande ontwerpen die we van Samsung gezien hebben betreft het ook geen opvouwbare smartphone. De bedieningsmethode die besproken wordt heeft met name betrekking op het gebruik van de digitale camera.
Om de display aan de voorzijde zo groot mogelijk te maken wordt de front-camera achterwege gelaten. Zo kan een screen-to-body ratio gecreëerd worden van bijna 100%. De bovenste bezel wordt namelijk overbodig. Daarvoor in de plaats krijgt de hoofdcamera extra functies. Hierdoor kan de gebruiker nog altijd selfie opnames maken.
Wanneer een gebruiker de telefoon omdraait en naar de display aan de achterzijde kijkt, kan deze een selfie opname maken door met z'n wijsvinger op de display aan de voorzijde te drukken. De preview foto wordt vervolgens ook op de achterzijde van het toestel getoond. De camera kan zelf vaststellen of er een persoon of object gefotografeerd wordt en zal afhankelijk hiervan de fotografie modus aanpassen.
Wanneer de display aan de voor- of achterzijde niet gebruikt worden kan deze automatisch worden uitgezet, om te besparen op de accu capaciteit. Zodra er weer activiteit plaatsvindt, bijvoorbeeld door een touch input, springt de display automatisch aan. Afhankelijk van de soort touch input kunnen er ook verschillende functies gestart worden. Middels een 'single tab' kan de gebruiker een foto maken, terwijl je met een 'double tab' een video opname kunt starten.
De display aan de achterzijde is overigens een stukje kleiner dan die aan de voorzijde. Heeft de Samsung smartphone aan de voorzijde een 5,5-inch scherm, dan wordt er aan de achterzijde een 4,2-inch display met een 3:4 verhouding toegepast of een 3.2-inch display met een 4:3 verhouding.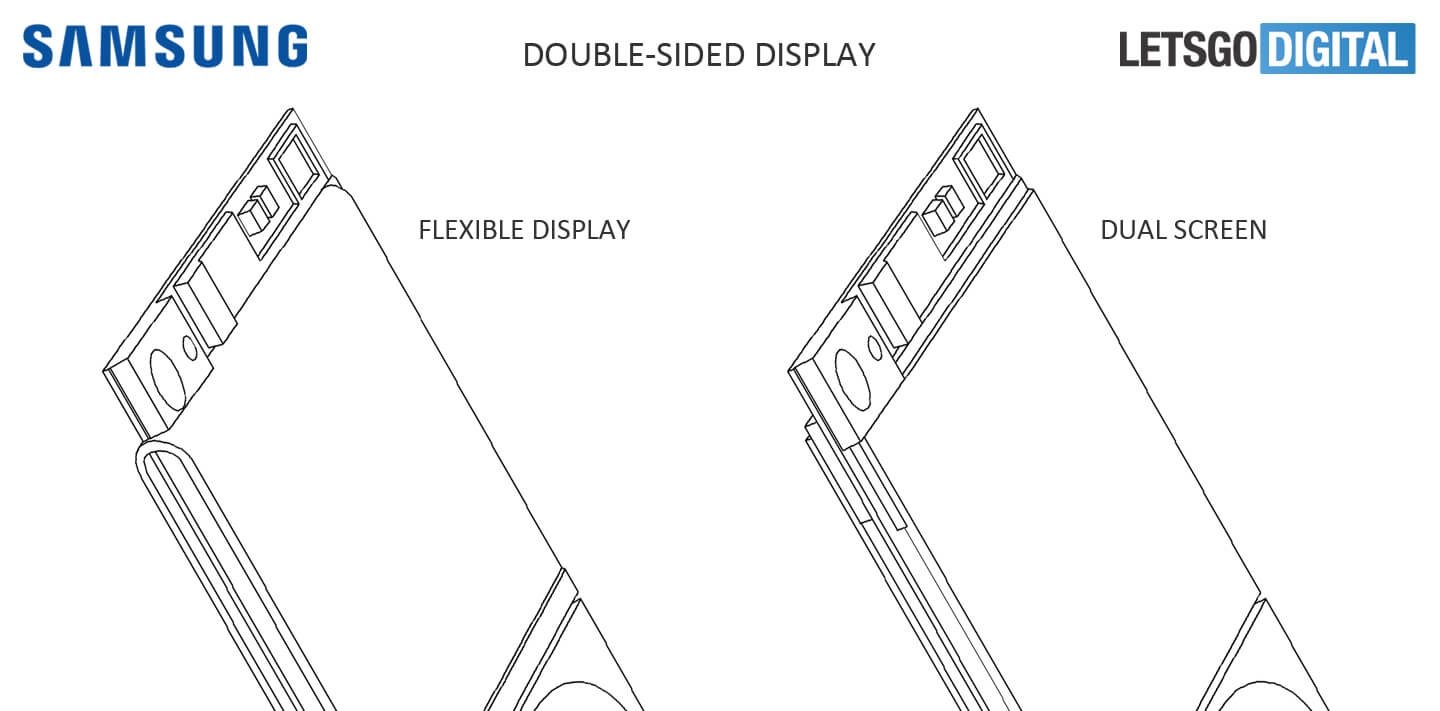 Voordelen van een smartphone met twee schermen
De vastgelegde methode heeft een aantal voordelen volgens Samsung. Allereerst zijn front-camera's doorgaans voorzien van slechtere specificaties dan een hoofdcamera. Door selfies te kunnen maken met de hoofdcamera (al dan niet een dubbele camera) zal dit de kwaliteit van de foto´s ten goede komen. Bovendien bespaart het ruimte, er hoeft ten slotte geen front-camera geïmplementeerd te worden.
Daarnaast komt het ook de batterij capaciteit ten goede, iets dat zeker in acht genomen moet worden wanneer er twee displays toegepast worden. En last but not least, op deze wijze kan de display aan de voorzijde extra groot uitgevoerd worden. Zo weet Samsung toch nog aan de notch te ontkomen.
Het patent behoudt de mogelijkheid voor om twee separate displays te gebruiken, één aan de voor- en één aan de achterzijde. Of een flexibel display toe te passen, die via de bovenzijde aan de telefoon doorloopt tot aan de achterzijde. Direct daaronder zit de wireless charging coil, om het toestel draadloos op te kunnen laden. Daar weer onder wordt de batterij geplaatst.
Wanneer de gebruiker een foto wil maken van een ander object dan kan dit gewoon via de front-display, zoals dat nu ook het geval is. De twee displays staan overigens niet alleen met elkaar in verbinding bij het maken van foto en video opnames. Zo wordt er ook een situatie beschreven waarin de gebruiker via de display aan de voorzijde een video bekijkt of een webpagina bezoekt. In zo'n geval kan deze met z'n wijsvinger een touch input geven via het scherm aan de achterzijde, denk bijvoorbeeld aan een swipe beweging. Exacte functies die hieraan gekoppeld zullen worden staan niet in het patent beschreven. Wel heeft Samsung laten vastleggen dat de smartphone over een in-display vingerafdruksensor zal beschikken.

FOR OUR INTERNATIONAL READERS
On September 29, 2017, Samsung Electronics filed a patent with the WIPO (World Intellectual Property Office). The patent entitled 'Electronic device with double-sided display and method for controlling same' was published today, April 12, 2018.
A smartphone is shown with a double sided display. In contrast to previous designs that we have seen from Samsung, it is not a foldable smartphone. The operating method that is discussed mainly concerns the use of the digital camera.
In order to create a large front-display the front-camera will be omitted. Instead, the main camera features additional functions, including the ability to make selfies. A user can take a look at the rear display to make a selfie. The shutter can be pressed via the index finger on the front display, while the preview image will be shown on the back of the device. Furthermore, the camera will be able to determine whether a person or an object will be photographed and will adjust the photographing mode accordingly.
Samsung further describes that two types of displays can be used; two separate displays (one at the front and one at the rear) or a flexible display that goes from the front all the way to the top of the phone to the back. In both cases, the rear-display is a bit smaller than the one at the front. For example, if the smartphone has a 5.5-inch screen on the front, a 4.2-inch display with a 3:4 ratio or a 3.2-inch display with a 4:3 ratio will be used on the back.
The displays will not only be connected with each other when recording a photo or video. For example, when a user views a video or visits a web page via the front display, the user can give a touch input with his index finger on the rear-screen, for instance a Swipe motion. Exact functions that will be linked to this are not described in the patent. It is mentioned that the patented Samsung smartphone will feature an in-display fingerprint sensor.
Here you can find the patent from the Samsung smartphone with double sided display.