Het nieuwe jaar staat voor de deur, tijd voor nieuwe innovaties. Er wordt inmiddels al verschillende jaren gesproken over opvouwbare telefoon en tablet ontwerpen. Diverse fabrikanten werken aan de ontwikkeling van dergelijke consumenten elektronica apparaten. In 2018 wordt de eerste opvouwbare Samsung telefoon verwacht, ook wel bekend als de Samsung Galaxy X. Andere fabrikanten zullen ongetwijfeld snel volgen.
Door de jarenlange ontwikkeling zijn er veel verschillende ideeën ontstaan, hoe een dergelijk opvouwbaar apparaat vormgegeven kan worden. Zo hebben we inmiddels al veel opvouwbare Samsung producten voorbij zien komen in de patenten database. Ook vandaag stuitten we op een soortgelijk patent.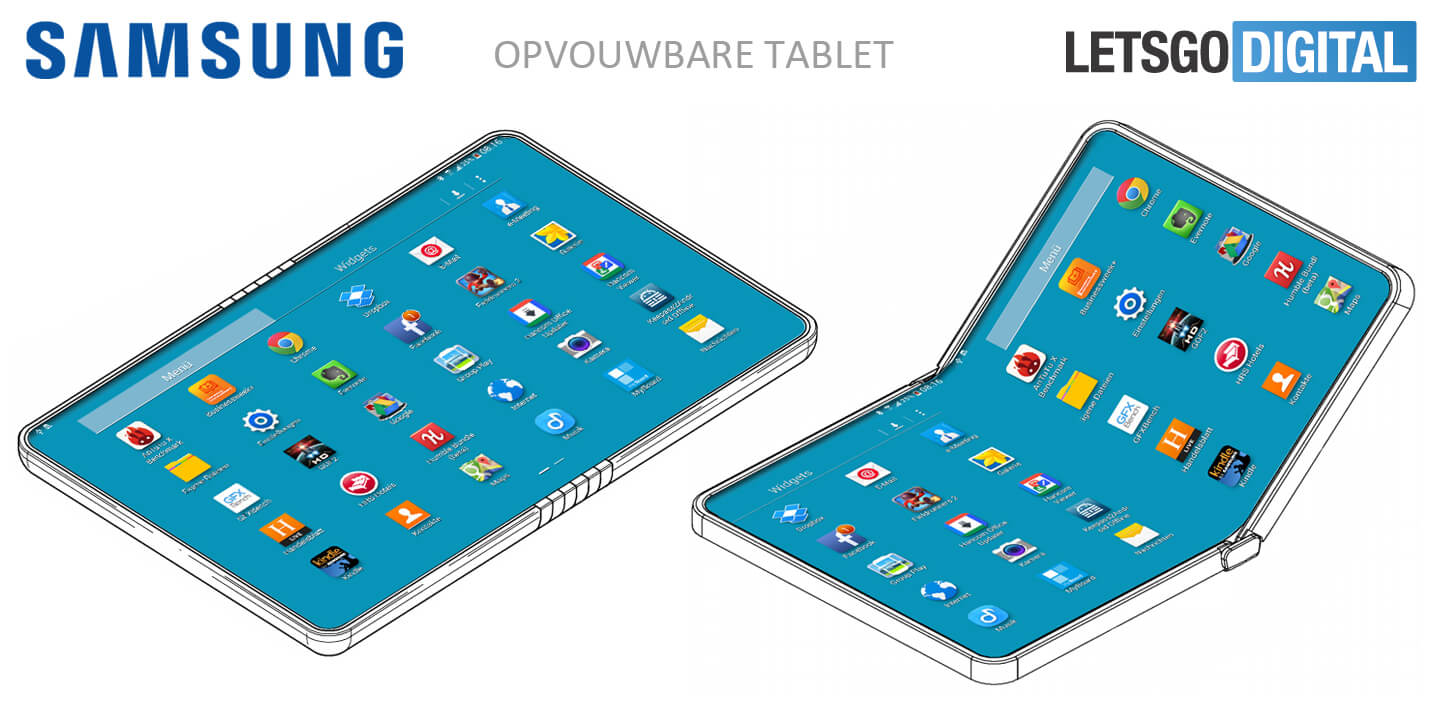 Patent voor Samsung Galaxy opvouwbare telefoon en tablet ontwerp
Samsung heeft een octrooi aanvraag gedaan voor een opvouwbaar toestel. De techniek die is vastgelegd kan worden toegepast voor uiteenlopende mobiele apparaten, waaronder een opvouwbare telefoon, tablet, multimedia apparaat of game-speler.
Het patent dat afgelopen week is gepubliceerd door het WIPO is aangevraagd op 14 augustus 2017. Het originele Koreaanse patent stamt al uit februari 2014, wat erop duidt dat de Koreanen inmiddels al geruime tijd aan een dergelijk ontwerp werken.
De documentatie wordt vergezeld door 57 schetsen, variërend van een breed tablet ontwerp tot een opvouwbare smartphone met een klaptelefoon ontwerp. Beide ontwerpen beschikken over een tweetal displays en een beweegbaar ondersteuningsonderdeel, dat tussen de twee schermen wordt geplaatst. Hiervoor wordt een flexibel scharnier toegepast.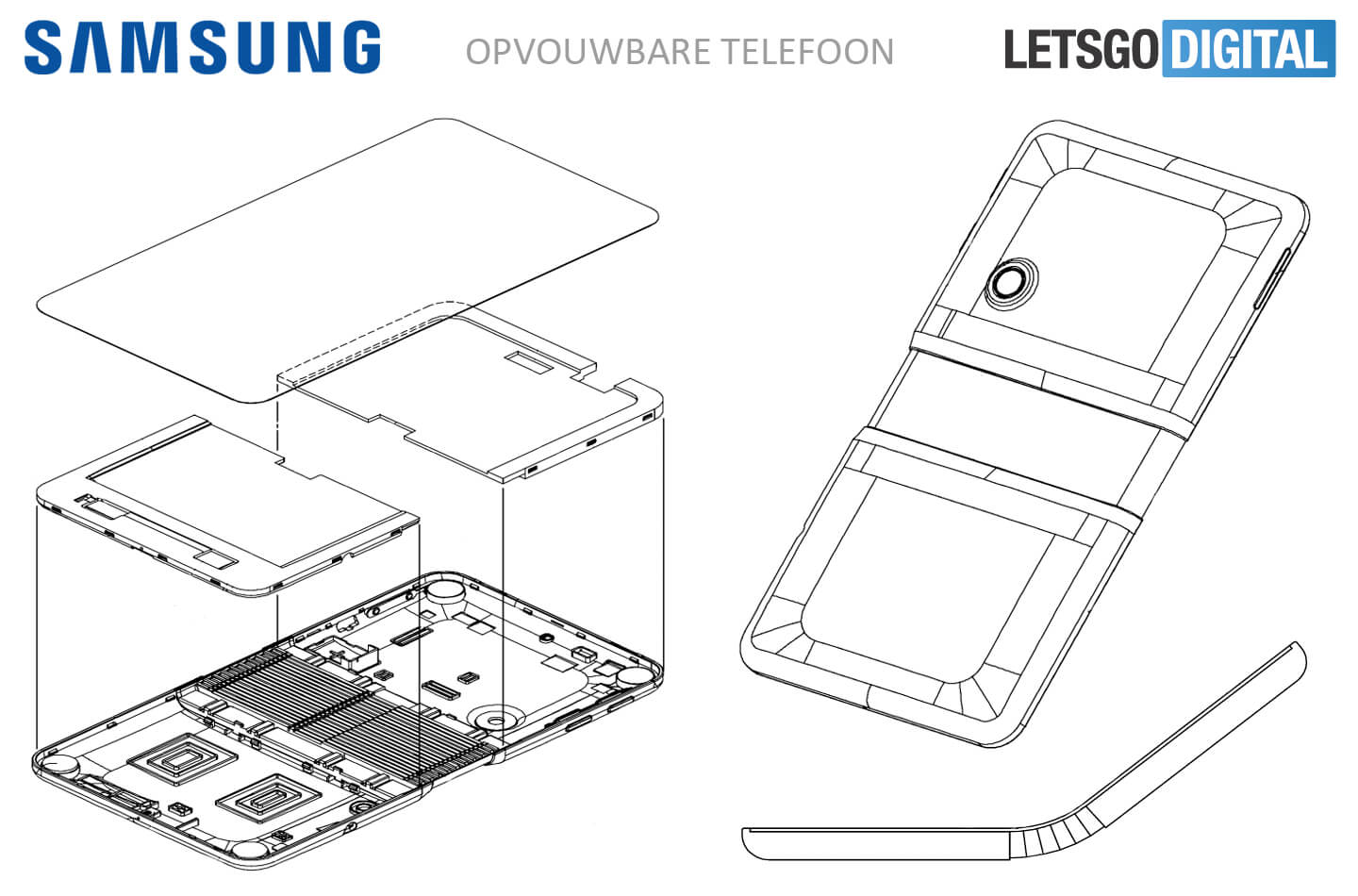 Hoewel we een soortgelijk klaptelefoon ontwerp eerder zijn tegengekomen, ziet dit Samsung Galaxy ontwerp er erg degelijk en gebruiksvriendelijk uit. Bovendien werkt het voor Samsung kostenbesparend om één en dezelfde techniek voor meerdere apparaten toe te kunnen passen, denk aan mobiele telefoons en tablets. Het flexibele scharnier kan automatisch in- en uitschuiven, naar gelang het opvouwbare apparaat gebruikt wordt.

FOR OUR INTERNATIONAL READERS



Samsung filed another patent for a foldable device with WIPO. The technology that has been documented can be used for various mobile devices, including a folding smartphone, tablet, multimedia device or game player.
The patent has been published by WIPO last week, while the original Korean patent was already filed on Feb 2014, which indicates that the Koreans have been working on such a design for quite some time now.
The documentation is accompanied by 57 sketches, ranging from a wide tablet design to a folding smartphone with a clamshell design. Both designs feature two displays and a flexible hinge, which is placed between the two screens.
Although we have come across a similar flip phone design some time ago, this design looks very solid and user-friendly. Moreover, Samsung can save costs by using the same technique for multiple mobile devices, like smartphones and tablets. The flexible hinge can automatically slide in and out, depending on how the folding device is being used.
The patent sketches can be seen here.