Begin deze week werd de eerste Galaxy telefoon met Infinity-O display geïntroduceerd. De Galaxy A8s heeft een gat in de linkerbovenhoek van de display voor de selfie-camera. Een maand eerder had Samsung het scherm al aangekondigd, op de Developers Conference, waar ook de eerste Samsung opvouwbare telefoon werd getoond. Gelijktijdig werden ook het Infinity-U en Infinity-V display onthuld voor smartphones met een U- en V-vormige notch.

Samsung Galaxy telefoon modellen met notch
Een nieuw toegewezen patent toont aan dat Samsung meer notch varianten overweegt. Halverwege dit jaar heeft Samsung Display een zestal design patenten ingediend bij de KIPO (Korean Intellectual Property Office). De patenten zijn op 10 december 2018 goedgekeurd en tonen verschillende Samsung Galaxy telefoons met notch. Bij sommige varianten loopt de inkeping door tot in de bovenste schermrand.
Het ontwerp lijkt een beetje een combinatie te zijn van het Infinity-O en Infinity-U display. De inkeping staat in verbinding met de bovenste schermrand, waardoor het geen Infinity-O scherm genoemd kan worden. Het is echter een dusdanig klein en rond gat dat de inkeping beduidend kleiner is dan de druppelvormige notch van het Infinity-U display.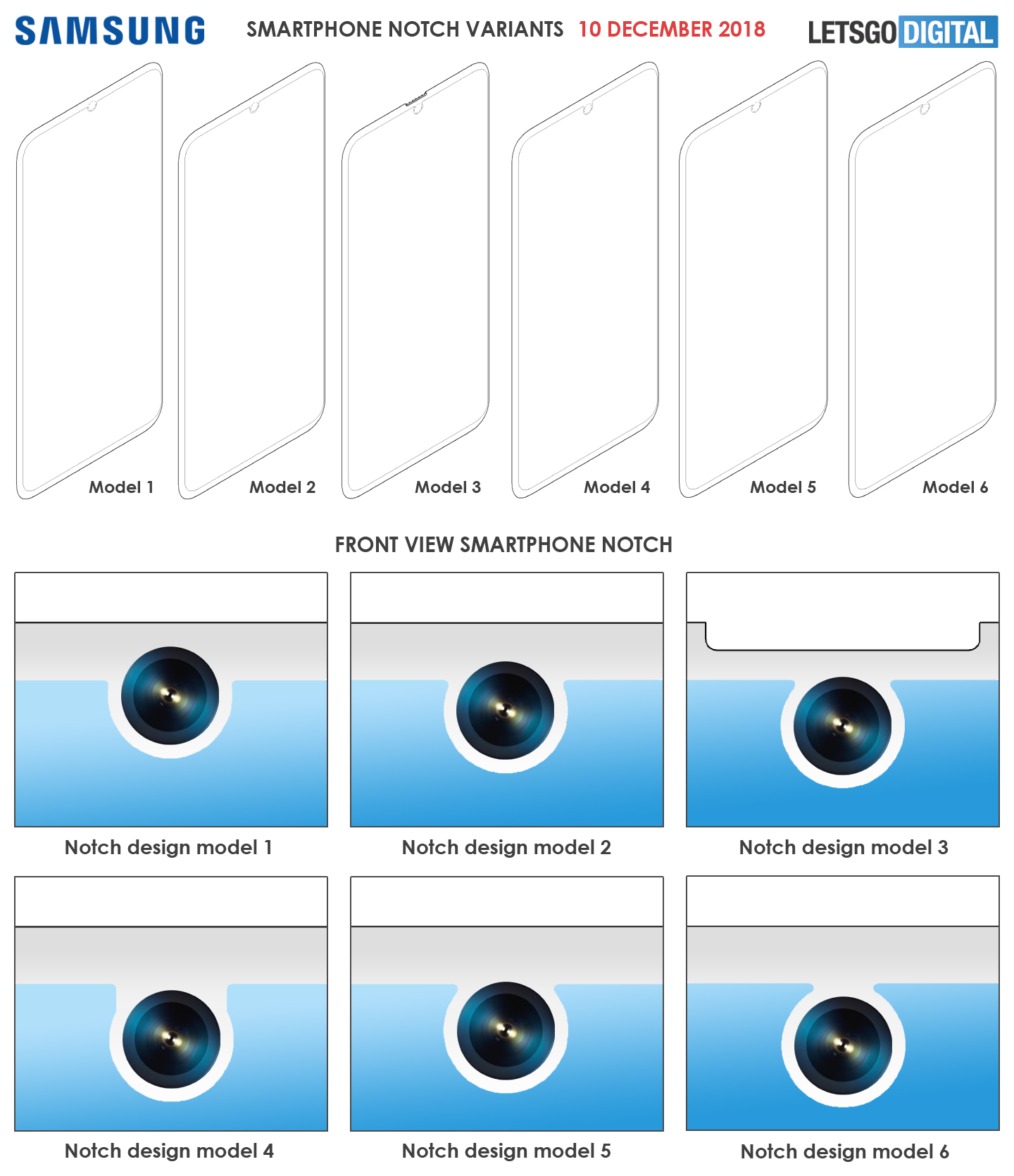 Het design patent onthuld buiten de serie afbeeldingen geen inhoudelijke informatie. Hoewel de meeste ontwerpen voor zich spreken is er bij één Samsung smartphone model een ovale sleuf boven de notch aangebracht. Normaliter zou je hier de speakers verwachten, het is onduidelijk of de speakers in dit ontwerp in de display geïntegreerd worden of een andere locatie krijgen. Waar de sleuf voor dient blijft ook onduidelijk, mogelijk dat hier een accessoire bevestigd kan worden.
Daarnaast verschilt de hoogte van de notch. Bij een tweetal modellen wordt de front-camera direct onder de schermrand geplaatst. We zien echter ook twee designs waarbij de notch beduidend hoger gepositioneerd is en half in de schermrand verwerkt is. Hierdoor kan een nog groter schermoppervlak gecreëerd worden.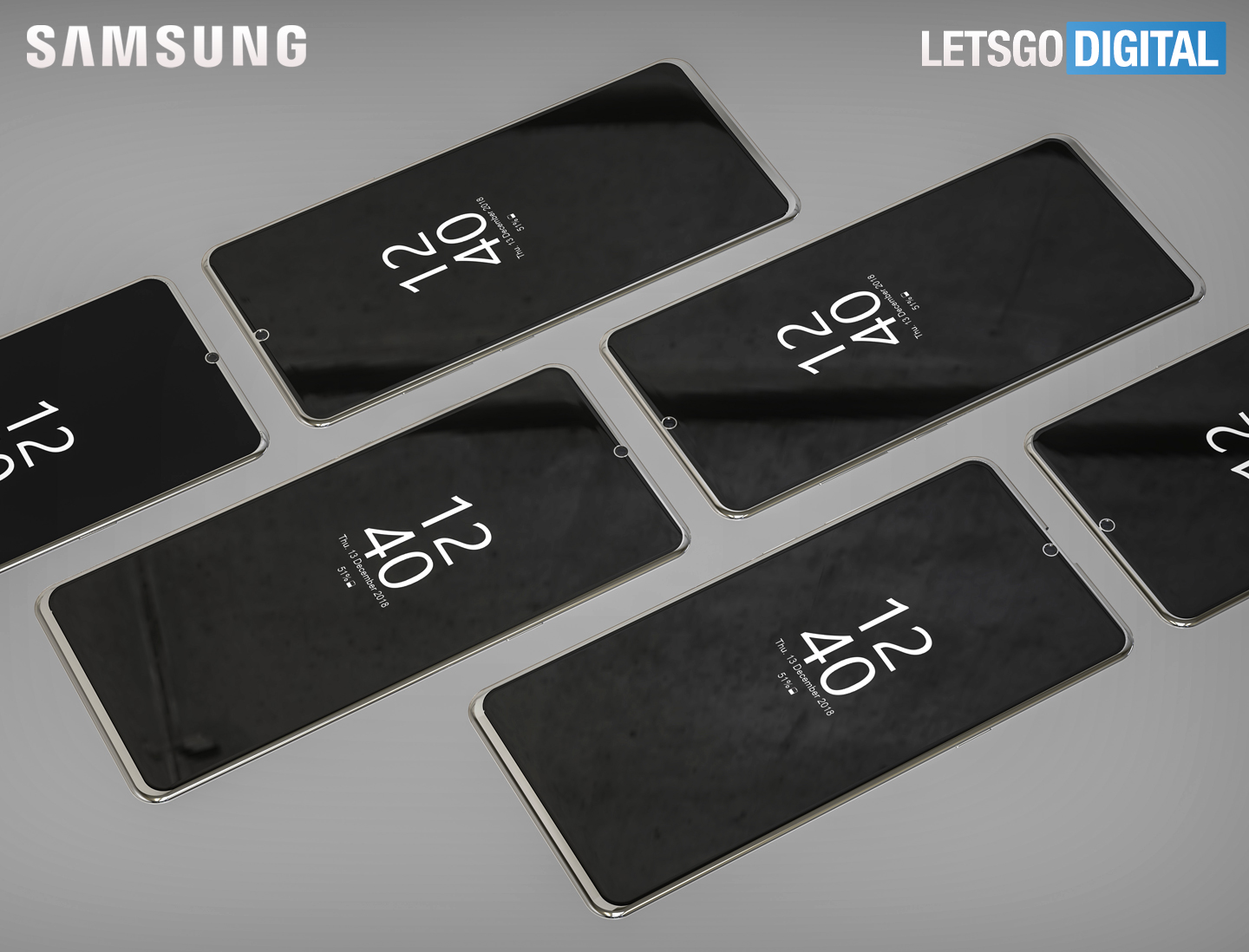 Samsung telefoons met notch
De gepatenteerde telefoon modellen lijken een geëvolueerde variant te zijn van de Infinity-U en Infinity-V smartphones die in 2019 verwacht worden. Deze displays zullen worden ingezet voor de budget en midrange toestellen van Samsung. De Galaxy A70 lijkt (één van) de eerste Samsung telefoon met notch te worden. Mogelijk dat de Koreaanse fabrikant de nieuwe notch modellen in 2020 / 2021 zal onthullen.
Tegen die tijd zal Samsung vermoedelijk ook de eerste smartphones met een New Infinity display introduceren, waarbij helemaal geen camera-gat meer zichtbaar is. Deze Samsung Galaxy telefoons krijgen een in-display camera. De Galaxy S10 serie zal overigens geen notch krijgen. Deze telefoonserie wordt voorzien van een Infinity-O display, net als de onlangs geïntroduceerde Galaxy A8s.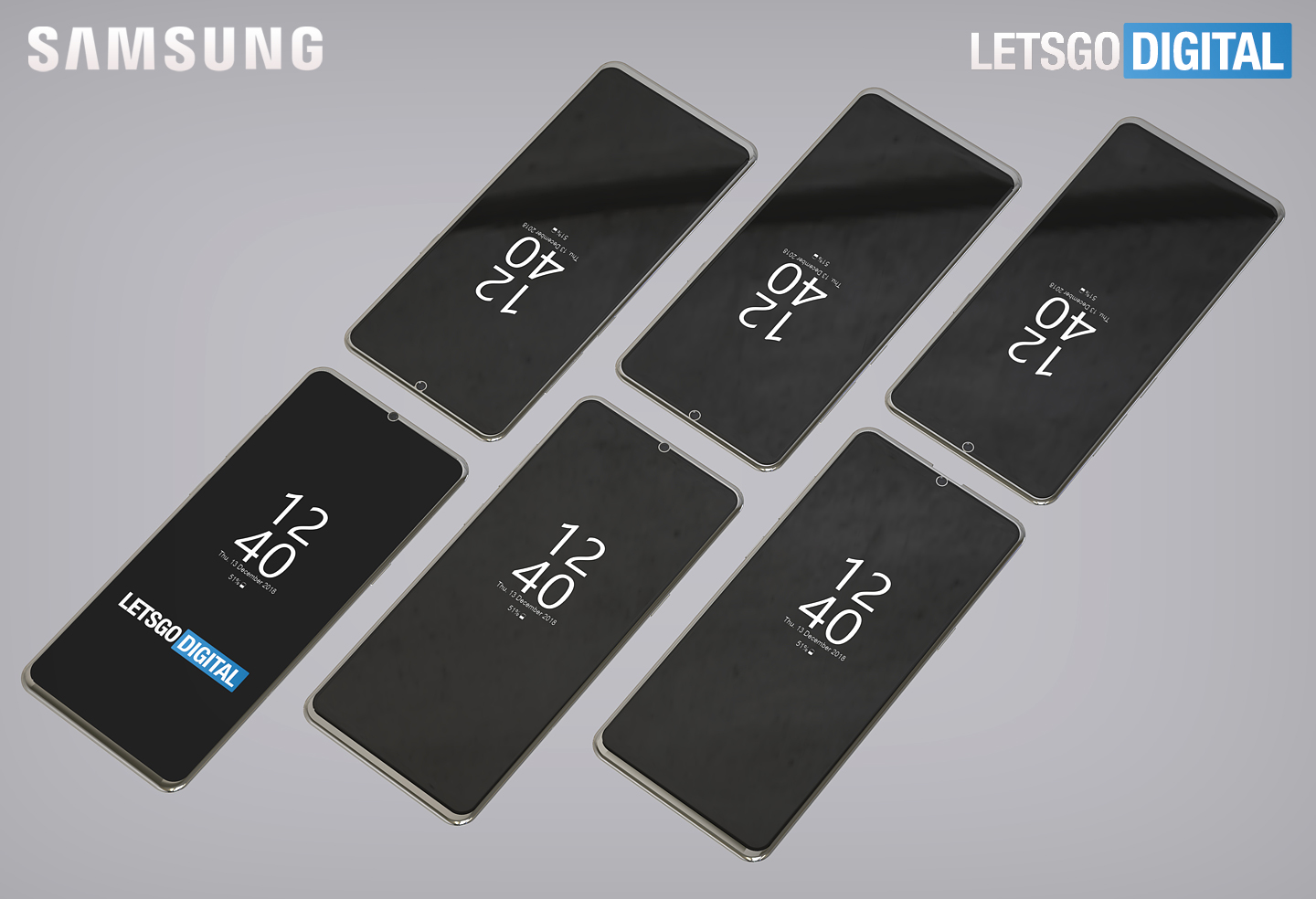 FOR OUR INTERNATIONAL READERS



A recent granted patent shows that Samsung is considering more notch variants. Halfway through this year, Samsung Display has filed six design patents with KIPO (Korean Intellectual Property Office). The patents were granted on 10 December 2018 and show various Samsung Galaxy smartphones with notch. In some cases, the notch is partly integrated in the upper bezel.
The design seems to be a combination of the recently announced Infinity-O and Infinity-U displays. The height of the notch varies per model. Two models show the front camera being placed directly under the bezel. In two other designs the notch is partly integrated in the bezel. This way an even larger screen surface can be realized.
One model shows an oval slot above the notch. Normally you would expect the speakers to be located here, it is unclear whether the speakers in this model will be integrated in the display. Unfortunately, the patent describes nor where the slot is for.
The first phones with an Infinity-U and Infinity-V display will be launched in 2019. Possibly the notch will evolve in a year or two in a version as we see in this patent today. By that time, Samsung will also introduce the first smartphones with a New Infinity display, with an in-display camera and no visible camera-hole.
Here you can find the design patents from Samsung Display:
Model 1, Model 2, Model 3, Model 4, Model 5 and Model 6.
Note for publishers: The 3D renders presented in this article are copyright protected. The pictures can be used for reproduction in any online publication if you add a credit source link to our website. Thank you very much for understanding.