Afgelopen maand werden de Samsung Galaxy S9 toestellen geïntroduceerd, beide beschikken over een sterk verbeterde camera met een dubbel diafragma. Maar ook de concurrentie staat niet stil. Zo introduceerde Huawei afgelopen week met de P20 Pro 's werelds eerste driedubbele smartphone camera, die volgens het onafhankelijke DxO een nóg betere beeldkwaliteit garandeert. Ook de front-camera is beduidend beter dan die van de S9. Wat betekent dit voor de Galaxy Note 9, weet Samsung ons te verrassen bij haar nieuwe vlaggenschip toestel?
Het lijkt erop dat de Koreaanse fabrikant kansen ziet om een super groothoeklens in een smartphone te integreren. Dus geen 120° lens zoals de LG V30 of de Sony Xperia XA2, maar een fisheye lens die 150° of meer kan vastleggen voor ultrabrede opnames.

Samsung patenteert fisheye lens voor smartphones
Dit staat beschreven in een patent dat Samsung Electronics op 27 juni 2017 bij de WIPO heeft aangevraagd. Het patent getiteld 'fisheye lens assembly and electronic device comprising same' werd gepubliceerd op 29 maart 2018 en beschrijft de integratie van een fisheye lens in een smartphone. De lens bestaande uit meerdere lensdelen, waaronder een asferische lens met een beeldhoek van 150° of meer.
Hoewel het patent in hoofdlijnen spreekt over de integratie van een fisheye lens in een smartphone, wordt de integratie in andere elektronische apparaten niet uitgesloten. Denk aan een e-Book, desktop PC, laptop of wearable, maar ook huishoudelijke apparaten, kleding en bio-implantaten worden als voorbeeld genoemd.
Op de illustraties is de groothoeklens aan de voorzijde van de smartphone geplaatst. De camera module kan overigens ook dienst doen als authenticatie middel om de iris te fotograferen.
Het patent spreekt over minimaal zes lensdelen. In totaal worden er 7 lensdelen besproken, één ervan heeft een optische as en gaat chromatische aberratie tegen. Allemaal zijn ze vervaardigd uit plastic materiaal. De groothoeklens wordt al niet dan voorzien van een infrarood filter. Een infrarood filter blokkeert vrijwel al het zichtbare licht en maakt opnamen van zuiver infrarood licht, wat voor unieke beelden zorgt.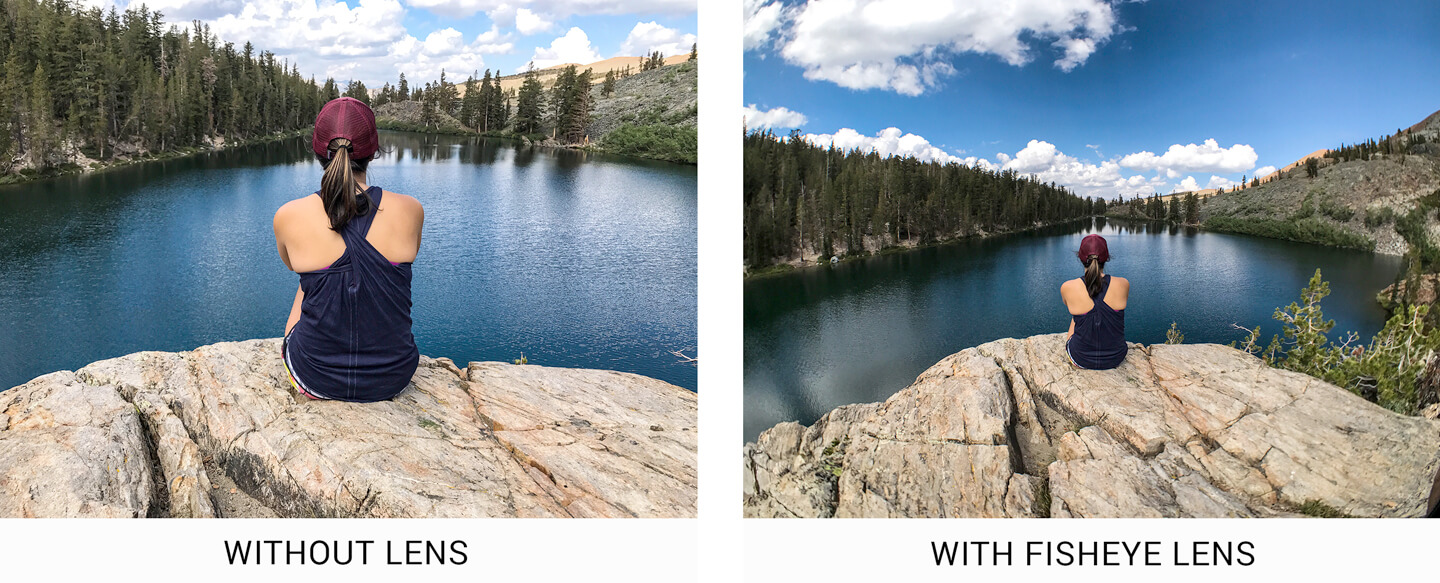 Smartphone camera met fisheye lens voor Samsung Note 9?
De digitale camera is al jaren een belangrijk onderdeel op onze smartphone. Nu we vorig jaar een duidelijke design trend hebben gezien -van smalle schermranden en grote 18:9 beeldschermen- gaat in 2018 de focus naar de digitale camera.
De Samsung Galaxy S9 smartphones hebben dan wel sterk verbeterde camera's, aan de front-camera is nauwelijks iets gewijzigd. Beide modellen beschikken over een 8 megapixel selfie-camera, een sensor die in veel hedendaagse Galaxy smartphones te vinden is.
De kans is dan ook groot dat dit bij de Note 9 gaat veranderen. De gepatenteerde fisheye lens kan een interessante nieuwe feature zijn en een goede tegenhanger voor de 24 megapixel selfie-camera van Huawei's nieuwe vlaggenschip modellen.

FOR OUR INTERNATIONAL READERS 
On June 27, 2017 Samsung Electronics filed a patent with WIPO for a 'fisheye lens assembly and electronic device comprising same'. The patent was published on March 29, 2018 and describes the integration of a fisheye lens in a smartphone. The lens consists of multiple lens elements, including an aspherical lens that has an angle of view equal to or more than 150°.
The wide angle lens can be placed on the front of a smartphone, as shown on the illustration. The camera module can also serve as an authentication method to photograph the iris.
The patent describes the integration of at least six lens elements. In total, 7 lens elements are discussed, one of them has an optical axis and will counteract chromatic aberration. All of them are made of plastic material. The fisheye lens may or may not get equipped with an infrared filter. An infrared filter blocks almost all visible light and enables recordings of pure infrared light.
The recently launched Galaxy S9 devices feature a greatly improved camera. However, the front camera on both devices still is an 8 megapixel camera. It seems logical for Samsung to upgrade the front-camera of the upcoming Galaxy Note 9.
So far only LG and Sony offer smartphones with a 120° wide-angle lens. If the Koreans see a chance to integrate a fisheye lens as described in the patent, this could be a great additional feature for Samsung´s flagship model.
The patent from Samsung can be seen here.