Mobiel gamen is hot. Verschillende fabrikanten hebben inmiddels een gaming smartphone uitgebracht. De eerste smartphonefabrikanten hebben zelfs al hun eigen gaming service opgezet. Zo introduceerde Apple eerder dit jaar de Apple Arcade online gaming service. Het abonnement om onbeperkt te gamen zal dit najaar gelanceerd worden. Ook Samsung lijkt op het punt te staan om haar nieuwe PlayGalaxy Link platform te onthullen, waarmee het mogelijk wordt om online games te spelen via je Galaxy smartphone of tablet.

Samsung PlayGalaxy Link
Eerder deze week heeft Samsung een trademark ingediend in Amerika bij de USPTO (United States Patent and Trademark Office) voor de naam PlayGalaxy link. De trademark werd op 26 april gepubliceerd in de trademark database van de EUIPO (European Union Intellectual Property Office).
De trademark is gecategoriseerd als Class 9 en 41 en heeft een uitgebreide omschrijving; smartphones; downloadbare game software, service voor online game toernooien, service voor het spelen van online Augmented Reality en Virtual Reality games, service toegankelijk voor mobiele apparaten.
Eerder deze maand werd bekend dat Samsung een partner heeft gevonden in het Finse bedrijf Hatch, een dochtermaatschappij van Rovio Entertainment (makers van Angry Birds). Samen hebben ze een nieuwe 5G cloud gaming service gelanceerd in Korea. Consumenten die daar de Galaxy S10 5G kopen, ontvangen er gratis drie maanden Hatch Premium bij cadeau.
Of de naam PlayGalaxy Link op deze nieuwe service slaat is nog onbekend. De trademark voor PlayGalaxy Link is namelijk niet in Korea, maar in Amerika aangevraagd. Hoe dan ook, het lijkt er op dat Samsung voornemens is om binnenkort haar variant van Apple Arcade aan te kondigen voor de Amerikaanse en wellicht ook de Europese markt.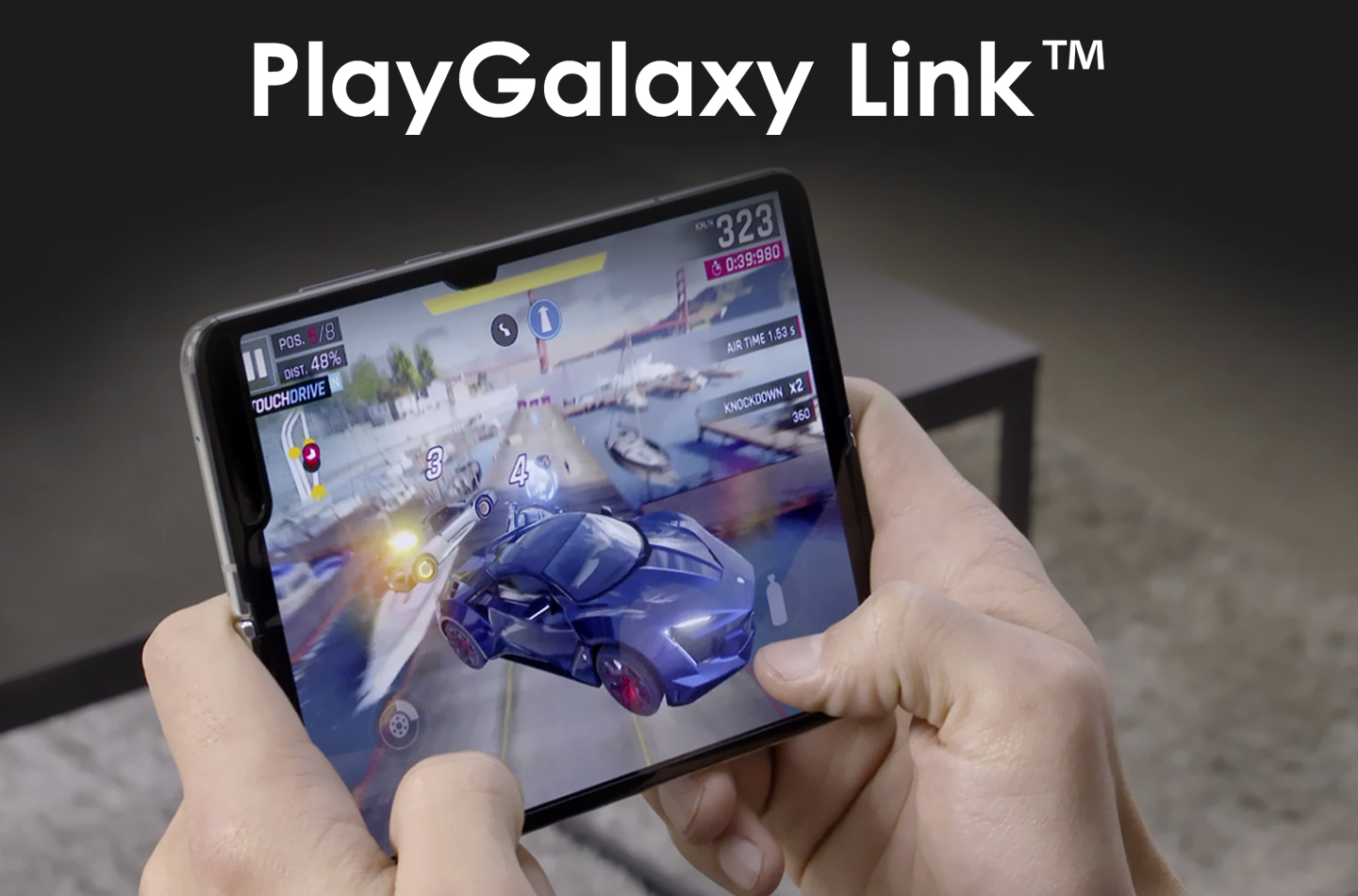 Samsung gaming smartphone
Waarschijnlijk zal de Koreaanse fabrikant tegen die tijd ook een gaming smartphone uitbrengen. Er wordt al langer over gesproken dat Samsung een Galaxy apparaat in ontwikkeling heeft die gericht is op gaming, deze zal waarschijnlijk binnen de Galaxy A-serie worden ondergebracht. Als we de website van Samsung moeten geloven gaat het om de Samsung Galaxy A90. Dit toestel is nog niet aangekondigd, maar wordt al wel onderaan de webpagina genoemd bij compatibele apparaten voor de nieuwe game Asphalt 9: Legends.
Bekijk hier de trademark voor Samsung PlayGalaxy Link.