Samsung experimenteert al jaren met een gebogen scherm. In 2013 werd de Galaxy Round geïntroduceerd, die een jaar later werd opgevolgd door de Galaxy Note Edge. Dit was de eerste Galaxy smartphone met een afgerond scherm. Inmiddels zijn alle vlaggenschip toestellen van Samsung voorzien van het zogenaamde Edge ontwerp, inclusief de Galaxy S8 en de Note8. Een nieuw patent toont dat Samsung nu nóg een stapje verder wil gaan.

180˚ Gebogen display tot aan de achterzijde van het toestel
Vandaag zijn er een serie nieuwe patenten van Samsung gepubliceerd in de WIPO (World International Property Office) database. Eén van de patenten betreft een aanvraag uit mei '17 voor: een elektronisch apparaat met een gebogen display aan beide zijden van het toestel. Dus geen afgerond display, maar echt 180˚ gebogen, tot aan de achterzijde van de smartphone. Er zijn een serie schetsen bijgevoegd om het ontwerp te verduidelijken.
Op de ene schets is het reguliere edge display te zien, met een afgerond scherm (zie illustratie hierboven). Daarnaast zie je een smartphone met een ronde rand. De display wordt aan weerszijkanten 180˚ gebogen en helemaal doorgetrokken tot aan de achterzijde van het toestel.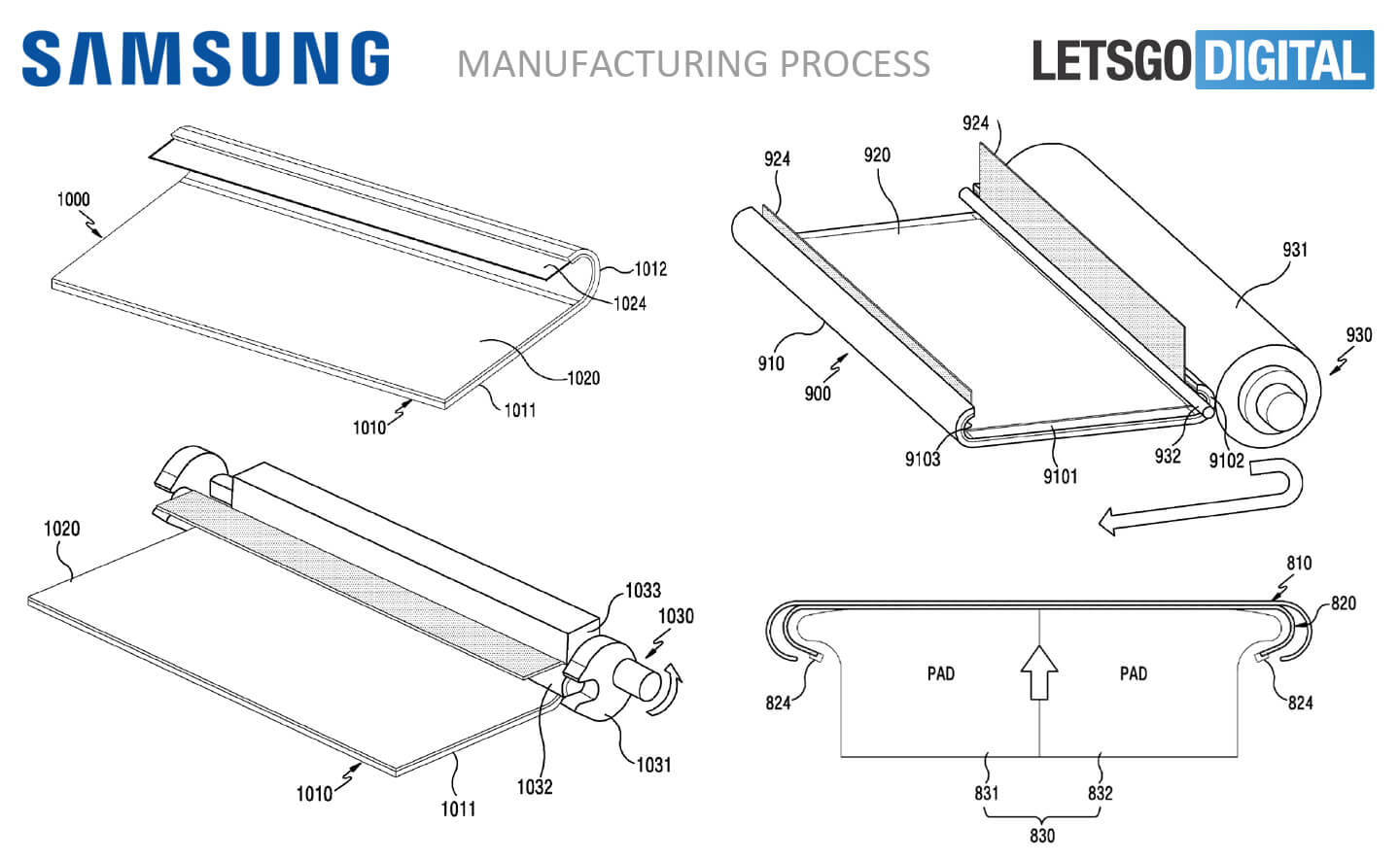 Het patent betreft niet alleen afbeeldingen en tekst uitleg van hoe een dergelijke smartphone eruit zou komen te zien, ook de productie methode is vastgelegd. Er worden wel vaker patenten vastgelegd die vervolgens in de ijskast belanden. Maar het feit dat er ook wordt ingegaan op het productieproces duidt er bij ons op dat Samsung serieus is over dit ontwerp.
Het 180˚ gebogen display biedt een geheel nieuwe gebruikerservaring en verbetert de grip op het toestel, aldus Samsung.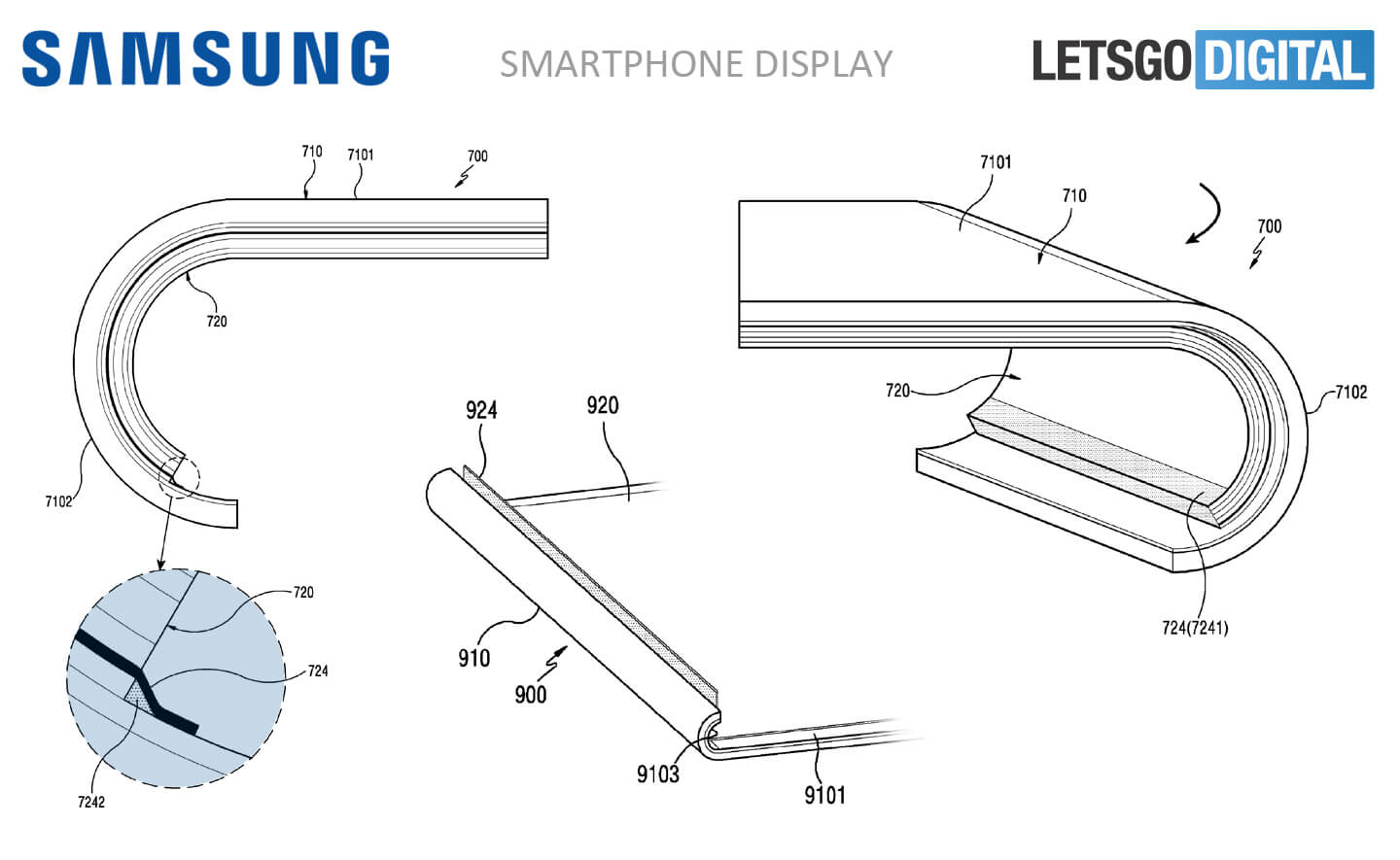 Samsung Galaxy smartphone met 180˚ rond display
Wij zijn erg benieuwd of en wanneer we dit revolutionaire ontwerp zullen terugzien. Begin 2018 wordt, behalve de Galaxy S9, ook Samsung's eerste opvouwbare smartphone verwacht. Deze wordt ook wel de Samsung Galaxy X genoemd en zal tevens over een flexibel display beschikken. Dus de Koreanen hebben inmiddels al enige ervaring opgedaan…
Zal dit nieuwe ontwerp dan haar debuut maken in de Galaxy Note 9? Of zijn we nu te ambitieus. Kijken we hier dan naar het ontwerp van de 10-jarige jubileum editie? Ten slotte werd het allereerste edge display ook toegepast op de Galaxy Note. De tijd zal het uitwijzen…
Het patent is hier in te zien.

FOR OUR INTERNATIONAL READERS
It seems Samsung wants to evolve its famous edge display even further. The Koreans filed a patent with WIPO (World International Property Office) showing an electronic device comprising a display with a bent area. It's not an edge display, the display is 180˚ curved up to the rear side of the device.
In addition, the patent also speaks about the method for manufacturing the screen. How well thought out is this idea? Is Samsung going to use this for its future Galaxy Note series?