Eerder deze week rapporteerden we over een Huawei full-screen smartphone. Om tot een beeldvullend scherm te komen worden er metalen strips aan de zijkanten van het toestel geplaatst, welke met dubbelzijdig tape of lijm worden bevestigt. Hoewel dit ontwerp op het eerste gezicht enigszins kwetsbaar lijkt, ziet ook Samsung toekomst in een soortgelijk design. Desalniettemin kiezen de Koreanen voor een iets andere methode om tot een fullscreen smartphone te komen.

Samsung fullscreen smartphone ontwerp
Samsung heeft op 24 augustus 2017 een patent ingediend dat vandaag, 21 juni 2018, is goedgekeurd door de WIPO (World Intellectual Property Office). Het patent getiteld ´Display device and frame member´ is toepasbaar op smartphones, maar een soortgelijk design kan ook worden gebruikt voor TVs, monitoren en andere elektronische apparaten met een display.
Het gepatenteerde Samsung ontwerp beschikt over vier strips, die aan alle zijdes van het toestel bevestigd worden. De strips kunnen vervaardigt worden uit diverse materialen, waaronder metaal, aluminium of patroonhout. Deze laatste is overigens met name van toepassing op TVs.
Het gaat hier dus niet om twee strips, zoals bij Huawei het geval was, maar om vier strips. Hierdoor wordt een nóg grotere screen-to-body ratio gerealiseerd. Een ontwerp als deze komt zeer dichtbij een screen-to-body ratio van 100%.
Ook worden de strips op een andere wijze bevestigt, namelijk middels magneten. Hiervoor kan een permanente magneet of een elektromagneet worden gebruikt. Daarnaast hebben de strips een U-vormige koppelingsstructuur, zodat deze in elkaar geklikt kunnen worden voor extra stevigheid.
Hierdoor is het tevens mogelijk voor de gebruiker om het frame te vervangen, vergelijkbaar met The Frame TV van Samsung. Het zou natuurlijk erg handig zijn wanneer gebruikers de behuizing cq de strips zelf kunnen vervangen, zowel in geval van schade, als om het toestel onderscheidend te maken ten opzichte van andere smartphone modellen.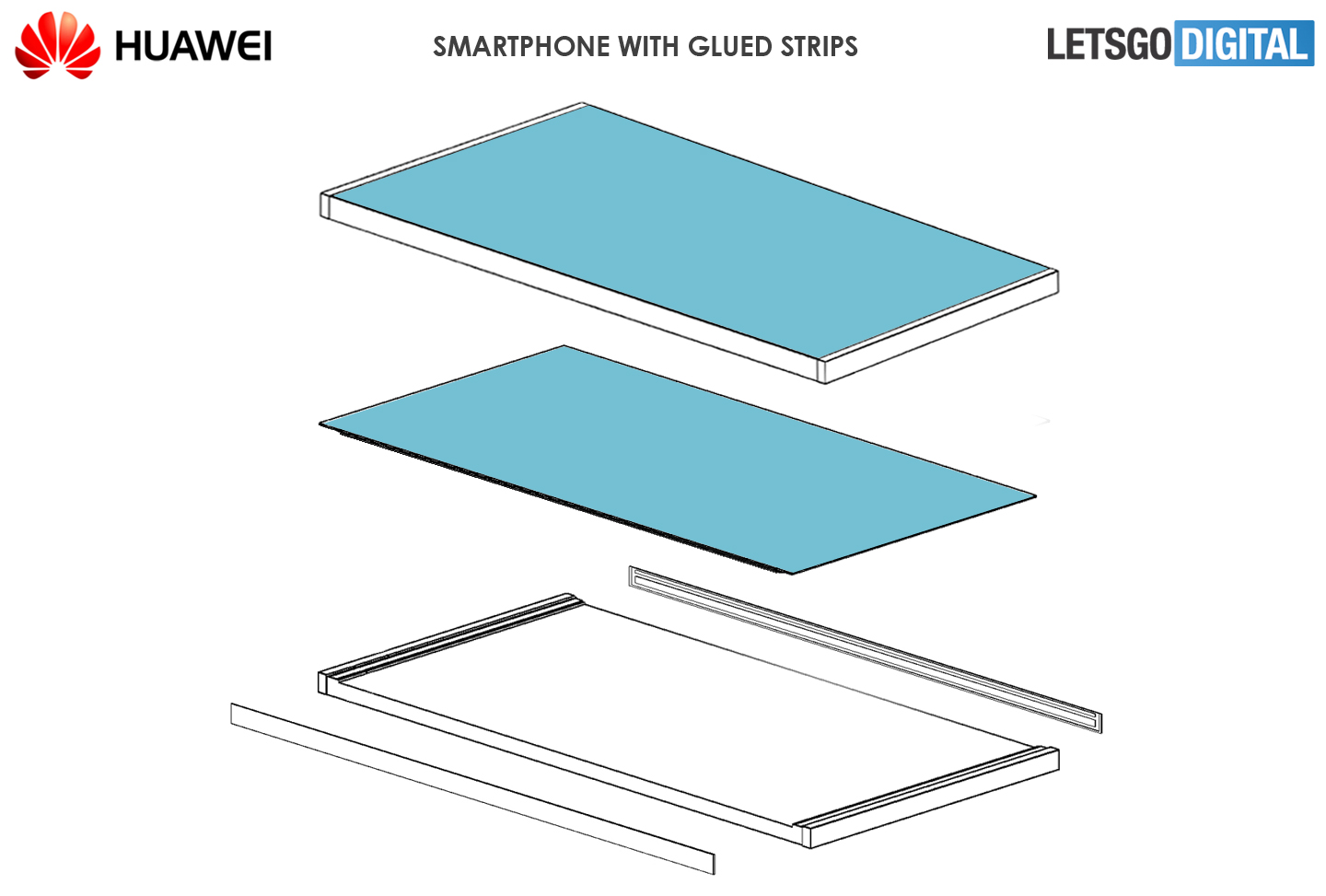 De methode van Huawei is stof- en waterdicht. In het patent van Samsung worden deze eigenschappen verder niet besproken. Desalniettemin ziet het fullscreen ontwerp van Samsung er steviger uit dan dat van Huawei, mede daarom is het ook toepasbaar op grotere display apparaten, zoals TVs.
Een soortgelijke techniek wordt dan ook al gebruikt voor de Samsung The Frame TV. Het lijkt dan ook een kleine stap te zijn om ook de volgende generatie smartphones met dergelijke strips te voorzien.

FOR OUR INTERNATIONAL READERS
Samsung has filed a patent with WIPO for a ´Display device and frame member´. The patent describes a smartphone design which is very similar to the Huawei fullscreen smartphone we covered earlier this week. However, there are a few remarkable differences.
The patented Samsung design has four strips (instead of 2), which can be made of metal or aluminum. The strips will be attached to the display housing by means of magnets (instead of adhesive tape and glue). In addition, a U-shaped coupling structure makes it possible to click the strips together. This technique also enables the user to replace the strips, which is of course ideal in case of damage and to personalize your device.
The patented technology can be applied to smartphones, but also to TVs, notebooks, laptops and other electronic devices with a display. In fact, a similar technique is already used for the Samsung The Frame TV. It therefore seems to be a small step to implement this on a smartphone too.
The patent from Samsung can be seen here.