Afgelopen jaar werd de trend van zogenaamde randloze smartphones ingezet. De grotere displays zorgen echter ook voor enkele obstakels, de smartphone industrie zoekt dan ook haastig naar oplossingen. Afgelopen week patenteerde Samsung nog een smartphone design met een notch. Ditmaal zien we een alternatief op dit design.
Samsung Electronics heeft op 12 mei 2017 een patent aangevraagd dat vandaag is gepubliceerd door WIPO. Het patent getiteld ´Electronic apparatus having a hole area within screen and control method thereof´ toont een smartphone design dat nagenoeg 100% beeldvullend is.
Om toch plaats te maken voor de sensoren en de camera zullen er gaten, oftewel uitsparingen, gemaakt worden in de display zelf. Hiervoor worden een tweetal concept varianten getoond.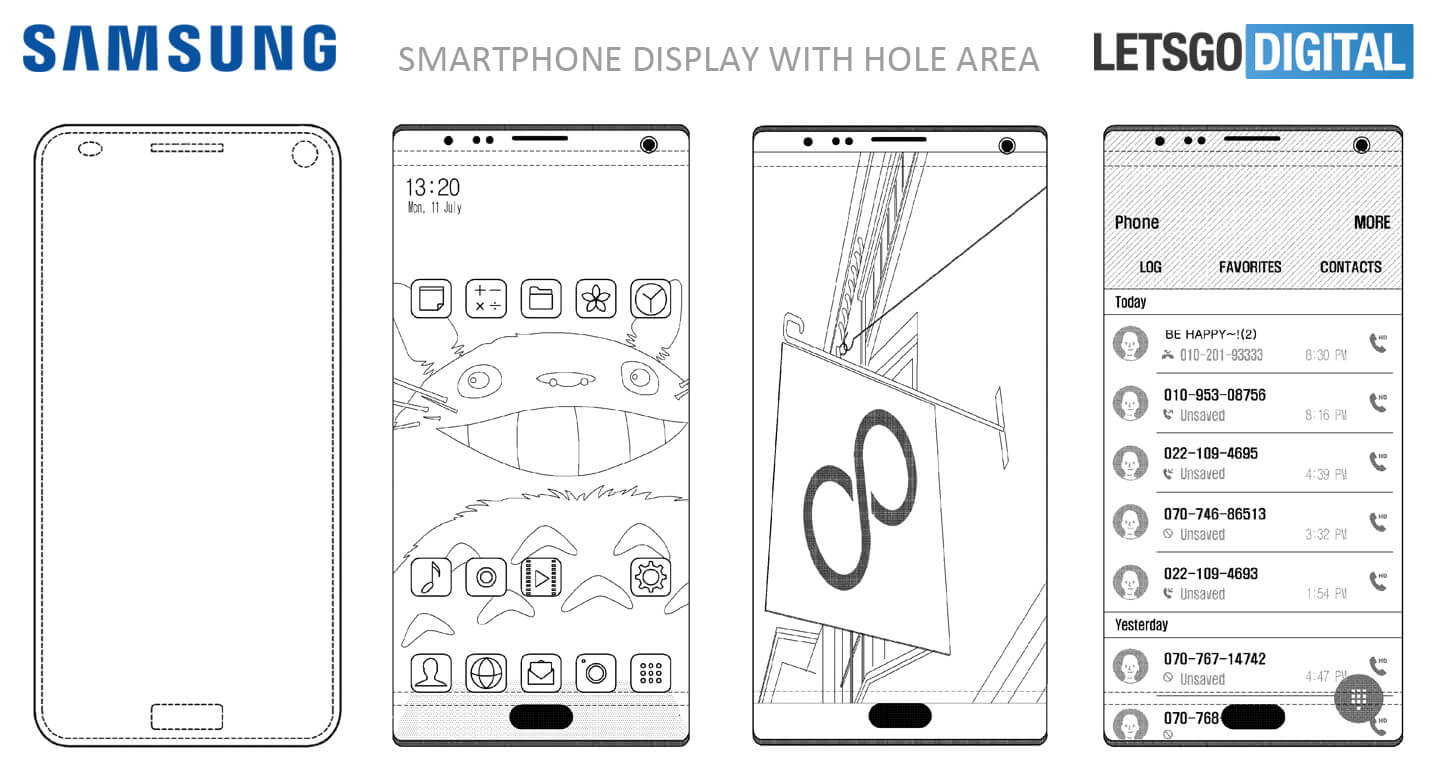 Nieuwe Samsung smartphone met gaten in de display
De ene toont een notch vergelijkbaar met de iPhone X en de Essential Phone. De vraag is echter hoe waarschijnlijk het is dat Samsung dezelfde soort notch zal gebruiken als Apple. Dat Huawei ervoor kiest om Apple te kopiëren is nog te begrijpen. Maar Samsung en Apple proberen waar mogelijk toch onderscheidene oplossingen te bedenken.
De kans is dan ook groot dat Samsung er uiteindelijk liever voor kiest om een geheel beeldvullend scherm te ontwikkelen, met uitsparingen in de display. De meeste illustraties in het patent tonen dan ook een dergelijk design.
Overigens wordt in het patent ook duidelijk vastgelegd dat de vingerafdrukscanner weer naar de voorzijde van de smartphone verplaatst wordt. Er worden twee opties genoemd. De ene is een vingerafdrukscanner onder de display, zoals we al eerder een patent van tegenkwamen. De andere optie is dat er in de display ook een uitsparing gemaakt wordt voor een fysieke knop, waarin de vingerafdrukscanner geïntegreerd wordt.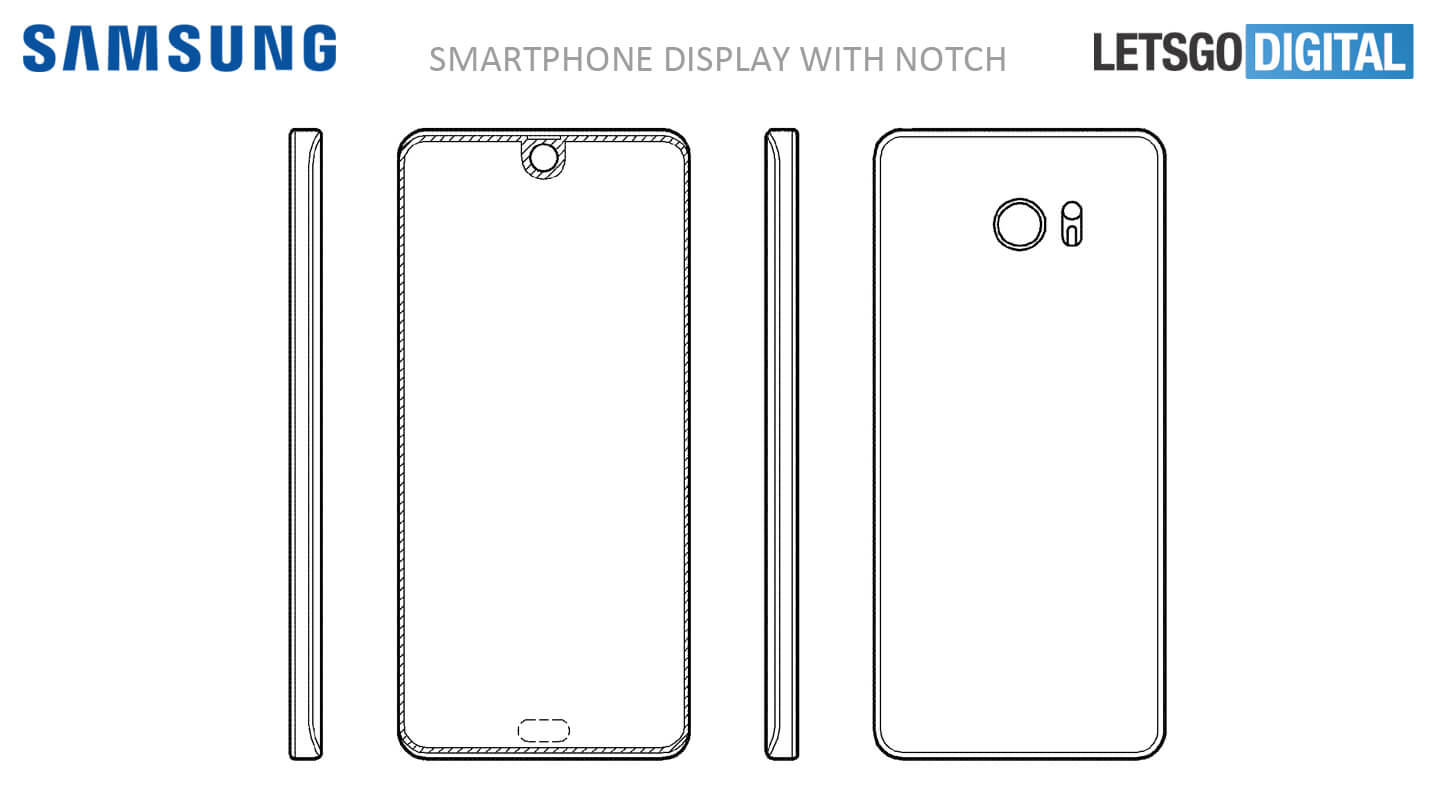 Samsung Galaxy Note 9
Eerder doken er al geruchten op dat de Galaxy Note 9 over een nog groter display zal beschikken. De vraag is of Samsung deze technologie tegen die tijd al vergenoeg uitgewerkt heeft. In ieder geval verwachten we dat de vingerafdrukscanner van de Note 9 weer via de voorzijde van de smartphone te gebruiken is.
Daarnaast mag je ervan uitgaan dat we in de toekomst nog grotere beeldformaten zullen tegenkomen, dan de huidige 18,5:9 beeldverhouding.
Het patent van Samsung is hier te bekijken.

FOR OUR INTERNATIONAL READERS 
On May 12th, 2017 Samsung Electronics has applied for a patent that was published by WIPO today. The patent entitled 'Electronic apparatus having a hole area within screen and control method thereof' shows a smartphone design with an almost 100% screen-to-body ratio.
To make room for the sensors and the camera, holes will be made in the display itself. Two concept versions are shown. One looks similar to the iPhone X and Essential Phone. The other shows multiple cutouts for the camera and sensors.
Moreover, the patent clearly defines that the fingerprint scanner will be moved back to the front side of the smartphone. Two options are mentioned. One is a fingerprint scanner under the display, as we have seen in a previous patent. The other option is that a hole is made in the display for a physical button, in which the fingerprint scanner will be integrated.