De Koreaanse consumentenelektronicafabrikant Samsung produceert een grote variëteit aan producten, waaronder QLED TV's en Galaxy smartphones. De komende jaren zullen fabrikanten nog sterker inzetten op het naadloos verbinden van apparaten met elkaar. Zo legde Samsung eerder deze maand een trademark vast voor Samsung Tap View, voor screen mirroring van een mobiel apparaat naar een smart TV via NFC.
Uit een tweetal nieuwe trademark aanvragen blijkt dat Samsung nog meer van plan is als het aankomt op het tonen van mobiele content op je smart TV. Denk bijvoorbeeld aan een customized layout voor het tonen van foto's op een televisiescherm.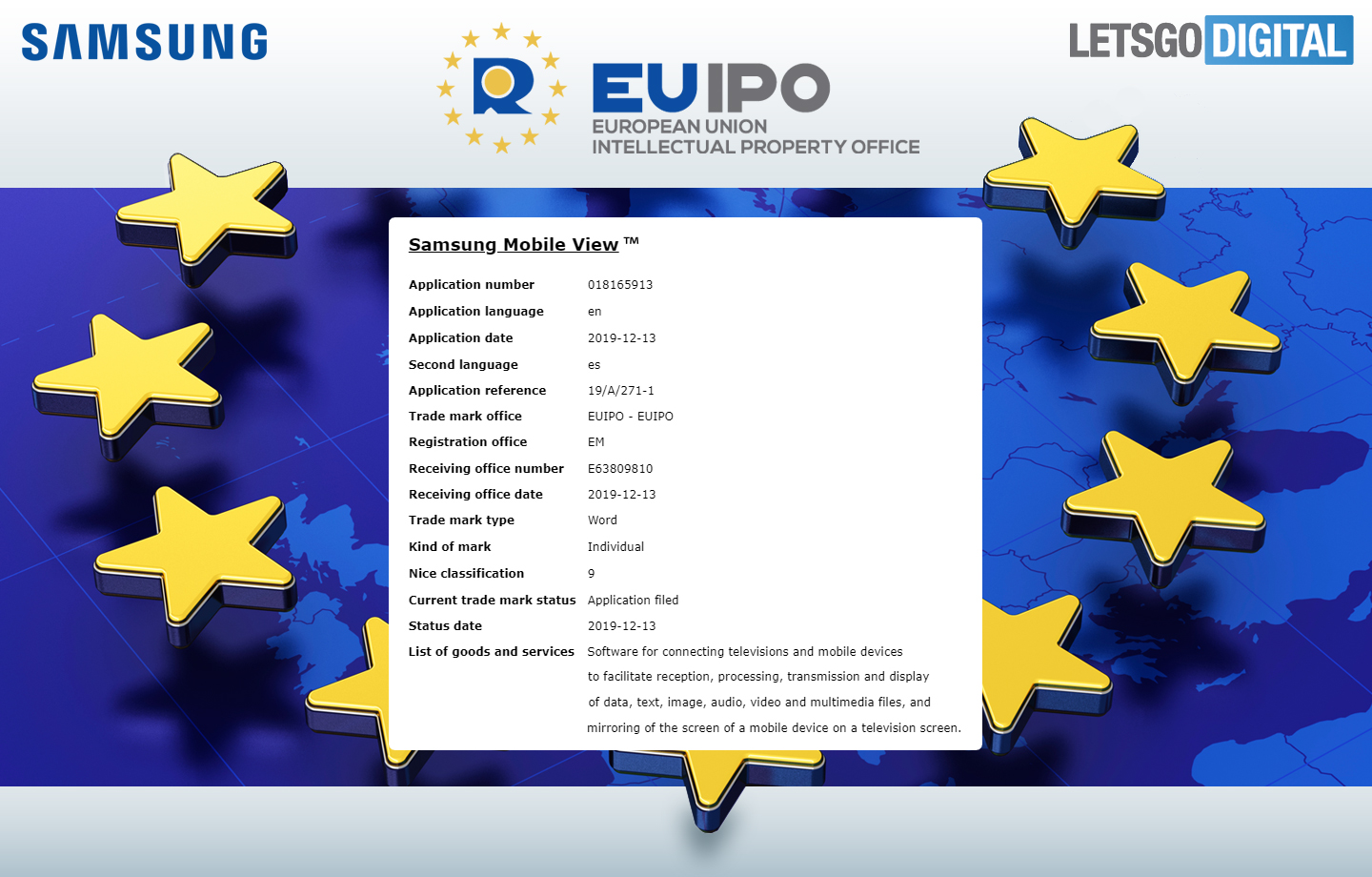 Samsung Mobile View
Op 13 december 2019 heeft Samsung Electronics een trademark ingediend bij de EUIPO (European Union Intellectual Property Office) voor de naam Samsung Mobile View. De aanvraag is gecategoriseerd als Class 9, met de volgende omschrijving:
Samsung Mobile View: Televisions; Smartphones; Tablet computers; Wearable computers in the nature of smartwatches and smartglasses; Software for connecting televisions and mobile devices to facilitate reception, processing, transmission and display of data, text, image, audio, video and multimedia files, and mirroring of the screen of a mobile device on a television screen.
Uit de omschrijving blijkt dat Samsung software ontwikkelt om de content die getoond wordt op een mobiel apparaat, zoals een smartphone, tablet of smartwatch, eenvoudig weer te kunnen geven op een televisie scherm. Dit kan allerlei soorten content zijn, van videobeelden, tot tekst, foto's, audio en multimedia bestanden.
Samsung biedt natuurlijk al de mogelijkheid van Screen Mirroring op een Samsung TV. Deze optie wordt geboden via de SmartThings app. Ook bestaat Samsung Smart View al, waarmee je onder andere je mobiele apparaat als afstandsbediening kunt inzetten. Met Mobile View zullen de mogelijkheden ongetwijfeld worden uitgebreid.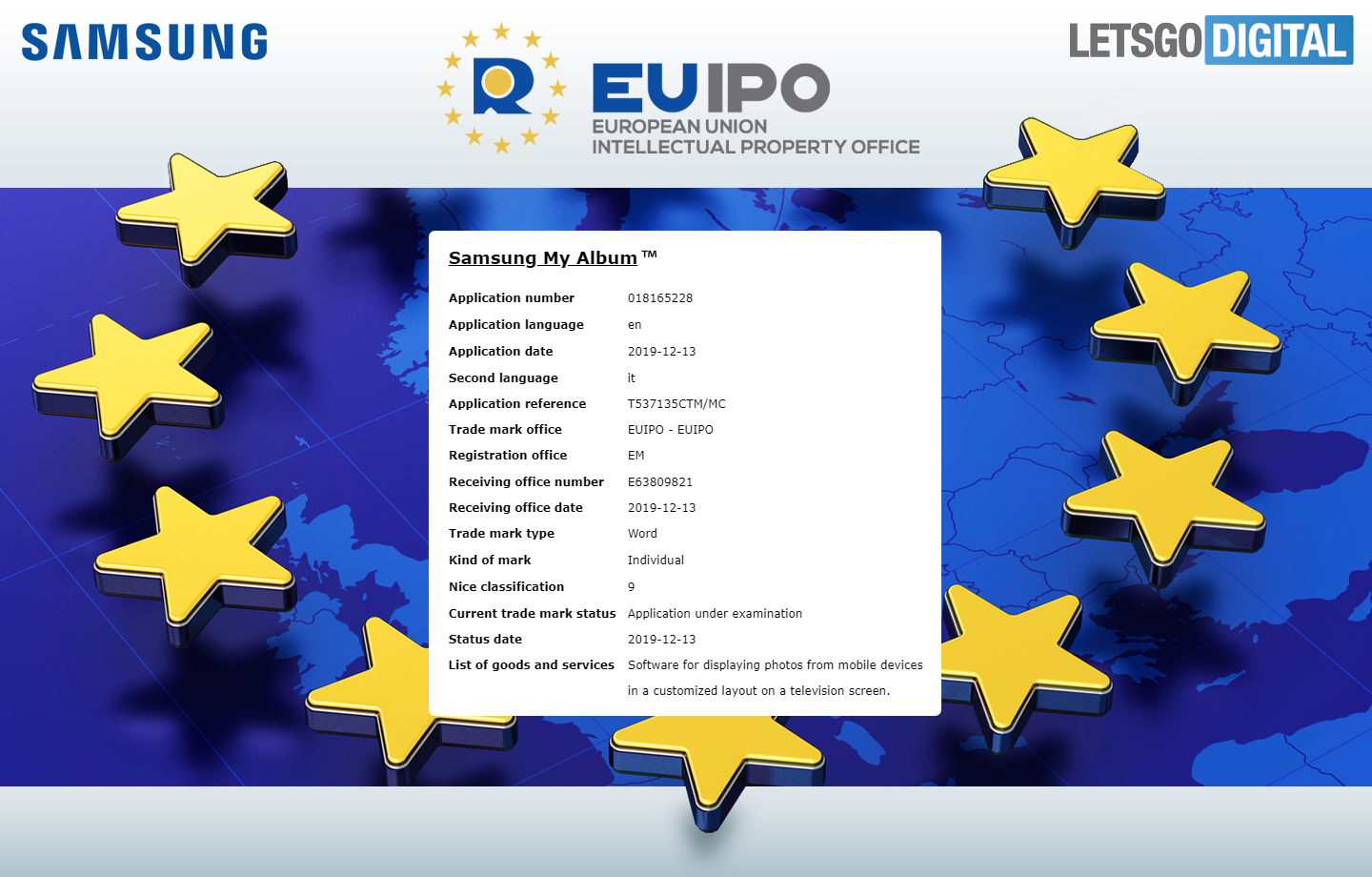 Samsung My Album
Gelijktijdig heeft Samsung Electronics ook een trademark ingediend voor de naam Samsung My Album. Deze aanvraag is eveneens gedeponeerd bij de EUIPO met de volgende omschrijving:
Samsung My Album: Televisions; Smartphones; Tablet computers; Wearable computers in the nature of smartwatches and smartglasses; Software for displaying photos from mobile devices in a customized layout on a television screen.
Met Samsung My Album moet het mogelijk worden om foto's van een mobiel apparaat weer te geven op een televisiescherm, waarbij de lay-out automatisch wordt aangepast.
CES 2020 is het moment dat Samsung haar nieuwe QLED TV portfolio zal onthullen. Het ligt voor de hand dat dit soort services dan ook aan bod komen. De Consumer Electronics Show vindt plaats van 7 – 10 januari 2020 in Las Vegas.
Bekijk hier de trademark voor Samsung Mobile View en Samsung My Album.
Note to editors : The 3D renders presented in this article are copyright protected. You can use our 3D artwork for free, as long as you include a clickable source link into your publication.
Countries such as China, Indonesia (CNBC), India, Italy, Korea, Turkey and Vietnam have a different mentality that is not based on fair play. We ask publishers in these countries to respond to our joint call.
"Show some respect for online journalism"
Thank you for understanding. With your help we can make the internet a better place for content creators.